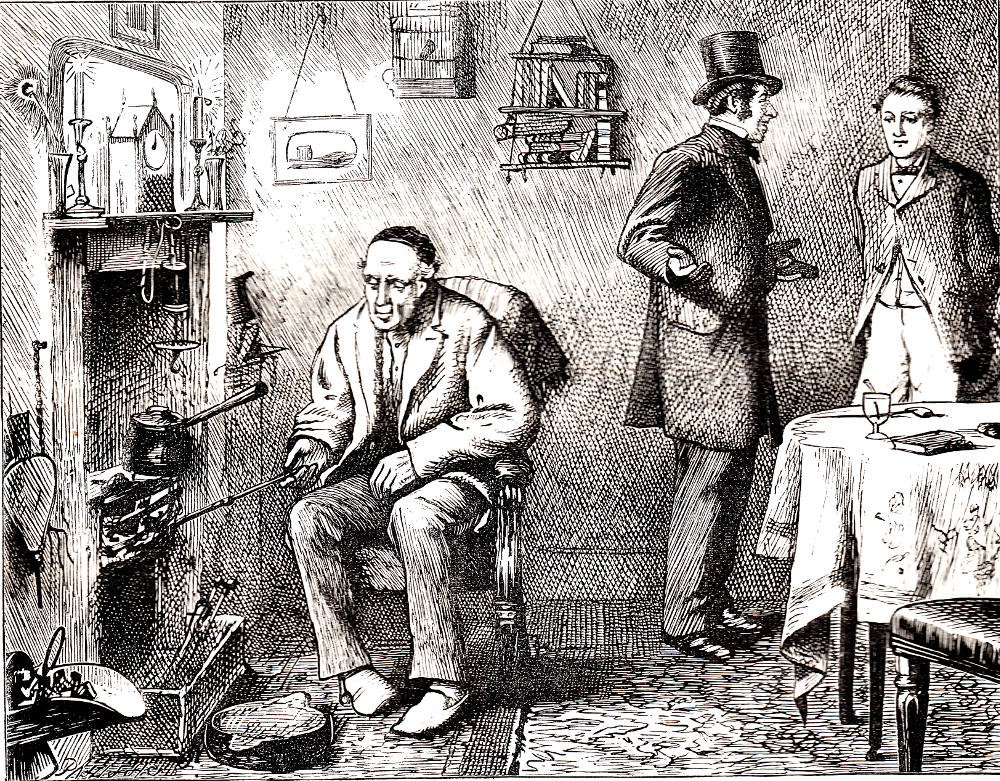 We found the aged heating the poker, with expectant eyes by F. A. Fraser (1844-1896). 10.8 cm high by 13.7 cm wide (4 ¼ by 5 ⅜ inches), framed (half-page, horizontally mounted), p. 97, Chapter Twenty-five, in Charles Dickens's Great Expectations, which appeared as Volume 11 in the British Household Edition (1876). Running head: "An Invitation to Dinner" (97). [Click on the images to enlarge them.]
Passage Illustrated: The Aged P and Wemmick's Walworth Sentiments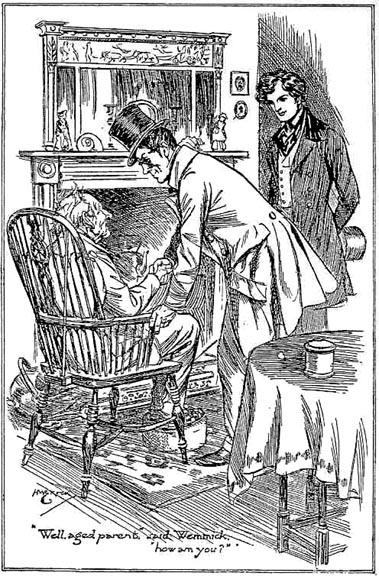 H. M. Brock's revision of the same scene: "Well, aged parent." said Wemmick, "how am you?", in the Hodder and Stoughton Edition (1916).
"I am my own engineer, and my own carpenter, and my own plumber, and my own gardener, and my own Jack of all Trades," said Wemmick, in acknowledging my compliments. "Well; it's a good thing, you know. It brushes the Newgate cobwebs away, and pleases the Aged. You wouldn't mind being at once introduced to the Aged, would you? It wouldn't put you out?"
I expressed the readiness I felt, and we went into the castle. There we found, sitting by a fire, a very old man in a flannel coat: clean, cheerful, comfortable, and well cared for, but intensely deaf.
"Well aged parent," said Wemmick, shaking hands with him in a cordial and jocose way, "how am you?"
"All right, John; all right!" replied the old man.
"Here's Mr. Pip, aged parent," said Wemmick, "and I wish you could hear his name. Nod away at him, Mr. Pip; that's what he likes. Nod away at him, if you please, like winking!"
"This is a fine place of my son's, sir," cried the old man, while I nodded as hard as I possibly could. "This is a pretty pleasure-ground, sir. This spot and these beautiful works upon it ought to be kept together by the Nation, after my son's time, for the people's enjoyment." [Chapter XXV, 96]
Commentary: Wemmick takes Pip down to his Walworth castle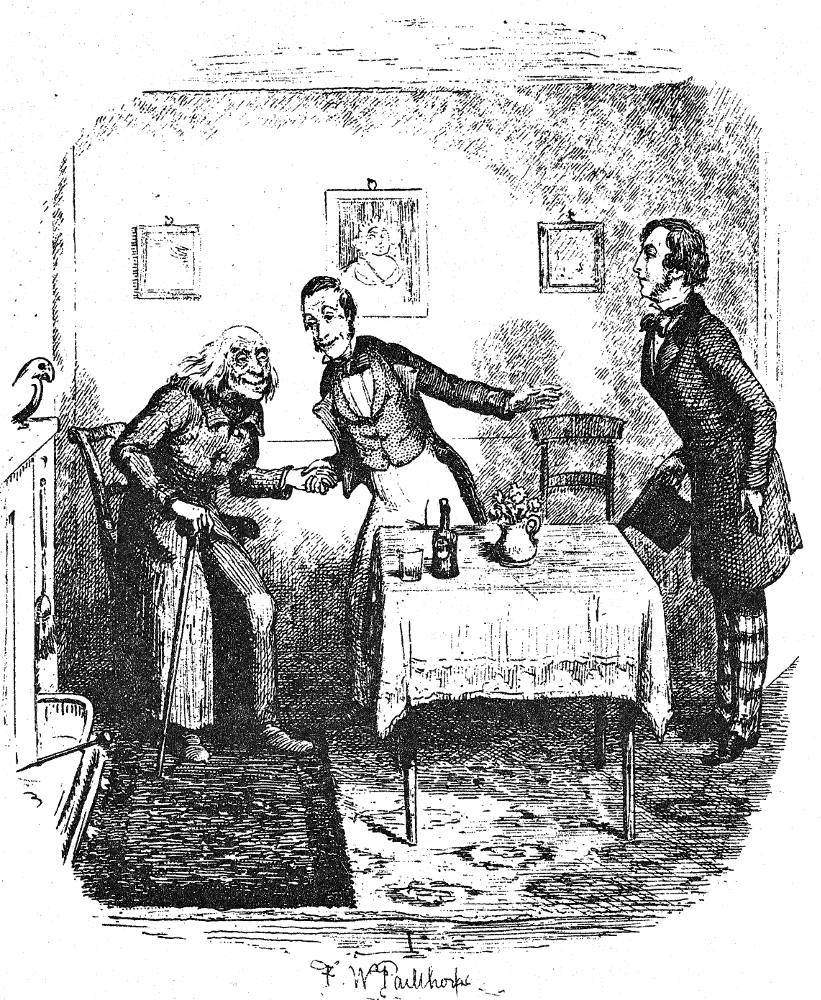 Right: Frederic W. Pailthorpe's 1885 revision of the same scene: The Aged P, in the Garnett Edition (1885).
Once Pip has come into "Great Expectations," and travelled up to London to be educated by Matthew Pocket as a gentleman, he meets John Wemmick, Jaggers' confidential law clerk. Although Wemmick of the "postbox mouth" is all business at Little Britain, he eventually reveals a more romantic domestic side when he takes Pip down to Walworth, a village south of London, where he has transformed his cottage into a fanciful castle for his father, "The Aged P." Wemmick, Senior, is a deaf old man who is thoroughly proud of what his son has accomplished professionally in the metropolis.
Having had informal conversations with clerk John Wemmick whenever he has visited his  guardian's office in Little Britain, Pip takes up Wemmick's standing invitation to visit his cottage in the village of Walworth, south of London. Wemmick is proud to show off his fancifully reconfigured house and its homey décor. He tells Pip that he has never hired a contractor, but has served as his own carpenter, engineer, plumber, painter, and gardener. He has designated the cottage "The Castle," and has designed it to look like one, with both a drawbridge and a canon. After introducing his deaf father ("The Aged P."), Wemmick shows Pip his collection of curiosities associated with the famous criminals whom Jaggers has represented in court; he also displays and a collection of ornate wooden pipes carved by his father. Pip and Wemmick return to London the next morning; as they get closer and closer to the law office, Wemmick's cheerful demeanor gradually disappears, until his grim, "post-box mouth" reasserts its domination of his visage.
Although Dickens indicates little about the Wemmick parlour, Fraser provides a plethora of details that betoken John Wemmick's care for his parent. He indicates much about the scene's physical setting, including a cheery coal fire in the grate and fireplace realia, books on a shelf, and a carpetted, comfortable dining area. The old man wears a skull cap and slippers, suggesting that he is a shut-in or invalid. Of all of this, confides John Wemmick, his employer knows absolutely nothing.
Comparable Images of Wemmich and The Aged P from Other Editions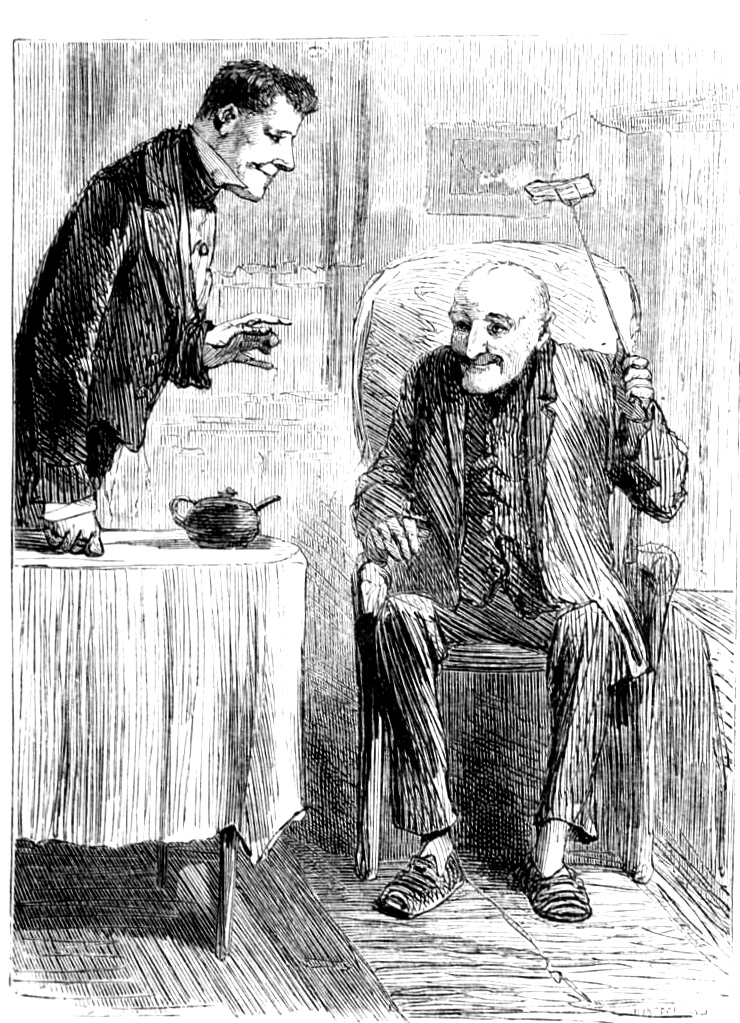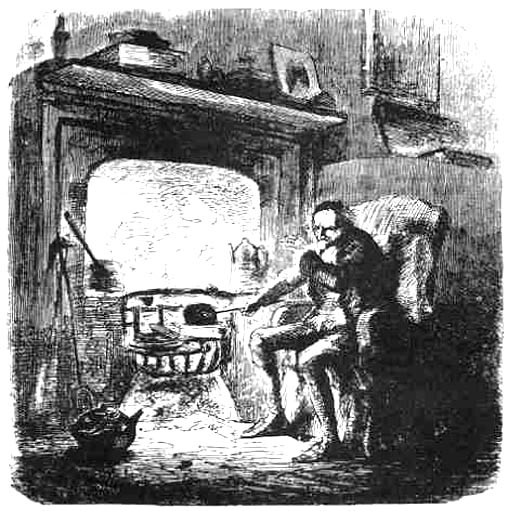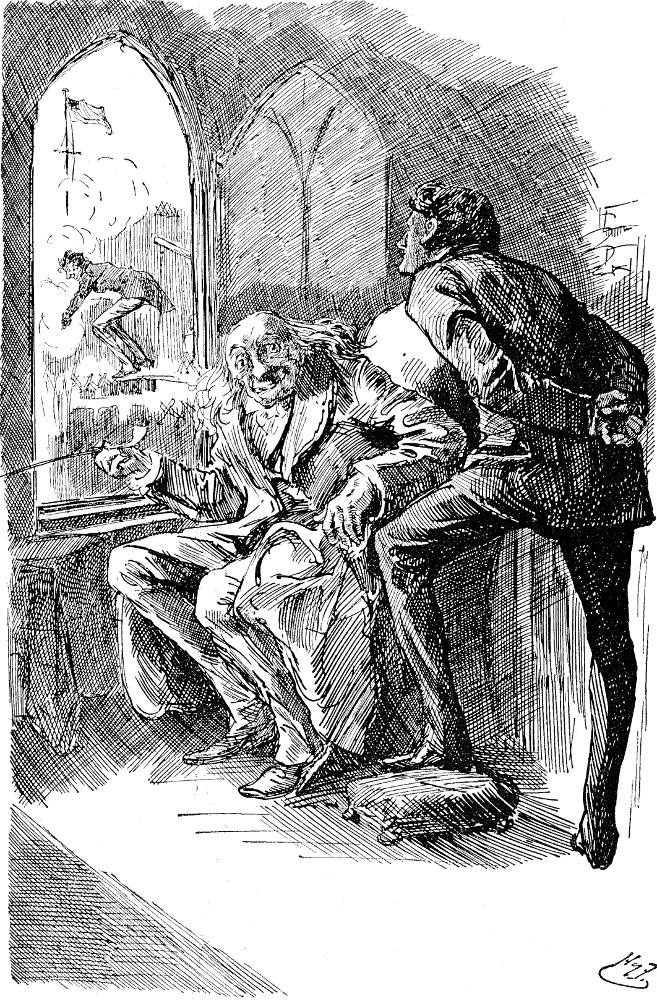 Left: Sol Eytinge, Junior's 1867 portrait of the criminal attorney's deputy: Wemmick and the Aged P, in the Diamond Edition. Centre: In the first American serialisation, periodical illustrator John McLenan realizes Wemmick's introduction of his father to Pip: The responsible duty of making the toast was delegated to the Aged (27 April 1861). Right: Harry Furniss's realisation of the same scene: Pip Shares The Treat of Mr. Wemmick, Senior (1910).
Related Material
Other Artists' Illustrations for Dickens's
Great Expectations
Scanned images and text by Philip V. Allingham. [You may use these images without prior permission for any scholarly or educational purpose as long as you (1) credit the photographer and (2) link your document to this URL in a web document or cite the Victorian Web in a print one.]
Bibliography
Allingham, Philip V. "The Illustrations for Great Expectations in Harper's Weekly (1860-61) and in the Illustrated Library Edition (1862) — 'Reading by the Light of Illustration'." Dickens Studies Annual, Vol. 40 (2009): 113-169.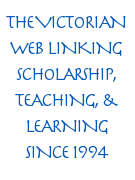 Dickens, Charles. Great Expectations. Illustrated by John McLenan. [The First American Edition]. Harper's Weekly: A Journal of Civilization, Vols. IV: 740 through V: 495 (24 November 1860-3 August 1861).
______. ("Boz."). Great Expectations. With thirty-four illustrations from original designs by John McLenan. Philadelphia: T. B. Peterson (by agreement with Harper & Bros., New York), 1861.
______. Great Expectations. Illustrated by Marcus Stone. The Illustrated Library Edition. London: Chapman and Hall, 1862. Rpt. in The Nonesuch Dickens, Great Expectations and Hard Times. London: Nonesuch, 1937; Overlook and Worth Presses, 2005.
______. A Tale of Two Cities and Great Expectations. Illustrated by Sol Eytinge, Jr. The Diamond Edition. 16 vols. Boston: Ticknor and Fields, 1867.
______. Great Expectations. Volume 6 of the Household Edition. Illustrated by F. A. Fraser. London: Chapman and Hall, 1876.
______. Great Expectations. The Gadshill Edition. Illustrated by Charles Green. London: Chapman and Hall, 1898.
______. Great Expectations. The Grande Luxe Edition, ed. Richard Garnett. Illustrated by Clayton J. Clarke ('Kyd'). London: Merrill and Baker, 1900.
______. Great Expectations. "With 28 Original Plates by Harry Furniss." Volume 14 of the Charles Dickens Library Edition. London: Educational Book Co., 1910.
______. Great Expectations. Illustrated by Henry Matthew Brock. London: Hodder and Stoughton, n. d. [1916].
---
Created 13 March 2004 Last modified 28 August 2021