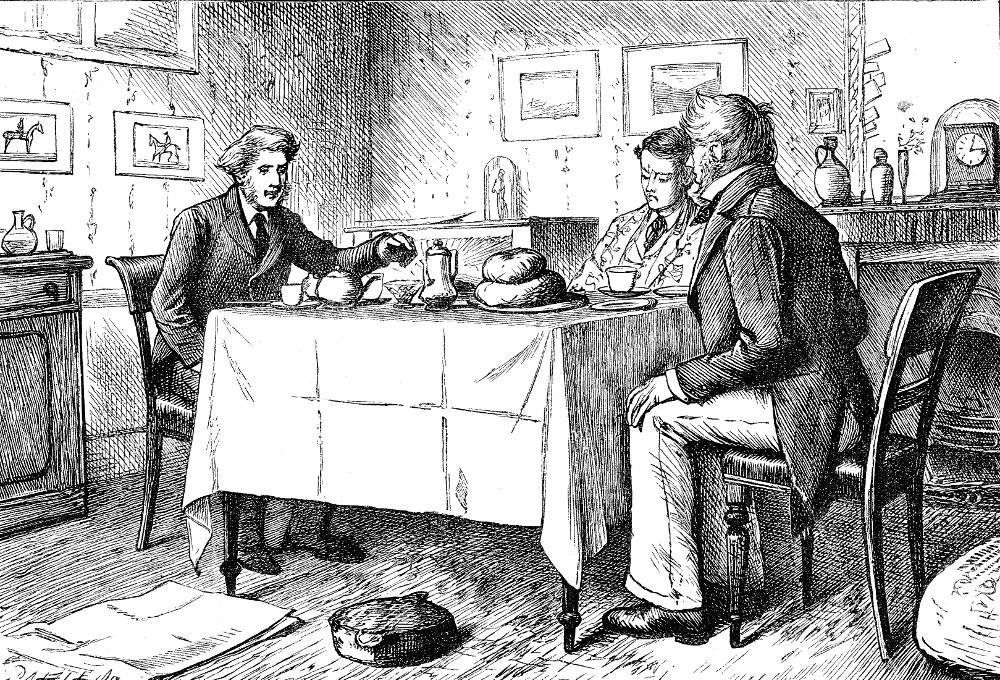 "Do you take tea, or coffee, Mr. Gargery?" by F. A. Fraser (1844-1896); alternate title: Joe Perplexed. 9.4 cm high by 13.8 cm wide (3 ⅝ by 5 ⅜ inches), framed (half-page, horizontally mounted), p. 104, Chapter Twenty-seven, in Charles Dickens's Great Expectations, which appeared as Volume 11 in the British Household Edition (1876). Running head: "Convicts Outside the Coach" (105). [Click on the images to enlarge them.]
Passage Illustrated: Joe forever awkward away from his Forge
"Do you take tea, or coffee, Mr. Gargery?" asked Herbert, who always presided of a morning.
"Thankee, Sir," said Joe, stiff from head to foot, "I'll take whichever is most agreeable to yourself."
"What do you say to coffee?"
"Thankee, Sir," returned Joe, evidently dispirited by the proposal, "since you are so kind as make chice of coffee, I will not run contrairy to your own opinions. But don't you never find it a little 'eating?"
"Say tea then," said Herbert, pouring it out.
Here Joe's hat tumbled off the mantel-piece, and he started out of his chair and picked it up, and fitted it to the same exact spot. As if it were an absolute point of good breeding that it should tumble off again soon.
"When did you come to town, Mr. Gargery?"
"Were it yesterday afternoon?" said Joe, after coughing behind his hand, as if he had had time to catch the whooping-cough since he came. "No it were not. Yes it were. Yes. It were yesterday afternoon" (with an appearance of mingled wisdom, relief, and strict impartiality).
"Have you seen anything of London yet?"
"Why, yes, Sir," said Joe, "me and Wopsle went off straight to look at the Blacking Ware'us. But we didn't find that it come up to its likeness in the red bills at the shop doors; which I meantersay," added Joe, in an explanatory manner, "as it is there drawd too architectooralooral." [Chapter XXVII, 102]
Commentary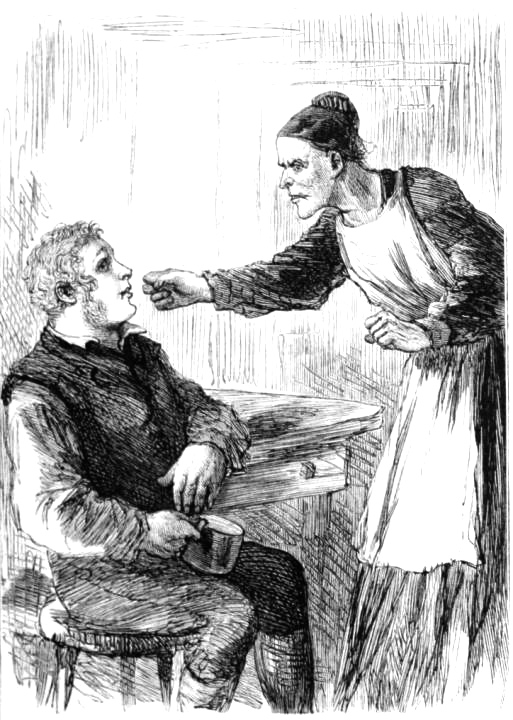 Above: Sol Eytinge, Junior's 1867 portrait of the kindly village blacksmith and his haradan wife: Joe and Mrs. Joe Gargery, in the Diamond Edition.
As a cheerful Herbert presides at the breakfast table, and offers their visitor a hot beverage, Pip looks on glumly. He is not delighted to be hosting his brother-in-law. Despite being dressed in his Sunday best, Joe appears rigid and uncomfortable in such sophisticated circumstances. Fraser has created an upper-middle-class parlour dominated by a starched tablecloth. Among the domestic realia of clocks, sideboards, and prints on the wall Joe grips his knees, as if tense in such unfamiliar surroundings. The pair of horse-racing prints imply that these young men of leisure follow the horses, whereas the only horses that Joe comes in contact with he must shoe.
Related Material
Other Artists' Illustrations for Dickens's
Great Expectations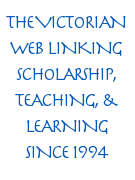 Scanned images and text by Philip V. Allingham. [You may use these images without prior permission for any scholarly or educational purpose as long as you (1) credit the photographer and (2) link your document to this URL in a web document or cite the Victorian Web in a print one.]
Bibliography
Allingham, Philip V. "The Illustrations for Great Expectations in Harper's Weekly (1860-61) and in the Illustrated Library Edition (1862) — 'Reading by the Light of Illustration'." Dickens Studies Annual, Vol. 40 (2009): 113-169.
Dickens, Charles. Great Expectations. Illustrated by John McLenan. [The First American Edition]. Harper's Weekly: A Journal of Civilization, Vols. IV: 740 through V: 495 (24 November 1860-3 August 1861).
______. ("Boz."). Great Expectations. With thirty-four illustrations from original designs by John McLenan. Philadelphia: T. B. Peterson (by agreement with Harper & Bros., New York), 1861.
______. Great Expectations. Illustrated by Marcus Stone. The Illustrated Library Edition. London: Chapman and Hall, 1862. Rpt. in The Nonesuch Dickens, Great Expectations and Hard Times. London: Nonesuch, 1937; Overlook and Worth Presses, 2005.
______. A Tale of Two Cities and Great Expectations. Illustrated by Sol Eytinge, Jr. The Diamond Edition. 16 vols. Boston: Ticknor and Fields, 1867.
______. Great Expectations. Volume 6 of the Household Edition. Illustrated by F. A. Fraser. London: Chapman and Hall, 1876.
______. Great Expectations. The Gadshill Edition. Illustrated by Charles Green. London: Chapman and Hall, 1898.
______. Great Expectations. The Grande Luxe Edition, ed. Richard Garnett. Illustrated by Clayton J. Clarke ('Kyd'). London: Merrill and Baker, 1900.
______. Great Expectations. "With 28 Original Plates by Harry Furniss." Volume 14 of the Charles Dickens Library Edition. London: Educational Book Co., 1910.
______. Great Expectations. Illustrated by Henry Matthew Brock. London: Hodder and Stoughton, n. d. [1916].
---
Created 19 March 2004 Last modified 2 September 2021