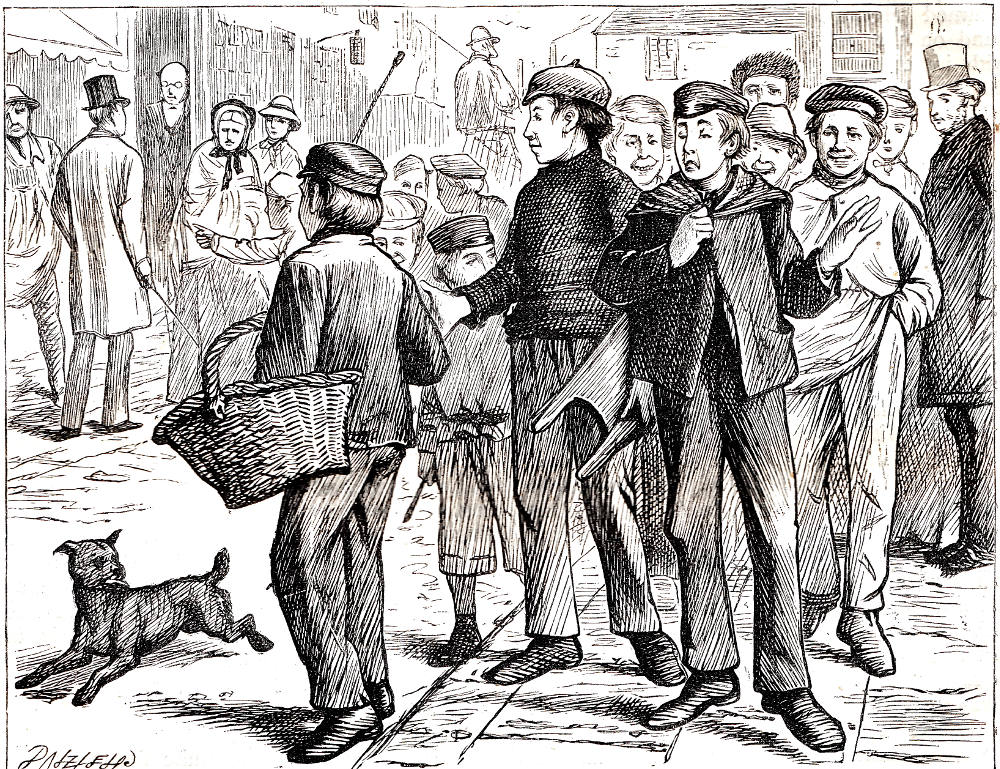 "Drawling to his attendants, 'Don't know yah, don't know yah!" by F. A. Fraser (1844-1896). 9.4 cm high by 13.8 cm wide (3 ⅝ by 5 ⅜ inches), framed (half-page, horizontally mounted), p. 114, Chapter Thirty, in Charles Dickens's Great Expectations, which appeared as Volume 11 in the British Household Edition (1876). Running head: "Convicts Outside the Coach" (105). [Click on the images to enlarge them.]
Passage Illustrated: Trabb's Boy Attempts to Humiliate Pip in the High Street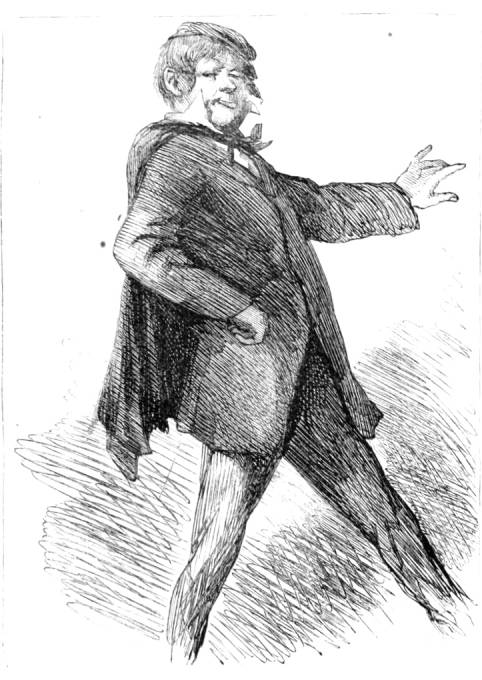 Sol Eytinge, Junior's 1867 portrait of the sarcastic shop apprentice: Trabb's Boy, in the Diamond Edition.
I had not got as much further down the street as the post-office, when I again beheld Trabb's boy shooting round by a back way. This time, he was entirely changed. He wore the blue bag in the manner of my great-coat, and was strutting along the pavement towards me on the opposite side of the street, attended by a company of delighted young friends to whom he from time to time exclaimed, with a wave of his hand, "Don't know yah!" Words cannot state the amount of aggravation and injury wreaked upon me by Trabb's boy, when passing abreast of me, he pulled up his shirt-collar, twined his side-hair, stuck an arm akimbo, and smirked extravagantly by, wriggling his elbows and body, and drawling to his attendants, "Don't know yah, don't know yah, 'pon my soul don't know yah!" The disgrace attendant on his immediately afterwards taking to crowing and pursuing me across the bridge with crows, as from an exceedingly dejected fowl who had known me when I was a blacksmith, culminated the disgrace with which I left the town, and was, so to speak, ejected by it into the open country. [Chapter XXX, 113-114]
Commentary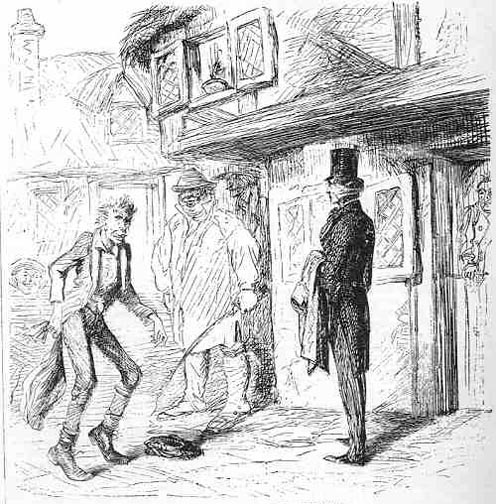 The original American serial illustration of the confrontation between Pip and Trabb's boy in Harper's Weekly 5 (6 April 1861): "Hold me! I'm so frightened!".
Although Dickens has organized the text of the humiliating scene from Pip's limited perspective and has focussed upon a single shopboy, Trabb's apprentice, Fraser has placed Pip, with the social markers great coat, top hat, and cane, well to the  back of the scene in the village High Street. In the left foreground, Trabb's Boy strikes a pose with a shawl which implies Pip's blindness to (and rejection of) his origins. The "attendants" appear to be enjoying the burlesque as they watch for Pip's reaction.
The composition of the picture with the shop boys milling about in the foreground demands that the reader re-examine the situation from their perspective, not Pip's. Whereas he, for example, is the subjective, solitary walker encountering merchants in the street, the boys are a phalanx, a community of interest and fellow-feeling, supporting and being vastly entertained by one of their own. Pip, too, was more or less once a member of this group of working-class boys in sweaters, jackets, and cloth caps. But he has altered not merely his clothing and his class-consciousness, so that Fraser through the illustration underscores the gulf that now exists between Pip the "class-traitor" and village society.
Related Material
Other Artists' Illustrations for Dickens's
Great Expectations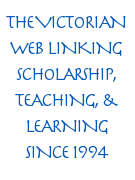 Scanned images and text by Philip V. Allingham. [You may use these images without prior permission for any scholarly or educational purpose as long as you (1) credit the photographer and (2) link your document to this URL in a web document or cite the Victorian Web in a print one.]
Bibliography
Allingham, Philip V. "The Illustrations for Great Expectations in Harper's Weekly (1860-61) and in the Illustrated Library Edition (1862) — 'Reading by the Light of Illustration'." Dickens Studies Annual, Vol. 40 (2009): 113-169.
Dickens, Charles. Great Expectations. Illustrated by John McLenan. [The First American Edition]. Harper's Weekly: A Journal of Civilization, Vols. IV: 740 through V: 495 (24 November 1860-3 August 1861).
______. ("Boz."). Great Expectations. With thirty-four illustrations from original designs by John McLenan. Philadelphia: T. B. Peterson (by agreement with Harper & Bros., New York), 1861.
______. Great Expectations. Illustrated by Marcus Stone. The Illustrated Library Edition. London: Chapman and Hall, 1862. Rpt. in The Nonesuch Dickens, Great Expectations and Hard Times. London: Nonesuch, 1937; Overlook and Worth Presses, 2005.
______. A Tale of Two Cities and Great Expectations. Illustrated by Sol Eytinge, Jr. The Diamond Edition. 16 vols. Boston: Ticknor and Fields, 1867.
______. Great Expectations. Volume 6 of the Household Edition. Illustrated by F. A. Fraser. London: Chapman and Hall, 1876.
______. Great Expectations. The Gadshill Edition. Illustrated by Charles Green. London: Chapman and Hall, 1898.
______. Great Expectations. The Grande Luxe Edition, ed. Richard Garnett. Illustrated by Clayton J. Clarke ('Kyd'). London: Merrill and Baker, 1900.
______. Great Expectations. "With 28 Original Plates by Harry Furniss." Volume 14 of the Charles Dickens Library Edition. London: Educational Book Co., 1910.
______. Great Expectations. Illustrated by Henry Matthew Brock. London: Hodder and Stoughton, n. d. [1916].
---
Created 19 March 2004 Last modified 2 September 2021