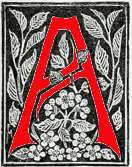 lthough William Wright established a tobacco factory in the Nottingham suburb of Broadmarsh in 1832, the name "John Player" became associated with its manufacture of cigarettes in 1877 as an expansion of his existing factory at Radford, just west of the centre of Nottingham. The marketing device had initially emerged in the United States with​ ​Allen and Ginter's cards of "artistes," baseball players, boxers, and aboriginal leaders.​ ​In the United Kingdom, the first tobacco manufacturer to issue cards was W. D. and H. O. Wills ("Ships and Sailors," 1893), followed by Thomas Ogden's footballers' cards in 1894.
The John Player Company, most closely associated with the advertising medium, began with a picturesque historical series entitled "Castles and Abbeys," the initial motivation perhaps being that the firm was originally named "The Castle Tobacco Company." The cards which various British tobacco companies produced tended to emphasize both popular sports such as cricket and such aspects of the Empire as military regiments, and kings and queens of England.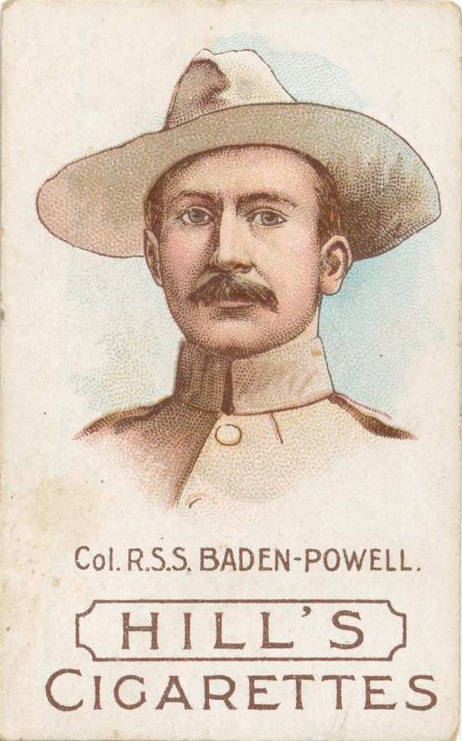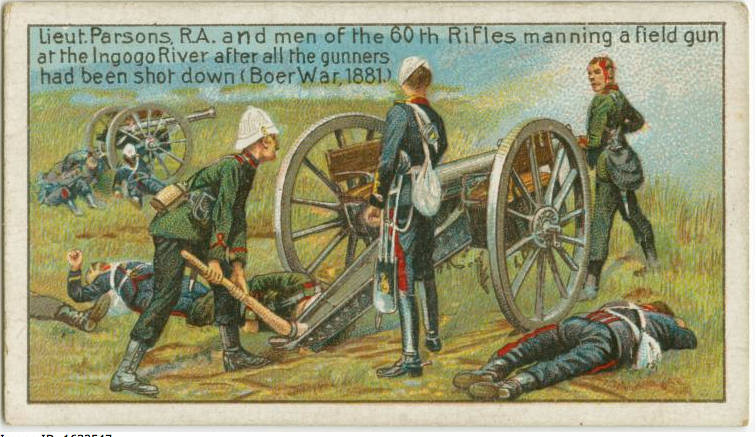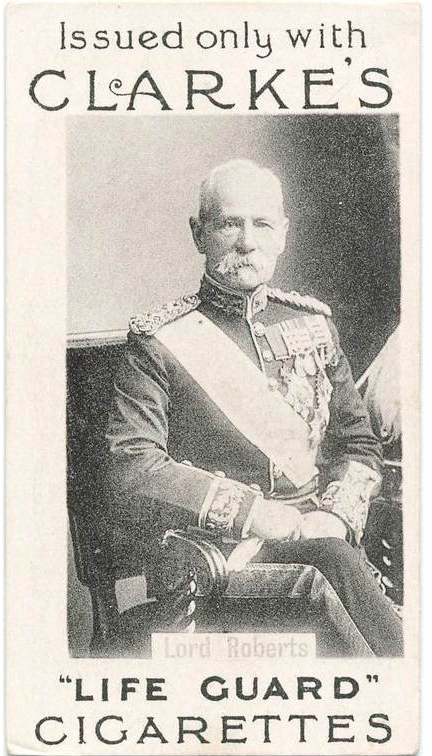 Cigaret cards associated with the Boer War from different
companies. Click on images to enlarge them.
beginning in the 1930s such technological and status transportation objects as automobiles — "Motor Cars" — (1936) and "Civil Aircraft" (1935), and British dreadnoughts and battleships were added. Unusual among these themes, then, was Characters from Dickens, based on Joseph Clayton Clarke's 1889 book of the same name.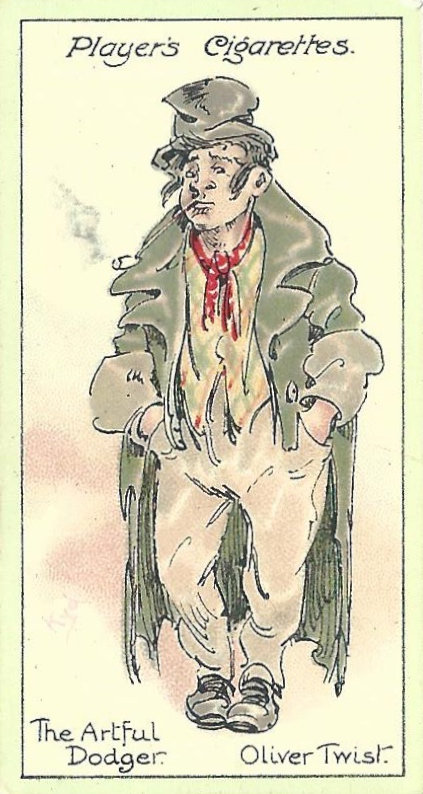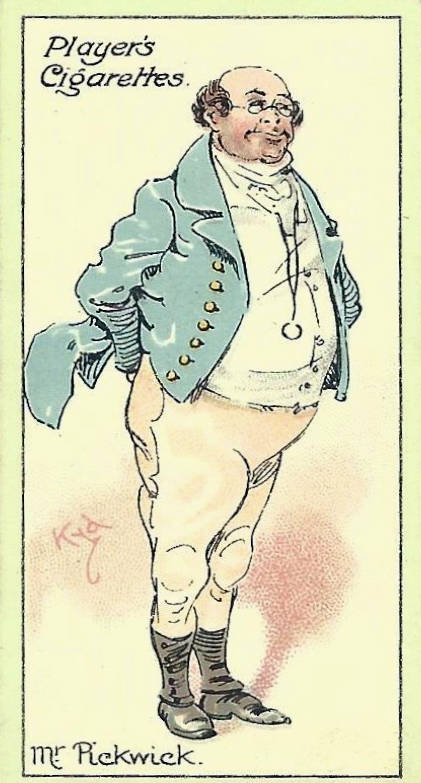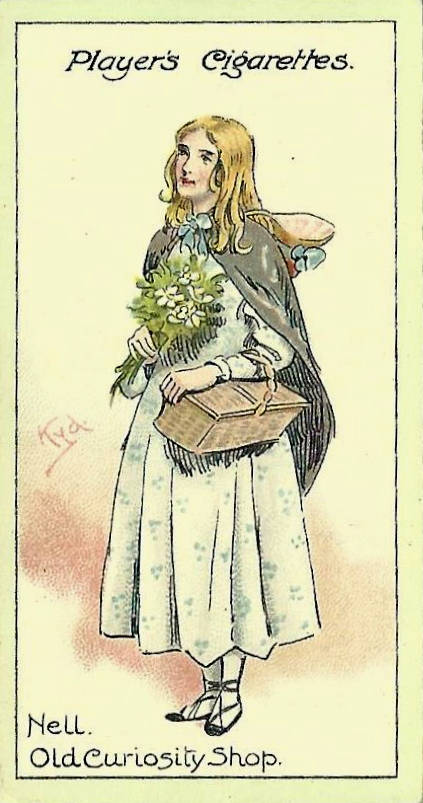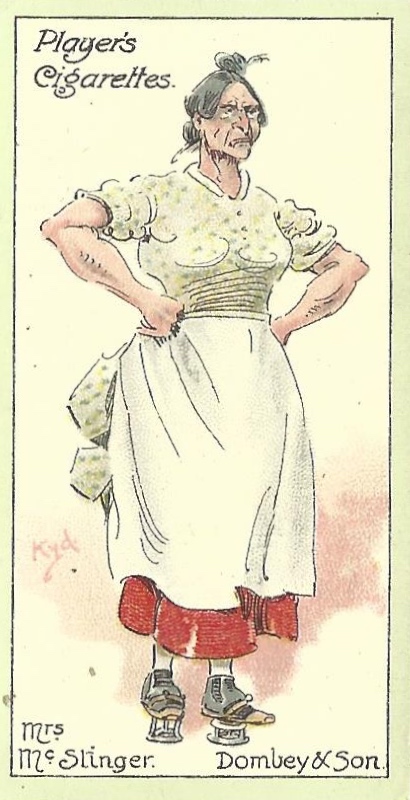 Five the Dickens character cards. Click on images to enlarge them.
John Players' initial issue of a set of twenty-five characters from Dickens in 1910 proved so popular that it added another twenty-five cards about 1912, the centenary of the beloved author's birth. After the First World War, the theme remained sufficiently popular that Players re-issued a set of fifty, retaining the first series' order, with The Artful Dodger as number one, in 1923.​ Eventually, Players issued over two hundred sets of cards, usually in runs of twenty-five or fifty.​
Bibliography (from the New York Public Library
Bagnall, Dorothy. Collecting Cigarette Cards and Other Trade Issues. [c1965]
Burdick, J.R. The American Card Catalog; a Comprehensive Listing ... ([1946?])
Cartophilic Society of Great Britain. Cartophilic Reference Books. ([1942]-1969)
Cartophilic Society of Great Britain. The Cartophilic Notes & News. (1965- )
Christie's South Kensington. The Bernard Perrin Collection of Printed and Woven Silk Cigarette and Periodical Inserts [auction catalog] (September 27, 1978)
Cruse, A.J. Cigarette Card Cavalcade; Including a Short History of Tobacco. (1958)
Evans, Idrisyn Oliver. Cigarette Cards, and How to Collect Them. (1937)
Fletcher, H. George. "Indomitable Collector: George Arents, Jr. and The New York Public Library." Biblion: The Bulletin of The New York Public Library 9, no.1/2 (Fall 2000/Spring 2001):87-103.
Genders, Roy. A Guide to Collecting Trade and Cigarette Cards. (1975)
Howsden, Gordon. Collecting Cigarette & Trade Cards. (1995)
Jay, Robert. The Trade Card in Nineteenth-Century America. (1987)
London Cigarette Card Company. The Catalogue of International Cigarette Cards. (c1982)
Murray Cards (International). Catalogue of Cigarette & Other Trade Cards. 3.ed. (1981)
Scott, Amoret and Christopher Scott. Tobacco and the Collector. (c1966)
Related material outside the
Victorian Web
---
Created 15 January 2015