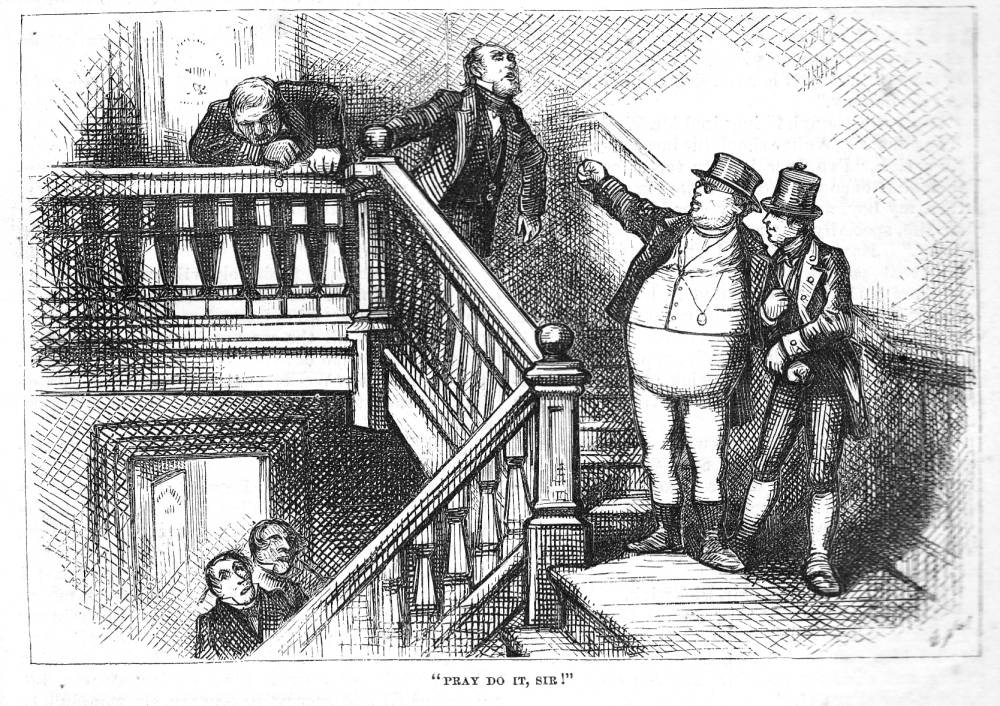 "Pray do it, Sir!" by Thomas Nast, in Charles Dickens's The Posthumous Papers of The Pickwick Club, Chapter XX, 121. Again, Pickwick loses his temper, and speaks his mind — never a good idea with unscrupulous attorneys whose clerks will not hesitate to swear to whatever their employers may ask of them in court.
Bibliographical Note
The illustration appears in the American Edition of Charles Dickens's The Posthumous Papers of The Pickwick Club, Chapter XX, "Showing How Dodson and Fogg were Men of Business . . . ," 121. Wood-engraving, 3 ½ inches high by 5 ¼ inches wide (9.1 cm high by 13.5 cm wide), framed, half-page; referencing text on the facing page; descriptive headline: "The Elder Mr. Weller Appears" (121). New York: Harper & Bros., Franklin Square, 1873.
Passage Illustrated: Pickwick Loses All Chance of Settling Out of Court
"Sir," said the two clerks, appearing at the bottom of the stairs.
"I merely want you to hear what this gentleman says," replied Dodson. "Pray, go on, sir — disgraceful and rascally proceedings, I think you said?"
"I did," said Mr. Pickwick, thoroughly roused. "I said, Sir, that of all the disgraceful and rascally proceedings that ever were attempted, this is the most so. I repeat it, sir."
"You hear that, Mr. Wicks," said Dodson.
"You won't forget these expressions, Mr. Jackson?" said Fogg.
"Perhaps you would like to call us swindlers, sir," said Dodson. "Pray do, Sir, if you feel disposed; now pray do, Sir."
"I do," said Mr. Pickwick. "You are swindlers."
"Very good," said Dodson. "You can hear down there, I hope, Mr. Wicks?" [Chapter XX, "Showing How Dodson and Fogg were Men of Business, and their clerks men of pleasure; and how an affecting interview took place between Mr. Weller and his long-lost father; showing also what choice spirits assembled at The Magpie and Stump, and what a capital chapter the next one will be," 120]
Commentary: Pickwick Makes the Error of Confronting Mrs. Bardell's Attorneys
Pickwick has already had misadventures, with the country wheelbarrow (a scene commemorated in the title-page vignette of the British Household Edition) and subsequently in the village pound at Captain Boldwig's instigation. Pickwick now returns to London to deal with Mrs. Bardell's unscrupulous attorneys, Dodson and Fogg — unwisely he chooses to approach the cunning lawyers without the assistance of his own legal advisor, Mr. Perker. Pickwick's errs in defaming them in front of witnesses — although his accusations are undoubtedly true. His blunder is so egregious that both Nast and Phiz felt the scene worthy of realisation, although the British Household Edition sets its scene in the attorneys' outer office (as in Phiz's original illustration of October 1836), whereas the American version captures Pickwick's Parthian shot as he descends the building's staircase afterwards (just as Dickens describes).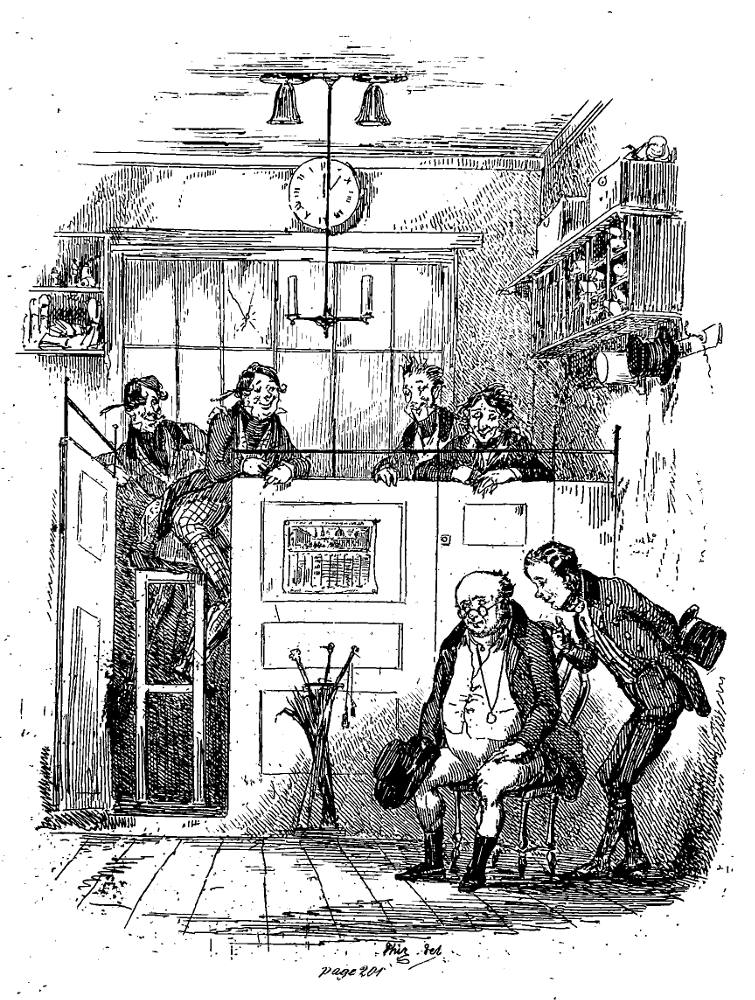 Mr. Pickwick and Sam in the Attorneys' Office

Hablot Knight Browne's original serial illustration for this scene, (October 1836).
In preparing his series of fifty-seven wood-engravings for the 1874 British Household Edition Phiz elected to re-draft the original serial engraving, and has chosen to depict an irate rather than a downcast protagonist. And Thomas Nast has chosen much the same moment, although he has transposed it to the staircase leading to the lawyers' offices on the next floor. As he stands on the landing and shakes his fist, Pickwick has obviously lost his temper. The more politic course would have been self-restraint. His decision to insult the pair in front of their own clerks has personally disastrous consequences. Although Sam Weller tries to mollify Pickwick with humorous comments about the nature of Mrs. Bardell's attorneys, Pickwick insists upon defaming them, and they, of course, are delighted that Pickwick should vilify them in the presence of witnesses. Nast has Fogg leading with his chin, so to speak, from the top of the stairs, but still a yard away from the incensed Pickwick's hand. In the 1836 steel-engraving, Phiz shows Sam Weller commiserating with his employer, even as the attorneys' four clerks laugh heartily at Pickwick's folly.
In his version of the scene, Nast focuses on the contrast between the belligerent Pickwick and his common-sense servant, who physically attempts to restrain Pickwick from punching the unscrupulous pair. In his 1874 re-interpretation of the confrontation at the offices of Dodson and Fogg, Phiz relegates the clerks to a secondary position. Similarly, Nast places the clerks in a secondary position; they lack any expression (or, perhaps, are restraining themselves) as Pickwick delivers pointed insults on the stairs as he departs. Moreover, Nast more effectively suggests Sam's remonstrance by his body language and his gripping his employer's arm, implying that Sam feels Pickwick has already said too much.
Another approach: Phiz's depiction of Pickwick, ready to trash the smiling attorneys in the British Household Edition (1874)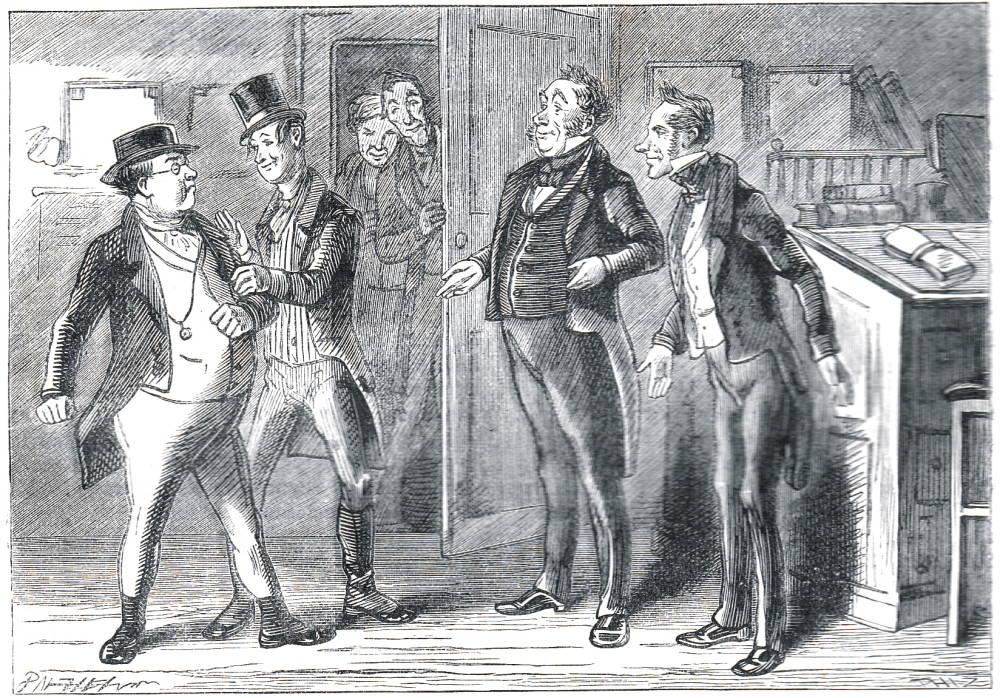 Phiz revises his approach to this episode to make Pickwick angry rather than depressed: "You just come away," said Mr. Weller . . . , Chapter XX, 137.
Other artists who illustrated this work, 1836-1910
Related Material
Scanned image, colour correction, sizing, caption, and commentary by Philip V. Allingham. [You may use this image without prior permission for any scholarly or educational purpose, as long as you (1) credit the person who scanned the image, and (2) link your document to this URL in a web document or cite the Victorian Web in a print one.]
Bibliography
Dickens, Charles. The Posthumous Papers of the Pickwick Club. Illustrated by Robert Seymour, Robert Buss, and Hablot Knight Browne. London: Chapman & Hall, 1836-37.
__________. The Posthumous Papers of the Pickwick Club. Illustrated by Sol Eytinge, Jr. Engraved by A. V. S. Anthony. The Diamond Edition. Boston: Ticknor and Fields, 1867.
__________. The Posthumous Papers of the Pickwick Club. The Household Edition. Illustrated by Thomas Nast. New York: Harper and Brothers 1873.
__________. The Posthumous Papers of the Pickwick Club. The Household Edition. Illustrated by Hablot Knight Browne ('Phiz'). The Household Edition. London: Chapman and Hall, 1874.
---
Created 28 December 2019