"Lor, do adun, Mr. Weller!" by Thomas Nast (1873), in Charles Dickens's The Posthumous Papers of The Pickwick Club, Chapter XXXIX, 234.
Bibliographical Note
The scene complements Sam's completing his assignment for Pickwick in Chapter XXXIX, "Mr. Samuel Weller, being entrusted with a Mission of Love, proceeds to execute it; with what success will hereinafter appear," p. 234. Wood-engraving, 3 ⅝ inches high by 5 5⁄16 inches wide (9.2 cm high by 13.5 cm wide), framed, half-page; referencing text on the present and facing page; descriptive headline: "Mr. Weller up a Tree" (p. 235). Oddly enough, although Phiz executed no parallel illustration for Chapter XXXIX, the 1874 Chapman and Hall edition uses precisely the same descriptive headline on p. 275.
Passage Illustrated: Sam interrupts Mary, about to shake a carpet
"Why, Mary, my dear!" said Sam.
"Lauk, Mr. Weller," said Mary, "how you do frighten one!"
Sam made no verbal answer to this complaint, nor can we precisely say what reply he did make. We merely know that after a short pause Mary said, "Lor, do adun, Mr. Weller!" and that his hat had fallen off a few moments before — from both of which tokens we should be disposed to infer that one kiss, or more, had passed between the parties.
"Why, how did you come here?" said Mary, when the conversation to which this interruption had been offered, was resumed.
"O' course I came to look arter you, my darlin'," replied Mr. Weller; for once permitting his passion to get the better of his veracity. [Chapter XXIX, "Mr. Samuel Weller, being entrusted with a Mission of Love, proceeds to execute it; with what success will hereinafter appear," pp. 233-234]
Commentary
Pickwick asks Winkle for assurances that he is not merely tampering with the young lady's affections, especially since they all became acquainted at Wardle's. Winkle assures Pickwick that he has consulted Arabella's brother, Ben, regarding "a formal disclosure of his passion" (555) — in other words, a marriage proposal. However, since Ben has only vaguely disclosed her location as "near the Downs," Pickwick dispatches Sam to find her. And entirely by accident, Sam encounters Mary Weller about to shake out carpets from whom he learns that Arabella has been living in seclusion in the country for the past six weeks — at the very next house. Now all Sam has to do is await the arrival Arabella in the neighbouring garden until sunset, when, as Mary has informed him, the object of his search will be taking a short (unaccompanied) walk on the path near the garden wall.
Whereas Harry Furniss in the 1910 Charles Dickens Library Edition depicted Sam Weller's dialogue in the garden of the neighbouring country house with Arabella Allen, in the 1873 American Household Edition Nast depicted Sam advancing his own suit with Nupkins' former maid, Mary Weller, who by a double coincidence is working just next door to where Ben Allen has sequestered his sister in the South Downs. Although the reader cannot see his face in Nast's illustration, Sam's uniform (as well as Nast's caption) suggest the identity of the male figure in the lane-way between the the two rows of garden walls, while the patterned carpet suggests the precise moment which Nast is realising.
Another View of Sam's Expedition: Harry Furniss (1910)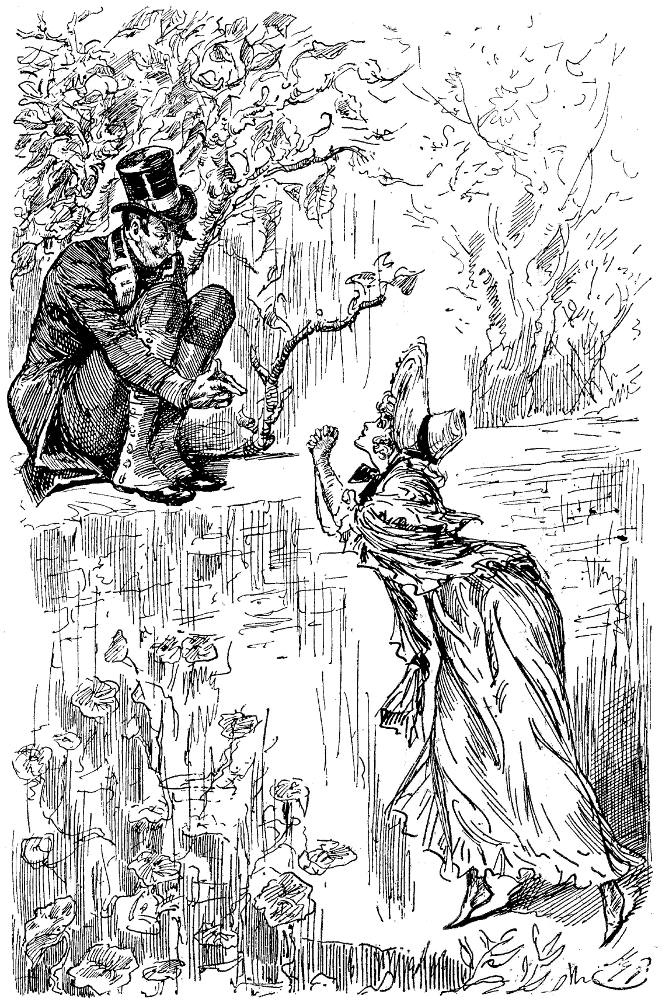 Sam Weller's Mission of Love by Harry Furniss. This variation on Sam's search for Arabella Allen at the behest of Pickwick and Winkle advances the romantic subplot in the Complete Works of Charles Dickens, Charles Library Edition, Volume Two (1910). [Click on the images to enlarge them.]
Other artists who illustrated this work, 1836-74
Related Material
Scanned image, colour correction, sizing, caption, and commentary by Philip V. Allingham. [You may use this image without prior permission for any scholarly or educational purpose, as long as you (1) credit the person who scanned the image, and (2) link your document to this URL in a web document or cite the Victorian Web in a print one.]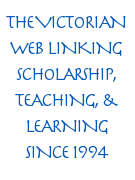 Bibliography
Dickens, Charles. The Posthumous Papers of the Pickwick Club. Illustrated by Sol Eytinge, Jr. Engraved by A. V. S. Anthony. The Diamond Edition. Boston: Ticknor and Fields, 1867.
Dickens, Charles. The Posthumous Papers of the Pickwick Club. The Household Edition. Illustrated by Thomas Nast. New York: Harper and Brothers 1873.
Dickens, Charles. Pickwick Papers. Illustrated by Hablot Knight Browne ('Phiz'). The Household Edition. London: Chapman and Hall, 1874.
---
Last modified 21 September 2021