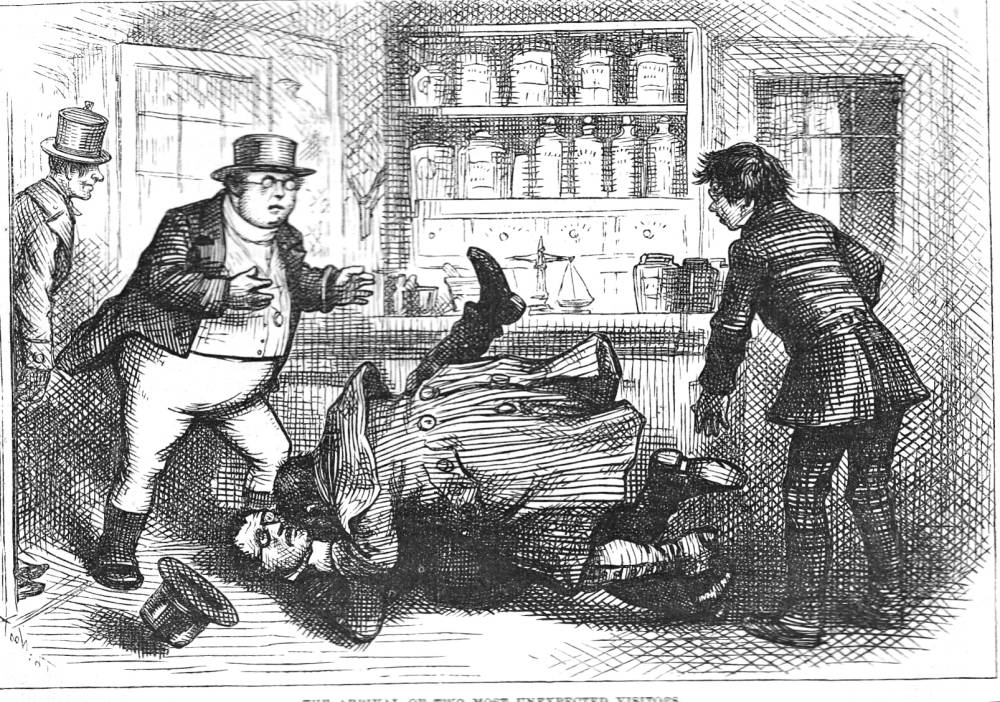 The arrival of two most unexpected visitors by Thomas Nast (1873), in Charles Dickens's The Posthumous Papers of The Pickwick Club, Chapter XLVIII, 281.
Bibliographical Note
Illustration for Chapter XLVIII, "Relates how Mr. Pickwick, with the assistance of Samuel Weller, essayed to soften the heart of Mr. Benjamin Allen, and to mollify the wrath of Mr. Robert Sawyer," p. 281. Wood-engraving, 3 ⅝ inches high by 5 ¼ inches wide (9.8 cm high by 13.5 cm wide), framed, half-page; referencing text on the same page; descriptive headline: "An Elopement Announced" (p. 281).
Passage Illustrated: Pickwick attempts to mollify Bob and Ben
"Married," repeated the old lady.
Mr. Bob Sawyer stopped to hear no more; but darting from the surgery into the outer shop, cried in a stentorian voice, "Ben, my boy, she's bolted!"
Mr. Ben Allen, who had been slumbering behind the counter, with his head half a foot or so below his knees, no sooner heard this appalling communication, than he made a precipitate rush at Mr. Martin, and, twisting his hand in the neck-cloth of that taciturn servitor, expressed an obliging intention of choking him where he stood. This intention, with a promptitude often the effect of desperation, he at once commenced carrying into execution, with much vigour and surgical skill.
Mr. Martin, who was a man of few words and possessed but little power of eloquence or persuasion, submitted to this operation with a very calm and agreeable expression of countenance, for some seconds; finding, however, that it threatened speedily to lead to a result which would place it beyond his power to claim any wages, board or otherwise, in all time to come, he muttered an inarticulate remonstrance and felled Mr. Benjamin Allen to the ground. As that gentleman had his hands entangled in his cravat, he had no alternative but to follow him to the floor. There they both lay struggling, when the shop door opened, and the party was increased by the arrival of two most unexpected visitors, to wit, Mr. Pickwick and Mr. Samuel Weller.
The impression at once produced on Mr. Weller's mind by what he saw, was, that Mr. Martin was hired by the establishment of Sawyer, late Nockemorf, to take strong medicine, or to go into fits and be experimentalised upon, or to swallow poison now and then with the view of testing the efficacy of some new antidotes, or to do something or other to promote the great science of medicine, and gratify the ardent spirit of inquiry burning in the bosoms of its two young professors. So, without presuming to interfere, Sam stood perfectly still, and looked on, as if he were mightily interested in the result of the then pending experiment. Not so, Mr. Pickwick. He at once threw himself on the astonished combatants, with his accustomed energy, and loudly called upon the bystanders to interpose.
This roused Mr. Bob Sawyer, who had been hitherto quite paralysed by the frenzy of his companion. With that gentleman's assistance, Mr. Pickwick raised Ben Allen to his feet. Mr. Martin finding himself alone on the floor, got up, and looked about him. [Chapter XLVIII, "Relates how Mr. Pickwick, with the assistance of Samuel Weller, essayed to soften the heart of Mr. Benjamin Allen, and to mollify the wrath of Mr. Robert Sawyer," p. 281]
Commentary
The scene is the Nockemorf surgery and dispensary in Bristol. The upshot of the scene illustrated is that Ben Allen and Bob Sawyer have to give up their notion of becoming brothers-in-law through Bob's marrying Arabella, Ben's sister. From Arabella's perspective and the reader's, the boozy, irresponsible Bob is hardly "husband material," and she is romantically attracted to Mr. Winkle (as unlikely choice as he may seem to the reader). Bob interest in Ben's sister is strictly pecuniary: "You must make yourself, with as little delay as possible, master of Arabella's one thousand pounds,' Ben has just announced to Bob, if heir business is to have any chance of succeeding. Bob acknowledges, however, that her personal dislike of him constitutes an insurmountable obstacle to matrimony. an even greater obstacle to the friends' plans for Arabella soon appears as Ben's aunt arrives to announce that Arabella has run off to be married. Pickwick and Sam arrive shortly thereafter in hopes of getting Bob and Ben to accept Arabella's decision.
The origin of the wrestling scene in the Bristol apothecary's lies in Chapter 47, when Winkle announces that Arabella is now "Mrs. Winkle" (277), and has been such for the past three days. Congratulating his young friend on being "an audacious young dog" (277), he then asks the younbg lady whether her brother is acquainted with these developments, but she replies that has dared to raise the subject with Ben, who is violently prejudiced in favour of her marrying his friend, business partner, and drinking companion Bob Sawyer. Perker, Pickwick's attorney, uses this circumstance to argue in favour of Pickwick's purchasing his freedom so that he address both Bob Allen in Bristol and Winkle, Senior, in Birmingham, in order to win the approval of both male heads of family. After a comfortable night at his rooms at the George and Vulture, Pickwick, accompanied by Sam, goes rattling in a post-coach, bound for Bristol.
Meanwhile, the medical partners' hopes of controlling Arabella's inheritance are dashed by the aunt's announcement that Arabella has run off with Winkle. Martin, the old lady's taciturn driver (readily identified by his coachman's topcoat), is bearing the brunt of Ben Allen's displeasure as Pickwick and Sam enter. Nast realizes the moment when Pickwick attempts end the fray by calling on the non-combatants (Sam and Bob) "to interpose" themselves between Martin and Ben. The aunt, meanwhile, has passed out in the surgery. The old lady, regaining consciousness, implicates Sam Weller in the elopement as Martin identifies Pickwick's servant as the man who appeared to be scouting the neighbourhood for Arabella. Pickwick, in fact, earns the reader's respect when he defends Arabella's right choose, and defends Winkle asa a potential husband "on equal footing" with Bob Sawyer, "if not a much better one" (282), not merely in terms of property and prospects, but in terms of disposition.
Phiz's Versions of the Precipitating Scene, 1837 and 1874
Left: Phiz's original September 1837 steel-engraving of Winkle's announcing to his mentor that he has married Arabella Allen, despite her brother's plans to marry her to Bob Sawyer instead: Mr. Winkle Returns under extraordinary Circumstances (Ch. XLVII). Right: Phiz updated the scene for the 1874 Household Edition with more naturalistic modelling of the figures: Mr. Pickwick could scarcely believe the evidence of his own senses (p. 345). [Click on the images to enlarge them.]
Other artists who illustrated this work, 1836-74
Related Material
Scanned image, colour correction, sizing, caption, and commentary by Philip V. Allingham. [You may use this image without prior permission for any scholarly or educational purpose, as long as you (1) credit the person who scanned the image, and (2) link your document to this URL in a web document or cite the Victorian Web in a print one.]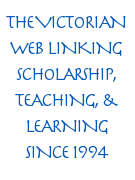 Bibliography
Dickens, Charles. The Posthumous Papers of the Pickwick Club. Illustrated by Sol Eytinge, Jr. Engraved by A. V. S. Anthony. The Diamond Edition. Boston: Ticknor and Fields, 1867.
Dickens, Charles. The Posthumous Papers of the Pickwick Club. The Household Edition. Illustrated by Thomas Nast. New York: Harper and Brothers 1873.
Dickens, Charles. Pickwick Papers. Illustrated by Hablot Knight Browne ('Phiz'). The Household Edition. London: Chapman and Hall, 1874.
Dickens, Charles. Pickwick Papers. Illustrated by Hablot Knight Browne and Others. Edited by Edward Guiliano and Philip Collins. The Annotated Dickens, Volume One. New York: Clarkson N. Potter, 1986.
---
Last modified 21 September 2021