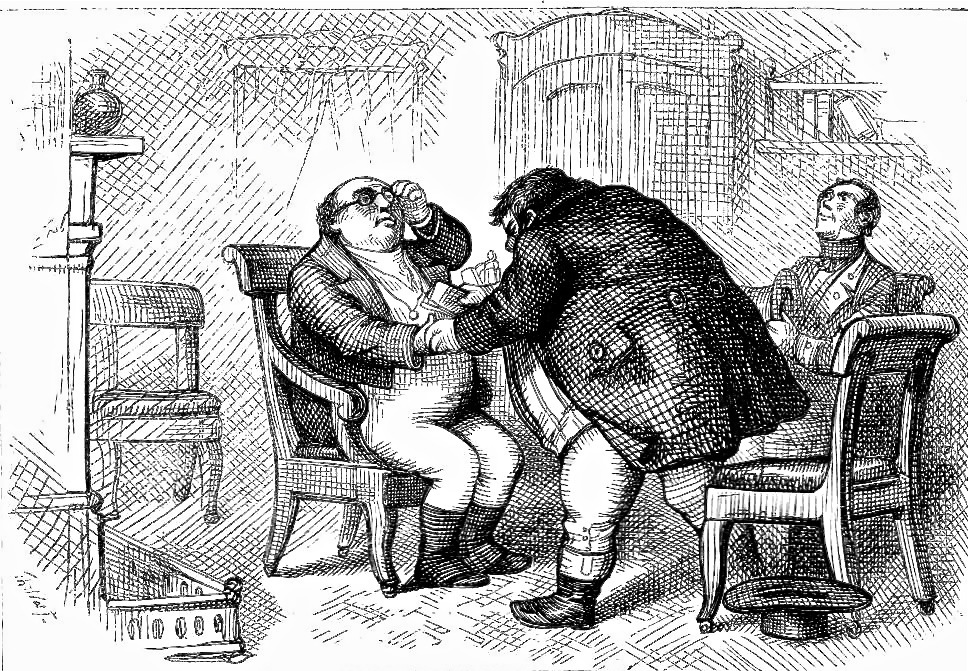 "All I can say is, just you keep it till I ask you for it again" by Thomas Nast. Illustration for the Household Edition of Dickens's Posthumous Papers of the Pickwick Club, Chapter 56, 324.
Bibliographical Note
Nast designed this final group illustration in order to synthesize the Pickwick and Tony Weller subseries of illustrations as Tony Weller implores Pickwick to manage Susan Weller's estate on his behalf, in Chapter LIV, "An Important Conference Takes Place between Mr. Pickwick and Samuel Weller, at which his Parent Assists — An Old Gentleman in a Snuff-coloured Suit arrives unexpectedly," p. 324. Wood-engraving, 4 ⅛ inches high by 5 ¼ inches wide (10.59 cm high by 13.5 cm wide), framed, half-page; referencing text on the same page; descriptive headline: "More about Sam's Reward" (325). [Click on image to enlarge it.]
Passage Illustrated: Developing a Sound Investment Strategy — Give it to Pickwick
"This here money," said Sam, with a little hesitation, "he's anxious to put someveres, vere he knows it'll be safe, and I'm wery anxious too, for if he keeps it, he'll go a-lendin' it to somebody, or inwestin' property in horses, or droppin' his pocket-book down an airy, or makin' a Egyptian mummy of his-self in some vay or another."
"Wery good, Samivel," observed Mr. Weller, in as complacent a manner as if Sam had been passing the highest eulogiums on his prudence and foresight. "Wery good."
"For vich reasons," continued Sam, plucking nervously at the brim of his hat —"or vich reasons, he's drawn it out to-day, and come here vith me to say, leastvays to offer, or in other vords —"
"To say this here," said the elder Mr. Weller impatiently, "that it ain't o' no use to me. I'm a-goin' to vork a coach reg'lar, and ha'n't got noveres to keep it in, unless I vos to pay the guard for takin' care on it, or to put it in vun o' the coach pockets, vich 'ud be a temptation to the insides. If you'll take care on it for me, sir, I shall be wery much obliged to you. P'raps," said Mr. Weller, walking up to Mr. Pickwick and whispering in his ear — "p'raps it'll go a little vay towards the expenses o' that 'ere conwiction. All I say is, just you keep it till I ask you for it again." With these words, Mr. Weller placed the pocket-book in Mr. Pickwick's hands, caught up his hat, and ran out of the room with a celerity scarcely to be expected from so corpulent a subject. [Chapter LIV, "An Important Conference Takes Place between Mr. Pickwick and Samuel Weller, at which his Parent Assists — An Old Gentleman in a Snuff-coloured Suit arrives unexpectedly," p. 324]
Commentary
Nast in this closing illustration emphasizes how Dickens rewards Pickwick and Sam for their moral behaviour in the face of adversity and injustice. The illustration further cements the relationship between Sam Weller and Samuel Pickwick by showing Pickwick acting as a surrogate parent, since, when Sam will marries Pickwick's maid, the couple will raise his children under Pickwick's roof, making the retired businessman a de facto grandparent.
Coachman and erstwhile publican Tony forces a pocketbook or wallet on Pickwick as his son disinterestedly regards the ceiling, acting as if the discussion between his employer and his father does not concern him. Although the retired businessman probably has the acumen necessary to manage this investment portfolio, he adjusts his glasses, as if trying to see the implications of accepting this role as investment fund manager. The transfer of Susan Weller's estate for safe-keeping seems to imply the widower's lack of middle-class financial knowledge. Dickens seems to imply that Tony is merely a member of the uneducated working class rather than the owner of a public house. However, Tony would likely rather work with horses and carriages rather than money, and continue to enjoy the camaraderie of his fellow coachmen rather than concern himself with the keeping of account books. No wonder, then, that Tony forces this unwanted responsibility upon an honest bourgeois who is not merely up to the task, but who has a deep personal connection with his family. Nast's Tony Weller is never much of an individual in any of the many illustrations in which he appears; rather, as here, he remains a stereotype: the large, jolly coachman in broad hat and capacious travelling coat and topboots. Tony presumably does not wish to modify his identity by taking on the responsibility of having to manage his late wife's estate, a function that he seems to feel would require him to renounce the society of the road, so admirably depicted in the Phiz illustrations of Tony and his compeers.
Related Scenes: Tony and the Other Coachmen, in the 1837 and 1874 Editions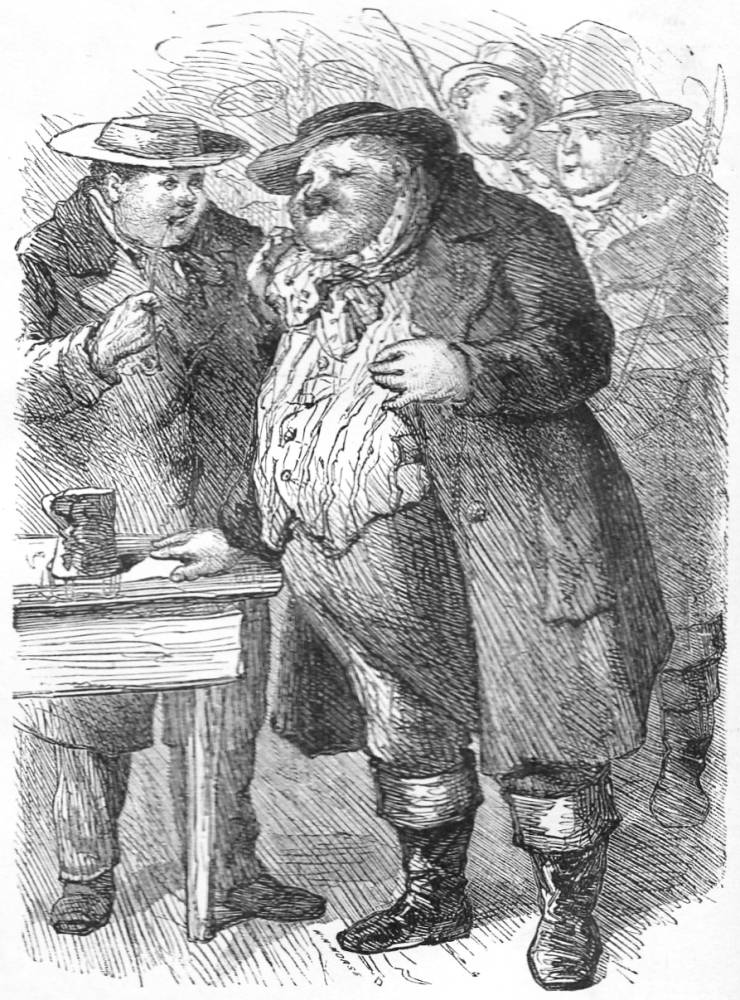 Left: Phiz's original November 1837 steel-engraving of the lawyer and Tony Weller's friends and associates, all of whom resemble him: Mr. Weller and his friends drinking to Mr. Pell (Ch. LV). Right: In the 1867 Diamond Edition, American illustrator Sol Eytinge, Jr., depicts Tony and his jolly cronies to round out the subplot involving Mr. Stiggins and Susan Weller, Old Weller and The Coachmen (Ch. LV). [Click on the images to enlarge them.]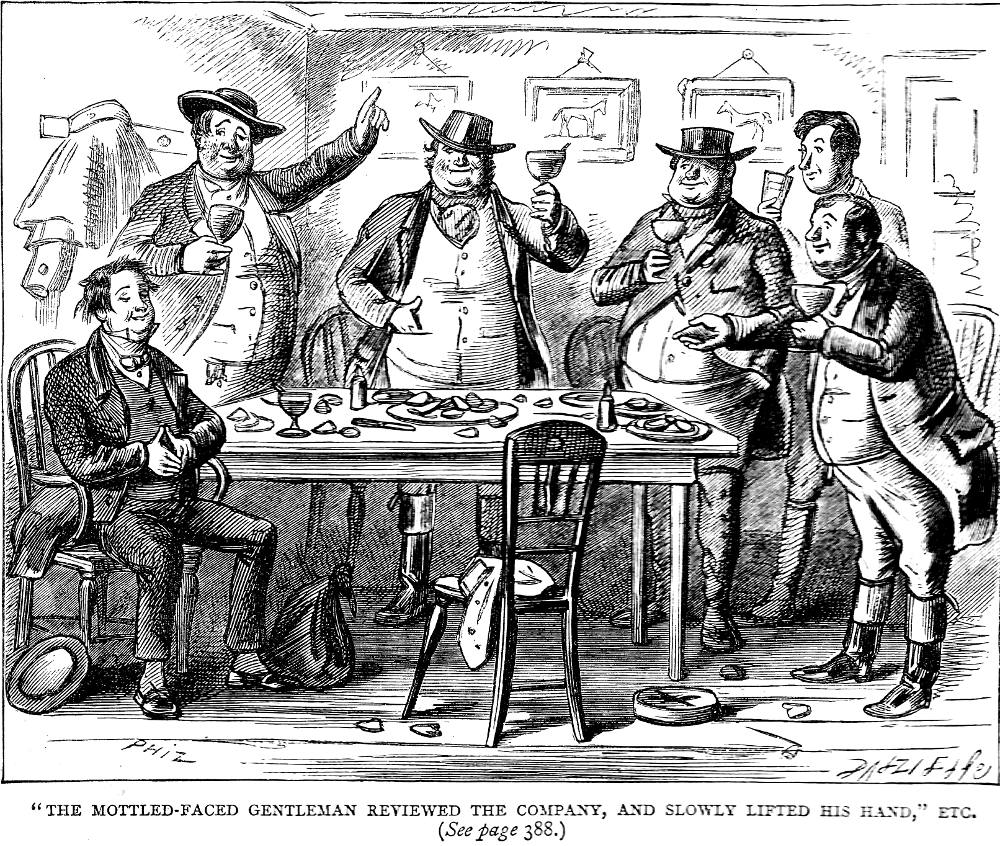 Above: Phiz updated the scene of the coachmen and the lawyer for the 1874 Household Edition with more naturalistic modelling of the figures: The mottled-faced gentleman reviewed the company, and slowly lifted his hand! (p. 345).
Other artists who illustrated this work, 1836-74
Related Material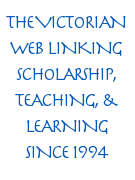 Scanned image, colour correction, sizing, caption, and commentary by Philip V. Allingham. [You may use this image without prior permission for any scholarly or educational purpose, as long as you (1) credit the person who scanned the image, and (2) link your document to this URL in a web document or cite the Victorian Web in a print one.]
Bibliography
Dickens, Charles. Pickwick Papers. Illustrated by Robert Seymour and Hablot Knight Browne. London: Chapman & Hall, 1836-37.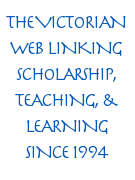 _______. The Posthumous Papers of the Pickwick Club. The Household Edition. 16 vols. Illustrated by Thomas Nast. New York: Harper and Brothers, 1873. VI.
_______. Pickwick Papers. Illustrated by Hablot Knight Browne ('Phiz'). The Household Edition. 22 vols. London: Chapman and Hall, 1874. VI.
---
Created 10 August 2019

Last modified 7 June 2020