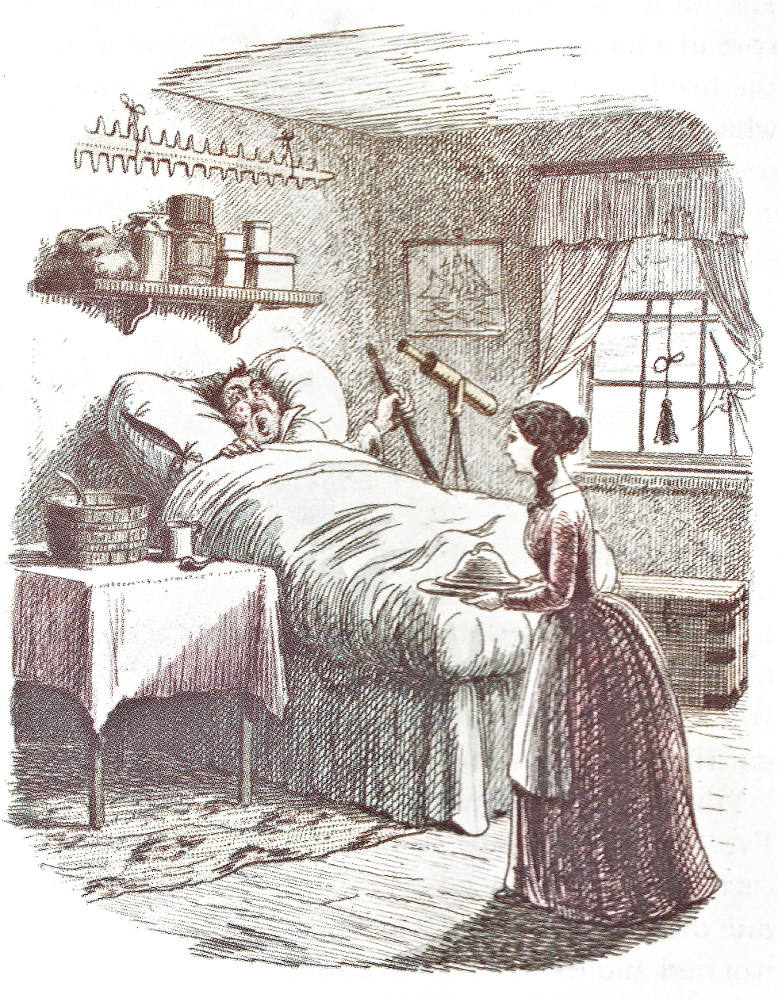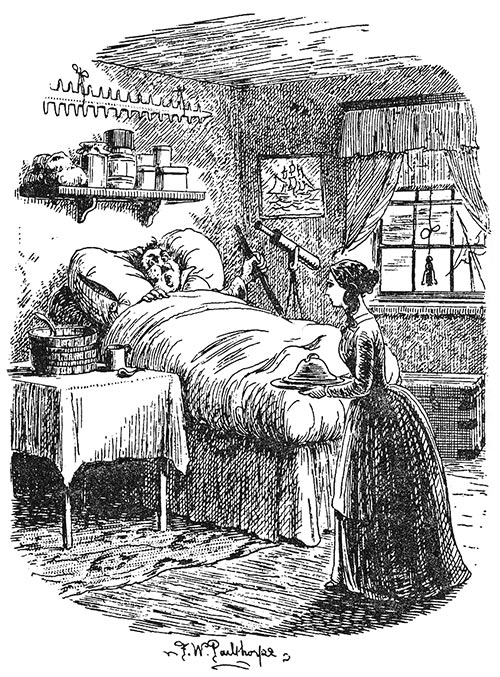 "Here's old Bill Barley, bless your eyes" (page 408) — eighteenth black-and-white lithograph from engraving (1885), but thirteenth hand-coloured lithograph (1979) for Charles Dickens's Great  Expectations, first published in the Robson and Kerslake edition, Chapter XLVI.  4 by 3 ⅛ inches (9.5 cm by 7.8 cm), vignetted, facing p. 374.
Passage Illustrated: Waiting on Old Bill Barley, Retired Ship's Purser
I was looking at her with pleasure and admiration, when suddenly the growl swelled into a roar again, and a frightful bumping noise was heard above, as if a giant with a wooden leg were trying to bore it through the ceiling to come at us. Upon this Clara said to Herbert, "Papa wants me, darling!" and ran away.
"There is an unconscionable old shark for you!" said Herbert. "What do you suppose he wants now, Handel?"
"I don't know," said I. "Something to drink?"
"That's it!" cried Herbert, as if I had made a guess of extraordinary merit. "He keeps his grog ready mixed in a little tub on the table. Wait a moment, and you'll hear Clara lift him up to take some. There he goes!" Another roar, with a prolonged shake at the end. "Now," said Herbert, as it was succeeded by silence, "he's drinking. Now," said Herbert, as the growl resounded in the beam once more, "he's down again on his back!"
Clara returned soon afterwards, and Herbert accompanied me upstairs to see our charge. As we passed Mr. Barley's door, he was heard hoarsely muttering within, in a strain that rose and fell like wind, the following Refrain, in which I substitute good wishes for something quite the reverse: —
"Ahoy! Bless your eyes, here's old Bill Barley. Here's old Bill Barley, bless your eyes. Here's old Bill Barley on the flat of his back, by the Lord. Lying on the flat of his back like a drifting old dead flounder, here's your old Bill Barley, bless your eyes. Ahoy! Bless you."
In this strain of consolation, Herbert informed me the invisible Barley would commune with himself by the day and night together; often, while it was light, having, at the same time, one eye at a telescope which was fitted on his bed for the convenience of sweeping the river. [Chapter XLVI, 408]
Pailthorpe Realizes a Minor but Purely Dickensian Character
Although one of the quirkiest and most purely Dickensian characters in the  novel, Bill Barley does not appear in other programs of illustration for Great Expectations. But Pailhorpe, with his Cruikshankian taste for  caricature and distortion, must have found the gouty old sailor who lives at Mill Pond Bank, Chinks's Basin, irresistible. Taking his cue from Dickens, Pailthorpe contrasts the raucous old salt with his normative daughter, the beautiful, sensible, dutiful Clara with whom Herbert Pocket is in love.
The second-storey apartment as Dickens describes it is at once a bedroom, a parlour, and a marine purser's. Pailthorpe convinces the reader of the reality of the room, and, by extension, the hyperbolic alcoholic occupant himself, by supplying a wealth of details appropriate to the occupant, drawn from a few lines of description such as the invalid's persisting "too, in keeping all the provisions upstairs in his room, and serving them out. He keeps them on shelves over his head, and will weigh them all. His room must be like a chandler's shop" (406). Since Clara's Aged P. understands nothing but "Gout, Rum, and Purser's stores" (407), the reader, assessing the room from the colour illustration some thirty pages earlier, may be surprised to see that the illustrator has equipped the presiding ogre with a telescope for watching Thames traffic, suggesting that he is accustomed to getting out of bed regularly. This detail, however, has authorial sanction as Dickens mentions it after giving Old Bill Barley's melodic growl. The wooden tub on the other side of the bed, since it presumably contains rum punch, is exactly what the illustration has led us to expect, and is exactly in the anticipated proximity to Old Bill Barley's bedside: "He keeps his grog ready mixed in a little tub on the table" (408). However, a subtle departure from Dickens's description is the tray and salver that Clara, home from school at Hammersmith to tend the invalid, carries into her father's room: Dickens is quite clear that she enters "with a basket in her hand." Otherwise, she is in Pailthorpe's hand-tinted engraving exactly as Dickens describes her: "a very pretty, slight, dark-eyed girl of twenty or so" (407), and therefore a suitable romantic interest for Pip's best friend.
Related Material
Other Artists' Illustrations for Dickens's
Great Expectations
Scanned images and text by Philip V. Allingham. [You may use these images without prior permission for any scholarly or educational purpose as long as you (1) credit the photographer and (2) link your document to this URL in a web document or cite the Victorian Web in a print one.]
Bibliography
Allingham, Philip V. "The Illustrations for Great Expectations in Harper's Weekly (1860-61) and in the Illustrated Library Edition (1862) — 'Reading by the Light of Illustration'." Dickens Studies Annual, Vol. 40 (2009): 113-169.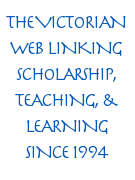 Dickens, Charles. Great Expectations. Illustrated by John McLenan. [The First American Edition]. Harper's Weekly: A Journal of Civilization, Vols. IV: 740 through V: 495 (24 November 1860-3 August 1861).
______. ("Boz."). Great Expectations. With thirty-four illustrations from original designs by John McLenan. Philadelphia: T. B. Peterson (by agreement with Harper & Bros., New York), 1861.
_____. Great Expectations. Illustrated by Sol Eytinge, Junior. Diamond Edition. 14 vols. Boston: Ticknor & Fields, 1867. XIII.
_____. Great Expectations. Illustrated by F. A. Fraser. Volume 6 of the Household Edition. London: Chapman and Hall, 1876.
_____. Great Expectations. Illustrated by F. W. Pailthorpe. London: Robson & Kerslake, 23 Coventry Street, Haymarket, 1885.
_____. Great Expectations. Illustrated by H. M. Brock. Imperial Edition. 16 vols. London: Gresham Publishing Company [34 Southampton Street, The Strand, London], 1901-3.
_____. Great Expectations. Illustrated by Harry Furniss. Charles Dickens Library Edition. 18 vols. London: Educational Book Company, 1910. Vol 14.
Harmon, William, and C. Hugh Holman. "Picaresque Novel." A Handbook to Literature. Upper Saddle River, NJ: Prentice Hall, 2000. Pp. 389-390.
Paroissien, David. The Companion to "Great Expectations." Westport, Conn.: Greenwood, 2000.
---
Created 26 February 2004 Last modified 25 October 2021