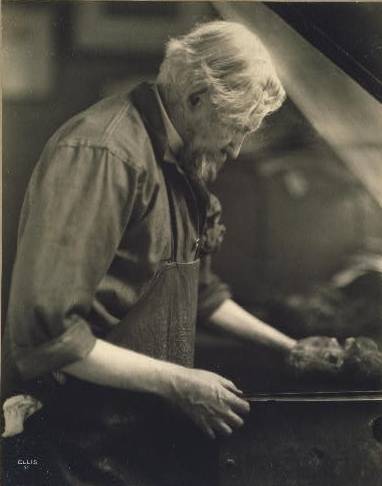 Joseph Pennell rolling up a plate at Peters.
Joseph Pennell (1857-1926) was an American illustrator, writer and art critic who first published in Scribner's Monthly. Having accompanied William Dean Howells to Tuscany to illustrate a series of articles, he spent some time sketching in England and Ireland as well as in Italy. After returning to his hometown of Philadelphia and getting married, Pennell promptly set off again for Europe. London was to be his base for the next thirty years or so, until the couple returned to America in 1917. Alan M. Fern writes that Pennell's style "reflected his early enthusiasm for the work of Spanish artists, his admiration for French printmakers of his time, and his appreciation of Whistler." In fact Pennell and his wife, who was a writer herself, became friendly with many of the leading figures of the artistic and literary establishment of the late Victorian period, and were particular admirers of Whistler.
However, Pennell's style was distinctive and his subjects unusual. He was much more than an "extremely competent topographer in black and white" (Houfe 255). Horizontally scratched skyscapes with soft woolly clouds float above terraced houses, factory chimneys or church spires, ships' masts, barred warehouse windows and suchlike, making wonderful vignettes of urban life, in which the human figures, though only lightly sketched in, seem perfectly at home and add just the right finishing touches. Mostly, though, it was place that inspired him. As Fern says, "His work combines assured drawing with an ability to render architectural details accurately without being dryly descriptive, and to evoke atmospheric effects on structures and on the landscape," with the result that his compositions are quite different "from much of the bucolic or anecdotal printmaking and illustration of his time." Clearly, he was the ideal choice for recording impressions of the East End, where ribbons of poor dwellings left few hints of the rural past, and dark cobbled alleys opened suddenly onto a whole other watery world. His illustrations for Walter Besant's book, East London, first published in 1899, make up a unique and valuable record of a way of life that has vanished now.
The docklands were in many ways the nerve-centre of the East End, requiring a vast skilled workforce and thousands of dockhands. But by the late 1880s the work was going downriver: the new port at Tilbury, a good 26 miles from London Bridge, was opened in 1886. The Great Dock Strike of 1889 could not halt the march of progress. Steamer services had been operating from London even before the accession of Queen Victoria; the heyday of sail was well over now, and the era of the great container ships was not far off. With the latter came not only the need for a greater depth of water than the older docks could afford, but new methods of handling and transferring cargo. Nearly the whole of the docklands area, with its busy and colourful riverine activity and huge warehouses, was set to go out of business. In a process which is still continuing, it would be redeveloped for offices, apartment buildings, hotels and so on; it is thriving now in an entirely different way.
As for the terraced and back-to-back houses a little further off the river, where the East End dockers and other unskilled workers lived, these have been replaced by multicultural housing complexes. Some of the roads mentioned by Besant no longer exist at all, or have been renamed, while the larger "boulevards" (130), as he calls them, are lined with office blocks and more apartments. In some of his illustrations, like that of "The Street and Old Church Tower, Hackney," Pennell gives us a sense of the extraordinary changes wrought by the Victorians. In others, such as "The New Whitechapel Art Gallery," we catch early glimpses of redevelopment, and of the philanthropic efforts which set some of it in motion before the speculators moved in.
The Pennells are perhaps best remembered now for their important volumes on Whistler's Life and Letters (1908), and for their support of graphic art through Pennell's own books on the subject (such as The Illustration of Books, 1896), as well as through the Pennell fund at the Library of Congress.
Bibliography
Ackroyd, Peter. London: The Biography. London: Vinatge, 2001. (See 548ff., on the later history of the docklands.)
Besant, Walter. East London. London: Chatto & Windus, 1901.
Fern, Alan M. "Joseph Pennell (1857-1926)." Oxford Dictionary of National Biography. Online ed. Viewed 11 April 2008.
Houfe, Simon. The Dictionary of 19th Century Book Illustrators. Woodbridge, Suffolk: Antique Collectors' Club, rev. ed. 1996.
Museum in Docklands, West India Quay, London (See here. The museum, in a converted warehouse, has excellent sections on the Victorian period.)
Rensselaur, Mariana Schuyler Van. English Cathedrals. London: T. Fisher Unwin, 1892.
White, Jerry. London in the Nineteenth Century: A Human Awful Wonder of God. London: Cape, 2007. (See 181ff., on the docklands in the nineteenth century.)
---
Last modified 29 July 2008