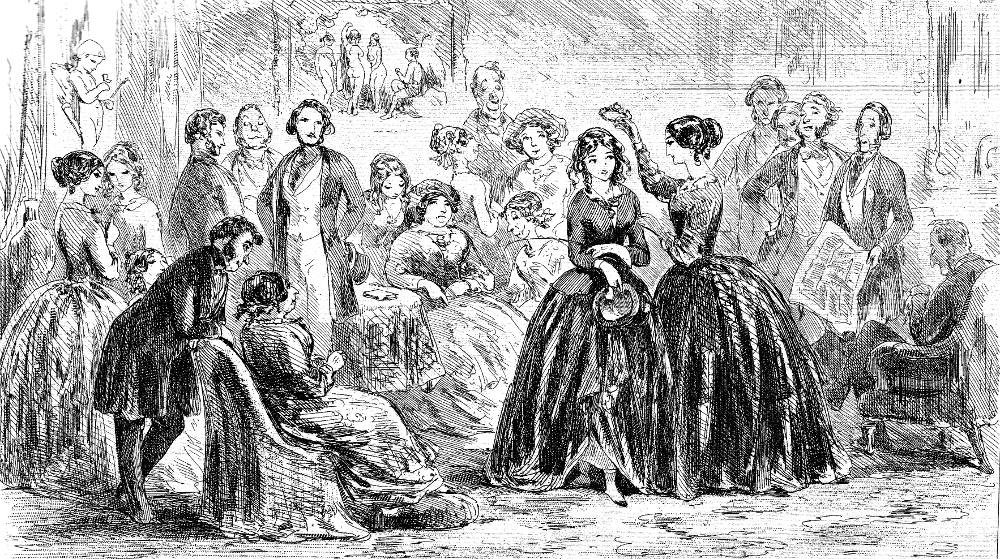 The Coronation of Miss Meek by Phiz (Hablot Knight Browne), February 1849. Steel-engraving. 8.7 cm high by 15 cm wide (3 ⅜ by 5 ⅞ inches), framed, full-page plate for Roland Cashel, Chapter XXXVI, "An 'Unlimited' Monarchy," facing p. 318. [Click on the image to enlarge it.]
Passage Illustrated: Another
Judgment of Paris
While, therefore, the party gathered around Cashel, with eager assurance of Miss Meek's precedence, Lady Kilgoff, rising, crossed the room to where that young lady was standing, and gracefully arranging her loose-flowing ringlets into a knot at the back of the head, fastened them by a splendid comb which she took from her own, and whose top was fashioned into a handsome coronet of gold, saying, "The question of legitimacy is solved forever: the Pretender yields her crown to the true Sovereign."
The gracefulness and tact of this sudden movement called forth the warmest acknowledgments of all save Lady Janet, who whispered to Miss Kenny feck, "It is pretty clear, I fancy, who is to pay for the crown jewels!"
"Am I really the Queen?" cried the young girl, half wild with delight.
"Most assuredly, madam," said Linton, kissing her hand in deep reverence. "I beg to be first to tender my homage."
"That's so like him!" cried she, laughing; "but you shall be no officer of mine. Where's Charley? I want to make him Master of the Buckhounds, if there be buckhounds."
"Will you not appoint your ladies first, madam?" said Lady Janet; "or, are your preferences for the other sex to leave us quite forgotten?"
"Be all of you everything you please," rejoined the childish, merry voice, "with Charley Frobisher for Master of the Horse."
"Linton for Master of the Revels," said some one.
"Agreed," said she. [Chapter XXXVI, "An 'Unlimited' Monarchy," pp. 319-320]
Commentary: Random Chance Determines Who Shall Be Queen
"And now, Mr. Cashel," said she, "let us not forget the pledge on which we admitted you."
"Quite right," exclaimed Roland; "I promised a suggestion: here it is —"
"Pardon me for interrupting," said Miss Kennyfeck; "but in what capacity do you make this suggestion? Are you still king, or have you abdicated?"
"Abdicated in all form," replied Roland, bowing with well-assumed humility; "as simple citizen, I propose that we elect a 'Queen,' to rule despotically in all things, — uncontrolled and irresponsible." [Chapter XXXV, "An 'Unlimited' Monarchy," 316]
After the Tubbermore guests discuss the recent wreck of Cashel's schooner and upbraid him facetiously for his late arrival to the festivities, Cashel redirects the conversation by suggesting that the company pick one of the young ladies as "Queen" of the entertainments and activities for the next few days. But rather than cause rivalry or engender dispute among rival claimants, the host simply proposes that "the first lady who entered should be the Queen of our party" (319), chosen by fate rather than universal suffrage or male votes only. Lady Laura Kilgoff enters through the door a second ahead of Jemima Meek's racing through the open French doors. Hence, Phiz has satirically embedded a mythological scene in the engraving, The Judgment of Paris by Flemish artist Peter Paul Rubens. Lady Kilgoff diplomatically yields the honour to "Jim," whom she "crowns" with a golden coronet comb from her own head, for, as Lady Janet McFarlane points out, "Miss Meek entered before her Ladyship" (319), checking Cashel's attempt to install the young married aristocrat whom he had protected throughout the ordeal of the shipwreck. Phiz has emphasized Cashel by placing him directly under the embedded mythological scene.
Scanned image and text by Philip V. Allingham. [You may use this image without prior permission for any scholarly or educational purpose as long as you (1) credit the person who scanned the image and (2) link your document to this URL in a web document or cite the Victorian Web in a print one.]
Bibliography
Lever, Charles. Roland Cashel. With 39 illustrations and engraved title-vignette by Phiz. London: Chapman & Hall, 1850.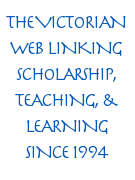 Lever, Charles. Roland Cashel. Illustrated by Phiz [Hablot Knight Browne]. Novels and Romances of Charles Lever. Vols. I and II. In two volumes. Boston: Little, Brown, 1907. Project Gutenberg. Last Updated: 19 August 2010.
Steig, Michael. Chapter VII, "Phiz the Illustrator: An Overview and a Summing Up." Dickens and Phiz. Bloomington: Indiana U. P., 1978. Pp. 298-316.
---
Created 2 January 2023