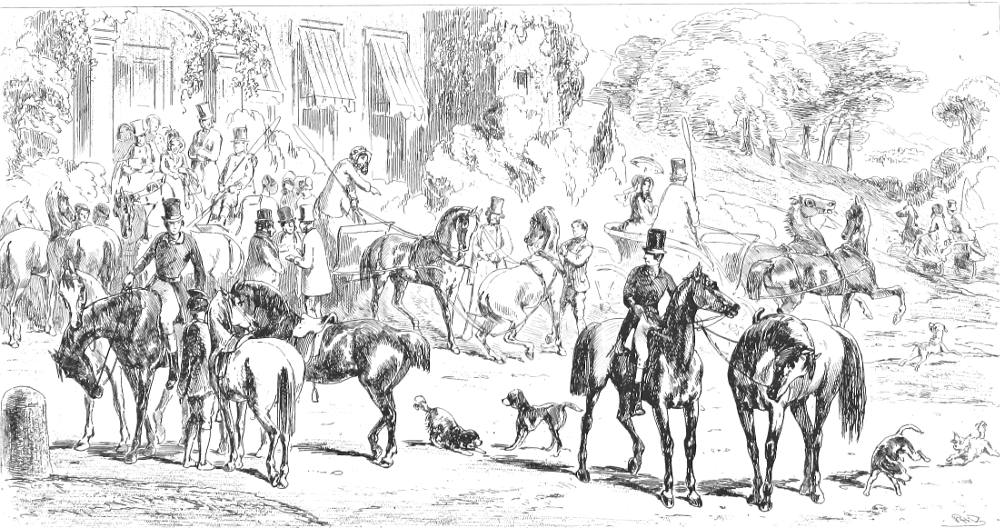 After Luncheon — The Start by Phiz (Hablot Knight Browne), February 1849. Steel-engraving. 10 cm high by 16 cm wide (4 by 6 ¼ inches), framed, full-page dark plate for Roland Cashel, Chapter XXXVIII, "A Partial Recovery and a Relapse," facing p. 329. [Click on the image to enlarge it.]
Passage Illustrated: Tubbermore's Equestrian Festivities Directed by Roland and "Jim"
The display of all which gratified him most was that which usually took place each day after luncheon; when the great space before the house was thronged with equipages of various kinds and degrees, with saddle-horses and mounted grooms, and amid all the bustle of discussing where to, and with whom, the party issued forth to spend the hours before dinner.
A looker-on would have been amused to watch all the little devices in request, to join this party, to avoid that, to secure a seat in a certain carriage, or to escape from some other; Linton's chief amusement being to thwart as many of these plans as he could, and while he packed a sleepy Chief Justice into the same barouche with the gay Kennyfeck girls, to commit Lady Janet to the care of some dashing dragoon, who did not dare decline the wife of a "Commander of the Forces."
Cashel always joined the party on horseback, so long as Lady Kilgoff kept the house, which she did for the first week of her stay; but when she announced her intention of driving out, he offered his services to accompany her. By the merest accident it chanced that the very day she fixed on for her first excursion was that on which Cashel had determined to try a new and most splendid equipage which had just arrived; it was a phaeton, built in all the costly splendour of the "Regency of the Duke of Orleans," — one of those gorgeous toys which even a voluptuous age gazed at with wonder. Two jet-black Arabians, of perfect symmetry, drew it, the whole forming a most beautiful equipage.
Exclamations of astonishment and admiration broke from the whole party as the carriage drove up to the door, where all were now standing.
"Whose can it be? Where did it come from? What a magnificent phaeton! Mr. Cashel, pray tell us all about it. Do, Mr. Linton, give us its history."
"It has none as yet, my dear Mrs. White; that it may have, one of these days, is quite possible." [Chapter XXXVIII, "A Partial Recovery and a  Relapse," 329]
Commentary: Cashel Continues to Pursue Lady Laura Kilgoff
Blissfully unaware of the prior attachment between the elderly peer's vivacious young wife and his Master of Ceremonies, Tom Linton, Cashel continues to pursue Lady Laura. Here, as she has recovered from an encounter with Linton in the conservatory several days earlier, she announces her intention to take part in this afternoon outings. And the master of Tubbermore obliges her with a ride in his fashionable new equipage drawn by a matched pair of black Arabians. In Phiz's umbled composition of twenty-figures and thirteen horses, Cashel's carriage must be the one just right of centre, immediately above the two large horses in the lower-right. Finally seeing his guests happy with both their accommodations and past-times, Cashel feels at last "inclined to think that wealth had great privileges" (328). The key terms here are "pleasure," "hospitality," and "splendour," all of which Phiz communicates through the thoroughbred horses, fashionably attired riders, and smart carriages, as well as through the noble house-front with new awnings (left) and trees in full leaf to the right.
Scanned image and text by Philip V. Allingham. [You may use this image without prior permission for any scholarly or educational purpose as long as you (1) credit the person who scanned the image and (2) link your document to this URL in a web document or cite the Victorian Web in a print one.]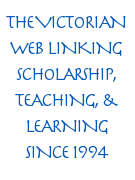 Bibliography
Lever, Charles. Roland Cashel. With 39 illustrations and engraved title-vignette by Phiz. London: Chapman & Hall, 1850.
Lever, Charles. Roland Cashel. Illustrated by Phiz [Hablot Knight Browne]. Novels and Romances of Charles Lever. Vols. I and II. In two volumes. Boston: Little, Brown, 1907. Project Gutenberg. Last Updated: 19 August 2010.
Steig, Michael. Chapter Seven: "Phiz the Illustrator: An Overview and a Summing Up." Dickens and Phiz. Bloomington: Indiana U. P., 1978. Pp. 298-316.
---
Created 9 November 2022 Last updated 2 January 2023