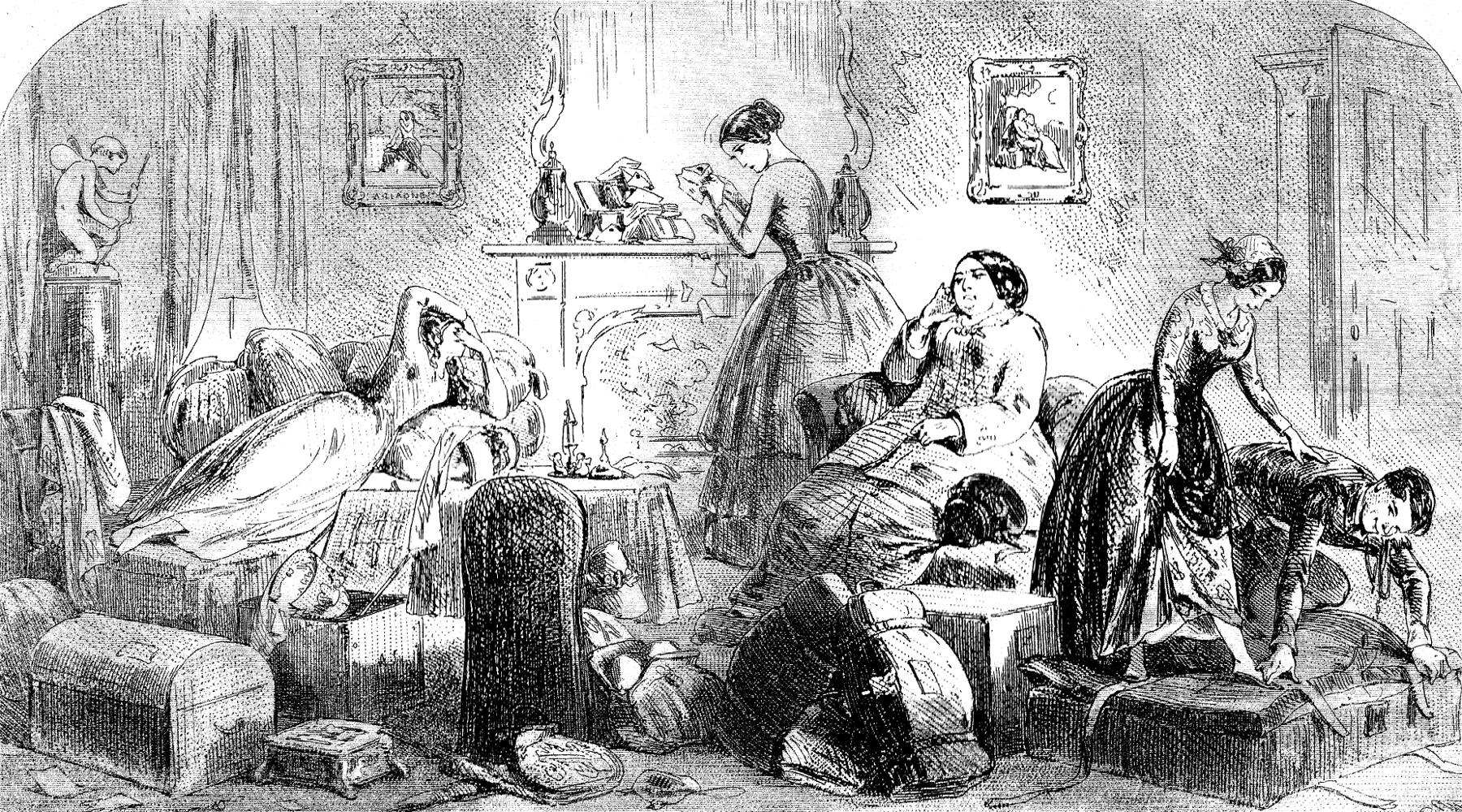 Preparations for departure by Phiz (Hablot Knight Browne), May 1849. Steel-engraving. 9.0 cm high by 15.4 cm wide (3 ⅜ by 6 ¼ inches), framed, full-page dark plate for Roland Cashel, Chapter LI, "A Wet Day — The False Signal," facing p. 426. [Click on the image to enlarge it.]
Passage Illustrated: The Kennyfecks Prepare to leave Tubbermore
And now we come to the Kennyfecks, at whose door a servant stands knocking for the second or third time. "Come in" is heard, and he enters.
The blinds are drawn, which, adding to the gloom of the day, the vast apartment is in semi-darkness, and it is some time before you can descry the figures. On a sofa sits Mrs. Kennyfeck in a kind of travelling-dress, with her bonnet beside her; fragments of ribbons and stray articles of dress litter the sofa and the table, several trunks are strewn about, and a maid and a man are performing a pas de deux on an "imperial," which, in its efforts to close at the lock, is giving way simultaneously at the hinges. Miss Kennyfeck stands at the chimney burning notes and letters, of which, as she glances from time to time, her features betray the tenor; and, lastly, Olivia is lying on a sofa, her face concealed between her hands, and only the quick palpitation of her bosom showing that her agitation is not lulled in slumber.
"What does he say? I can't hear him with all that stamping," said Mrs. Kennyfeck; and her voice was not of the dulcet order.
"He says the post-horses have come, mamma, and wishes to know when he's to come round with the carriage."
"When I give orders for it; not till then," said she, imperiously; and the man, abashed in such a presence, departed. [Chapter LI, "A Wet Day — The False Signal," pp. 426-427]
Commentary: The Kennyfeck Ladies Pack up in Preparation for Departure
Tom Linton has manoeuvred Lord Kilgoff into acting as a sort of reference or guarantee of his having a suitably aristocratic background to render himself an appropriate suitor in the eyes of Mary Leicester's grandfather, Mat Corrigan of Tubber-beg. However, Roland Cashel has advanced his relationship with Mary Leicester so far that he now seems the likely victor in the marital competition. Thus stands the romantic plot at the close of Chapter Fifty.
But as Chapter Fifty-one opens, a grey, wet, miserable day has settled upon the guests at Tubbermore, who wander the great house listlessly in search of stimulation since the inclement weather so typical of Ireland has denied them outdoor activities:
It was a rainy day, — one of those downright pelting, pouring, swooping wet days which Ireland is accustomed to, for nearly one half of every year. All out-of-door occupation was impossible; the most fidgety could only get as far as the stables, to smoke a cigar and "chaff" horse-talk with the grooms; while the more resigned wandered from room to room, and place to place, in that restlessness that defies common philosophy to subdue.
A wet day in a country house is always a severe trial. Sociability will not be coerced, and the greater the necessity for mutual assistance, the less is the disposition to render it; besides, they who habitually contribute least to the enjoyment of their fellows have always great resources of annoyance at such periods, — as the most insignificant instrument in the orchestra can at any moment destroy the harmony of the band. [425]
Phiz does not describe the weather directly, but shows its gloomy influence on the Kennyfecks. They are departing ahead of the main company, deflated by how Aunt Fanny has mismanaged the incipient romance between Cashel and Olivia. Mrs. Kennyfeck is suffocating from the embarrassment of Aunt Fanny's "benediction with uplifted hands and eyes" (427). A note suggesting a proposal to Olivia from Harvey Upton of the Hussars now interrupts the ladies' preparations for departure.
Scanned image and text by Philip V. Allingham. [You may use this image without prior permission for any scholarly or educational purpose as long as you (1) credit the person who scanned the image and (2) link your document to this URL in a web document or cite the Victorian Web in a print one.]
Bibliography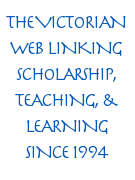 Lever, Charles. Roland Cashel. With 39 illustrations and engraved title-vignette by Phiz. London: Chapman & Hall, 1850.
Lever, Charles. Roland Cashel. Illustrated by Phiz [Hablot Knight Browne]. Novels and Romances of Charles Lever. Vols. I and II. In two volumes. Boston: Little, Brown, 1907. Project Gutenberg. Last Updated: 19 August 2010.
Steig, Michael. Chapter Seven: "Phiz the Illustrator: An Overview and a Summing Up." Dickens and Phiz. Bloomington: Indiana U. P., 1978. Pp. 298-316.
---
Created 9 January 2023