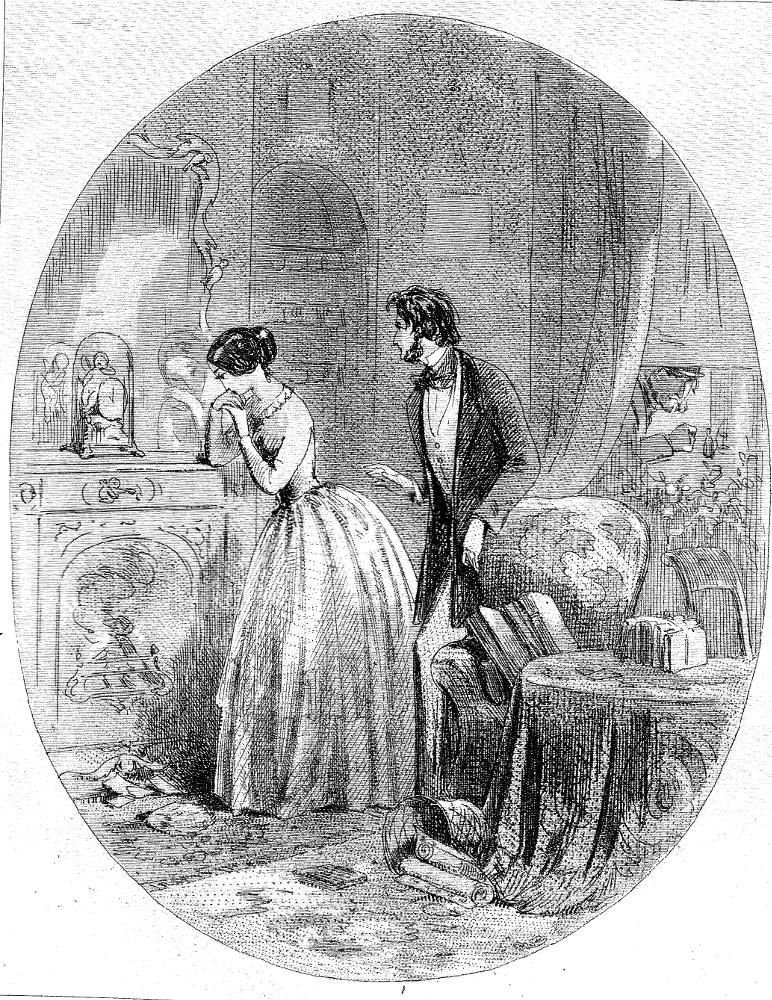 "No" is the feminine of "Yes."
Phiz
Dalziel
June 1849
Steel-engraving, dark plate, facing p. 441.
11.4 cm high by 8.9 cm wide (4 ½ by 3 ½ inches), framed.
Twenty-ninth illustration for Roland Cashel, published serially by Chapman and Hall (1848-49).
Scanned image and text by Philip V. Allingham.
[You may use these images without prior permission for any scholarly or educational purpose as long as you (1) credit the photographer and (2) link your document to this URL in a web document or cite the Victorian Web in a print one.]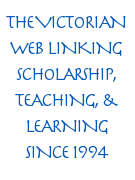 Passage Illustrated: A Mysterious Figure at the Window interrupts Cashel's Proposal
Mary withdrew her hand, which he had scarcely dared to press, and leaned upon the chimney-piece without speaking. It rarely happens that such an announcement is made to a young lady quite unexpectedly; such was, however, the case here: for nothing was she less prepared! Cashel, it is true, had long ceased to be indifferent to her; the evenings of his visits at the cottage were sure to be her very happiest; his absences made dreary blanks. The inartificial traits of his character had at first inspired interest; his generous nature, and his manly leaning to right, had created esteem of him. There were passages of romantic interest in his former life which seemed so well to suit his bold and dashing independence; and there was also an implicit deference, an almost humility, in the obedience he tendered to her grandfather which spoke much for one whom sudden wealth and prosperity might be supposed to have corrupted. Yet, all this while, had she never thought of what impression she herself was making.
"I have but one duty," said she at last, in a faint whisper.
"Might I not share it with you, Mary?" said he, again taking her hand between his own; "you would not grudge me some part of his affection?"
"Who crossed the window there?" cried she, starting; "did you not see a figure pass?"
"No, I saw no one, — I thought of none, save you."
"I am too much frightened to speak. I saw someone stop before the window and make a gesture, as if threatening, — I saw it in the glass." [Chapter LII, "The Shadow in the Mirror," 440]
Commentary: What is Tom Linton up to?
Phiz has juxtaposed the romance of Cashel and Mary, to whom he has just proposed marriage, with a mysterious figure, who appears to rapping at the window. The chapter title emphasizes the importance of this mysterious figure as Mary Leicester tries to determine whether she should reject the attractive marriage proposal in order to continue as her grandfather's primary caregiver.
Lever quickly resolves the mystery of the threatening face at the window of Tubber-beg parlour when later that day Cashel returns by horseback to his grand estate. The reader is aware, however — as Cashel and Miss Leicester are not — that Linton has  already approached Mat Corrigan to ask for his grand-daughter's hand in marriage. Exquisitely dressed in her husband's jewelry and lace as she is about to descend to dinner, Lady Kilgoff alerts Cashel to the fact that Tom Linton had followed him on horseback, and had returned just ahead of him. She fails, however, to shed any light on Linton's motives.
"I have but a moment to speak to you. It is almost seven o'clock. You were at 'the cottage' to-day?"
"Yes," said Roland, his cheek growing scarlet as he spoke.
"And, doubtless, your visit had some object of importance. Nay, no confessions. This is not curiosity on my part, but to let you know that you were followed. Scarcely had you left this, when Linton set out also, making a circuit by the wood, but at a speed which must have soon overtaken you. He returned some time before you, at the same speed, and entered by the back gate of the stables. From this window I could see him each time."
"Indeed," said Roland, remembering the figure Mary had seen before the window. [Chapter LII, 443]
We are left wondering, then, whether Linton had intended Mary and Roland to see him at the window of the study as she detected his presence only through apprehending it in the mirror. Linton cannot have been pleased that Cashel was proposing to her since such an engagement would thwart his plans to use King George the Third's bond to secure control over the estates that formerly belonged to the O'Regans.
The illustration captures the key moment before Mary apprehends Linton at the window of the study. Phiz juxtaposes the refinement of the furnishings and the fireplace with the haphazard disposition of books. As Mary turns away, Cashel gestures, as if questioning Mary's reluctance to accept his marriage proposal: "Mary withdrew her hand, which he had scarcely dared to press, and leaned upon the chimney-piece without speaking."
Bibliography
Lever, Charles. Roland Cashel. With 39 illustrations and engraved title-vignette by Phiz. London: Chapman & Hall, 1850.
Lever, Charles. Roland Cashel. Illustrated by Phiz [Hablot Knight Browne]. Novels and Romances of Charles Lever. Vols. I and II. In two volumes. Boston: Little, Brown, 1907. Project Gutenberg. Last Updated: 19 August 2010.
Steig, Michael. Chapter Seven: "Phiz the Illustrator: An Overview and a Summing Up." Dickens and Phiz. Bloomington: Indiana U. P., 1978. Pp. 298-316.
---

Victorian
Web

Illustra-
tion

Phiz

Roland
Cashel

Next
Created 19 January 2023