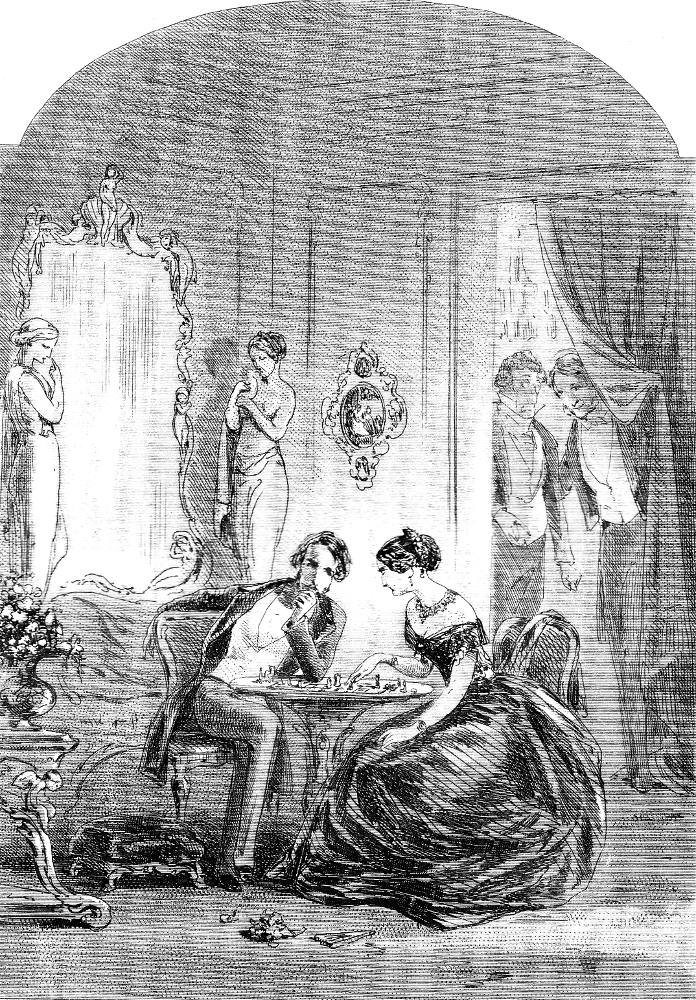 The Chess Players
Phiz
Dalziel
June 1849
Steel-engraving, dark plate, facing p. 455.
11.8 cm high by 9.2 cm wide (4 and 7/16 by 3 and 7/16 inches), framed.
Thirtieth illustration for Roland Cashel, published serially by Chapman and Hall (1848-49).
Scanned image and text by Philip V. Allingham.
[You may use these images without prior permission for anyscholarly or educational purpose as long as you (1) credit the photographer and (2) linkyour document to this URL in a web document or cite the Victorian Web in a print one.]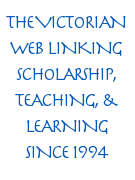 Passage Illustrated: An Assignation interrupted?
"We shall soon see, for it is always better in these cases to incur the rudeness of interruption than the meanness of espionage;" and so saying, Lord Kilgoff opened the door and entered. Although in so doing the noise he made might easily have attracted notice, the chess-players, either deep in their preoccupation, or habituated to the uproar of the drawing-room, paid no attention, so that it was only as he exclaimed "Lady Kilgoff!" that both started, and beheld him, as, pale with passion, he stood supporting himself on the back of a chair.
"Pray don't stir, sir; be seated, I beg," said he, addressing Cashel, in a voice that shook with anger; "my interruption of your game was pure accident."
"No apologies, my Lord; we are both but indifferent players," said Cashel, smiling, but yet very far from at ease.
"Your seclusion at least bespeaks the interest you feel in the game. Mr. Linton and I can vouch —" (Here his Lordship turned to call his witness; but he had left the court, or, more properly speaking, had never entered it.)
"Linton here?" said Lady Kilgoff, in a voice which, though scarce a whisper, was actually thrilling in the intensity of its meaning. [Chapter LIV, "A Tête-à-tête  Interrupted," 455]
Commentary: Linton provokes a possible duel between Cashel and Lord Kilgoff
All this little chit-chat was a thing got up by Linton, while stationing himself in a position to watch Cashel and Lady Kilgoff, who sat, at a chess-table, in an adjoining room. It needed not Linton's eagle glance to perceive that neither was attentive to the game, but that they were engaged in deep and earnest conversation. Lady Kilgoff's back was towards him, but Roland's face he could see clearly, and watch the signs of anger and impatience it displayed. [452]
This illustration complements the previous scene, "No" in the Feminine of "Yes", for Chapter Fifty-two. In both June 1849 illustrations Linton intrudes upon Cashel's privacy to disrupt Cashel's social relationships, upsetting the marriage proposal scene at Tubberbeg, and having Lord Kilgoff barge in as Cashel conducts an intimate conversation with Laura Kilgoff here.
As Linton and Miss Meek (in her capacity as Queen of Entertainments) are planning a masquerade in Spanish costumes, the company decides that Cashel should be consulted since his money must cover the lavish expenditure. But where is he? One of Linton's interlocutors, Jennings, indicates that Cashel is playing chess with Lady Kilgoff in the boudoir, located just off the picture gallery where Linton has been organizing the masquerade. Frobisher suggests they consult Cashel's attorney, Kennyfeck, about the expenditures instead since Cashel dislikes discussing money. And now comes the Machiavellian Linton's master-stroke, collecting Lord Kilgoff to interrupt the romantic colloquy of the chess players, whose identities Linton has not revealed to his companion.
"Are we not like to disturb a tête-à-tête, Linton?" said Lord Kilgoff, nudging his friend's arm, and laughing slyly, as he pointed through the large frame of plate-glass that formed a door to the boudoir.
"By Jove!" said Linton, in a low whisper, "and so we were; you are always thoughtful, my Lord!"
"You know the adage, Linton, 'An old poacher makes the best gamekeeper!' Ha, ha, ha!"
"Ah, my Lord! I have heard as much of you. But who can they be?" [Pp. 454-455]
The joke is on the jealous, old husband, Lord Kilgoff, although he misapprehends Cashel's motives, if not his wife's. He accuses the couple of conduct unbecoming their rank, and hints that he may challenge his host to a duel over what he regards as adultery. Phiz has furnished the boudoir off the drawing-room suitably: semi-nude classical statues, suggesting sexuality, flank the large, opulently framed mirror, and Linton draws back a heavy velvet curtain to reveal the apparent assignation. Lever leaves readers in the dark about the actual nature of Roland Cashel's conversation with Lady Laura. However, in the next chapter, doubtless egged on by Linton, Lord Kilgoff challenges his wife's putative "lover" to a duel.
Bibliography
Lever, Charles. Roland Cashel. With 39 illustrations and engraved title-vignette by Phiz. London: Chapman & Hall, 1850.
Lever, Charles. Roland Cashel. Illustrated by Phiz [Hablot Knight Browne]. Novels and Romances of Charles Lever. Vols. I and II. In two volumes. Boston: Little, Brown, 1907. Project Gutenberg. Last Updated: 19 August 2010.
Steig, Michael. Chapter One, "Illustration, Collaboration, and Iconography." Dickens and Phiz. Bloomington: Indiana U. P., 1978. Pp. 1-23.
---

Victorian
Web

Illustra-
tion

Phiz

Roland
Cashel

Next
Created 19 January 2023