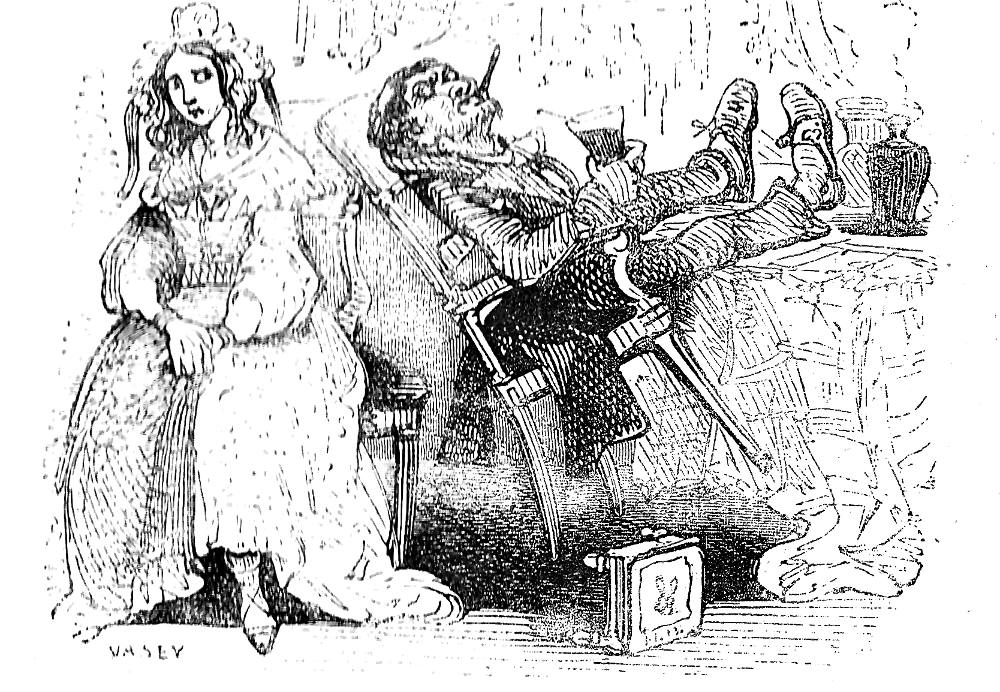 Quilp in a Smoking Humour by Hablot Knight Browne (Phiz). Wood engraving, 2 x 2 ½ inches (5 x 6.3 cm). — Chapter 4, The Old Curiosity Shop, Part Three. Date of original serial publication: 23 May 1840. Master Humphrey's Clock, Part 6, 96. [Click on images to enlarge them.]
Passage Illustrated
"Now, Mrs. Quilp," he said; "I feel in a smoking humour, and shall probably blaze away all night. But sit where you are, if you please, in case I want you."
His wife returned no other reply than the necessary "Yes, Quilp," and the small lord of the creation took his first cigar and mixed his first glass of grog. The sun went down and the stars peeped out, the Tower turned from its own proper colours to grey and from grey to black, the room became perfectly dark and the end of the cigar a deep fiery red, but still Mr. Quilp went on smoking and drinking in the same position, and staring listlessly out of window with the doglike smile always on his face, save when Mrs. Quilp made some involuntary movement of restlessness or fatigue; and then it expanded into a grin of delight. [Chapter IV, 96]
Commentary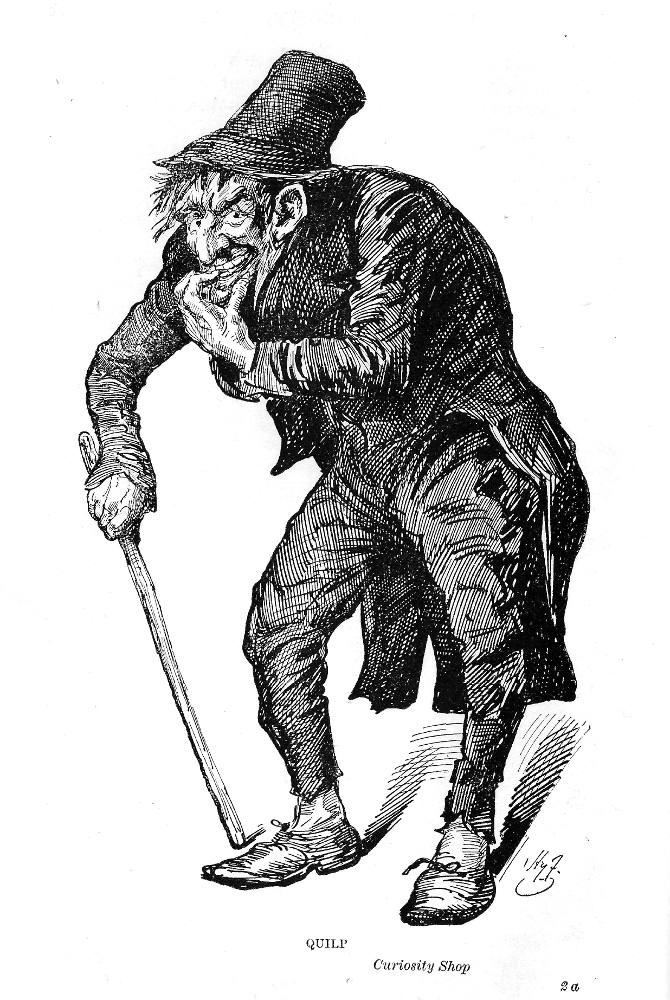 Right: Harry Furniss's study of the obnoxious antagonist: Quilp (1910).
Once Quilp has chased away the feminine tea-party from his parlour on Tower Hill, the melodramatic villain savours his triumph. Throughout the series, Phiz associates him with smoke and smoking in order to emphasize his devilish nature and brimstone disposition. His two initial appearances, both in Chapter Four, imply his brutal and misogynistic temperament. As Joan Stevens remarks, he is from the first "memorable" in both appearance, manner, and speech:
Dickens makes Quilp memorable in various ways in the text, by his physique, his dress, his hideous gaiety, his tricks of speech, his ingenious malice; the impression is deepened by the visual image offered at his first introduction, and repeated at the moments of his horrifying re-entries. When he first appears in issue 8 [Chapters 11 and 12], he is pictured twice. In 9/5, we see his wharf, while his den there heads 10/6. He broods gleefully over the distress of Nell and the old man in the Shop headpiece to 12/9, and appears subsequently in issues 13, 14, 18 and 19. There is then an interlude while we follow Nell's fortunes, but Dickens reminds us of Quilp's remorseless pursuit of her in the brief glimpse she has of him in an old gateway in 21/27. [Stevens 118]
Fully eighteen of the major woodcuts are devoted in some way to Quilp, who therefore dominates the 72-plate sequence of The Old Curiosity Shop. Although she is at least nominally the protagonist and her figure provides considerable visual continuity in this lengthy program, Nell appears in seventeen illustrations in the first part of the story, and in just nine in the second half of the story (Parts 22 to 40), for a total of seventeen, that is, one less than Quilp.
Other Introductory Illustrations of Daniel Quilp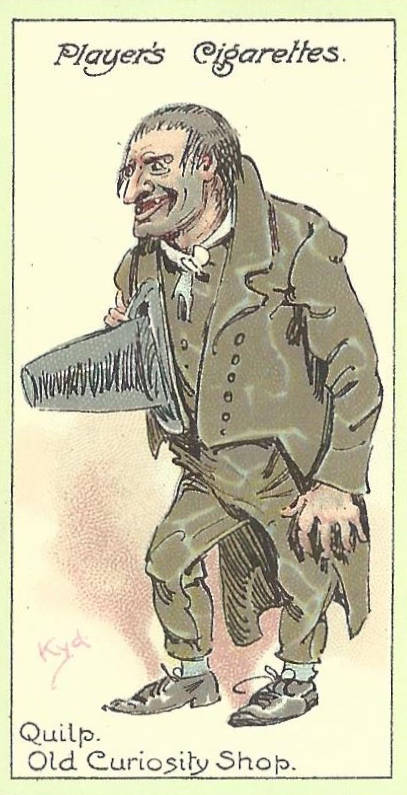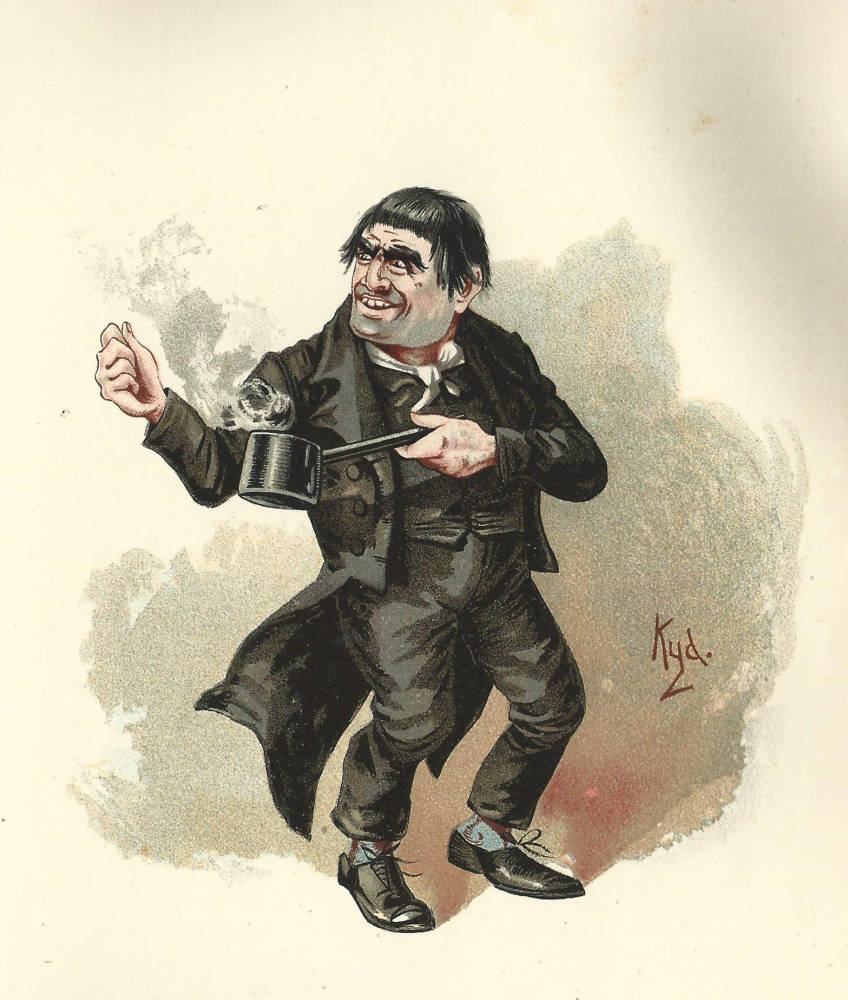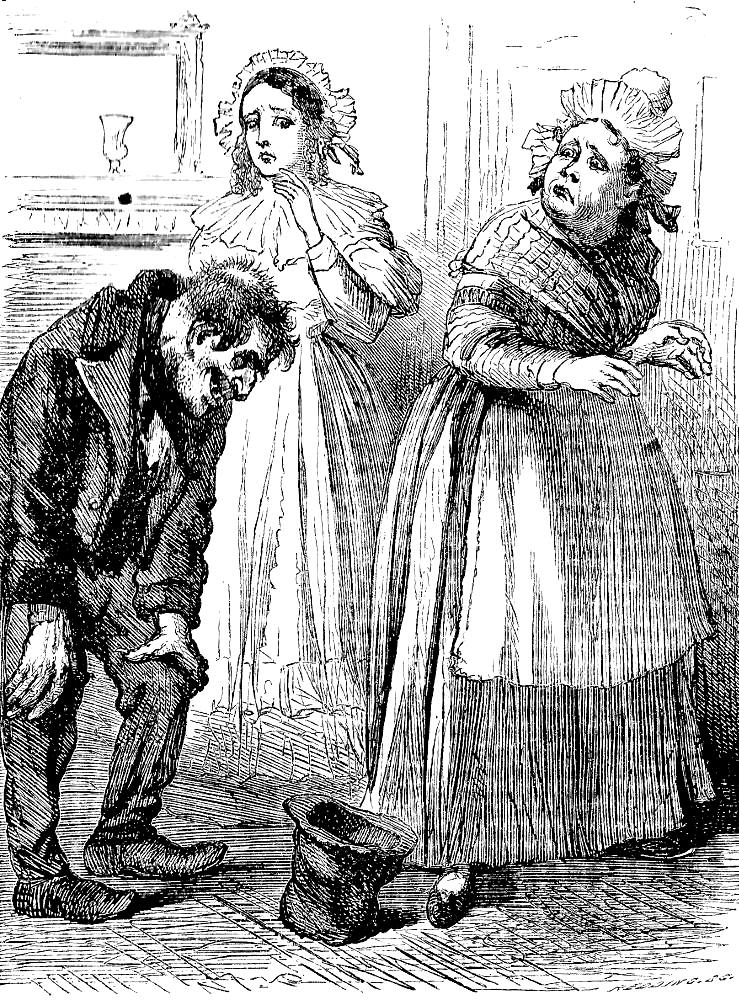 Left and centre: Clayton J. Clarke's amusing caricatures of the demonic villain in the Player's Cigarette card series, Quilp (Card No. 27, 1910) and Quilp in his series of Dickens characters, dating from 1888. Right: Sol Eytinge, Jr.s's character study of the novel's self-satisfied, diminutive villain, his much-put-upon wife, and her feisty mother: Quilp, Mrs. Quilp, and Mrs. Jiniwin (1867).
Related Resources Including Other Illustrated Editions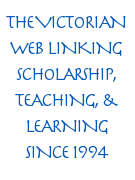 Scanned image by Simon Cooke; colour correction, sizing, caption, and commentary by Philip V. Allingham. [You may use this image without prior permission for any scholarly or educational purpose, as long as you (1) credit the person who scanned the image, and (2) link your document to this URL in a web document or cite the Victorian Web in a print one.] Click on the image to enlarge it.
Bibliography
Dickens, Charles. The Old Curiosity Shop. Illustrated by Hablot Knight Browne ("Phiz"), George Cattermole, and Daniel Maclise. London: Chapman and Hall, 1841. Rpt., 1849 by Bradbury and Evans (3 vols. in 2).
Stevens, Joan. "'Woodcuts Dropped into the Text': The Illustrations in The Old Curiosity Shop and Barnaby Rudge." Studies in Bibliography. 20 (1967): 113-34.
---
Created 10 May 2020

Last modified 10 August 2020