The Legal Gentleman Named Brass by Hablot Knight Browne (Phiz). Wood engraving, 3 ½ x 4 ½ inches (8.9 x 11 cm). — Chapter 11, The Old Curiosity Shop, Part Seven. [For passage illustrated see below.] Date of original serial publication: 27 June 1840. Master Humphrey's Clock, Part 11. [Click on images to enlarge them.]
Context of the Illustration: The Devilish Quilp and his Minions invest the place
The house was no longer theirs. Even the sick chamber seemed to be retained, on the uncertain tenure of Mr. Quilp's favour. The old man's illness had not lasted many days when he took formal possession of the premises and all upon them, in virtue of certain legal powers to that effect, which few understood and none presumed to call in question. This important step secured, with the assistance of a man of law whom he brought with him for the purpose, the dwarf proceeded to establish himself and his coadjutor in the house, as an assertion of his claim against all comers; and then set about making his quarters comfortable, after his own fashion.
To this end, Mr. Quilp encamped in the back parlour, having first put an effectual  stop to any further business by shutting up the shop. Having looked out, from among the old furniture, the handsomest and most commodious chair he could possibly find (which he reserved for his own use) and an especially hideous and uncomfortable one (which he considerately appropriated to the accommodation of his friend) he caused them to be carried into this room, and took up his position in great state. The apartment was very far removed from the old man's chamber, but Mr. Quilp deemed it prudent, as a precaution against infection from fever, and a means of wholesome fumigation, not only to smoke, himself, without cessation, but to insist upon it that his legal friend did the like.  Moreover, he sent an express to the wharf for the tumbling boy, who arriving with all  despatch was enjoined to sit himself down in another chair just inside the door, continually to smoke a great pipe which the dwarf had provided for the purpose, and to take it from his lips under any pretence whatever, were it only for one minute at a time, if he dared. These arrangements completed, Mr Quilp looked round him with chuckling satisfaction, and remarked that he called that comfort.
The legal gentleman, whose melodious name was Brass, might have called it comfort also but for two drawbacks: one was, that he could by no exertion sit easy in his chair, the  seat of which was very hard, angular, slippery, and sloping; the other, that tobacco-smoke always caused him great internal discomposure and annoyance. But as he was quite a creature of Mr. Quilp's and had a thousand reasons for conciliating his good opinion, he tried to smile, and nodded his acquiescence with the best grace he could assume. [Chapter 10]
Introducing Quilp's Attorney, Sampson Brass, Solicitor
There was watching enough, now, but it was the watching of strangers who  made a greedy trade of it, and who, in the intervals in their attendance upon the sick man huddled together with a ghastly good-fellowship, and ate and drank and made merry; for disease and death were their ordinary household gods. [145]
This hideous triumvirate who invest the shop while the old man's fever rages for weeks are suitably hideous and misshapen in Phiz's headnote illustration for Chapter 11. Perhaps as part of his campaign of intimidation, Quilp invites his watchman from the wharfand his lawyer to smoke in the parlour of the curiosity shop. In Phiz's accompanying illustration,smoke billows from their pipes as the trio make themselves  perfectly comfortable in Grandfather Trent's establishment, suggested here by the suit of armour and the Elizabethan family portraits. Demonic smoke, consistently associated with the devilish Quilp and his minions, obscures the shop, foreboding ill for its ailing owner who is being dispossessed by Quilp's Man of Law.
Quilp thinks the surname "Brass" a good one for an attorney, and so it is:just another quick jab by Dickens at a profession he knew from his time as a clerk in Doctors' Commons. However, Brass does not really rise to the occasion, remaining in the shadows of his foremost client, Quilp, and his termagant sister, "The Dragon opf Bevis Marks," Miss Sally. Dickens may have intended Brass to fulfill the purpose of secondary villain, but Quilp's dominance over every scene in which he appears must have rendered that possibility nugatory. Brass remains, therefore, a mere Beezlebub to Quilp's Satan, and is not even a very adept smoker. He loses his practice, his livelihood, and even his home after Quilp's death.
Relevant Illustrations in The Household Edition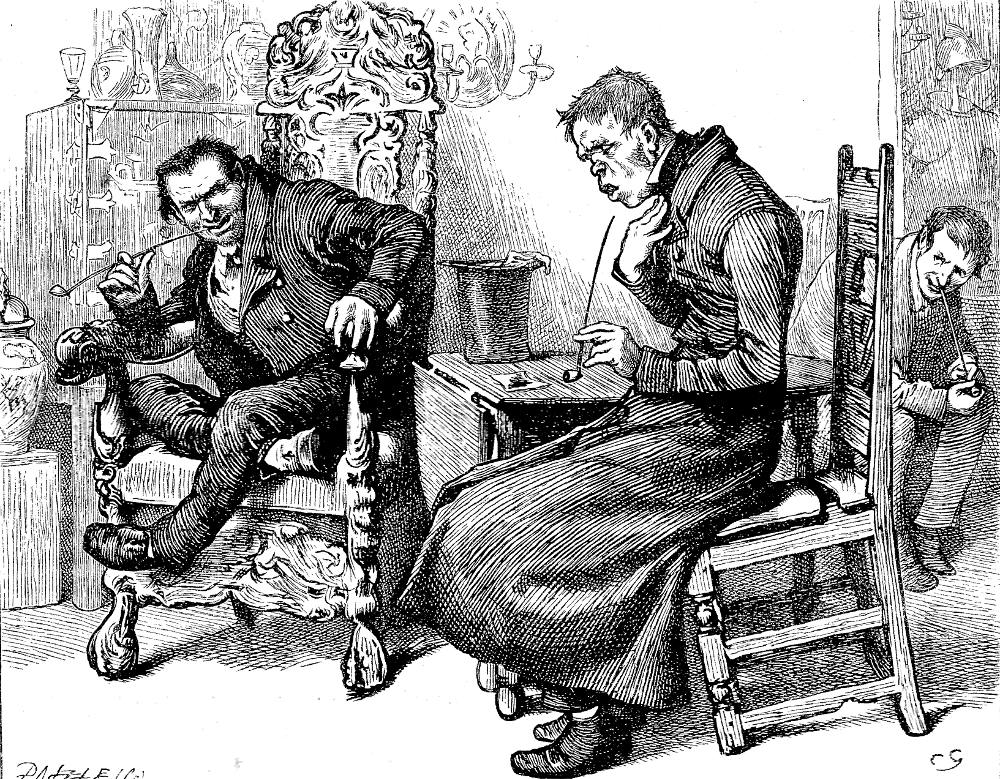 Above: Green's Household Edition realisation of the smoking scene in Trent's back-parlour: "Is it good, Brass, is it nice, is 'it fragrant?" (1876).
Related Resources Including Other Illustrated Editions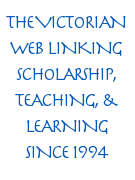 Scanned image, colour correction, sizing, caption, and commentary by Philip V. Allingham. [You may use this image without prior permission for any scholarly or educational purpose, as long as you (1) credit the person who scanned the image, and (2) link your document to this URL in a web document or cite the Victorian Web in a print one.]
Bibliography
Dickens, Charles. The Old Curiosity Shop in Master Humphrey's Clock. Illustrated by Phiz, George Cattermole, Samuel Williams, and Daniel Maclise. 3 vols. London: Chapman and Hall, 1840.
---
Created 10 May 2020

Last modified 11 November 2020