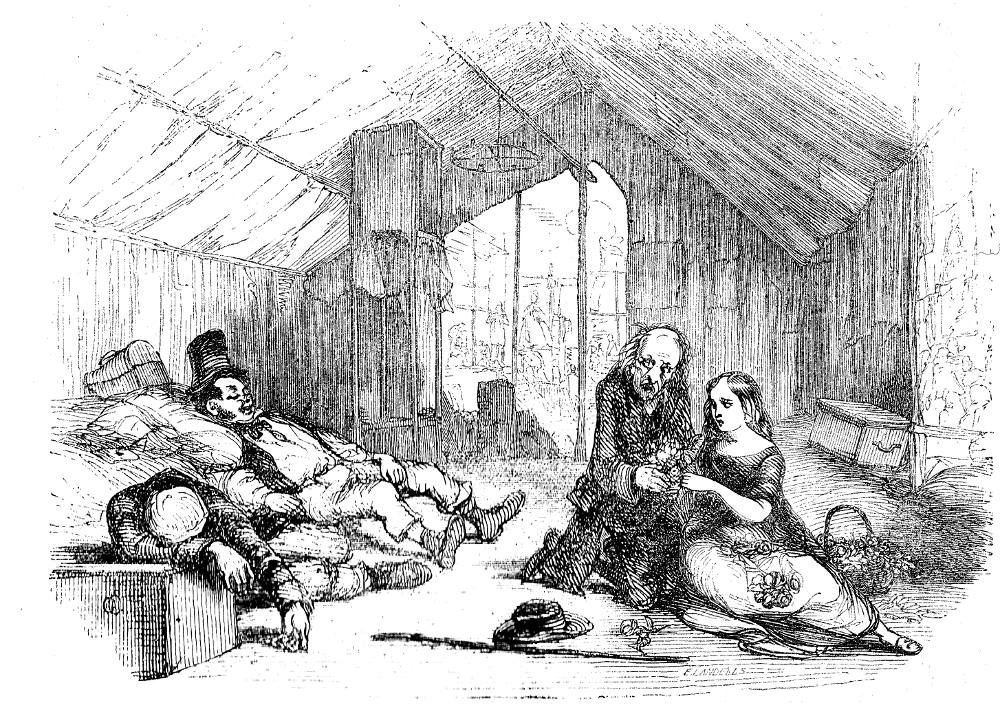 Little Nell's Anxiety by Hablot Knight Browne (Phiz). Wood engraving, 3 ¼ x 3 ½ inches (8.4 x 11.7 cm). — Part Twelve, Chapter 19, The Old Curiosity Shop. [For passage illustrated see below.] Date of original serial publication: 25 July 1840. Master Humphrey's Clock, no. 15, 198. [Click on images to enlarge them.]
Context of the Illustration: Nell mistrusts Codlin and Short
Her thoughts were not idle while she was thus employed; when she returned and was seated beside the old man in one corner of the tent, tying her flowers together, while the two men lay dozing in another corner, she plucked him by the sleeve, and slightly glancing towards them, said, in a low voice —
Grandfather, don't look at those I talk of, and don't seem as if I spoke of anything but what I am about. What was that you told me before we left the old house? That if they knew what we were going to do, they would say that you were mad, and part us?"
The old man turned to her with an aspect of wild terror; but she checked him by a look, and bidding him hold some flowers while she tied them up, and so bringing her lips closer to his ear, said—
"I know that was what you told me. You needn't speak, dear. I recollect it very well. It was not likely that I should forget it. Grandfather, these men suspect that we have secretly left our friends, and mean to carry us before some gentleman and have us taken care of and sent back. If you let your hand tremble so, we can never get away from them, but if you're only quiet now, we shall do so, easily."
"How?" muttered the old man. "Dear Nelly, how? They will shut me up in a stone room, dark and cold, and chain me up to the wall, Nell—flog me with whips, and never let me see thee more!" [Chapter XIX, 198-99]
Commentary: The Trents now disappear from the sequence until Chapter 24
Nell and her grandfather have been accepted by the fellowship of itinerant performers since their escape from London. They share meals in congenial settings such as the Jolly Sandboys Inn, and listen enthralled to behind-the-scenes gossip and reflections on the entertainment industry. But now Nell experiences a crisis of confidence as Codlin's strange manner in private conversations has made her suspect that the puppeteer intends to turn them in to their "friends" back in London — in other words, to Nell's hideous nemesis, Daniel Quilp.
Phiz provides an illustration appropriate to Nell's anxieties about her safety and her grandfather's physical and psychological well-being. Convinced that he will be committed to a mad house if they are sent back to London, Nell determines to escape from the show folk and hide out in the woods nearby until the races are over and the hundreds of hangers-on have dispersed. The impermanence of their sleeping quarters underscores the tentative nature of the Trents' life on the road, and forms a sharp contrast to their substantial home in the metropolis that Grandfather Trent's gambling addiction  compromised seven chapters earlier. The trajectory of the pilgrims escaping Vanity Fair seems consistently downward, but shortly fate (and the picaresque novelist) will grant them a reprieve with a kindly schoolmaster and a welcoming waxworks exhibitor.
Related Resources Including Other Illustrated Editions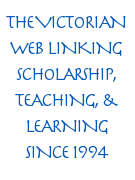 Scanned image and text by Philip V. Allingham. [You may use this image without prior permission for any scholarly or educational purpose as long as you (1) credit the person who scanned the image and (2) link your document to this URL in a web document or cite the Victorian Web in a print one.]
Bibliography
Davis, Paul. Charles Dickens A to Z: The Essential Reference to His Life and Work. New York: Facts On File, 1998.
Dickens, Charles. The Old Curiosity Shop in Master Humphrey's Clock. Illustrated by Phiz, George Cattermole, Samuel Williams, and Daniel Maclise. 3 vols. London: Chapman and Hall, 1840.
---
Created 10 May 2020

Last modified 10 October 2020