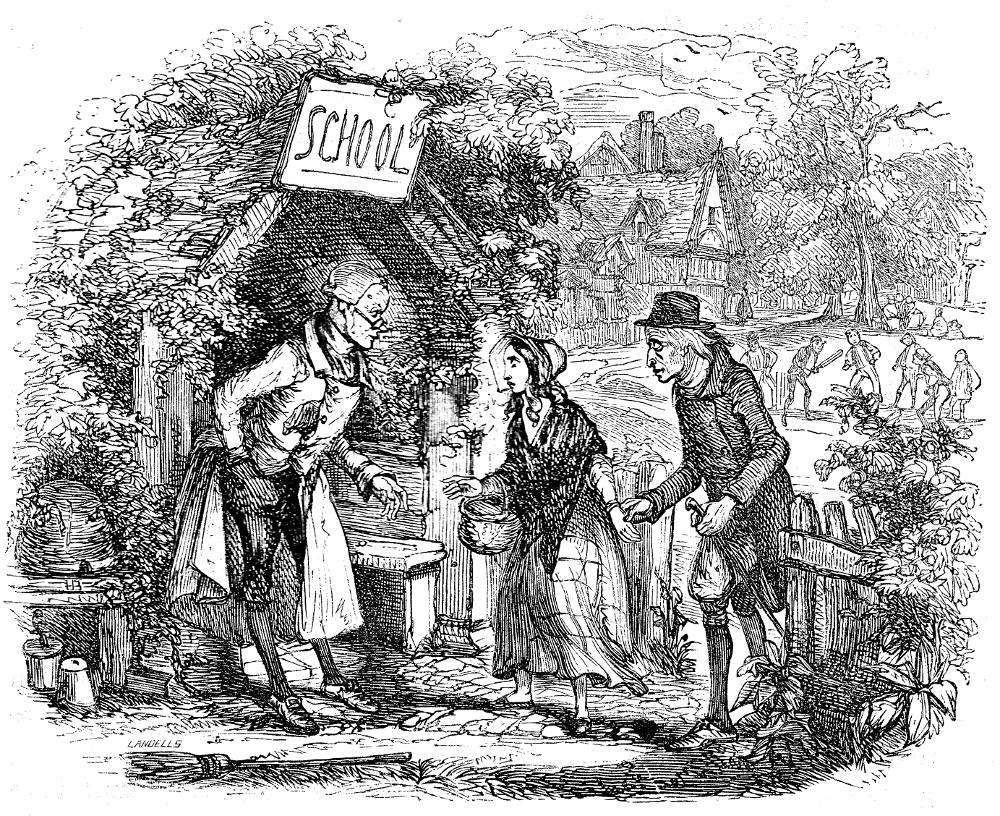 At the Schoolmaster's Porch by Hablot Knight Browne (Phiz). Wood engraving, 3 ½ x 4 ½ inches (9 x 11.4 cm). — Part Fourteen, Chapter 24, The Old Curiosity Shop. Date of original serial publication: 8 August 1840. Master Humphrey's Clock, no. 17, 226. [Click on images to enlarge them.]
Context of thee Illustration: The Melancholy Village Schoolmaster
The miles appeared so long that they sometimes thought they must have missed their road. But at last, to their great joy, it led downwards in a steep descent, with overhanging banks over which the footpaths led; and the clustered houses of the village peeped from the woody hollow below.
It was a very small place. The men and boys were playing at cricket on the green; and as the other folks were looking on, they wandered up and down, uncertain where to seek a humble lodging. There was but one old man in the little garden before his cottage, and him they were timid of approaching, for he was the schoolmaster, and had "School" written up over his window in black letters on a white board. He was a pale, simple-looking man, of a spare and meagre habit, and sat among his flowers and beehives, smoking his pipe, in the little porch before his door.
"Speak to him, dear," the old man whispered.
"I am almost afraid to disturb him," said the child timidly. "He does not seem to see us. Perhaps if we wait a little, he may look this way."
They waited, but the schoolmaster cast no look towards them, and still sat, thoughtful and silent, in the little porch. He had a kind face. In his plain old suit of black, he looked pale and meagre. They fancied, too, a lonely air about him and his house, but perhaps that was because the other people formed a merry company upon the green, and he seemed the only solitary man in all the place.
They were very tired, and the child would have been bold enough to address even a schoolmaster, but for something in his manner which seemed to denote that he was uneasy or distressed. As they stood hesitating at a little distance, they saw that he sat for a few minutes at a time like one in a brown study, then laid aside his pipe and took a few turns in his garden, then approached the gate and looked towards the green, then took up his pipe again with a sigh, and sat down thoughtfully as before.
As nobody else appeared and it would soon be dark, Nell at length took courage, and when he had resumed his pipe and seat, ventured to draw near, leading her grandfather by the hand. The slight noise they made in raising the latch of the wicket-gate, caught his attention. He looked at them kindly but seemed disappointed too, and slightly shook his head.
Nell dropped a curtsey, and told him they were poor travellers who sought a shelter for the night which they would gladly pay for, so far as their means allowed. The schoolmaster looked earnestly at her as she spoke, laid aside his pipe, and rose up directly.
"If you could direct us anywhere, sir," said the child, "we should take it very kindly."
"You have been walking a long way," said the schoolmaster.
"A long way, Sir," the child replied. [Chapter XXIV, 225-26]
Commentary: Nell and her Grandfather Befriended in a Traditional Village
Phiz out of all the nineteenth-century illustrators of the novel offers the fullest treatment of the scene in which which the elderly village schoolmaster welcomes the wayfarers beneath his roof. In the background, Phiz depicts both elements of the quaint village and the cricket game in progress. His portrait of the schoolmaster accurately suggests both his advanced age and his somewhat old-fashioned, formal dress, includiung what appears to be an academic gown. Nell is in the lead, now, and her grandfather's gesture suggests that he is asking for help, but that his energy level is much depleted after a number of days on the road. Phiz has depicted the schoolmaster in thick-lensed spectacles to suggest a lifetime of reading. The thick head of hair must surely be a wig. In the background, the master's class are enjoying a game of cricket on the village green, giving him a little leisure time to plan his lessons — and worry about the fate of his much-loved, favourite scholar who has fallen seriously ill.
The long-remembered beggar was his guest, Whose beard descending swept his aged breast . . . [Oliver Goldsmith, "The Deserted Village," lines 151-52 ]
Dickens substitutes a solitary schoolmaster of melancholy disposition for the eighteenth-century poet's charitable parson whose "modest mansion rose. / A man he was to all the country dear" (lines 140-41). Nell and Grandfather Trent approach the schoolmaster's leafy bower after having failed to attract his attention for some minutes. The elderly pedagogue has been in a brown study; he has been puffing on his pipe, and sitting  among his plants, motionless beside his beehive. Nell is reluctant to break his melancholy mood, but the lateness of the hour and their exhaustion prompt her to act. She decides to enter the school's precincts by the wicket gate, through which Phiz shows the grandfather passing. As he approaches the inquisitive schoolmaster, Trent raises his hands as if petitioning the teacher's assistance, and Nell, in the lead, leans in, as if to suggest that they need shelter after their long walk through the woods that border the Newmarket racecourse that they quitted, fearful that they were being followed. The whole episode, which culminates in the death of the little scholar, is tinged with a gentle melancholy which recalls Laurence Sterne's A Sentimental Journey (1768), Dickens's favourite travelogue.
Related Resources Including Other Illustrated Editions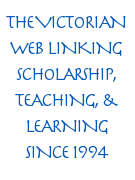 Scanned image and text by Philip V. Allingham. [You may use this image without prior permission for any scholarly or educational purpose as long as you (1) credit the person who scanned the image and (2) link your document to this URL in a web document or cite the Victorian Web in a print one.]
Bibliography
Dickens, Charles. The Old Curiosity Shop in Master Humphrey's Clock. Illustrated by Phiz, George Cattermole, Samuel Williams, and Daniel Maclise. 3 vols. London: Chapman and Hall, 1840.
---
Created 10 May 2020

Last modified 10 October 2020