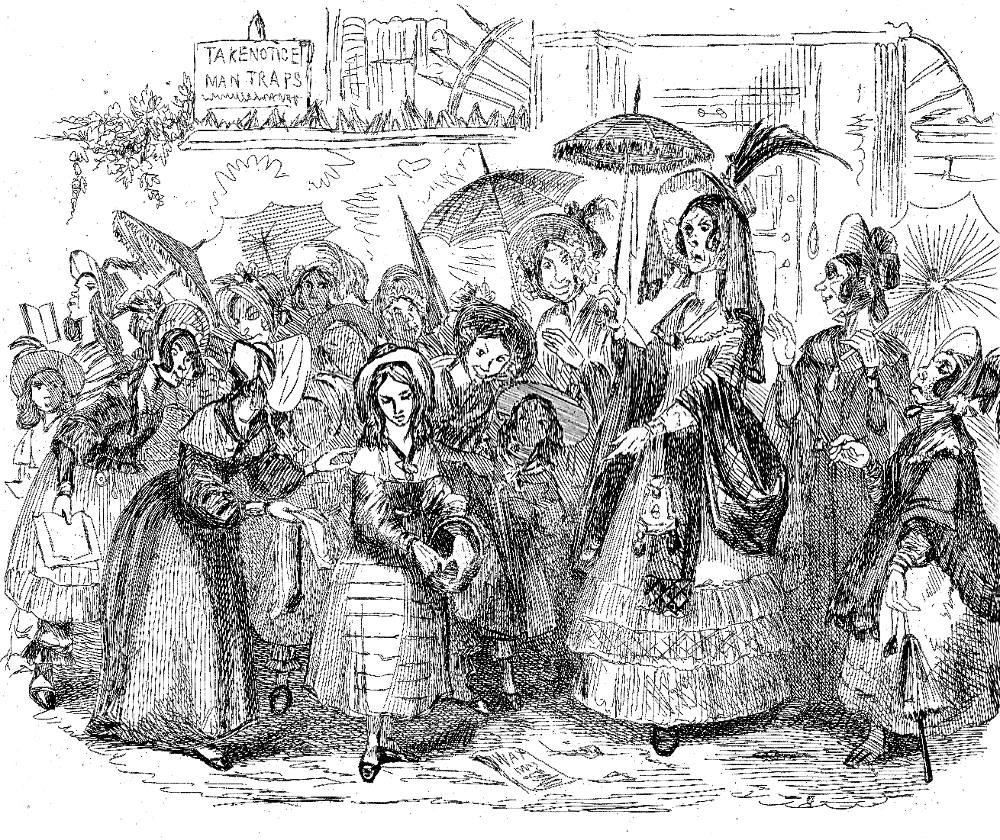 Miss Monflathers chides Nell by Hablot Knight Browne (Phiz). Wood engraving, 3 ½ x 4 ½ inches (9 x 11.4 cm). — Part Eighteen, Chapter 31, The Old Curiosity Shop. [For passage illustrated see below.] Date of original serial publication: 5 September 1840. Master Humphrey's Clock, Part 21, 270. [Click on images to enlarge them.]
Context of the Illustration: The haughty Miss Monflathers chastizes Nell
As Nell approached the awful door, it turned slowly upon its hinges with a creaking noise, and, forth from the solemn grove beyond, came a long file of young ladies, two and two, all with open books in their hands, and some with parasols likewise. And last of the goodly procession came Miss Monflathers, bearing herself a parasol of lilac silk, and supported by two smiling teachers, each mortally envious of the other, and devoted unto Miss Monflathers.
Confused by the looks and whispers of the girls, Nell stood with downcast eyes and suffered the procession to pass on, until Miss Monflathers, bringing up the rear, approached her, when she curtseyed and presented her little packet; on receipt whereof Miss Monflathers commanded that the line should halt.
"You're the wax-work child, are you not?" said Miss Monflathers.
"Yes, ma'am,' replied Nell, colouring deeply, for the young ladies had collected about her, and she was the centre on which all eyes were fixed.
"And don't you think you must be a very wicked little child," said Miss Monflathers, who was of rather uncertain temper, and lost no opportunity of impressing moral truths upon the tender minds of the young ladies, 'to be a wax-work child at all?"
Poor Nell had never viewed her position in this light, and not knowing what to say, remained silent, blushing more deeply than before.
"Don't you know," said Miss Monflathers, "that it's very naughty and unfeminine, and a perversion of the properties wisely and benignantly transmitted to us, with expansive powers to be roused from their dormant state through the medium of cultivation?"
The two teachers murmured their respectful approval of this home-thrust, and looked at Nell as though they would have said that there indeed Miss Monflathers had hit her very hard. Then they smiled and glanced at Miss Monflathers, and then, their eyes meeting, they exchanged looks which plainly said that each considered herself smiler in ordinary to Miss Monflathers, and regarded the other as having no right to smile, and that her so doing was an act of presumption and impertinence.
"Don't you feel how naughty it is of you," resumed Miss Monflathers, "to be a wax-work child, when you might have the proud consciousness of assisting, to the extent of your infant powers, the manufactures of your country; of improving your mind by the constant contemplation of the steam-engine; and of earning a comfortable and independent subsistence of from two-and-ninepence to three shillings per week? Don't you know that the harder you are at work, the happier you are?" [Chapter XXXI, 245]
Commentary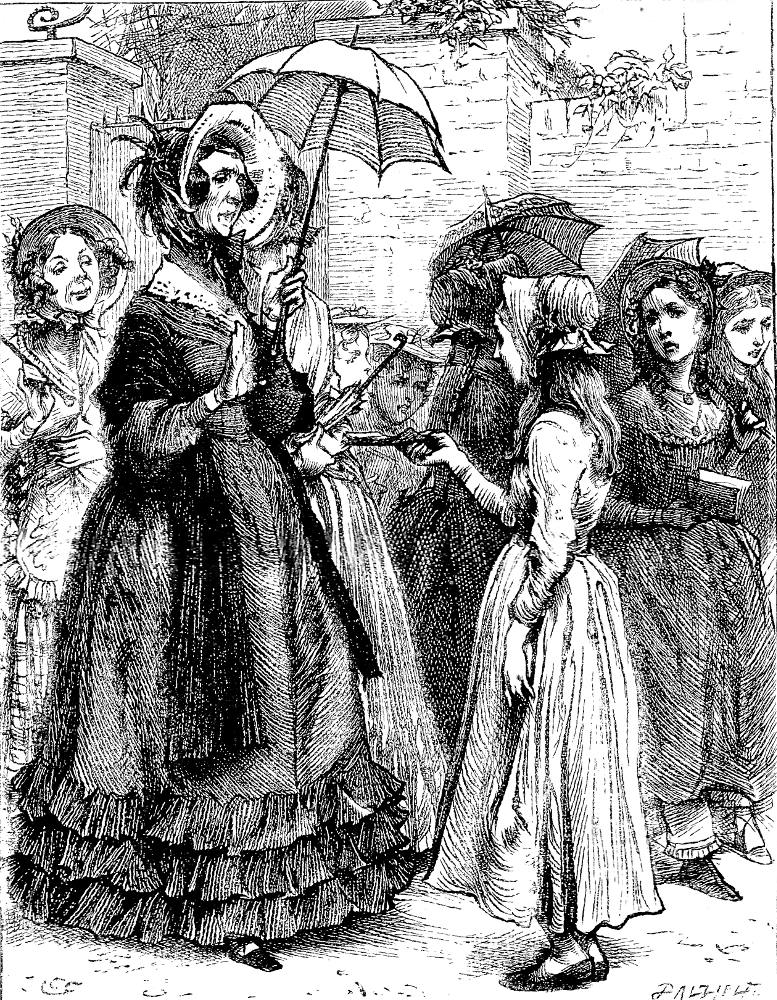 Right: Charles Green's less cartoonish Household Edition illustration focuses on the censorious headmistress and her fawning teachers, achieving a focus by reducing the number of figures and masking Miss Monflathers' the dominant figure in the composition, "You're the Wax-work child, are you not?" (1876).
Dickens and his chief illustrator compel readers to feel sympathy for Nell, who, having been robbed the night before by her own grandfather, receives a tongue-lashing from the hideous old maid who runs the boarding school outside town. Phiz achieves a triumph of social satire by giving each fawning, distorted female visage an individualised expression and form. The significant figure whom Dickens uses as a foil to Miss Monflathers' callousness is the poor apprentice-teacher, Miss Edwards (left), whose expression Phiz requires the reader to furnish in the mind's eye. Unlike Phiz's irate principal, in his derivative Household Edition version of four decades later Charles Green describes the commanding figure as chilly, unemotional, and self-controlled in her deprecation of the young waxworks exhibitor whom she had encountered earlier.
Mrs. Jarley has sent Nell to the school because has been concerned that Miss Monflathers, who is the owner of the local Boarding and Day Educational Establishment for young ladies, has permitted only eight of her well-off students to attend the exhibition. When presented with Mrs. Jarley's handbill, the harridan threatens Nell and her employer. Phiz implies that physical threat (being placed in the stocks and subjected to public penance) by the warning about "mantraps" (devices intended to deter poachers) on the garden wall of the school. The illustrator reiterates the spikes on the wall with the points on the shafts of the young ladies' parasols, as if to suggest their oppressive exclusivity. The crowd of students and teachers seems to surge around Nell, whose inward gaze suggests her feeling ashamed at receiving such a reception. Her waxworks bill falls to the ground, unnoticed.
Related Resources Including Other Illustrated Editions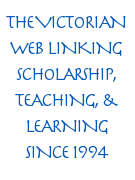 Scanned image and text by Philip V. Allingham. [You may use this image without prior permission for any scholarly or educational purpose as long as you (1) credit the person who scanned the image and (2) link your document to this URL in a web document or cite the Victorian Web in a print one.]
Bibliography
Dickens, Charles. The Old Curiosity Shop in Master Humphrey's Clock. Illustrated by Phiz, George Cattermole, Samuel Williams, and Daniel Maclise. 3 vols. London: Chapman and Hall, 1840.
_____. The Old Curiosity Shop. Illustrated by Charles Green. The Household Edition. 22 vols. London: Chapman and Hall, 1876. XII.
---
Created 10 May 2020

Last modified 12 November 2020