Revenge is Sweet — sixtieth illustration for the novel in Master Humphrey's Clock, Part 37. 3 ½ x 4 ½ inches (9.3 cm high x 11.4 cm wide). Charles Dickens's The Old Curiosity Shop, Part 34 (London: Chapman & Hall, 26 December 1840), Chapter 62, Vol. 2, 147.
Passage Illustrated: Quilp vents his fury on the Figurehead
"Do you know it?" said the dwarf, watching Sampson's eyes. "Do you see the likeness?"
"Eh?" said Brass, holding his head on one side, and throwing it a little back, as connoisseurs do. "Now I look at it again, I fancy I see a — yes, there certainly is something in the smile that reminds me of — and yet upon my word I —"
Now, the fact was, that Sampson, having never seen anything in the smallest degree resembling this substantial phantom, was much perplexed; being uncertain whether Mr. Quilp considered it like himself, and had therefore bought it for a family portrait; or whether he was pleased to consider it as the likeness of some enemy. He was not very long in doubt; for, while he was surveying it with that knowing look which people assume when they are contemplating for the first time portraits which they ought to recognise but don't, the dwarf threw down the newspaper from which he had been chanting the words already quoted, and seizing a rusty iron bar, which he used in lieu of poker, dealt the figure such a stroke on the nose that it rocked again.
"Is it like Kit — is it his picture, his image, his very self?" cried the dwarf, aiming a shower of blows at the insensible countenance, and covering it with deep dimples. "Is it the exact model and counterpart of the dog — is it — is it — is it?" And with every repetition of the question, he battered the great image, until the perspiration streamed down his face with the violence of the exercise. [Chapter the Sixty-second, 146-47]
Kit's Resemblance to a Social Icon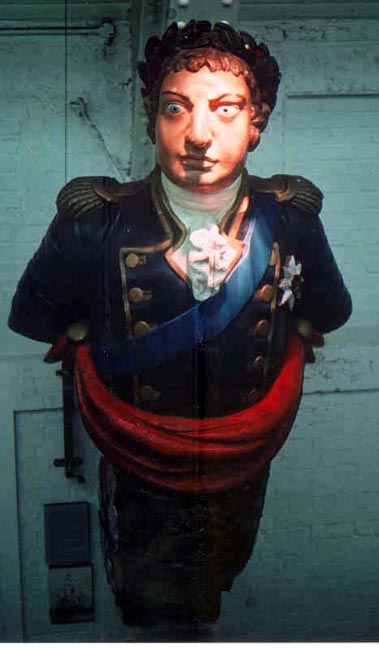 Phiz has incorporated a ship's figurehead that strongly resembles Admiral Horatio Nelson, who remained a British national hero thanks to his stunning victory over the combined fleets of Spain and France off the Spanish coast at the Battle of Trafalgar in 1805. Implied in the likeness is the Viscount's celebrated dictum "England expects every man to do his duty," for Kit with the Garlands has, like Nelson for Great Britain, been a dutiful defender. The four bas-reliefs on Nelson's Column (1843) in London's Trafalgar Square represent his four great naval victories, and made his image a household icon during the Victorian period, although of course it had yet to be erected when Phiz composed this illustration. Moreover, Dickens does not make this identification explicit, as the figurehead, he says, merely looks like "some famous admiral," having "a cocked hat, together with a representation of a star on the left breast and epaulettes on the shoulders" — resembling, then, the actual figurehead of HMS Horatio (1807), now on display at Greenwich's National Maritime Museum, from a 38-gun frigate that saw action in the Napoleonic Wars, and was not broken up until 1861.
Once again, we are in Quilp's warehouse, a place in which the dwarf can exert total control. Brass sheepishly watches the proceedings with his back partially turned, as if he is afraid of chunks of wood flying in his direction as Quilp strikes the figurehead of a former ship-of-the-line. Waving his iron bar as if it were a cudgel, Quilp points to the face of the figurehead and looks not at Brass but at the reader. The picture, then, is for the reader's consumption. The illustrator plainly shows the reader to the ebullient Quilp's expression of hideous gloating and Schadenfreude as the dwarf celebrates with pent-up fury his tactical victory over Kit.
Phiz's illustration, taking up a full half-page, acts as a vehicle for psychological analysis as the artist and novelist underscore how Quilp compensates for his diminutive s ize and ugliness by attacking a handsomely attired, societally admired giant. If this is an instance of what psychologists term "transference," then the dwarf is unconsciously attempting to punish his parents for his physical deformity. He has assigned to the inanimate wooden figure his revulsion for Kit's good looks, morality, and fidelity, of his tendency to place the welfare of others (such as his mother and little Jacob) above his own. Legally, Quilp would be taken up for assault and battery if he were to assail the lad (who might acquit himself against his attacker), but he can displace his feelings of hostility and agression with perfect impunity (indeed, with impish delight) by attacking a lifeless figure whom he identifies as bearing some resemblance to Kit. In Green's 1876 reinterpretation of the scene, Quilp has yet to batter the admiral's hat flat; in Phiz's version, this symbol of the officer's status has already sustained considerable damage. The actual figurehead of HMS Horatio does not wear an admiral's hat, but, instead, has been crowned with a victor's laurels.
Relevant Illustrations from the Household Editions (1872 and 1876)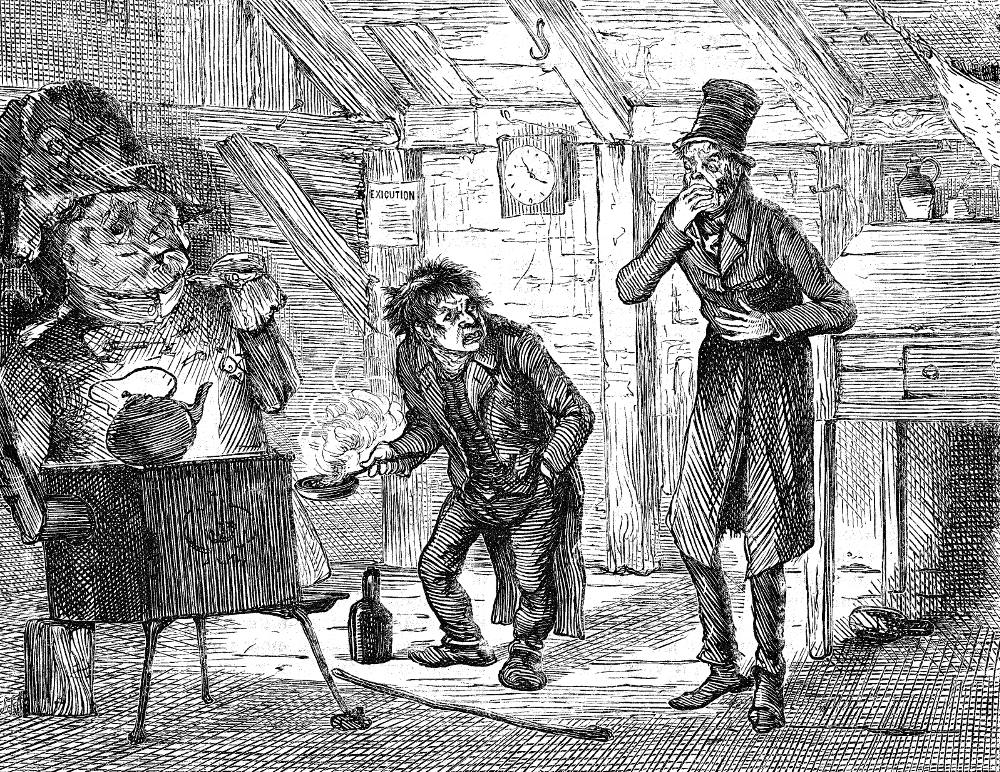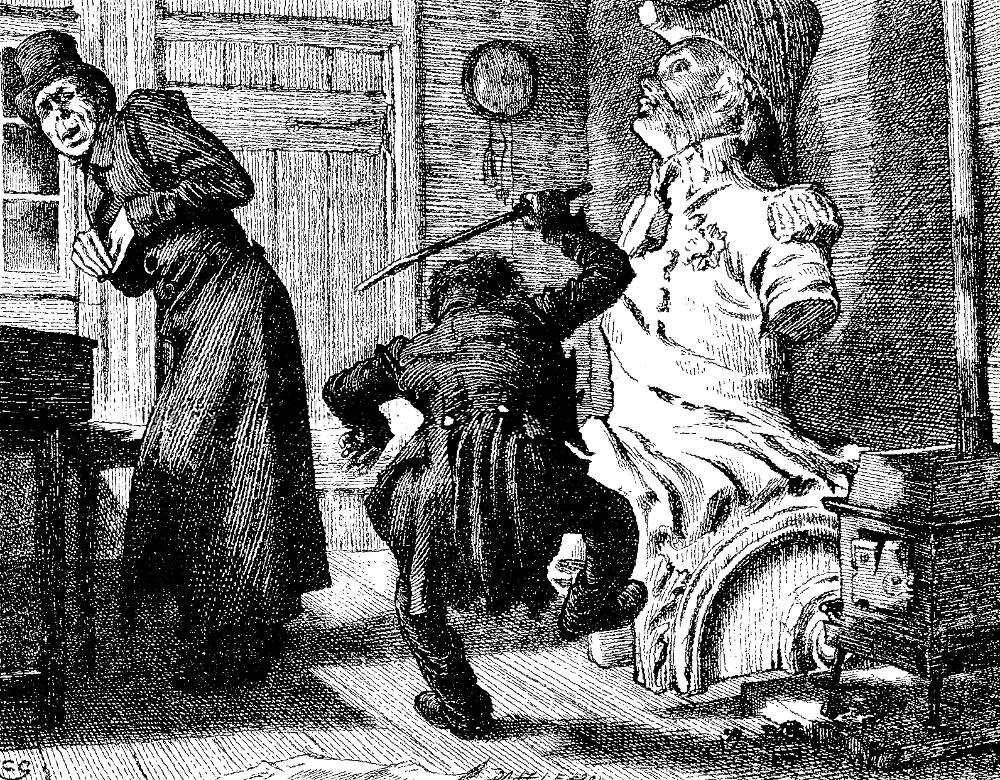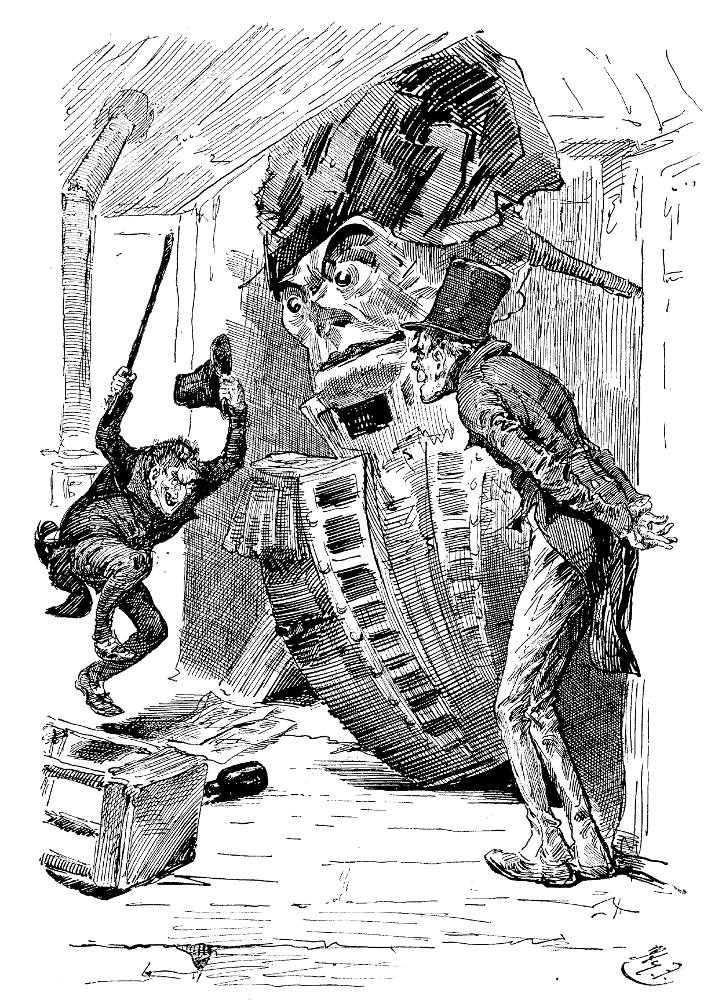 Left: Thomas Worth has modelled his illustration on Phiz's original conception of the scene at Quilp's salvage yard, but his caption suggests a different emphasis: This old man and grandchild should be as poor as frozen rats (American Household Edition, 1872). Middle: Charles Green provides the scene of Quilp's celebration of his triumph over the virtuous, meddling Kit in "Is it like Kit — is it his picture, his image, his very self?" Right: Furniss's version of this famous illustration of the frustrated dwarf's venting his spleen on a salvaged figure-head: Quilp vents his Spite on the Figure Head from The Charles Dickens Library Edition (1910).
Related Materials
Related Resources Including Other Illustrated Editions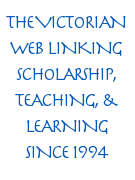 Scanned images and texts by Philip V. Allingham. [You may use this image without prior permission for any scholarly or educational purpose as long as you (1) credit the person who scanned the image and (2) link your document to this URL in a web document or cite the Victorian Web in a print one.]
Bibliography
Dickens, Charles. The Old Curiosity Shop in Master Humphrey's Clock. Illustrated by Phiz, George Cattermole, Samuel Williams, and Daniel Maclise. 3 vols. London: Chapman and Hall, 1840.
_____. The Old Curiosity Shop. Illustrated by Thomas Worth. The Household Edition. New York: Haper & Bros., 1872.
_____. The Old Curiosity Shop. Illustrated by Charles Green. The Household Edition. London: Chapman and Hall, 1876.
---
Last modified 18 October 2020