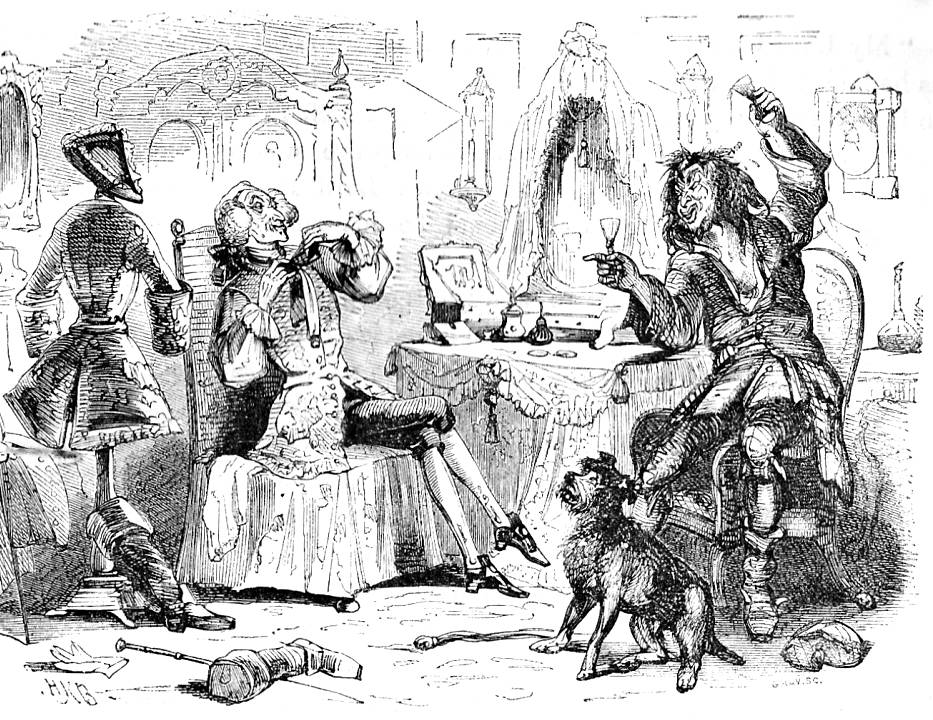 Hugh Calls on his Patron — Phiz's seventeenth contribution, the twenty-third illustration in the series, Chap. XXIII (8 May 1841, Part 13). 3 ¼ x 4 ½ inches (8 cm high by 11 cm wide), vignetted. Volume Three, Part 56 of Master Humphrey's Clock, in which Dickens's Barnaby Rudge originally appeared. The 1849 Bradbury and Evans two-volume edition: headpiece for Chapter XXIII, top of 61 in Vol. III. Running Head: "Master Humphrey's Clock" (60). [Click on the images in order to enlarge them.]
Context of the Illustration: Hugh acquires Sir John Chester's partronage
Phiz's ornamental initial letter "T": Gimlet and Bottles (heading May 1841 monthly number).
"Step to that closet and bring me a bottle you will see there, and a glass."
He obeyed. His patron followed him with his eyes, and when his back was turned, smiled as he had never done when he stood beside the mirror. On his return he filled the glass, and bade him drink. That dram despatched, he poured him out another, and another.
"How many can you bear?" he said, filling the glass again.
"As many as you like to give me. Pour on. Fill high. A bumper with a bead in the middle! Give me enough of this," he added, as he tossed it down his hairy throat, "and I'll do murder if you ask me!"
"As I don't mean to ask you, and you might possibly do it without being invited if you went on much further," said Mr Chester with great composure, 'we will stop, if agreeable to you, my good friend, at the next glass. You were drinking before you came here."
"I always am when I can get it," cried Hugh boisterously, waving the empty glass above his head, and throwing himself into a rude dancing attitude. "I always am. Why not? Ha ha ha! What's so good to me as this? What ever has been? What else has kept away the cold on bitter nights, and driven hunger off in starving times? What else has given me the strength and courage of a man, when men would have left me to die, a puny child? I should never have had a man's heart but for this. I should have died in a ditch. Where's he who when I was a weak and sickly wretch, with trembling legs and fading sight, bade me cheer up, as this did? I never knew him; not I. I drink to the drink, master. Ha ha ha!"
"You are an exceedingly cheerful young man," said Mr. Chester, putting on his cravat with great deliberation, and slightly moving his head from side to side to settle his chin in its proper place. "Quite a boon companion."
"Do you see this hand, master," said Hugh, "and this arm?" baring the brawny limb to the elbow. "It was once mere skin and bone, and would have been dust in some poor churchyard by this time, but for the drink."
"You may cover it," said Mr. Chester, "it's sufficiently real in your sleeve."
"I should never have been spirited up to take a kiss from the proud little beauty, master, but for the drink," cried Hugh. "Ha ha ha! It was a good one. As sweet as honeysuckle, I warrant you. I thank the drink for it. I'll drink to the drink again, master. Fill me one more. Come. One more!" [Chapter the Twenty-third, 64-65]
Illustrations involving Hugh the Varlet in Other Editions (1862, 1867, and 1910)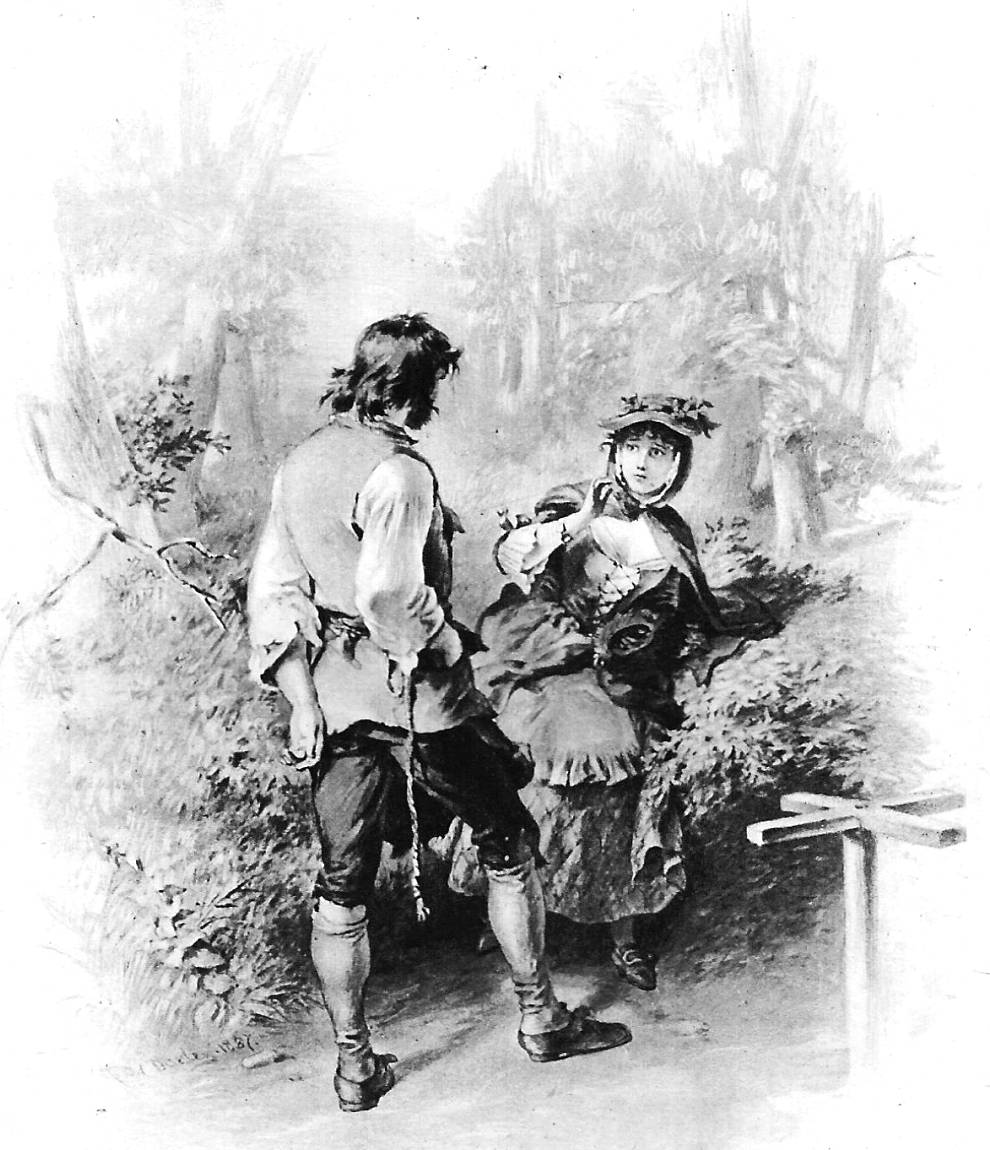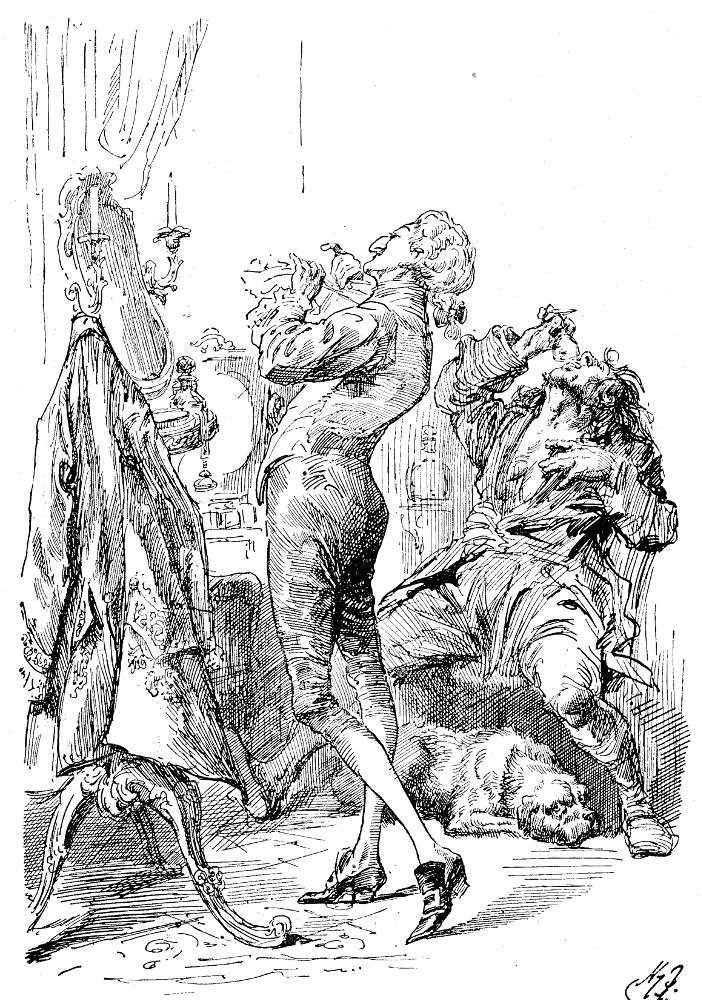 Left: Harry Furniss's realisation of the same scene: Hugh and his Patron, Charles Dickens Library Edition (1910). Centre: Harry Furniss's version of Hugh's attempting to intimidate the heroine: Hugh Frightens Dolly (Ch. 21). Right: F. O. C. Darley's engraved title-page for the 1862 second volume issued by Sheldon and Company, New York: Hugh and Dolly Varden, showing Hugh's accosting Dolly in the woods near The Warren.
Related Material including Other Illustrated Editions of
Barnaby Rudge
Scanned image and text by Philip V. Allingham. [You may use this image without prior permission for any scholarly or educational purpose as long as you (1) credit the person who scanned the image, and (2) link your document to this URL in a web document or cite the Victorian Web in a print one.]
Bibliography
Dickens, Charles. Barnaby Rudge. Illustrated by Hablot K. Browne ('Phiz') and George Cattermole. London: Chapman and Hall, 1841; rpt., Bradbury & Evans, 1849.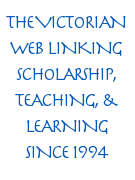 ________. Barnaby Rudge. A Tale of the Riots of 'Eighty. Illustrated by Felix Octavius Carr Darley and John Gilbert. New York: Sheldon and Co., 1862. 3 vols.
________. Barnaby Rudge. Illustrated by Harry Furniss. The Charles Dickens Library Edition. London: Educational Book Company, 1910. VI.
Hammerton, J. A. "Ch. XIV. Barnaby Rudge." The Dickens Picture-Book. The Charles Dickens Library Edition, illustrated by Harry Furniss. London: Educational Book Co., 1910. 213-55.
Vann, J. Don. "Charles Dickens. Barnaby Rudge in Master Humphrey's Clock, 13 February-27 November 1841." New York: MLA, 1985. 65-66.
---
Created 5 July 2002

Last modified 25 December 2020