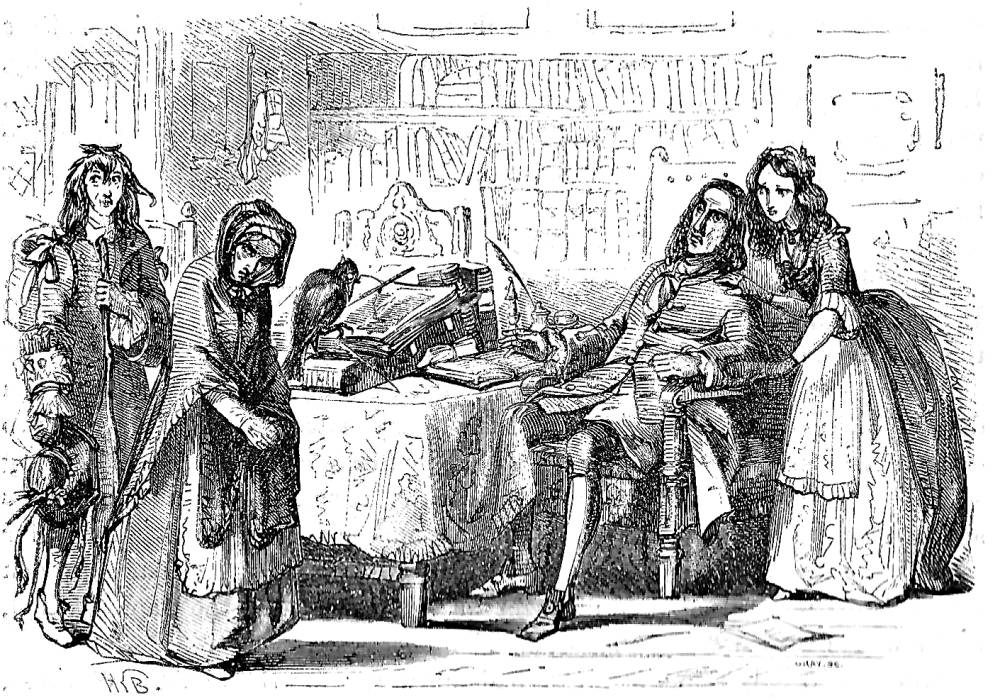 A Painful Interview — Phiz's nineteenth regular contribution, the twenty-fifth illustration in the series, Chap. XXV (15 May 1841 Part 14). 3 ¼ x 4 ½ inches (8 cm high by 11.5 cm wide), vignetted. Volume Three, Part 57 of Master Humphrey's Clock, in which Dickens's Barnaby Rudge originally appeared. The 1849 Bradbury and Evans two-volume edition: middle of 77 in Vol. III. Running Head: "Master Humphrey's Clock" (76). [Click on the images in order to enlarge them.]
Context of the Illustration
The young lady, seeing who approached, hastily rose and laid aside her book, and with many kind words, and not without tears, gave her a warm and earnest welcome. But the widow shrunk from her embrace as though she feared her, and sunk down trembling on a chair.
"It is the return to this place after so long an absence," said Emma gently. "Pray ring, dear uncle — or stay — Barnaby will run himself and ask for wine —"
"Not for the world," she cried. "It would have another taste — I could not touch it. I want but a minute's rest. Nothing but that."
Miss Haredale stood beside her chair, regarding her with silent pity. She remained for a little time quite still; then rose and turned to Mr. Haredale, who had sat down in his easy chair, and was contemplating her with fixed attention.
The tale connected with the mansion borne in mind, it seemed, as has been already said, the chosen theatre for such a deed as it had known. The room in which this group were now assembled — hard by the very chamber where the act was done — dull, dark, and sombre; heavy with worm-eaten books; deadened and shut in by faded hangings, muffling every sound; shadowed mournfully by trees whose rustling boughs gave ever and anon a spectral knocking at the glass; wore, beyond all others in the house, a ghostly, gloomy air. Nor were the group assembled there, unfitting tenants of the spot. The widow, with her marked and startling face and downcast eyes; Mr Haredale stern and despondent ever; his niece beside him, like, yet most unlike, the picture of her father, which gazed reproachfully down upon them from the blackened wall; Barnaby, with his vacant look and restless eye; were all in keeping with the place, and actors in the legend. Nay, the very raven, who had hopped upon the table and with the air of some old necromancer appeared to be profoundly studying a great folio volume that lay open on a desk, was strictly in unison with the rest, and looked like the embodied spirit of evil biding his time of mischief.
"I scarcely know," said the widow, breaking silence, "how to begin. You will think my mind disordered." [Chapter the Twenty-fifth, Vol. III, 76-77]
Commentary: Not the Communication We Expect
Mr. Haredale will not receive the intelligence that readers hope and expect Barnaby's mother will discharge. Apparently she has felt so guilty about continuing to receive the Haredales' annuity when she now knows that her husband is alive — and, indeed, suspects that he murdered his master — that she has made this tedious journey on foot from Southwark to Chigwell merely to tell Geoffrey Haredale that she can longer in good conscience accept the pension. Thus, the illustration of the sombre meeting in the library at The Warren temporarily misleads the reader, who expects that Mrs. Rudge has come to announce that her husband still lives. To render the design more compact, Phiz has Emma stand behind her uncle's easy-chair rather than beside her own; otherwise, he has disposed of the figures much as Dickens suggests, with an embarrassed and reticent widow looking downward rather than directly at Haredale, Barnaby relatively unconcerned about the proceedings, and Grip perched on the desk, as if reading from the open folio volume. The widow's remarks both tantalize her auditors and frustrate readers because she knows that she is in effect harbouring a murderer who may yet pose danger to society in general:
"I am guilty, and yet innocent; wrong, yet right; good in intention, though constrained to shield and aid the bad. Ask me no more questions, sir; but believe that I am rather to be pitied than condemned. I must leave my house to-morrow, for while I stay there, it is haunted. My future dwelling, if I am to live in peace, must be a secret. If my poor boy should ever stray this way, do not tempt him to disclose it or have him watched when he returns; for if we are hunted, we must fly again. And now this load is off my mind, I beseech you — and you, dear Miss Haredale, too — to trust me if you can, and think of me kindly as you have been used to do. If I die and cannot tell my secret even then (for that may come to pass), it will sit the lighter on my breast in that hour for this day's work; and on that day, and every day until it comes, I will pray for and thank you both, and trouble you no more." [Vol. III, 78-79]
Related Scene from the Cattermole Sequence: Tailpiece for Chapter XXV
Related Material including Other Illustrated Editions of
Barnaby Rudge
Scanned image and text by Philip V. Allingham. [You may use this image without prior permission for any scholarly or educational purpose as long as you (1) credit the person who scanned the image and (2) link your document to this URL in a web document or cite the Victorian Web in a print one.]
Bibliography
Dickens, Charles. Barnaby Rudge. Illustrated by Hablot K. Browne ('Phiz') and George Cattermole. London: Chapman and Hall, 1841; rpt., Bradbury & Evans, 1849.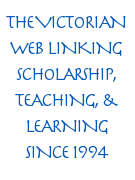 ________. Barnaby Rudge. Illustrated by Harry Furniss. The Charles Dickens Library Edition. London: Educational Book Company, 1910. VI.
Hammerton, J. A. "Ch. XIV. Barnaby Rudge." The Dickens Picture-Book. The Charles Dickens Library Edition, illustrated by Harry Furniss. London: Educational Book Co., 1910. 213-55.
Vann, J. Don. "Charles Dickens. Barnaby Rudge in Master Humphrey's Clock, 13 February-27 November 1841." New York: MLA, 1985. 65-66.
---
Created 9 November 2007

Last modified 17 December 2020