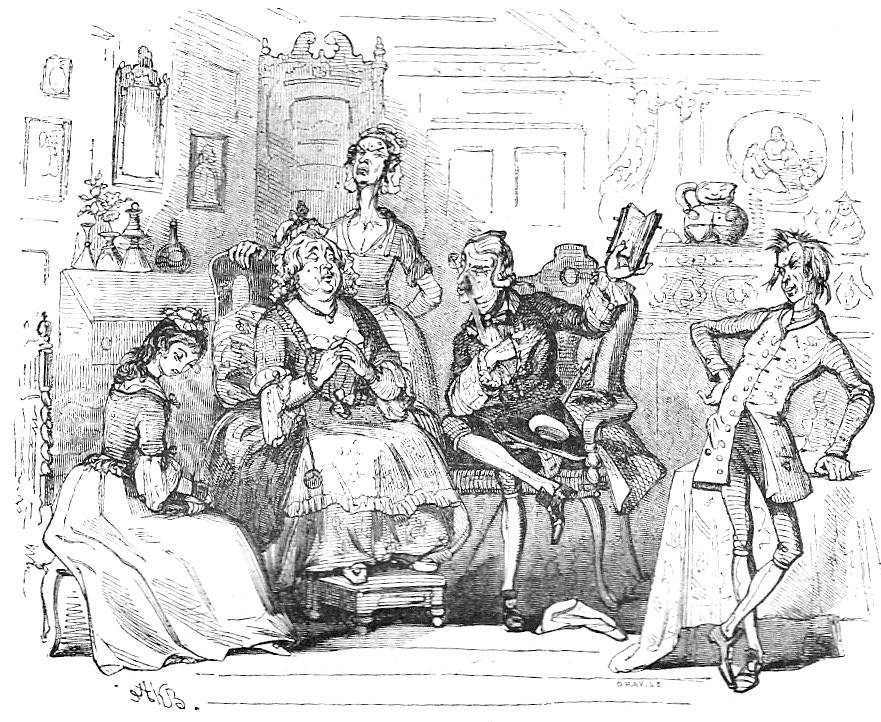 Mr. Chester Making an Impression — Phiz's twentieth regular contribution, the twenty-eighth illustration in the series, Chap. XXVII (22 May 1841, Part 15). 3 ½ x 4 ¼ inches (8.9 cm high by 11.1 cm wide), Volume Three, Part 58 of Master Humphrey's Clock, in which Dickens's Barnaby Rudge originally appeared. The 1849 Bradbury and Evans two-volume edition: middle of 89 in Vol. III. Running Head: "Master Humphrey's Clock" (88). [Click on the images in order to enlarge them.]
Context of the Illustration
Aware of the impression he had made — few men were quicker than he at such discoveries — Mr. Chester followed up the blow by propounding certain virtuous maxims, somewhat vague and general in their nature, doubtless, and occasionally partaking of the character of truisms, worn a little out at elbow, but delivered in so charming a voice and with such uncommon serenity and peace of mind, that they answered as well as the best. Nor is this to be wondered at; for as hollow vessels produce a far more musical sound in falling than those which are substantial, so it will oftentimes be found that sentiments which have nothing in them make the loudest ringing in the world, and are the most relished.
Mr. Chester, with the volume gently extended in one hand, and with the other planted lightly on his breast, talked to them in the most delicious manner possible; and quite enchanted all his hearers, notwithstanding their conflicting interests and thoughts. Even Dolly, who, between his keen regards and her eyeing over by Mr. Tappertit, was put quite out of countenance, could not help owning within herself that he was the sweetest-spoken  gentleman she had ever seen. Even Miss Miggs, who was divided between admiration of Mr. Chester and a mortal jealousy of her young mistress, had sufficient leisure to be propitiated. Even Mr. Tappertit, though occupied as we have seen in gazing at his heart's delight, could not wholly divert his thoughts from the voice of the other charmer.   [Chapter XXVII, 88-89]
Commentary: Mr. Chester Means Mischief
The book that Mr. Chester holds aloft is Mrs. Varden's indispensable Protestant Manual. However, his mission is the very opposite of Christian charity as he is determined to sabotage his son's relationship with Emma Haredale by preventing Dolly acting as their go-between. He invents a fianceée for his son, Ned, as a pretext for disallowing the relationship, and goes so far as to disparage Joe Willet (in part to oblige Sim Tappertit, who has offered to provide  Mr. Chester with intelligence as to what passes in the Varden household.Knowing that Gabriel Varden and Geoffrey Haredale are still at Mrs. Rudge's house in Southwark. Mr. Chester has taken advantage of Gabriel's being away from Clerkenwell to sow mistrust and dissent.
Related Scene from the Cattermole Sequence: from Chapter XXIX
Related Material including Other Illustrated Editions of
Barnaby Rudge
Scanned image and text by Philip V. Allingham. [You may use this image without prior permission for any scholarly or educational purpose as long as you (1) credit the person who scanned the image and (2) link your document to this URL in a web document or cite the Victorian Web in a print one.]
Bibliography
Dickens, Charles. Barnaby Rudge. Illustrated by Hablot K. Browne ('Phiz') and George Cattermole. London: Chapman and Hall, 1841; rpt., Bradbury & Evans, 1849.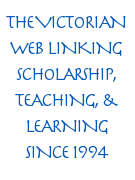 ________. Barnaby Rudge. Illustrated by Harry Furniss. The Charles Dickens Library Edition. London: Educational Book Company, 1910. VI.
Hammerton, J. A. "Ch. XIV. Barnaby Rudge." The Dickens Picture-Book. The Charles Dickens Library Edition, illustrated by Harry Furniss. London: Educational Book Co., 1910. 213-55.
Vann, J. Don. "Charles Dickens. Barnaby Rudge in Master Humphrey's Clock, 13 February-27 November 1841." New York: MLA, 1985. 65-66.
---
Created 9 November 2007

Last modified 17 December 2020