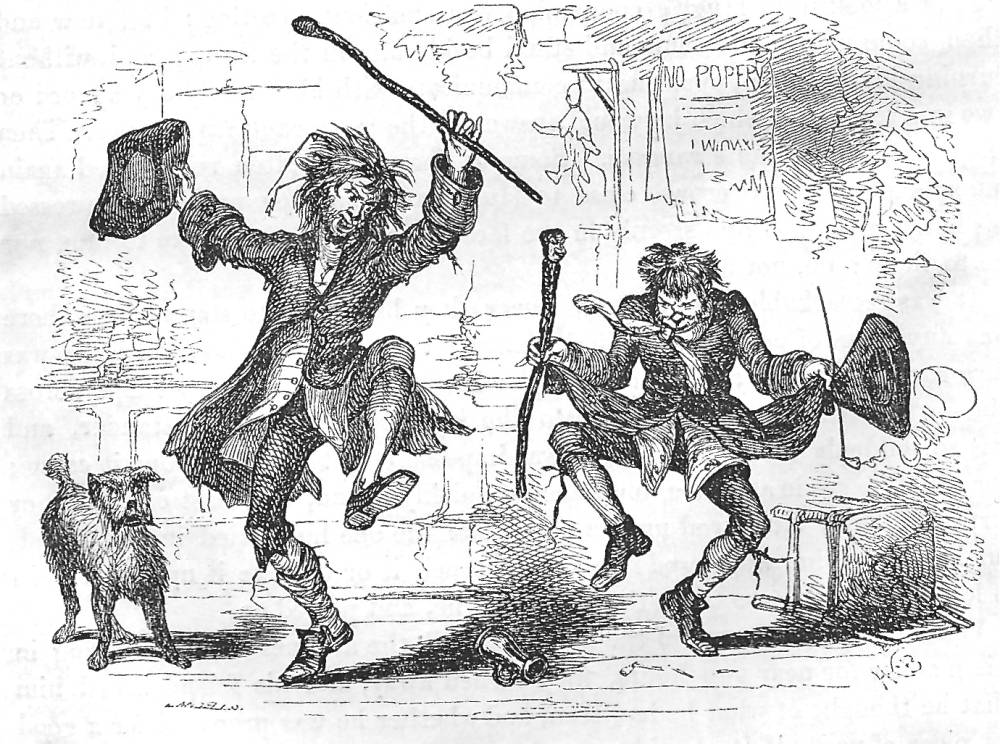 A No-Popery Dance — Phiz's twenty-eighth regular contribution, the thirty-fourth illustration in the series, tailpiece for Chap. XXXVIII (26 June 1841, Part 20). 3 ¼ by 4 ¼ inches (8.3 cm high by 10.7 cm wide), vignetted. Volume Three, Part 63 of Master Humphrey's Clock, in which Dickens's Barnaby Rudge originally appeared. The 1849 Bradbury and Evans two-volume edition: bottom of 156 in Vol. III. Running Head: "Master Humphrey's Clock" (156). [Click on the images in order to enlarge them.]
Context of the Illustration: Hugh and Dennis dancing while "under the influence"
Sol Eytinge, Jr.'s study of the story's sordid villains: Dennis and Hugh (1867).
As they were thirsty by this time, Dennis proposed that they should repair together to The Boot, where there was good company and strong liquor. Hugh yielding a ready assent, they bent their steps that way with no loss of time.
This Boot was a lone house of public entertainment, situated in the fields at the back of the Foundling Hospital; a very solitary spot at that period, and quite deserted after dark. The tavern stood at some distance from any high road, and was approachable only by a dark and narrow lane; so that Hugh was much surprised to find several people drinking there, and great merriment going on. He was still more surprised to find among them almost every face that had caught his attention in the crowd; but his companion having whispered him outside the door, that it was not considered good manners at The Boot to appear at all curious about the company, he kept his own counsel, and made no show of recognition.
Before putting his lips to the liquor which was brought for them, Dennis drank in a loud voice the health of Lord George Gordon, President of the Great Protestant Association; which toast Hugh pledged likewise, with corresponding enthusiasm. A fiddler who was present, and who appeared to act as the appointed minstrel of the company, forthwith struck up a Scotch reel; and that in tones so invigorating, that Hugh and his friend (who had both been drinking before) rose from their seats as by previous concert, and, to the great admiration of the assembled guests, performed an extemporaneous No-Popery Dance. [Chapter the Thirty-eighth, 156]
Commentary: Another Portrait of the Mob's Leader, Ned Dennis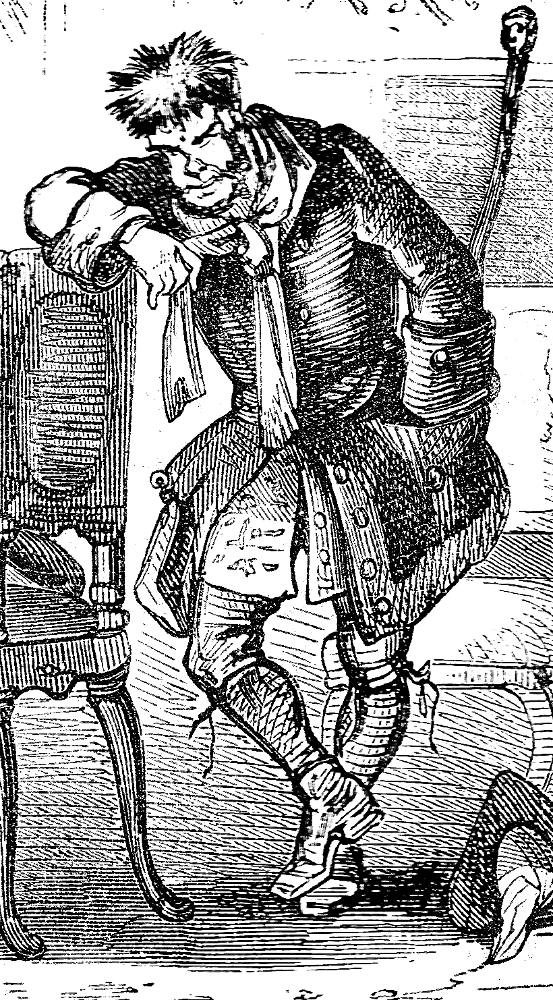 Detail of Phiz's illustration showcasing his portrait of the brutal, debauched hangman who becomes Gashford's henchman, a thorough grotesque in the manner of George Cruikshank: Ned Dennis (152).
In the previous scene, Lord George Gordon's unscrupulous secretary, Gashford, has introduced the surly ostler of The Maypole, Hugh, and his urban minion, Dennis. Phiz now explores the visual possibilities of an historical figure who played a significant role in the Gordon Riots, the public hangman, Ned Dennis. Here Phiz uses him as a foil to Hugh in terms of size; both are in fact anti-papist opportunists who are on the lookout for opportunities to destroy and pillage the property of wealthy Catholic families. Phiz arms both villains with the common weapons of the street, clubs, rather than the implements of middle-class marauders, sword and pistol. The scene of the carousing and dancing, the public house known as the Boot, gives Dickens the opportunity to introduce his villains to the miles gloriosus of the Apprentice Boys, Sim Tappertit, in Mr. Tappertit Finds an Old Friend, Ch. XXXIX.
The actual hangman, convicted of the same offence, was reprieved, presumably in acknowledgement for his services to the state, "taking off" hundreds of prisoners under the eighteenth century's repressive laws against even petty theft.
Related Material on Lord Gordon and his Protestant Movement
Related Material including Other Illustrated Editions of
Barnaby Rudge
Scanned image and text by Philip V. Allingham. [You may use this image without prior permission for any scholarly or educational purpose as long as you (1) credit the person who scanned the image and (2) link your document to this URL in a web document or cite the Victorian Web in a print one.]
Bibliography
Dickens, Charles. Barnaby Rudge. Illustrated by Hablot K. Browne ('Phiz') and George Cattermole. London: Chapman and Hall, 1841; rpt., Bradbury & Evans, 1849.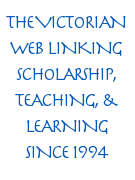 ________. Barnaby Rudge. Ed. Kathleen Tillotson. Illustrated by Hablot K. Browne ('Phiz') and George Cattermole. The New Oxford Illustrated Dickens. London: Oxford University Press. 1954, rpt. 1987.
________. Barnaby Rudge and Hard Times. Illustrated by Sol Eytinge, Jr. The Diamond Edition. 16 vols. Boston: Ticknor & Fields, 1867. IX.
________. Barnaby Rudge — A Tale of the Riots of 'Eighty. Illustrated by Fred Barnard. The Household Edition. 22 vols. London: Chapman and Hall, 1874. VII.
________. Barnaby Rudge. Illustrated by Harry Furniss. The Charles Dickens Library Edition. London: Educational Book Company, 1910. VI.
Hammerton, J. A. "Ch. XIV. Barnaby Rudge." The Dickens Picture-Book. The Charles Dickens Library Edition, illustrated by Harry Furniss. London: Educational Book Co., 1910. 213-55.
Vann, J. Don. "Charles Dickens. Barnaby Rudge in Master Humphrey's Clock, 13 February-27 November 1841." New York: MLA, 1985. 65-66.
---
Created 9 November 2007

Last modified 17 December 2020