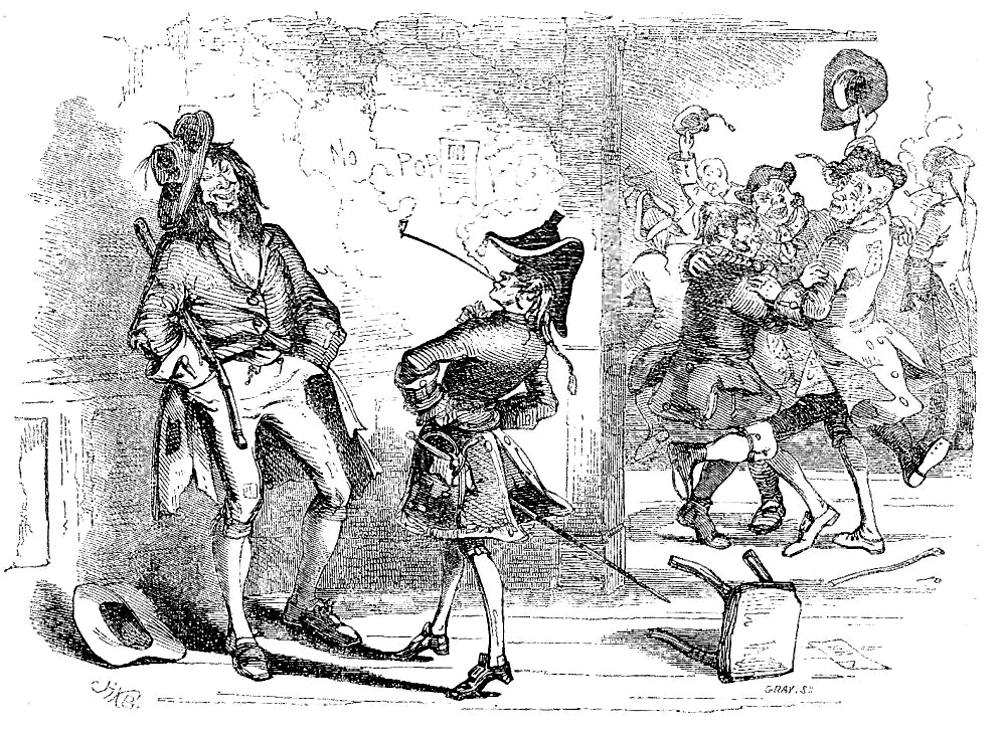 Mr. Tappertit Finds an Old Friend — Phiz's twenty-ninth regular contribution, the thirty-seventh illustration in the series, headpiece for Chap. XXXIX (3 July 1841, Part 21). 3 ¼ by 4 ½ inches (8.3 cm high by 11.1 cm wide), vignetted. Volume Three, Part 64 of Master Humphrey's Clock, in which Dickens's Barnaby Rudge originally appeared. The 1849 Bradbury and Evans two-volume edition: top of p. 156 in Vol. III. Running Head: "Master Humphrey's Clock" (157). [Click on the images in order to enlarge them.]
Context of the Illustration: Meeting the Vulgus Mobile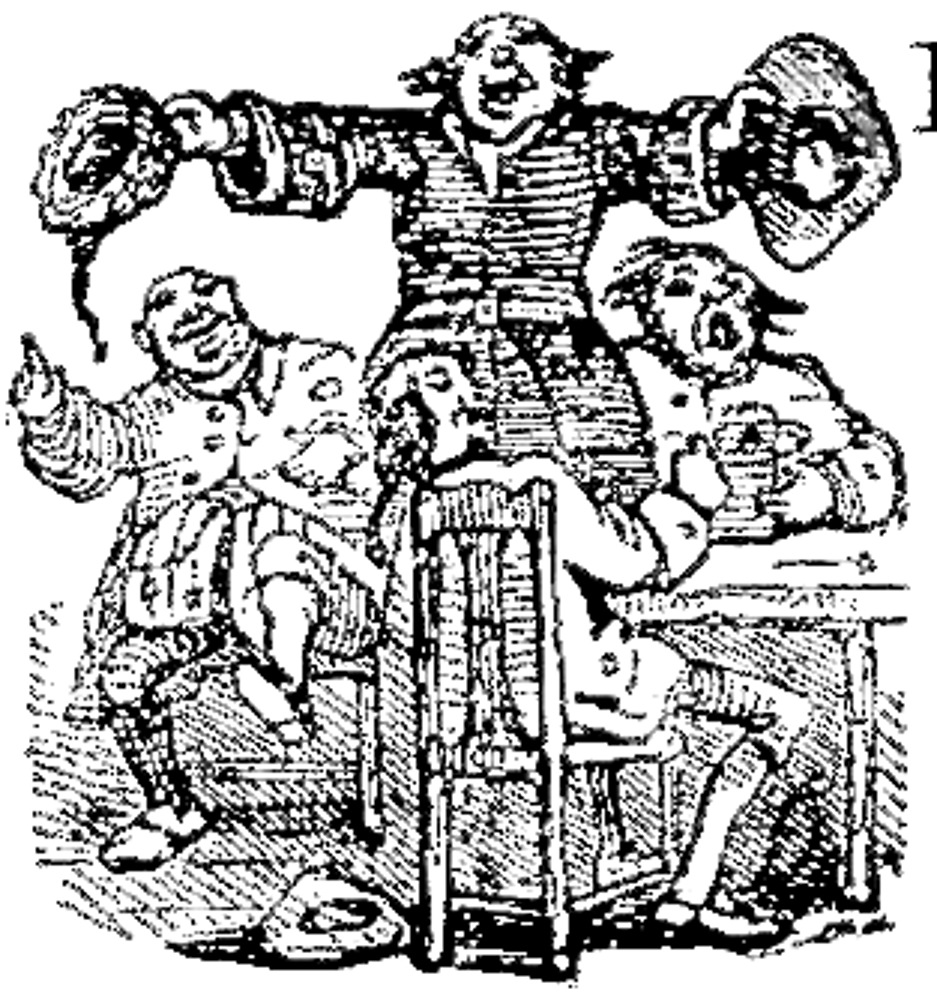 Phiz's ornamental initial letter "T": Celebrants singing at The Boot.
The applause which the performance of Hugh and his new friend elicited from the company at The Boot, had not yet subsided, and the two dancers were still panting from their exertions, which had been of a rather extreme and violent character, when the party was reinforced by the arrival of some more guests, who, being a detachment of United Bulldogs, were received with very flattering marks of distinction and respect.
The leader of this small party — for, including himself, they were but three in number — was our old acquaintance, Mr. Tappertit, who seemed, physically speaking, to have grown smaller with years (particularly as to his legs, which were stupendously little), but who, in a moral point of view, in personal dignity and self-esteem, had swelled into a giant. Nor was it by any means difficult for the most unobservant person to detect this state of feeling in the quondam 'prentice, for it not only proclaimed itself impressively and beyond mistake in his majestic walk and kindling eye, but found a striking means of revelation in his turned-up nose, which scouted all things of earth with deep disdain, and sought communion with its kindred skies.
Mr. Tappertit, as chief or captain of the Bulldogs, was attended by his two lieutenants; one, the tall comrade of his younger life; the other, a 'Prentice Knight in days of yore — Mark Gilbert, bound in the olden time to Thomas Curzon of the Golden Fleece. These gentlemen, like himself, were now emancipated from their 'prentice thraldom, and served as journeymen; but they were, in humble emulation of his great example, bold and daring spirits, and aspired to a distinguished state in great political events. Hence their connection with the Protestant Association of England, sanctioned by the name of Lord George Gordon; and hence their present visit to The Boot.
"Gentlemen!" said Mr. Tappertit, taking off his hat as a great general might in addressing his troops. "Well met. My lord does me and you the honour to send his compliments per self."
"You've seen my lord too, have you?" said Dennis. "I see him this afternoon."
"My duty called me to the Lobby when our shop shut up; and I saw him there, sir," Mr. Tappertit replied, as he and his lieutenants took their seats. "How do you do?" [Chapter the Thirty-ninth, 157-58]
Illustrations for this chapter in the Household and Charles Dickens Library Editions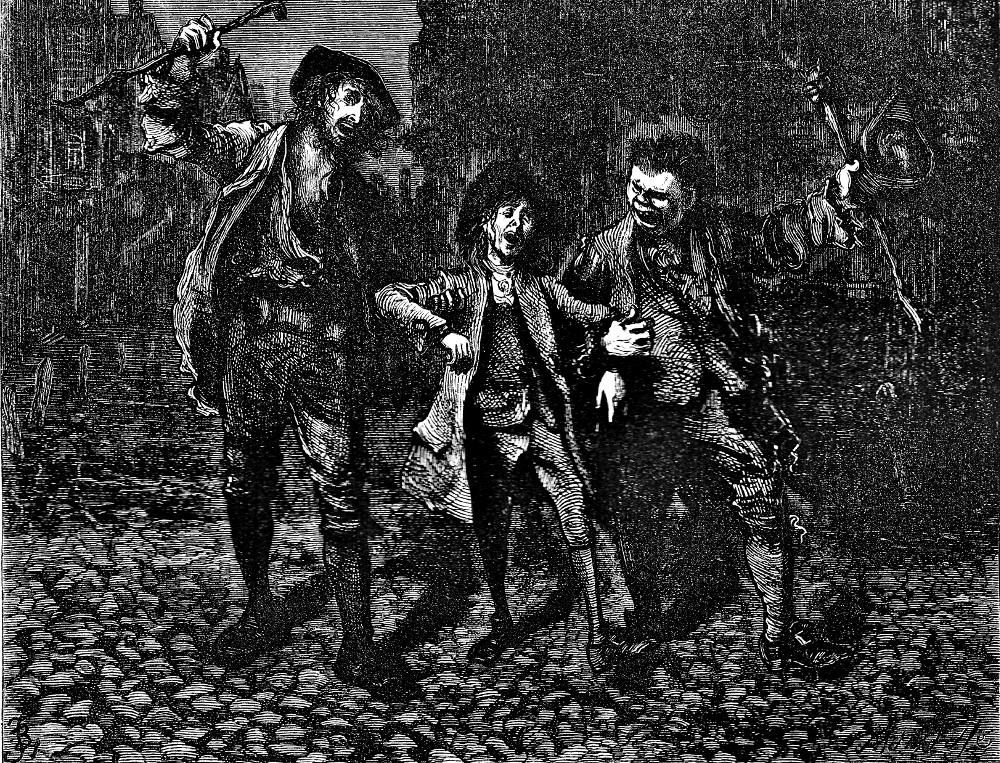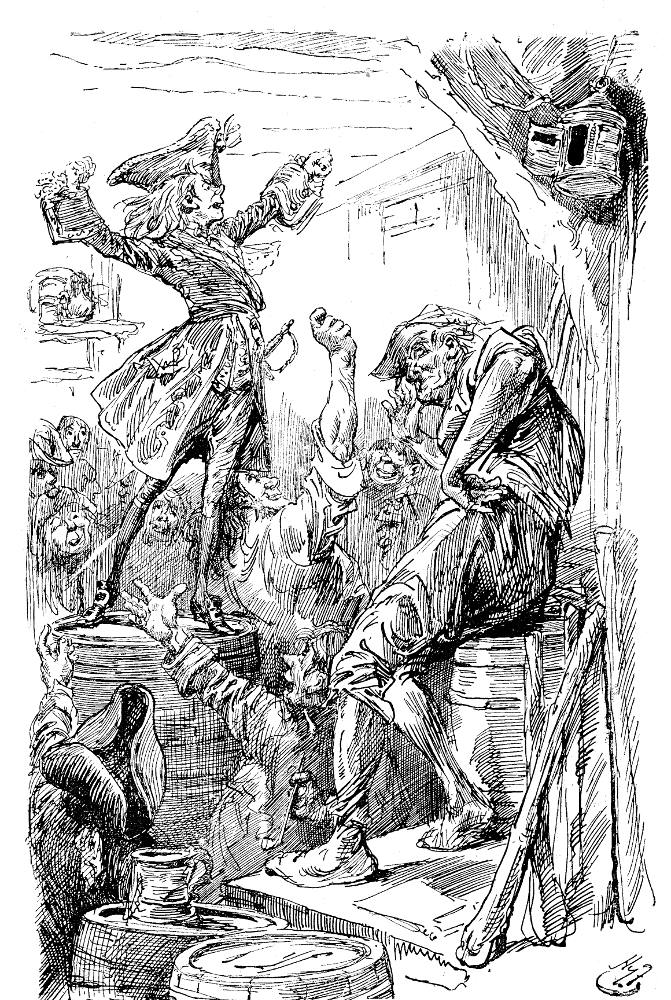 Left: Fred Barnard's portrait of Sim, Dennis, and Hugh as Roaring Boys after the tavern scene: A Nice Trio (1874). Right: Harry Furniss's reintroduction of Sim as the leader of an expanded anti-establishment group: Meeting of the Protestant Association (1910).
Related Material including Other Illustrated Editions of
Barnaby Rudge
Scanned image and text by Philip V. Allingham. [You may use this image without prior permission for any scholarly or educational purpose as long as you (1) credit the person who scanned the image and (2) link your document to this URL in a web document or cite the Victorian Web in a print one.]
Bibliography
Dickens, Charles. Barnaby Rudge. Illustrated by Hablot K. Browne ('Phiz') and George Cattermole. London: Chapman and Hall, 1841; rpt., Bradbury & Evans, 1849.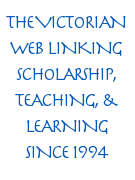 ________. Barnaby Rudge. Ed. Kathleen Tillotson. Illustrated by Hablot K. Browne ('Phiz') and George Cattermole. The New Oxford Illustrated Dickens. London: Oxford University Press. 1954, rpt. 1987.
________. Barnaby Rudge — A Tale of the Riots of 'Eighty. Illustrated by Fred Barnard. The Household Edition. 22 vols. London: Chapman and Hall, 1874. VII.
________. Barnaby Rudge. Illustrated by Harry Furniss. The Charles Dickens Library Edition. London: Educational Book Company, 1910. VI.
Hammerton, J. A. "Ch. XIV. Barnaby Rudge." The Dickens Picture-Book. The Charles Dickens Library Edition, illustrated by Harry Furniss. London: Educational Book Co., 1910. 213-55.
Vann, J. Don. "Charles Dickens. Barnaby Rudge in Master Humphrey's Clock, 13 February-27 November 1841." New York: MLA, 1985. 65-66.
---
Created 9 November 2007

Last modified 17 December 2020