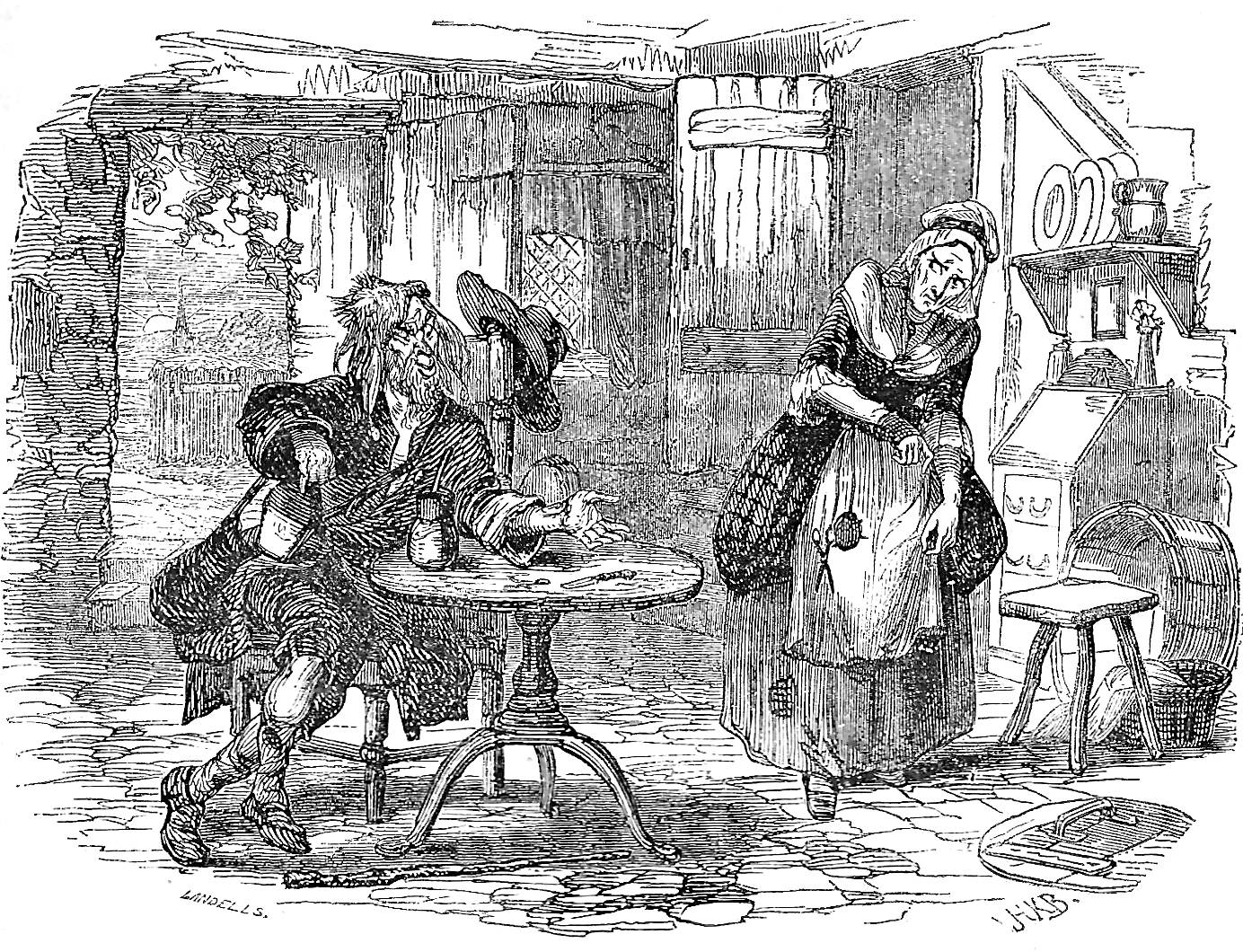 Stagg's Demand — forty-fourth illustration for the novel, Chap. XLV, by Hablot Knight Browne (Phiz). 24 July 1841 (Part 24). 3 ⅝ x 4 ½ inches (8.9 cm by 11.5 cm), vignetted, from instalment 67 in Master Humphrey's Clock, and published in Dickens's Barnaby Rudge, in the 1849 Bradbury and Evans two-volume edition: 195. Running head: "Master Humphrey's Clock" (194). [Click on the images to enlarge them.]
Context of the Illustration: Stagg extorts the Widow Rudge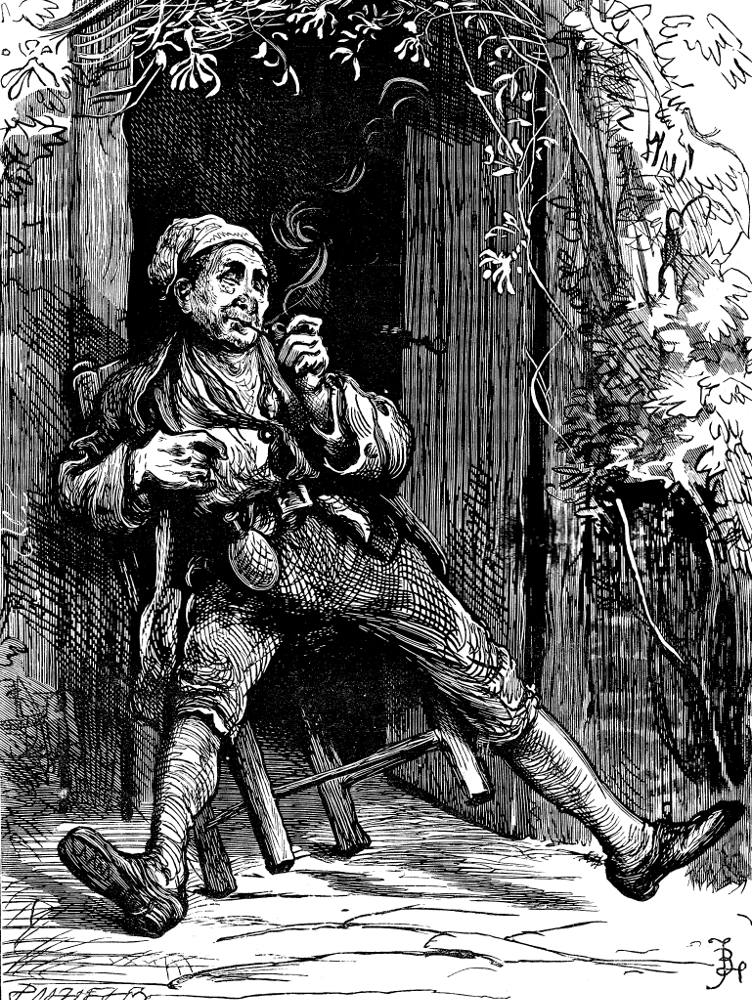 Fred Barnard's full-page portrait of the disreputable Stagg, Old Rudge's landlord and confidant: Then seating himself under a spreading honeysuckle, and stretching his legs across the threshold so that no person could pass . . . . (1874).
"Do you know how pinched and destitute I am?" she retorted. "I do not think you do, or can. If you had eyes, and could look around you on this poor place, you would have pity on me. Oh! let your heart be softened by your own affliction, friend, and have some sympathy with mine."
The blind man snapped his fingers as he answered:
"— Beside the question, ma'am, beside the question. I have the softest heart in the world, but I can't live upon it. Many a gentleman lives well upon a soft head, who would find a heart of the same quality a very great drawback. Listen to me. This is a matter of business, with which sympathies and sentiments have nothing to do. As a mutual friend, I wish to arrange it in a satisfactory manner, if possible; and thus the case stands. — If you are very poor now, it's your own choice. You have friends who, in case of need, are always ready to help you. My friend is in a more destitute and desolate situation than most men, and, you and he being linked together in a common cause, he naturally looks to you to assist him. He has boarded and lodged with me a long time (for as I said just now, I am very soft-hearted), and I quite approve of his entertaining this opinion. You have always had a roof over your head; he has always been an outcast. You have your son to comfort and assist you; he has nobody at all. The advantages must not be all one side. You are in the same boat, and we must divide the ballast a little more equally."
She was about to speak, but he checked her, and went on.
"The only way of doing this, is by making up a little purse now and then for my friend; and that's what I advise. He bears you no malice that I know of, ma'am: so little, that although you have treated him harshly more than once, and driven him, I may say, out of doors, he has that regard for you that I believe even if you disappointed him now, he would consent to take charge of your son, and to make a man of him."
He laid a great stress on these latter words, and paused as if to find out what effect they had produced. She only answered by her tears. [Chapter the Forty-fifth, 199-200]
Commentary: Stagg identified
That the cunning blindman with the feral expression in the "destitute" widow's ill-furnished cottage closely resembles Stagg from an early illustration (Chapter 18) is significant when one is reading the text because Dickens does not identify this character by name until late in the chapter. In other words, Phiz reveals the fact that the widow's visitor is Stagg before the text does. Consequently, when the sly guest asks Barnaby to take his few coins and buy him a loaf of bread at the nearby village, the observant reader realizes that Stagg is trying to get Barnaby out of the way. Very quickly the visitor begins his program of extortion, implying that Old Rudge is nearby but that he (Stagg) can keep the menacing ex-husband away if the  widow accedes to his request. The reader, apprehending that Mary Rudge is not likely to have anything approaching twenty pounds on hand, wonders whether she will agree to petition the Haredales, or whether, without the ready cash, Stagg will follow through on his threat. If this little cottage in an obscure corner of England has been a poor woman's paradise these five years, cunning-looking Stagg is proving to be the Serpent in Eden. From now on, terrified at the prospect of her husband's imminent return, the widow will be living in perpetual anxiety.
Related Material including Other Illustrated Editions of
Barnaby Rudge
Scanned image and text by Philip V. Allingham. [You may use this image without prior permission for any scholarly or educational purpose as long as you (1) credit the person who scanned the image and (2) link your document to this URL in a web document or cite the Victorian Web in a print one.]
Bibliography
Dickens, Charles. Barnaby Rudge. Illustrated by Hablot K. Browne ('Phiz') and George Cattermole. London: Chapman and Hall, 1841; rpt., Bradbury & Evans, 1849.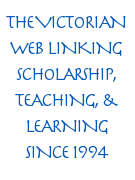 _______. Barnaby Rudge. Illustrated by A. H. Buckland. London and Glasgow: Collins Clear-type Press. 1900.
Hammerton, J. A. "Ch. XIV. Barnaby Rudge." The Dickens Picture-Book. The Charles Dickens Library Edition, illustrated by Harry Furniss. London: Educational Book Co., 1910. 213-55.
Vann, J. Don. "Charles Dickens. Barnaby Rudge in Master Humphrey's Clock, 13 February-27 November 1841." New York: MLA, 1985. 65-66.
---
Created 1 August 2015

Last modified 26 December 2020