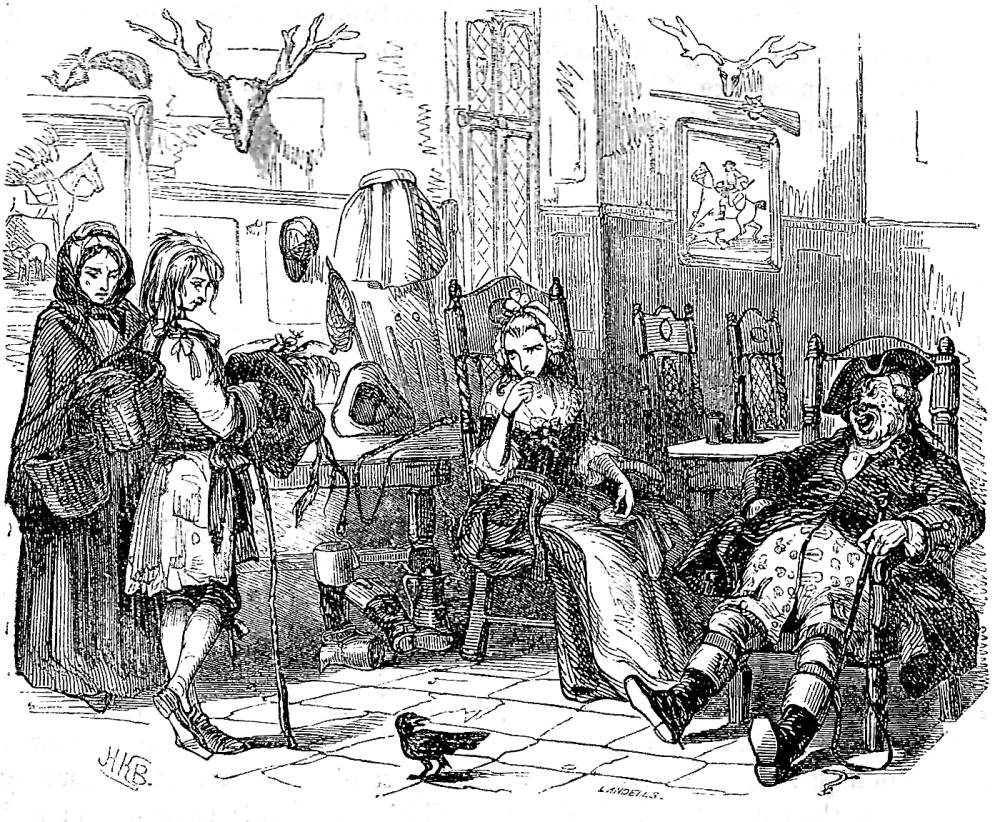 Grip's Performance — forty-fifth illustration for the novel, Chap. XLVII, by Hablot Knight Browne (Phiz). 31 July 1841 (Part 25). 3 ⅝ x 4 ½ inches (9.4 cm by 11.5 cm), vignetted, from instalment 68 in Master Humphrey's Clock, and published Dickens's Barnaby Rudge, in the 1849 Bradbury and Evans two-volume edition: 208. Running head: "Master Humphrey's Clock" (208). [Click on the image to enlarge it.]
Context of the Illustration: John Bull meets Barnaby Rudge
Now, this gentleman had various endearing appellations among his intimate friends. By some he was called "a country gentleman of the true school," by some "a fine old country gentleman," by some "a sporting gentleman," by some "a thorough-bred Englishman," by some "a genuine John Bull" . . . .
The lady smiled, sat down at a little distance from him, and glanced at Barnaby with a look of pity.
"He's an idiot, the woman says," observed the gentleman, shaking his head; "I don't believe it."
"Are you his mother?" asked the lady.
She answered yes.
"What's the use of asking her?" said the gentleman, thrusting his hands into his breeches pockets. "She'll tell thee so, of course. Most likely he's hired, at so much a day. There. Get on. Make him do something.'Grip having by this time recovered his urbanity, condescended, at Barnaby's solicitation, to repeat his various phrases of speech, and to go through the whole of his performances with the utmost success. The corks, and the never say die, afforded the gentleman so much delight that he demanded the repetition of this part of the entertainment, until Grip got into his basket, and positively refused to say another word, good or bad. The lady too, was much amused with him; and the closing point of his obstinacy so delighted her husband that he burst into a roar of laughter, and demanded his price.
Barnaby looked as though he didn't understand his meaning. Probably he did not.
"His price," said the gentleman, rattling the money in his pockets, 'what dost want for him? How much?"
"He's not to be sold," replied Barnaby, shutting up the basket in a great hurry, and throwing the strap over his shoulder. "Mother, come away."
"Thou seest how much of an idiot he is, book-learner," said the gentleman, looking scornfully at his wife. "He can make a bargain. What dost want for him, old woman?"
"He is my son's constant companion," said the widow. "He is not to be sold, sir, indeed."
"Not to be sold!" cried the gentleman, growing ten times redder, hoarser, and louder than before. "Not to be sold!"
"Indeed no," she answered. "We have never thought of parting with him, sir, I do assure you."
He was evidently about to make a very passionate retort, when a few murmured words from his wife happening to catch his ear, he turned sharply round, and said, "Eh? What?"  [Chapter the Forty-seventh, 207-9]
Commentary: The Rudges meet a "Fine, Old" Tory Justice of the Peace
Dickens describes this "fine old English gentleman," this facsimile of the English national figure John Bull as "a stout gentleman with a long whip in his hand, and a flushed face which seemed to indicate that he had had his morning's draught." An illiterate (or nearly so), intolerant "three-bottle man," harsh in his treatment of the lower orders, the Tory squire and local Justice of the Peace seems determined to buy Grip; he believes that his money will get him anything he desires.  Phiz has used this description to shape his image of a stout, red-nosed, middle-aged squire in topboots. His unhappy wife is much younger: "a young lady whom he had married for what his friends called 'the good old English reason,' that her father's property adjoined his own." He has just summoned his wife to see their visitors. She has "the appearance of being in delicate health, and not too happy." She speaks standard, modern English; he a dialect suggestive of an earlier period and a rural county. The skulls and antlers  of stags (presumably killed by the Tory landowner on his own property), his horsey posture, and red nose in the illustration are all consistent with Dickens's satirical portrait of the member of the reactionary political party determined to fight social and political reform.
The beauty of the picaresque form from the novelist's perspective is that a Cervantes, Fielding, or Scott can introduce a vast range of characters along the high road. Here, Dickens's Sancho-and-Don Quixote duo (Barnaby and his mother) meet a character who has nothing whatsoever to do with any of the novel's plots. He is, as it were, an editorial aside by a young Radical. The date of this episode, 31 July 1841, suggests that the author was already formulating a poem to be published shortly in a Liberal journal as a satire of such old-fashioned Tories entitled "A Fine English Gentleman." Dickens wrote this savagely satirical ballad for The Examiner, in which it appeared on Saturday, 7 August 1841, shortly after the Tories had taken over the government in a parliamentary election. The (pseudo) anachreontic song is a parody of a popular ditty about a Fine Old English Gentleman who, "while he feasted all the great,/ He ne'er forgot the small."). The whip which both the original Phiz illustration and Furniss's 1910 version emphasize the surly squire's brutal domination of his wife and tenants.
Related material
Harry Furniss's version of the illustration (1910)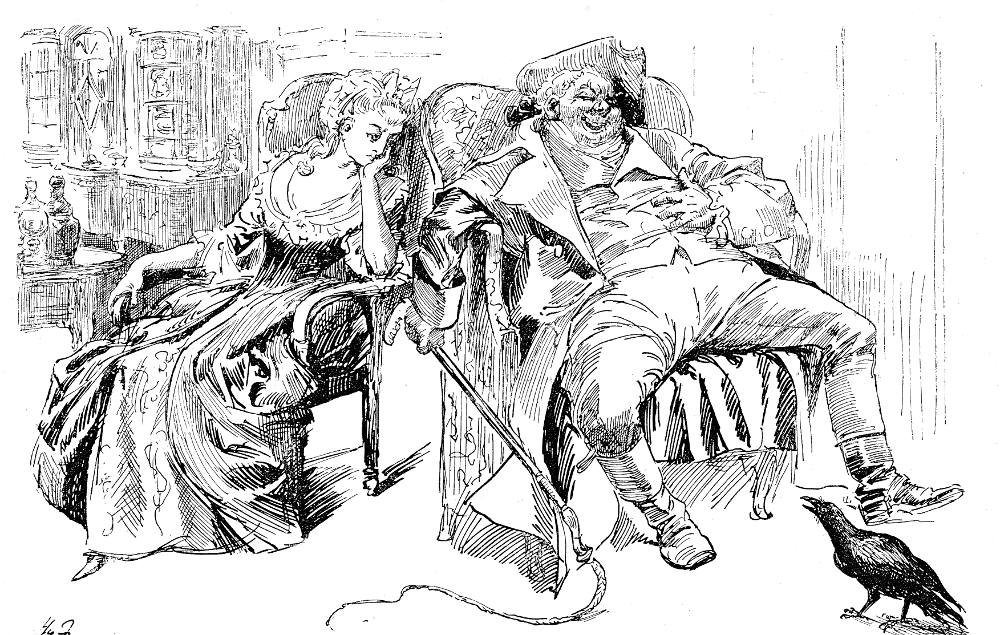 Above: Furniss's vigorous drawing of Mr. Bull and his "lady": Grip performing for "a fine old Country Gentleman."
Related Material including Other Illustrated Editions of
Barnaby Rudge
Scanned image and text by Philip V. Allingham. [You may use this image without prior permission for any scholarly or educational purpose as long as you (1) credit the person who scanned the image and (2) link your document to this URL in a web document or cite the Victorian Web in a print one.]
Bibliography
Dickens, Charles. Barnaby Rudge. Illustrated by Hablot K. Browne ('Phiz') and George Cattermole. London: Chapman and Hall, 1841; rpt., Bradbury & Evans, 1849.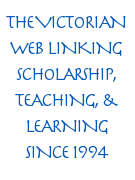 _______. Barnaby Rudge. Illustrated by A. H. Buckland. London and Glasgow: Collins Clear-type Press. 1900.
_______. "The Fine Old English Gentleman: New Version." (1841). The New Oxford Book of Victorian Verse, ed. Christopher Ricks. Oxford: Oxford U. P., 1987.
Hammerton, J. A. "Ch. XIV. Barnaby Rudge." The Dickens Picture-Book. The Charles Dickens Library Edition, illustrated by Harry Furniss. London: Educational Book Co., 1910. 213-55.
Vann, J. Don. "Charles Dickens. Barnaby Rudge in Master Humphrey's Clock, 13 February-27 November 1841." New York: MLA, 1985. 65-66.
---
Created 1 August 2015

Last modified 26 December 2020