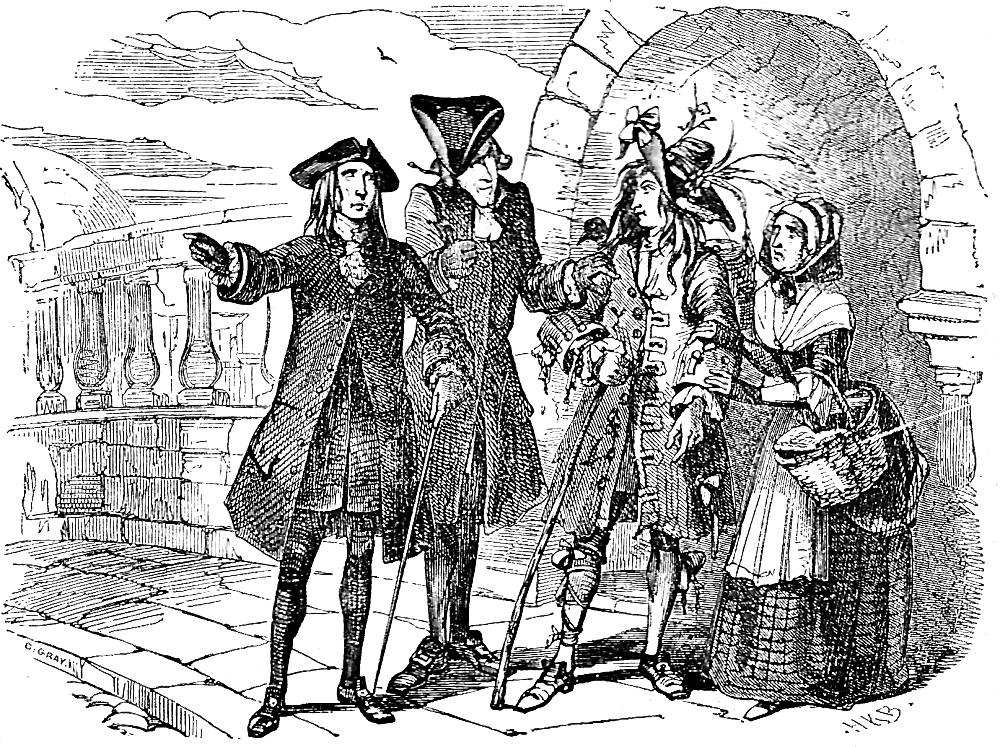 Barnaby is Enrolled — forty-sixth illustration for the novel, Chap. XLVIII, by Hablot Knight Browne (Phiz). 31 July 1841 (Part 25). 3 ⅜ x 4 ½ inches (8.6 cm by 11.5 cm), vignetted, from instalment 68 in Master Humphrey's Clock, and published in Dickens's Barnaby Rudge, in the 1849 Bradbury and Evans two-volume edition: 213. Running head: "Master Humphrey's Clock" (212). [Click on the image to enlarge it.]
Context of the Illustration: Hugh Welcomes Barnaby to Lord George's Cause
"You do not understand me, my lord," said the widow. "Pardon me, but you cruelly mistake my meaning. We know nothing of these matters. We have no desire or right to join in what you are about to do. This is my son, my poor afflicted son, dearer to me than my own life. In mercy's name, my lord, go your way alone, and do not tempt him into danger!"
"My good woman," said Gashford, "how can you! — Dear me! — What do you mean by tempting, and by danger? Do you think his lordship is a roaring lion, going about and seeking whom he may devour? God bless me!"
"No, no, my lord, forgive me," implored the widow, laying both her hands upon his breast, and scarcely knowing what she did, or said, in the earnestness of her supplication, "but there are reasons why you should hear my earnest, mother's prayer, and leave my son with me. Oh do! He is not in his right senses, he is not, indeed!"
"It is a bad sign of the wickedness of these times," said Lord George, evading her touch, and colouring deeply, "that those who cling to the truth and support the right cause, are set down as mad. Have you the heart to say this of your own son, unnatural mother!"
"I am astonished at you!" said Gashford, with a kind of meek severity. "This is a very sad picture of female depravity."
"He has surely no appearance," said Lord George, glancing at Barnaby, and whispering in his secretary's ear, "of being deranged? And even if he had, we must not construe any trifling peculiarity into madness. Which of us" — and here he turned red again — "would be safe, if that were made the law!"
"Not one," replied the secretary; "in that case, the greater the zeal, the truth, and talent; the more direct the call from above; the clearer would be the madness. With regard to this young man, my lord," he added, with a lip that slightly curled as he looked at Barnaby, who stood twirling his hat, and stealthily beckoning them to come away, "he is as sensible and self-possessed as any one I ever saw."
"And you desire to make one of this great body?" said Lord George, addressing him; and intended to make one, did you?"
"Yes — yes," said Barnaby, with sparkling eyes. "To be sure I did! I told her so myself." [Chapter XLVIII, 213-14]
Commentary
On the morning of 2 June 1780, Barnaby and his mother travel the final ten miles to London in a freight wagon, and alight at 7:00 A. M. at the foot of Westminster Bridge. However, they can make no progress because the passage of thousands of men who wear Lord George Gordon's blue cockade in their hats. With the mob assembling across the river, in St. George's Fields, all the pair can do is wait in a niche for the mob to thin out. After two hours, as fewer and fewer late-comers make their way across the bridge, Barnaby and his mother encounter Lord George and Gashford. This, then, is the meeting that Phiz has illustrated. An elderly stranger, also intending to join the assembled host, has just encouraged Barnaby to show his support for the Protestant cause. Then, another stranger in a hackney coach encourages Barnaby by giving him a blue cockade to wear (this ribbon is now at the peak of Barnaby's hat-brim in the plate). Finally, the leader and his secretary arrive on foot, and engage in conversation with the travellers.
Although Mary Rudge entreats Barnaby not to follow Gashford's prompting to join the demonstrators, Barnaby insists that only by becoming one of the throng will he be able to furnish his mother with gold. Lord George misinterprets the widows's remarking about having just come a long distance from the country to indicate that his cause now enjoys popular support far beyond London: "The cause has taken a deep root, and has spread its branches far and wide" (213), remarks the zealous but misguided leader. This line accompanies Lord George's gesture in the illustration as Gashford attempts to collar Barnaby for the cause. The ten o'clock start time draws near.
Parallel Illustration in the Household Edition (1874)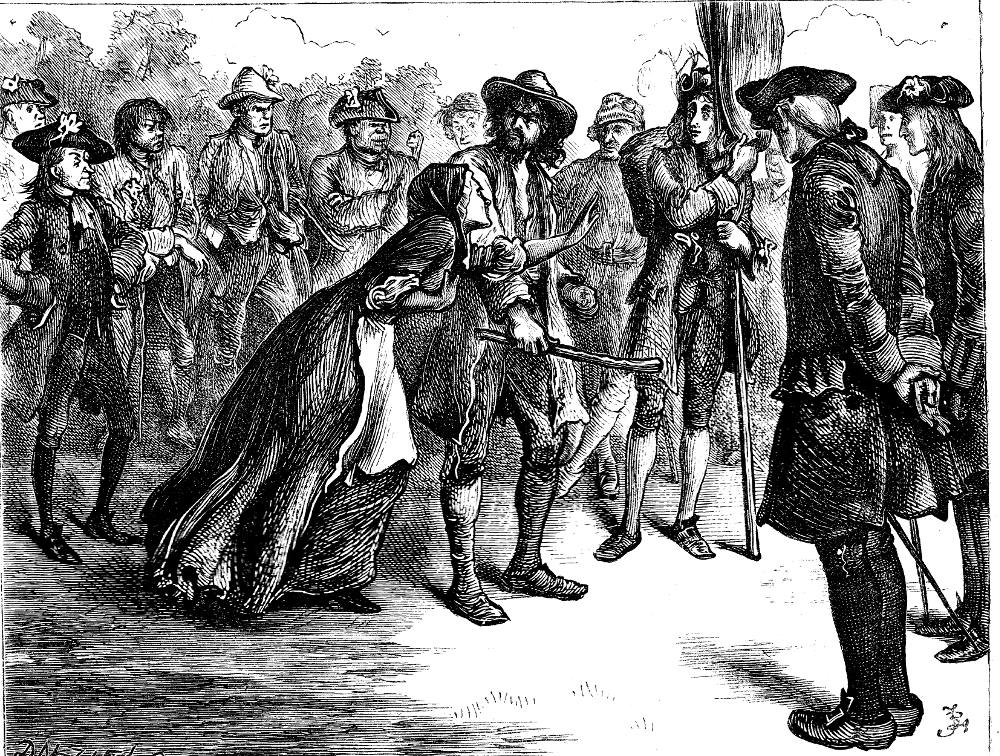 Above: Fred Barnard's Mary Rudge dramatically pleading for her son: "In the name of God, no!" shrieked the widow, darting forward "Barnaby — my lord — see — he'll come back — Barnaby, Barnaby!" (Chapter XLVIII).
Related Material including Other Illustrated Editions of
Barnaby Rudge
Scanned image and text by Philip V. Allingham. [You may use this image without prior permission for any scholarly or educational purpose as long as you (1) credit the person who scanned the image and (2) link your document to this URL in a web document or cite the Victorian Web in a print one.]
Bibliography
Dickens, Charles. Barnaby Rudge. Illustrated by Hablot K. Browne ('Phiz') and George Cattermole. London: Chapman and Hall, 1841; rpt., Bradbury & Evans, 1849.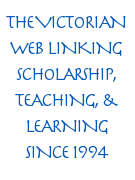 _______. Barnaby Rudge. Illustrated by A. H. Buckland. London and Glasgow: Collins Clear-type Press. 1900.
_______. "The Fine Old English Gentleman: New Version." (1841). The New Oxford Book of Victorian Verse, ed. Christopher Ricks. Oxford: Oxford U. P., 1987.
Hammerton, J. A. "Ch. XIV. Barnaby Rudge." The Dickens Picture-Book. The Charles Dickens Library Edition, illustrated by Harry Furniss. London: Educational Book Co., 1910. 213-55.
Vann, J. Don. "Charles Dickens. Barnaby Rudge in Master Humphrey's Clock, 13 February-27 November 1841." New York: MLA, 1985. 65-66.
---
Created 1 August 2015

Last modified 26 December 2020