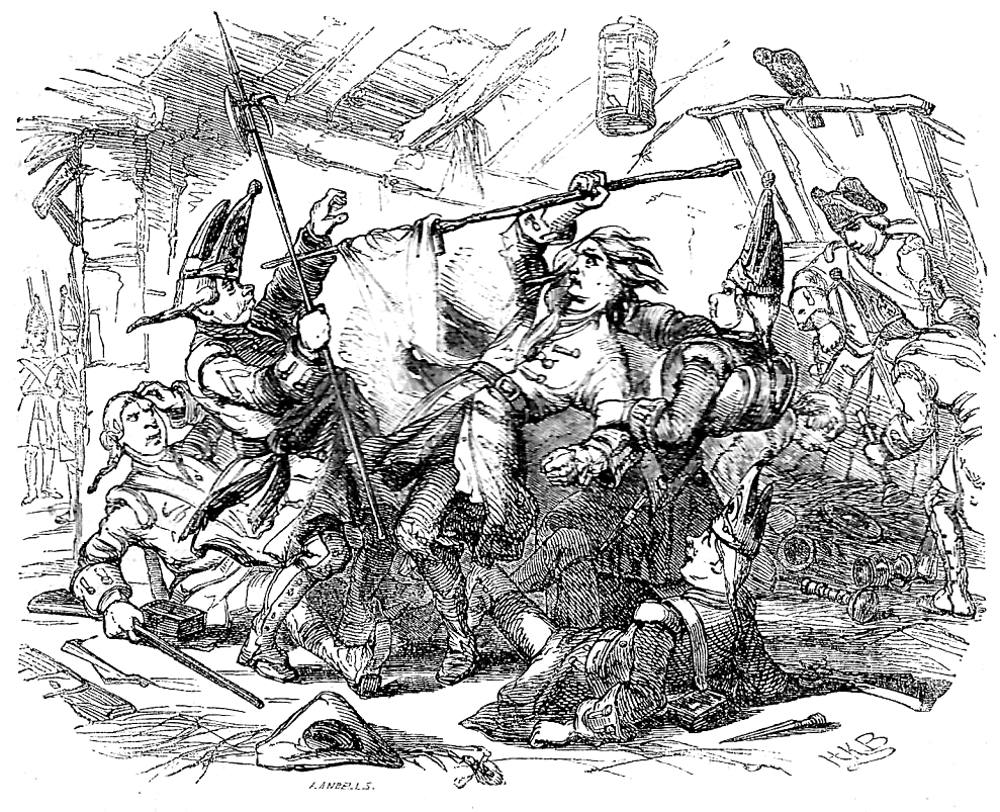 Barnaby Taken Prisoner from instalment 73 (4 September 1841) in Master Humphrey's Clock, and published by Bradbury and Evans in volume form in 1849. 3 ¾ x 4 ½ inches (9.2 cm high by 11.5 cm wide), vignetted; composite woodblock engraving dropped into text: fifty-fourth illustration in the series for Dickens's Barnaby Rudge, Part 30, Chapter the Fifty-seventh, 265. [Click on the images to enlarge them.]
Passage Illustrated: Uniformed Soldiers take Barnaby Prisoner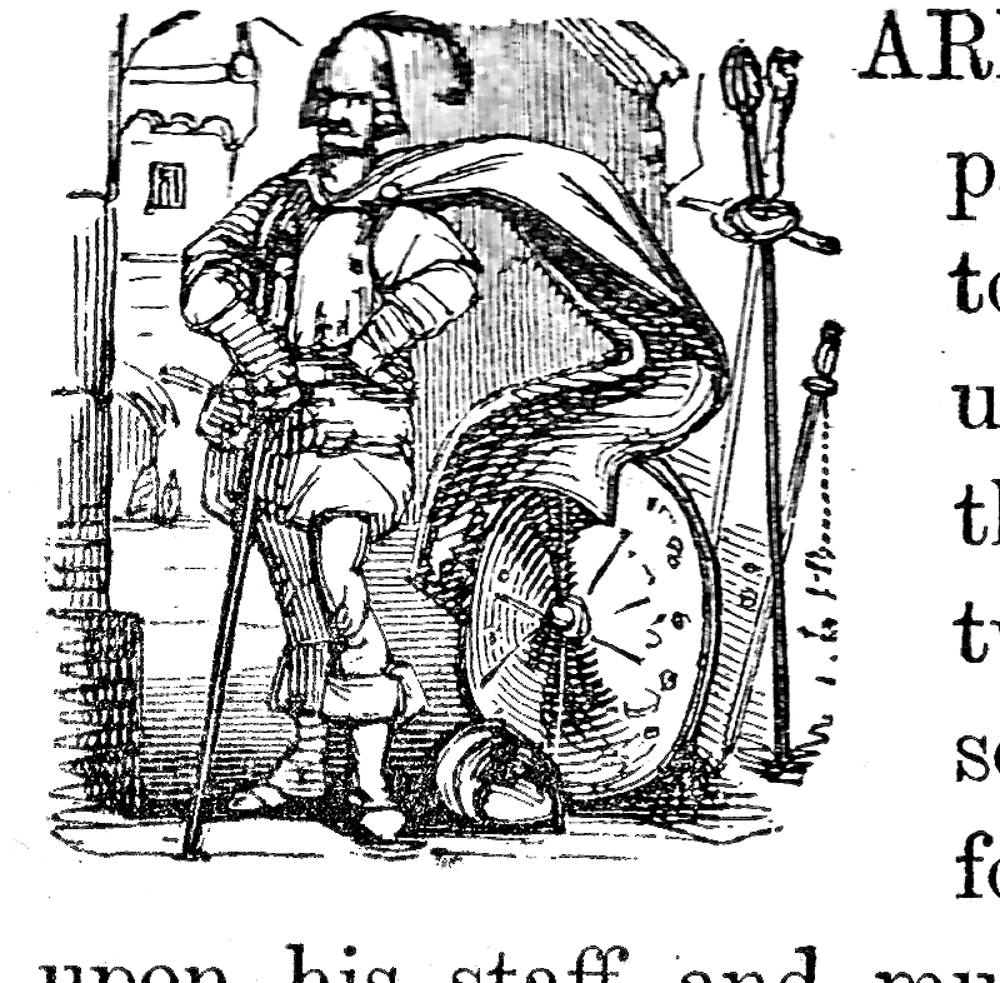 Left: Phiz's initial-letter vignette "B" for this same initial instalment for September 1841: Warrior with Flowing Cloak (LVII).
Still he offered no reply. Indeed he had enough to do, to run his eye backward and forward along the half-dozen men who immediately fronted him, and settle hurriedly within himself at which of them he would strike first, when they pressed on him. He caught the eye of one in the centre, and resolved to hew that fellow down, though he died for it.
Again there was a dead silence, and again the same voice called upon him to deliver imself up.
Next moment he was back in the stable, dealing blows about him like a madman. Two of the men lay stretched at his feet: the one he had marked, dropped first—he had a thought for that, even in the hot blood and hurry of the struggle. Another blow—another! Down, mastered, wounded in the breast by a heavy blow from the butt-end of a gun (he saw the weapon in the act of falling)—breathless—and a prisoner.
An exclamation of surprise from the officer recalled him, in some degree, to himself. He looked round. Grip, after working in secret all the afternoon, and with redoubled vigour while everybody's attention was distracted, had plucked away the straw from Hugh's bed, and turned up the loose ground with his iron bill. The hole had been recklessly filled to the brim, and was merely sprinkled with earth. Golden cups, spoons, candlesticks, coined guineas — all the riches were revealed. [Chapter the Fifty-seventh, 253]
Commentary: The Outcome of Barnaby's Defence of the Stable in Doubt
The illustration which serves as the chapter's headpiece leaves the reader in suspense for five pages, and deliberately avoids showing whether Barnaby succeeds in defending the stable of The Boot. Earlier, Barnaby dreams of winning his mother's approval for his martial bravery and anticipates being able to provide for her lavishly. Lord George Gordon adds to Barnaby's pride in being Gordon's standard bearer by praising his courage, even as Gordon's servant, John Grueby, predicts that soldiers have already been despatched to the rioters' Headquarters, and will shortly arrest Barnaby. Angered by his servant's lack of enthusiasm for the cause, Gordon discharges him, and rides off. Exactly as Grueby predicted, the highly disciplined detachment of Foot Guards surrounds the pub, levelling their muskets at Barnaby. Undeterred as Phiz demonstrates, Barnaby acquits himself bravely, but is not victorious against the professional soldiers. The illustration, however, shows the youth getting the better of the four uniformed Guards who have surrounded him.
Relevant Illustration from the 1874 Household Edition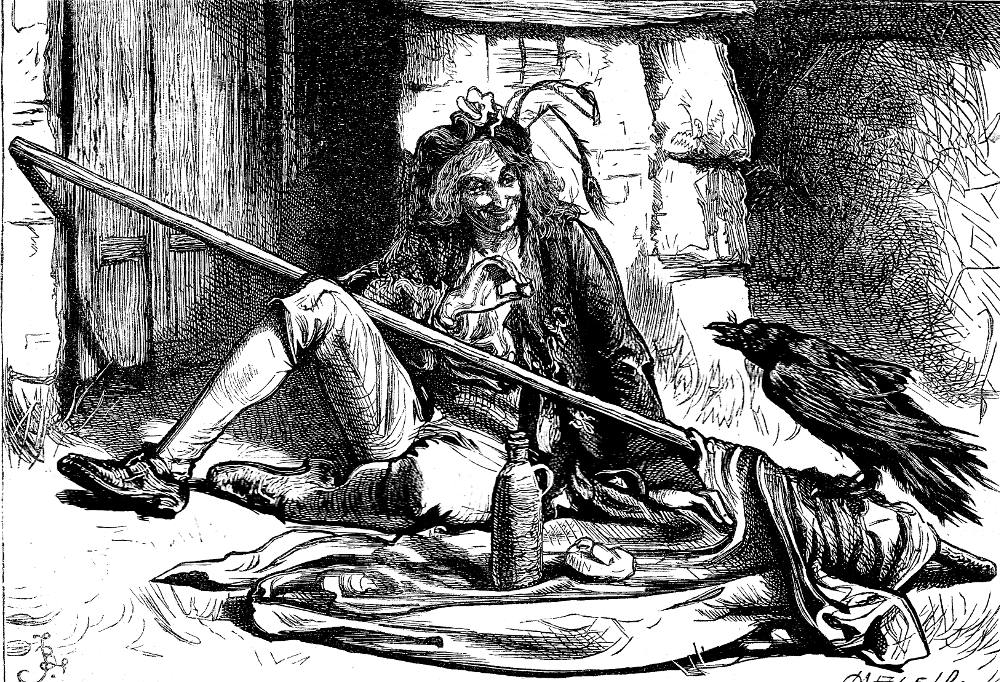 Above: Barnard shows not the violent arrest but its aftermath, with Barnaby and Grip in prison: Putting his staff across his knees in case of alarm or surprise, summoned Grip to dinner (Chapter LVII).
Related Material including Other Illustrated Editions of
Barnaby Rudge
Scanned image and text by Philip V. Allingham. [You may use this image without prior permission for any scholarly or educational purpose as long as you (1) credit the person who scanned the image and (2) link your document to this URL in a web document or cite the Victorian Web in a print one.]
Bibliography
Dickens, Charles. Barnaby Rudge. Illustrated by Hablot K. Browne ('Phiz') and George Cattermole. London: Chapman and Hall, 1841; rpt., Bradbury & Evans, 1849.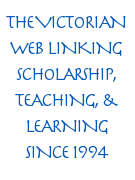 Hammerton, J. A. "Ch. XIV. Barnaby Rudge." The Dickens Picture-Book. The Charles Dickens Library Edition, illustrated by Harry Furniss. London: Educational Book Co., 1910. 213-55.
Vann, J. Don. "Charles Dickens. Barnaby Rudge in Master Humphrey's Clock, 13 February-27 November 1841." New York: MLA, 1985. 65-66.
---
Created 29 March 2019

Last modified 25 December 2020