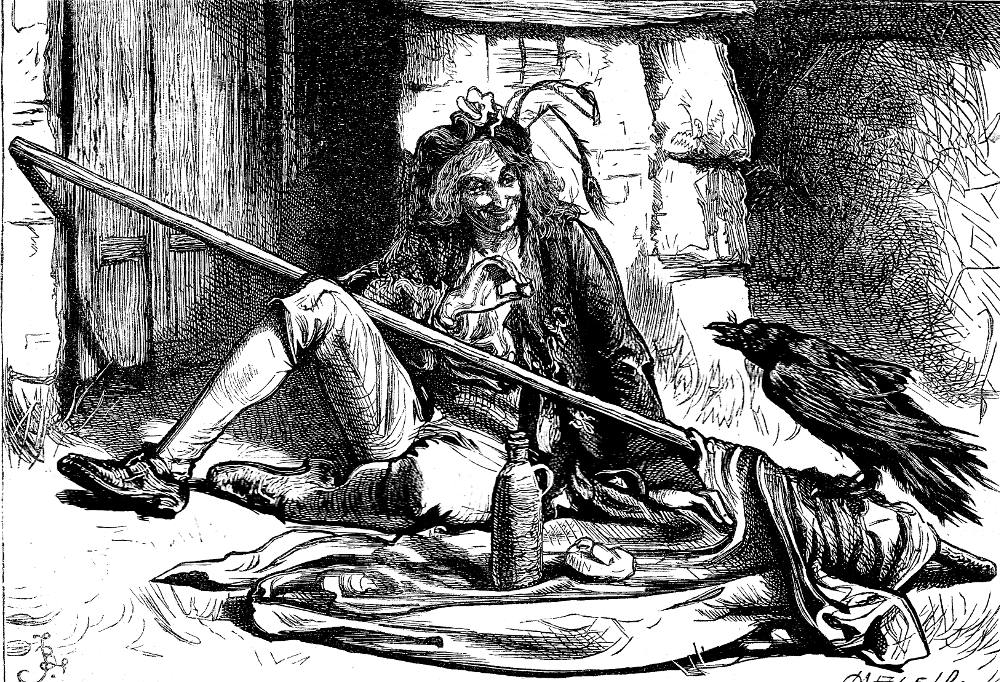 Putting his staff across his knees in case of alarm or surprise, summoned Grip to dinner by Fred Barnard. 1874. 3 ½ x 5 ⅜ inches (9.5 cm by 13.7 cm), framed. Dickens's Barnaby Rudge: A Tale of the Riots of 'Eighty, Chapter LVII, 220.
Context of the Illustration: Jolly Companions Still in the Stable of The Boot
As the day crept on, Barnaby, who had no directions forbidding him to eat and drink upon his post, but had been, on the contrary, supplied with a bottle of beer and a basket of provisions, determined to break his fast, which he had not done since morning. To this end, he sat down on the ground before the door, and putting his staff across his knees in case of alarm or surprise, summoned Grip to dinner.
This call, the bird obeyed with great alacrity; crying, as he sidled up to his master, "I'm a devil, I'm a Polly, I'm a kettle, I'm a Protestant, No Popery!" Having learnt this latter sentiment from the gentry among whom he had lived of late, he delivered it with uncommon emphasis.
"Well said, Grip!" cried his master, as he fed him with the daintiest bits."Well said, old boy!" [Chapter LVII, 220-21]
Commentary
Instead of the dramatic scene in which Phiz depicted the Guards apprehending Barnaby at The Boot, Barnard depicts an earlier scene that day in the stables there. Barnaby blithely plays with Grip, oblivious to the danger he will be in when, as John Grueby (Lord George Gordon's servant) subsequently predicts, the soldiers of the Guard raid the rioters' headquarters. The scene clearly occurs in the stables and not in Newgate, where the Guards incarcerate him, for Barnard has included the Gordon standard with which Barnaby defends himself in the original Phiz illustration for this chapter.
Parallel Illustration from the 1841 First Edition: Barnaby resists arrest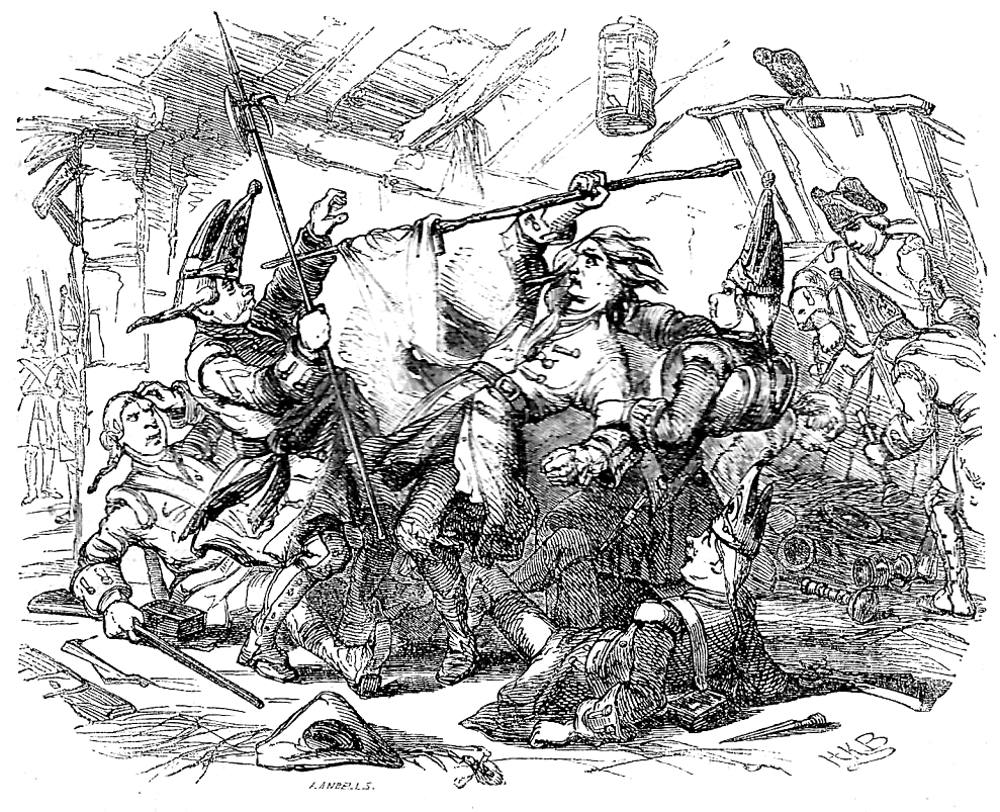 Above: Phiz's dramatic action scene of Barnaby surrounded and taken into custody as a rebel in Barnaby Taken Prisoner (4 September 1841).
Related Material including Other Illustrated Editions of
Barnaby Rudge
Scanned image, colour correction, sizing, caption, and commentary by Philip V. Allingham. [You may use this image without prior permission for any scholarly or educational purpose, as long as you (1) credit the person who scanned the image, and (2) link your document to this URL in a web document or cite the Victorian Web in a print one.]
Bibliography
Dickens, Charles. Barnaby Rudge in Master Humphrey's Clock. Illustrated by Phiz and George Cattermole. 3 vols. London: Chapman and Hall, 1841; rpt., Bradbury and Evans, 1849.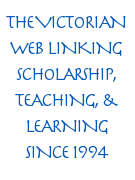 _______. Barnaby Rudge. Illustrated by Sol Eytinge, Jr. The Diamond Edition. 16 vols. Boston: Ticknor and Fields, 1867.
________. Barnaby Rudge — A Tale of the Riots of 'Eighty. Illustrated by Fred Barnard. The Household Edition. 22 vols. London: Chapman and Hall, 1874. VII.
________. The Dickens Souvenir Book. London: Chapman & Hall, 1912.
Hammerton, J. A. "Ch. XIV. Barnaby Rudge." The Dickens Picture-Book. The Charles Dickens Library Edition, illustrated by Harry Furniss. London: Educational Book Co., 1910. 213-55.
---
Created 20 August 2020

Last modified 3 October 2020