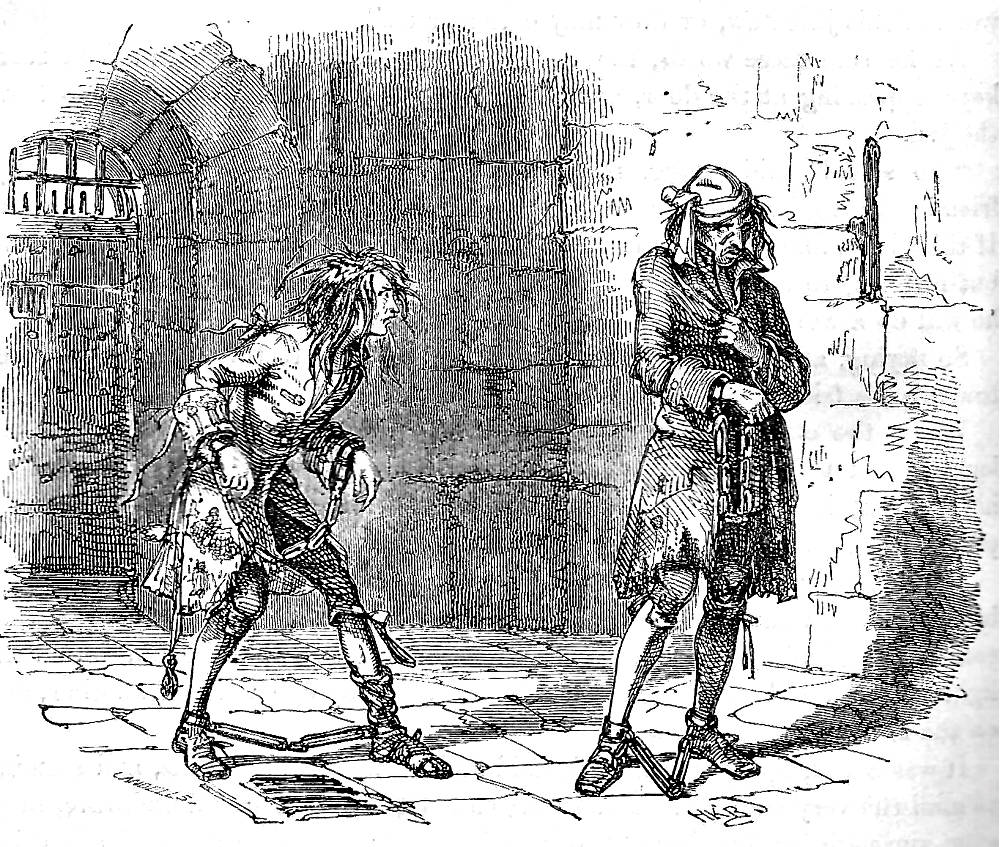 Father and Son from instalment 32 (18 September 1841) in Master Humphrey's Clock (Part 75), and published by Bradbury and Evans in volume form in 1849. 3 ⅝ x 4 ½ inches (9.4 cm high by 11.4 cm wide), vignetted; composite woodblock headpiece: fifty-ninth illustration in the series for Dickens's Barnaby Rudge, Chapter the Sixty-second, 300. [Click on the image to enlarge it.]
Context of the Illustration: The Father and Son meet by chance in Newgate
He walked out into the court and paced it to and fro; startling the echoes, as he went, with the harsh jangling of his fetters. There was a door near his, which, like his, stood ajar.
He had not taken half-a-dozen turns up and down the yard, when, standing still to observe this door, he heard the clanking sound again. A face looked out of the grated window — he saw it very dimly, for the cell was dark and the bars were heavy — and directly afterwards, a man appeared, and came towards him.
For the sense of loneliness he had, he might have been in jail a year. Made eager by the hope of companionship, he quickened his pace, and hastened to meet the man half way —
What was this! His son!
They stood face to face, staring at each other. He shrinking and cowed, despite himself; Barnaby struggling with his imperfect memory, and wondering where he had seen that face before. He was not uncertain long, for suddenly he laid hands upon him, and striving to bear him to the ground, cried:
"Ah! I know! You are the robber!"
He said nothing in reply at first, but held down his head, and struggled with him silently. Finding the younger man too strong for him, he raised his face, looked close into his eyes, and said,
"I am your father." [Chapter the Sixty-second, 299-300 ]
Commentary
Old Rudge should not be entirely surprised at meeting his estranged son in the corridor outside the exercise yard at Newgate, for the devious blindman, Stagg, had already alerted the dissolute father to his son's arrest for participating in the recent riots. In fact, Stagg has proposed that he use Barbaby's continued safety as leverage with the boy's mother, whom he will compel to testify in an affidavit that her husband died twenty-eight years earlier, and that therefore the old ruffian whom Haredale has accused on the twin murders cannot be the killer. However, the dramatic moment constitutes something of a climax for Barnaby since the reader could not be sure how he would react when the inevitable mutual recognition scene arrived.
Related Material including Other Illustrated Editions of
Barnaby Rudge
Scanned image and text by Philip V. Allingham. [You may use this image without prior permission for any scholarly or educational purpose as long as you (1) credit the person who scanned the image and (2) link your document to this URL in a web document or cite the Victorian Web in a print one.]
Bibliography
Dickens, Charles. Barnaby Rudge. Illustrated by Hablot K. Browne ('Phiz') and George Cattermole. London: Chapman and Hall, 1841; rpt., Bradbury & Evans, 1849.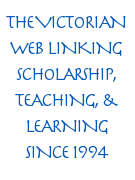 Hammerton, J. A. "Ch. XIV. Barnaby Rudge." The Dickens Picture-Book. The Charles Dickens Library Edition, illustrated by Harry Furniss. London: Educational Book Co., 1910. 213-55.
Lester, Valerie Browne. Phiz: The Man Who Drew Dickens. London: Chatto and Windus, 2004.
Steig, Michael. Chapter 3. "From Caricature to Progress: Master Humphrey's Clock to Martin Chuzzlewit." Dickens and Phiz. Bloomington & London: Indiana U. P., 1978. 53-85.
Vann, J. Don. "Charles Dickens. Barnaby Rudge in Master Humphrey's Clock, 13 February-27 November 1841." New York: MLA, 1985. 65-66.
---
Created 29 March 2019

Last modified 25 December 2020