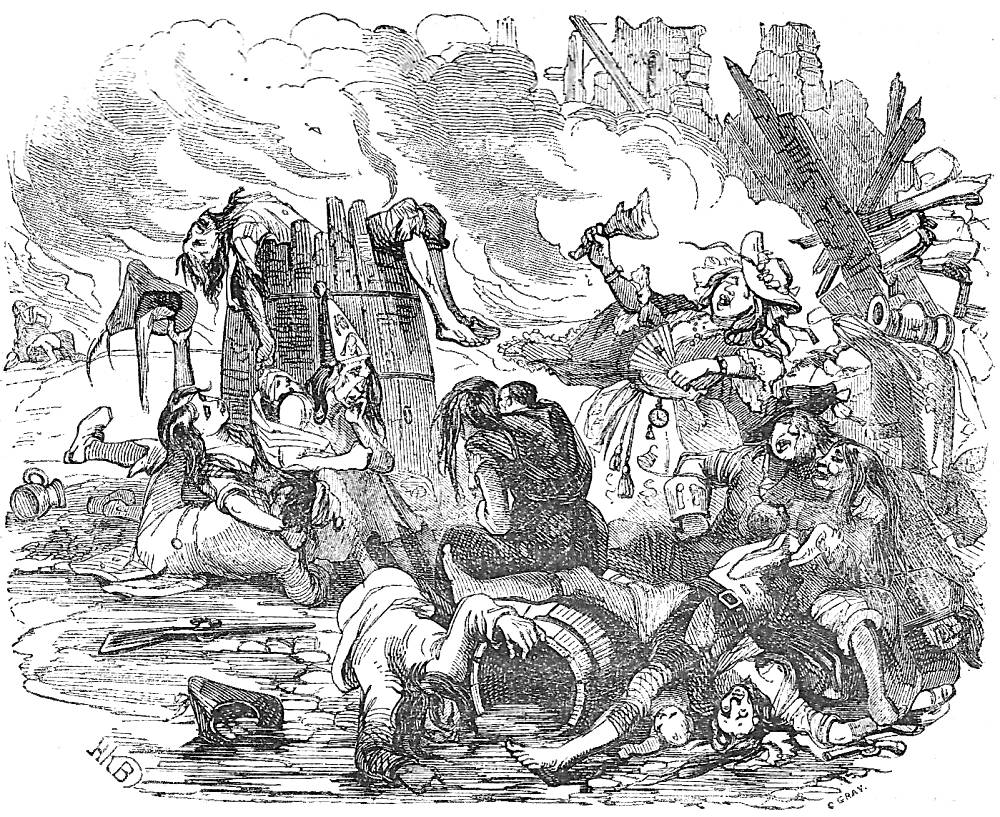 The Rabble's Orgy from instalment 35 (9 October 1841) in Master Humphrey's Clock (Part 78), and published by Bradbury and Evans in volume form in 1849. 3 ¼ x 4 ½ inches (8.3 cm high by 11.3 cm wide), vignetted; composite woodblock engraving dropped into text: sixty-fourth illustration in the series for Dickens's Barnaby Rudge, Chapter the Sixty-eighth, 309. [Click on the images to enlarge them.]
Passage Illustrated: The Rioters' Sensational End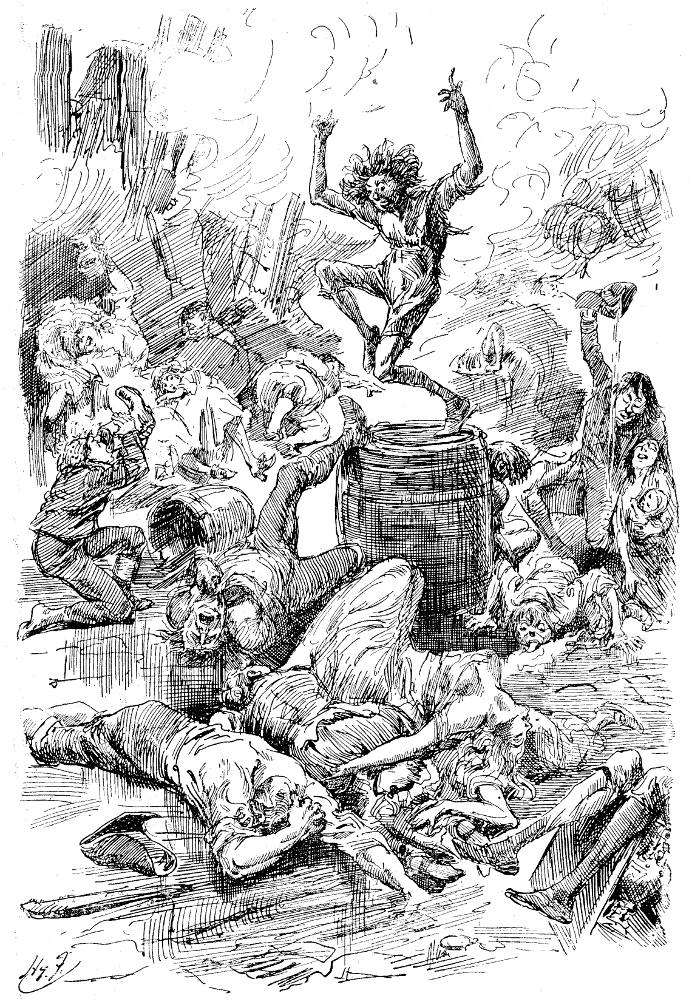 Harry Furniss's vigorous revision of this same scene: The Last Night of the Great Riots (1910).
But there was a worse spectacle than this — worse by far than fire and smoke, or even the rabble's unappeasable and maniac rage. The gutters of the street, and every crack and fissure in the stones, ran with scorching spirit, which being dammed up by busy hands, overflowed the road and pavement, and formed a great pool, into which the people dropped down dead by dozens. They lay in heaps all round this fearful pond, husbands and wives, fathers and sons, mothers and daughters, women with children in their arms and babies at their breasts, and drank until they died. While some stooped with their lips to the brink and never raised their heads again, others sprang up from their fiery draught, and danced, half in a mad triumph, and half in the agony of suffocation, until they fell, and steeped their corpses in the liquor that had killed them. Nor was even this the worst or most appalling kind of death that happened on this fatal night. From the burning cellars, where they drank out of hats, pails, buckets, tubs, and shoes, some men were drawn, alive, but all alight from head to foot; who, in their unendurable anguish and suffering, making for anything that had the look of water, rolled, hissing, in this hideous lake, and splashed up liquid fire which lapped in all it met with as it ran along the surface, and neither spared the living nor the dead. On this last night of the great riots — for the last night it was — the wretched victims of a senseless outcry, became themselves the dust and ashes of the flames they had kindled, and strewed the public streets of London. [Chapter the Sixty-eighth, 336]
Commentary
Dickens employs a similar scene in A Tale of Two Cities when the poor of St. Antoine consume the contents of a broken wine-barrel on the suburb's cobble-stone streets near the De Farges' wineshop; the French mob even gnaws on the wine-soaked wood of the barrel.
Related Material including Other Illustrated Editions of
Barnaby Rudge
Scanned image and text by Philip V. Allingham. [You may use this image without prior permission for any scholarly or educational purpose as long as you (1) credit the person who scanned the image and (2) link your document to this URL in a web document or cite the Victorian Web in a print one.]
Bibliography
Dickens, Charles. Barnaby Rudge. Illustrated by Hablot K. Browne ('Phiz') and George Cattermole. London: Chapman and Hall, 1841; rpt., Bradbury & Evans, 1849.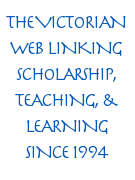 Hammerton, J. A. "Ch. XIV. Barnaby Rudge." The Dickens Picture-Book. The Charles Dickens Library Edition, illustrated by Harry Furniss. London: Educational Book Co., 1910. 213-55.
Vann, J. Don. "Charles Dickens. Barnaby Rudge in Master Humphrey's Clock, 13 February-27 November 1841." New York: MLA, 1985. 65-66.
---
Created 29 March 2020

Last modified 25 December 2020