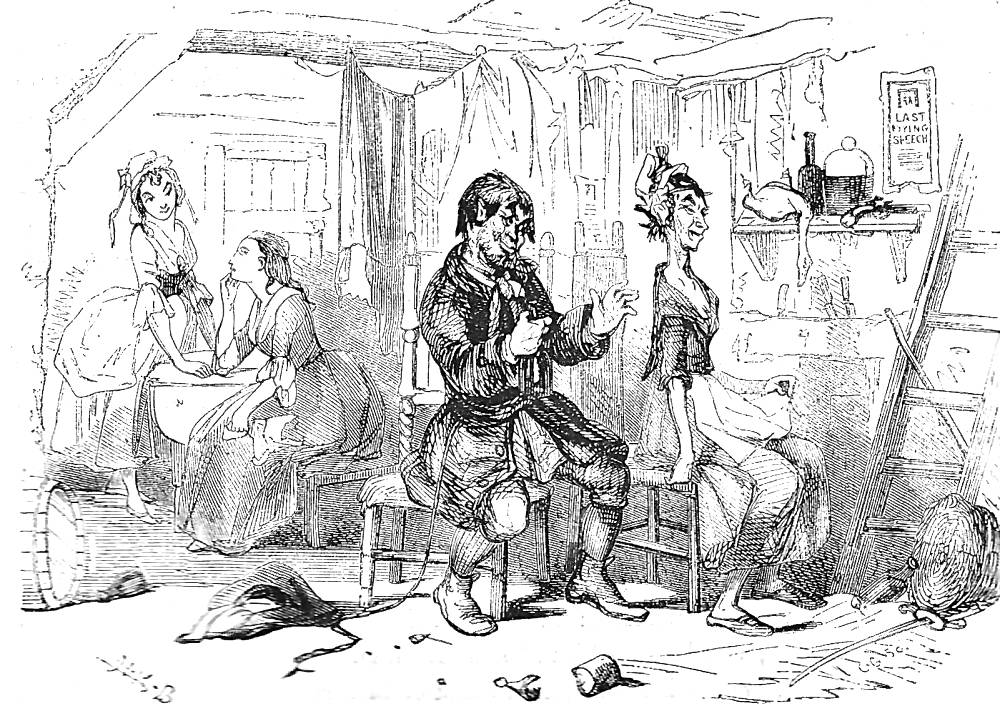 "You are Venus, you know." from instalment 36 (16 October 1841) in Master Humphrey's Clock (Part 79), and published by Bradbury and Evans in volume form in 1849. 3 ¼ x 4 ½ inches (8.3 cm high by 11.3 cm wide), vignetted; composite woodblock engraving dropped into text: sixty-sixth illustration in the series for Dickens's Barnaby Rudge, Chapter the Seventieth, 346. [Click on the image to enlarge it.]
Context of the Illustration: Pumping Miggs for Information
Lovey, my dear," whispered Dennis, drawing his chair close to hers. "When was your young man here last, eh?"
"My young man, good gentleman!" answered Miggs in a tone of exquisite distress.
"Ah! Simmuns, you know — him?" said Dennis.
"Mine indeed!" cried Miggs, with a burst of bitterness — and as she said it, she glanced towards Dolly. "Mine, good gentleman!"
This was just what Mr. Dennis wanted, and expected.
"Ah!" he said, looking so soothingly, not to say amorously on Miggs, that she sat, as she afterwards remarked, on pins and needles of the sharpest Whitechapel kind, not knowing what intentions might be suggesting that expression to his features: "I was afraid of that. I saw as much myself. It's her fault. She WILL entice 'em."
"I wouldn't," cried Miggs, folding her hands and looking upwards with a kind of devout blankness, "I wouldn't lay myself out as she does; I wouldn't be as bold as her; I wouldn't seem to say to all male creeturs 'Come and kiss me'" — and here a shudder quite convulsed her frame — "for any earthly crowns as might be offered. Worlds," Miggs added solemnly, "should not reduce me. No. Not if I was Wenis."
"Well, but you are Wenus, you know," said Mr. Dennis, confidentially.
"No, I am not, good gentleman," answered Miggs, shaking her head with an air of self-denial which seemed to imply that she might be if she chose, but she hoped she knew better. "No, I am not, good gentleman. Don't charge me with it." [Chapter the Seventieth, 345-46]
Commentary
Dennis has two problems: how to acquire useful information about the rioters that he can pass along to the authorities as proof of his loyalty, and how to cover up his role in the abduction of Emma Haredale and Dolly Varden. Dickens employs a limited-omniscient point of view to communicate Dennis's assessment of his situation to readers. As the public hangman, his services will be extremely useful to the authorities, who are likely to disregard any incriminating testimony about him from Hugh and Barnaby. He could set his mind at ease and enjoy the fruits of Providence (the necessity for hanging so many of the rioters), secure in the knowledge that he had switched sides in the nick of time and delivered to the forces of the law Hugh and the Rudges. However, he knows very well that if Dolly and Emma implicate him as one of the leaders of the insurrection their testimony could prove fatal to his designs and "place him in a situation of great jeopardy" (344). "Perhaps," he reasons, "the solution to his problem is the gullible Miggs." In the illustration, Phiz shows Miggs playing hard to get, not inimicable to the hangman's advances. Dolly and Emma seem not to notice Dennis's romantic overtures.
Related Material including Other Illustrated Editions of
Barnaby Rudge
Scanned image and text by Philip V. Allingham. [You may use this image without prior permission for any scholarly or educational purpose as long as you (1) credit the person who scanned the image and (2) link your document to this URL in a web document or cite the Victorian Web in a print one.]
Bibliography
Dickens, Charles. Barnaby Rudge. Illustrated by Hablot K. Browne ('Phiz') and George Cattermole. London: Chapman and Hall, 1841; rpt., Bradbury & Evans, 1849.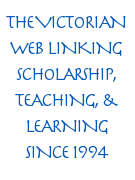 Hammerton, J. A. "Ch. XIV. Barnaby Rudge." The Dickens Picture-Book. The Charles Dickens Library Edition, illustrated by Harry Furniss. London: Educational Book Co., 1910. 213-55.
Vann, J. Don. "Charles Dickens. Barnaby Rudge in Master Humphrey's Clock, 13 February-27 November 1841." New York: MLA, 1985. 65-66.
---
Created 29 March 2020

Last modified 25 December 2020