A Joyful Meeting from instalment 37 (23 October 1841) in Master Humphrey's Clock (Part 79), and published by Bradbury and Evans in volume form in 1849. 3 ¼ x 4 ½ inches (8.3 cm high by 11.3 cm wide), vignetted; composite woodblock engraving dropped into text: sixty-seventh illustration in the series for Dickens's Barnaby Rudge, Chapter the Seventy-first, 355. [Click on the images to enlarge them.]
Context of the Illustration: Joe Willet and Edward Chester rescue Emma and Dolly
"We have time for no more of this," cried the man, unclenching her hands, and pushing her roughly off, as he drew Emma Haredale towards the door: "Now! Quick, outside there! are you ready?"
"Ay!" cried a loud voice, which made him start. "Quite ready! Stand back here, for your lives!"
And in an instant he was felled like an ox in the butcher's shambles — struck down as though a block of marble had fallen from the roof and crushed him — and cheerful light, and beaming faces came pouring in — and Emma was clasped in her uncle's embrace, and Dolly, with a shriek that pierced the air, fell into the arms of her father and mother.
What fainting there was, what laughing, what crying, what sobbing, what smiling, how much questioning, no answering, all talking together, all beside themselves with joy; what kissing, congratulating, embracing, shaking of hands, and falling into all these raptures, over and over and over again; no language can describe.
At length, and after a long time, the old locksmith went up and fairly hugged two strangers, who had stood apart and left them to themselves; and then they saw — whom? Yes, Edward Chester and Joseph Willet. [Chapter the Seventy-first, 354-55]
Commentary: A Hairbreadth Escape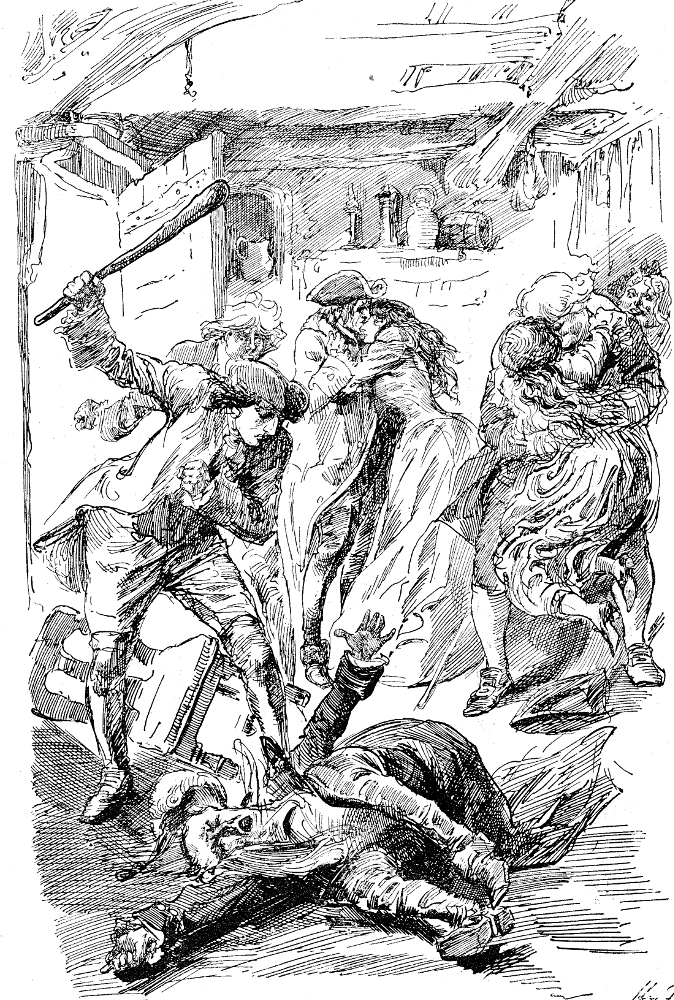 Harry Furniss's treatment of this scene places the emphasis on Edwards Chester's felling Gashford in the foreground: Emma and Dolly rescued (1910).
Only after Joe Willett and Edward Chester (always designated "Mr.," owing to his superior class) have rescued the young women doesDickens identify their "sham deliverer" as the voluble and devilishly persuasive Gashford. The former secretary to Lord George Gordon is not dead, but regains consciousness after the moment Phiz has realised. Joe is readily identifiable by his having only one arm. The young men, accompanied by Dolly's parents, have arrived in the nick of time to thwart Gashford's scheme to abduct Emma Haredale, upon whom he has had sexual designs for some time. The reader's momentary delight at this visitation of Nemesis is tempered by concern that the party will have to avoid the rioters. Unbeknownst to them, however, Dennis has switched sides and is now waiting with the soldiers outside. Shortly, he and Hugh will find themselves sitting in a Newgate cell, awaiting trial at which they are almost certain to be found guilty of sedition. Dickens even disposes of the third, rather lightweight villain with whom Joe and Edward may have thad o contend: Sim Tappertit lies wounded and mangled, his glorious legs bruised and battered. Miggs, having committed herself to ultra-Protestant cause and revealed her true colours to the young women, also awaits Dickens's Poetic Justice. The duplicitous Gashford promises to turn state's evidence against his master, who will appear a solitary prisoner in the next frame, executed by Cattermole.
Related Material including Other Illustrated Editions of
Barnaby Rudge
Scanned image and text by Philip V. Allingham. [You may use this image without prior permission for any scholarly or educational purpose as long as you (1) credit the person who scanned the image and (2) link your document to this URL in a web document or cite the Victorian Web in a print one.]
Bibliography
Dickens, Charles. Barnaby Rudge. Illustrated by Hablot K. Browne ('Phiz') and George Cattermole. London: Chapman and Hall, 1841; rpt., Bradbury & Evans, 1849.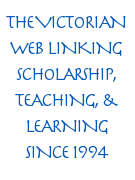 Hammerton, J. A. "Ch. XIV. Barnaby Rudge." The Dickens Picture-Book. The Charles Dickens Library Edition, illustrated by Harry Furniss. London: Educational Book Co., 1910. 213-55.
Vann, J. Don. "Charles Dickens. Barnaby Rudge in Master Humphrey's Clock, 13 February-27 November 1841." New York: MLA, 1985. 65-66.
---
Created 29 March 2020

Last modified 25 December 2020