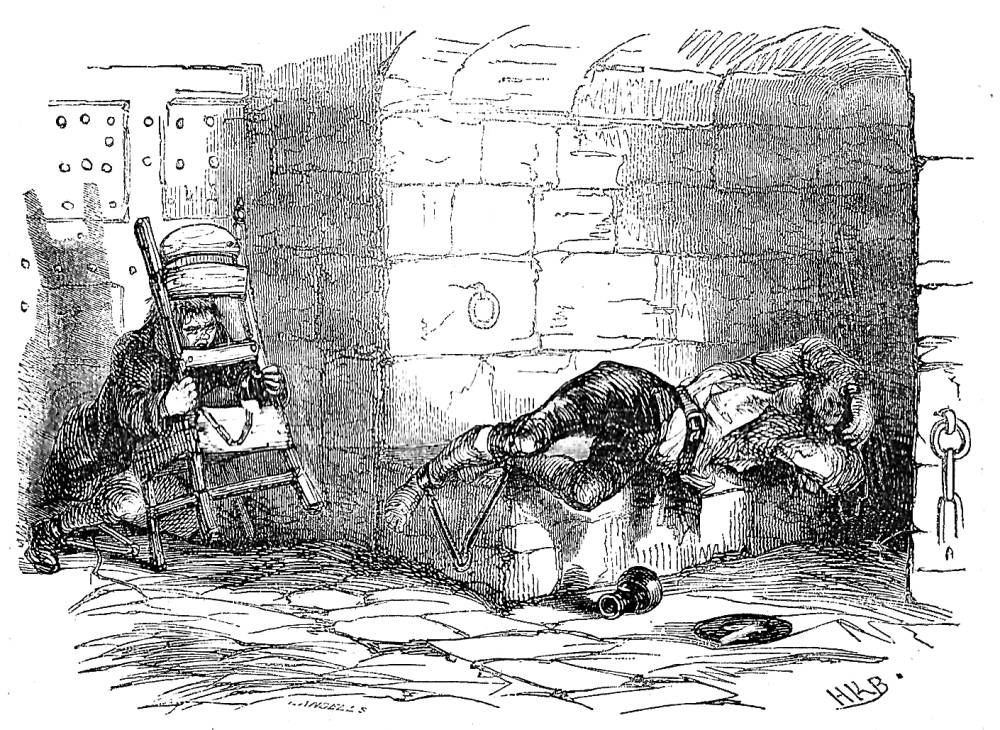 The Hangman in Difficulties from instalment 38 (30 October 1841) in Master Humphrey's Clock (Part 81), and published by Bradbury and Evans in volume form in 1849. 3 ¼ x 4 ½ inches (8.3 cm high by 11.3 cm wide), vignetted; composite woodblock engraving dropped into text: sixty-eighth illustration in the series for Dickens's Barnaby Rudge, Chapter the Seventy-fourth, 368. [Click on the images to enlarge them.]
Context of the Illustration: Ned Dennis sees how prisoners face death
He slept so long and so soundly, that Mr. Dennis began to think he might sleep on until the turnkey visited them. He was congratulating himself upon these promising appearances, and blessing his stars with much fervour, when one or two unpleasant symptoms manifested themselves: such as another motion of the arm, another sigh, a restless tossing of the head. Then, just as it seemed that he was about to fall heavily to the ground from his narrow bed, Hugh's eyes opened.
It happened that his face was turned directly towards his unexpected visitor. He looked lazily at him for some half-dozen seconds without any aspect of surprise or recognition; then suddenly jumped up, and with a great oath pronounced his name.
"Keep off, brother, keep off!" cried Dennis, dodging behind the chair. "Don't do me a mischief. I'm a prisoner like you. I haven't the free use of my limbs. I'm quite an old man. Don't hurt me!" [Chapter the Seventy-fourth, 370-71]
Commentary: Hugh and Ned now Cellmates
The shoe is definitely on the other foot now that the (former) public hangman, Ned Dennis, is experiencing what it is like to await his capital trial in an uncongenial cell in Newgate Prison. He had reckoned on surviving by his wits, confident that the authorities would discount the incriminating testimony of his fellow insurrectionists. But he had not counted on Gabriel Vaden's being present to provide damning testimony of his role in the Gordon Riots. His former colleagues, the turnkeys, welcome Ned into the ruined prison:
Arriving at Newgate, where some of the ruined cells had been hastily fitted up for the safe keeping of rioters, he was warmly received by the turnkeys, as an unusual and interesting case, which agreeably relieved their monotonous duties. In this spirit, he was fettered with great care, and conveyed into the interior of the prison. [369]
Related Material including Other Illustrated Editions of
Barnaby Rudge
Scanned image and text by Philip V. Allingham. [You may use this image without prior permission for any scholarly or educational purpose as long as you (1) credit the person who scanned the image and (2) link your document to this URL in a web document or cite the Victorian Web in a print one.]
Bibliography
Dickens, Charles. Barnaby Rudge. Illustrated by Hablot K. Browne ('Phiz') and George Cattermole. London: Chapman and Hall, 1841; rpt., Bradbury & Evans, 1849.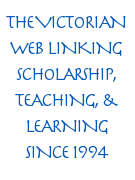 Hammerton, J. A. "Ch. XIV. Barnaby Rudge." The Dickens Picture-Book. The Charles Dickens Library Edition, illustrated by Harry Furniss. London: Educational Book Co., 1910. 213-55.
Vann, J. Don. "Charles Dickens. Barnaby Rudge in Master Humphrey's Clock, 13 February-27 November 1841." New York: MLA, 1985. 65-66.
---
Created 29 March 2020

Last modified 25 December 2020