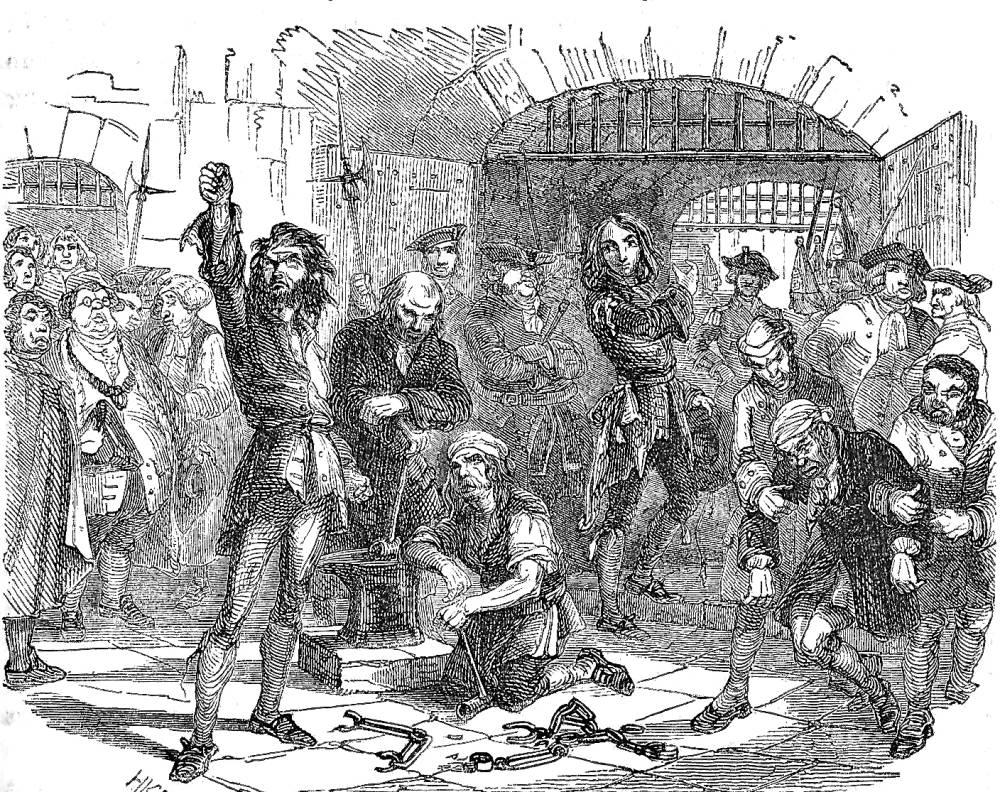 Hugh's Curse from instalment 40 (13 November 1841) in Master Humphrey's Clock (Part 83), and published by Bradbury and Evans in volume form in 1849. 3 ¼ x 4 ⅛ inches (8.3 cm high by 11.0 cm wide), vignetted; composite woodblock engraving dropped into text: seventy-second illustration in the series for Dickens's Barnaby Rudge, Chapter the Seventy-seventh, 391. [Click on the image to enlarge it.]
Context of the Illustration: Removing the Shackles prior to Execution
"That gentleman yonder —" pointing to the clergyman — "has often in the last few days spoken to me of faith, and strong belief. You see what I am — more brute than man, as I have been often told — but I had faith enough to believe, and did believe as strongly as any of you gentlemen can believe anything, that this one life would be spared. See what he is!—Look at him!"
Barnaby had moved towards the door, and stood beckoning him to follow.
"If this was not faith, and strong belief!" cried Hugh, raising his right arm aloft, and looking upward like a savage prophet whom the near approach of Death had filled with inspiration, "where are they! What else should teach me—me, born as I was born, and reared as I have been reared—to hope for any mercy in this hardened, cruel, unrelenting place! Upon these human shambles, I, who never raised this hand in prayer till now, call down the wrath of God! On that black tree, of which I am the ripened fruit, I do invoke the curse of all its victims, past, and present, and to come. On the head of that man, who, in his conscience, owns me for his son, I leave the wish that he may never sicken on his bed of down, but die a violent death as I do now, and have the night-wind for his only mourner. To this I say, Amen, amen!" [Chapter the Seventy-seventh, 391]
Hugh's Last Appearance
Phiz makes Hugh's last appearance in the pictorial-narrative sequence especially memorable as he strikes a note of protest against both a legal system and a society that he regards as hopelessly biased against indigent outsiders such as himself. Michael Steig's analysis shows the growing complexity of Phiz's responses to the surly antagonist whose later utterances strike a note of social protest:
Other than Miggs, Sim, and Bamaby, no character stands out as an individual creation, and the handling of Hugh is particularly uneven. Hugh's first appearance is a full-length portrait (ch. 11), achieving very much what the text demands; he is a "poaching rascal," who nonetheless in his "muscular and handsome proportions . . . might have served a painter for a model" (p. 298). In most of the subsequent cuts, Hugh looks more like a conventional comicgrotesque lout, although in his final appearance just before he is executed, he suddenly takes on a rather incredible nobility of feature (ch. 77).
It is difficult to say whether these inconsistencies are a response to Dickens' varying treatment of Hugh, a result of Browne's artistic tentativeness, or simply the fault of the engravers. [Steig 58]
Related Material including Other Illustrated Editions of
Barnaby Rudge
Scanned image and text by Philip V. Allingham. [You may use this image without prior permission for any scholarly or educational purpose as long as you (1) credit the person who scanned the image and (2) link your document to this URL in a web document or cite the Victorian Web in a print one.]
Bibliography
Dickens, Charles. Barnaby Rudge. Illustrated by Hablot K. Browne ('Phiz') and George Cattermole. London: Chapman and Hall, 1841; rpt., Bradbury & Evans, 1849.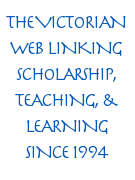 Hammerton, J. A. "Ch. XIV. Barnaby Rudge." The Dickens Picture-Book. The Charles Dickens Library Edition, illustrated by Harry Furniss. London: Educational Book Co., 1910. 213-55.
Steig, Michael. Chapter 3. "From Caricature to Progress: Master Humphrey's Clock to Martin Chuzzlewit." Dickens and Phiz. Bloomington & London: Indiana U. P., 1978. 53-85.
Vann, J. Don. "Charles Dickens. Barnaby Rudge in Master Humphrey's Clock, 13 February-27 November 1841." New York: MLA, 1985. 65-66.
---
Created 29 March 2020

Last modified 25 December 2020