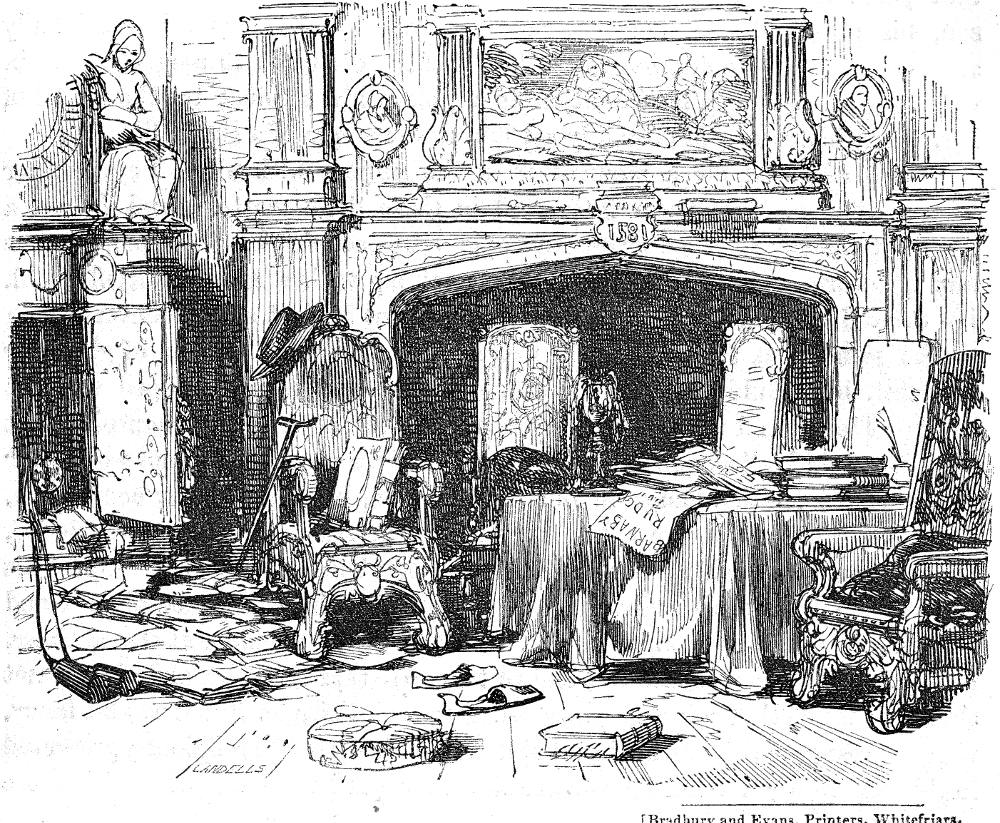 The Deserted Chamber by Phiz (Hablot K. Browne). 4 December 1841. Wood engraving dropped into text. Tailpiece for Dickens's Master Humphrey's Clock, "The Deaf Gentleman from his own Apartment" (final number). 8.5 cm high by 11.4 cm wide, vignetted, Vol. III, 318. [Click on images to enlarge them.]
Context of the Illustration: Master Humphrey has passed away
I have diverged for a moment from the subject with which I set out, for I know that my friend was interested in these little matters, and I have a natural tendency to linger upon any topic that occupied his thoughts or gave him pleasure and amusement.  His remaining wishes are very briefly told.  He desired that we would make him the frequent subject of our conversation; at the same time, that we would never speak of him with an air of gloom or restraint, but frankly, and as one whom we still loved and hoped to meet again.  He trusted that the old house would wear no aspect of mourning, but that it would be lively and cheerful; and that we would not remove or cover up his picture, which hangs in our dining-room, but make it our companion as he had been. His own room, our place of meeting, remains, at his desire, in its accustomed state; our seats are placed about the table as of old; his easy-chair, his desk, his crutch, his footstool, hold their accustomed places, and the clock stands in its familiar corner. We go into the chamber at stated times to see that all is as it should be, and to take care that the light and air are not shut out, for on that point he expressed a strong solicitude. But it was his fancy that the apartment should not be inhabited; that it should be religiously preserved in this condition, and that the voice of his old companion should be heard no more. . . . .
My task is done. The chamber in which we have whiled away so many hours, not, I hope, without some pleasure and some profit, is deserted; our happy hour of meeting strikes no more; the chimney-corner has grown cold; and Master Humphrey's Clock has stopped for ever. [318]
Commentary: The End Echoes the Beginning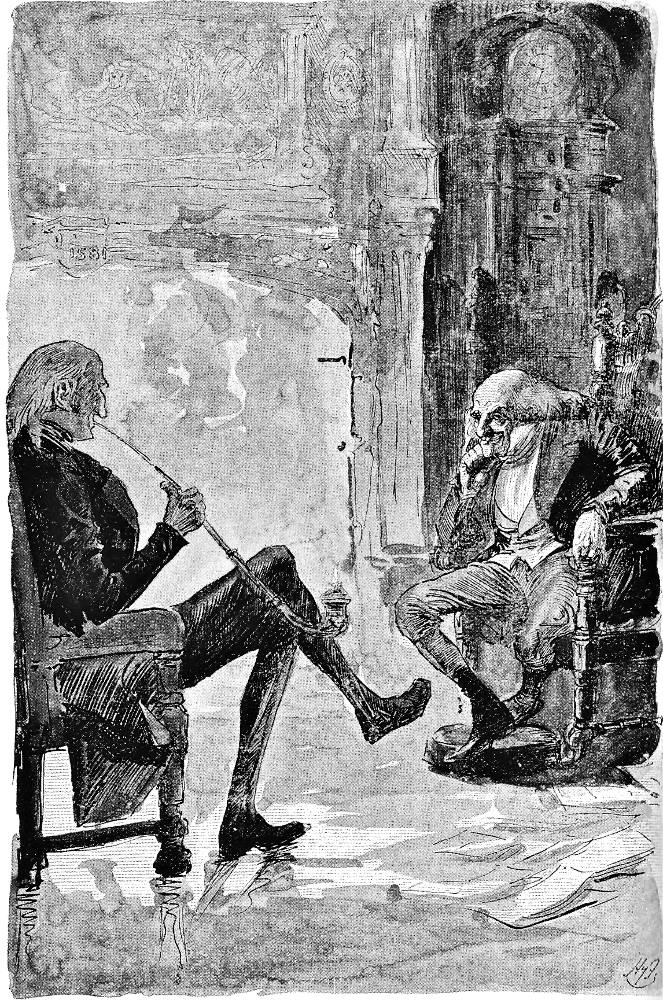 Harry Furniss's study of the persona that Dickens employed throughout Master Humphrey's Clock: Master Humphrey from His Clock-side in the Chimney-Corner (1910).
Since the manuscript for Barnaby Rudge on the table bears no authorial identification, readers must decide whether they are providing the completion "Master Humphrey," "Boz," or "Charles Dickens," to which they might well add "Hablot Knight Browne and George Cattermole." The deserted chamber containing the relics of Master Humphrey is an untidy and markedly less organised version of the headpiece for "Master Humphrey, from his Clock-side in the Chimney Corner" — Master Humphrey's Chamber, Volume I, page 1. Whereas the same comfortable room with its seventeenth-century furnishings and clock-case appeared to be in complete order in the headpiece for the opening number of Master Humphrey's Clock, here the editor has left manuscripts scattered about the foot of the clock, and has failed to close the clock-case, as if he were suddenly called away in the midst of considering material for the next issue. The uncollected material from across the eighty-six weekly numbers of the miscellany finally appeared in volume form for the first time in the Charles Dickens Edition (Chapman and Hall, 1867).
Headpiece for
Master Humphrey's Clock

(4 April 1840)
Right: Phiz's initial illustration for the first volume of Master Humphrey's Clock: Master Humphrey's Chamber ("Master Humphrey, from his Clock-side in the Chimney Corner") 1.
Relevant Illustrations for this Novel (1841 through 1910)
Image scan, caption, and commentary by Philip V. Allingham. [You may use this image without prior permission for any scholarly or educational purpose as long as you (1) credit the person who scanned the image and (2) link your document to this URL in a web document or cite the Victorian Web in a print one.]
Bibliography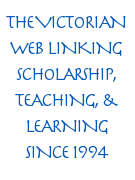 Dickens, Charles. Barnaby Rudge. Illustrated by Hablot K. Browne ('Phiz') and George Cattermole. London: Bradbury & Evans, 1849.
_______. Barnaby Rudge. Illustrated by Harry Furniss. The Charles Dickens Library Edition. Ed. J. A. Hammerton. 18 vols. London: Educational Book Company, 1910. VI.
Hammerton, J. A. "Ch. XIV. Barnaby Rudge." The Dickens Picture-Book. The Charles Dickens Library Edition, illustrated by Harry Furniss. London: Educational Book Co., 1910. 213-55.
---
Created 9 November 2007

Last modified 16 November 2020