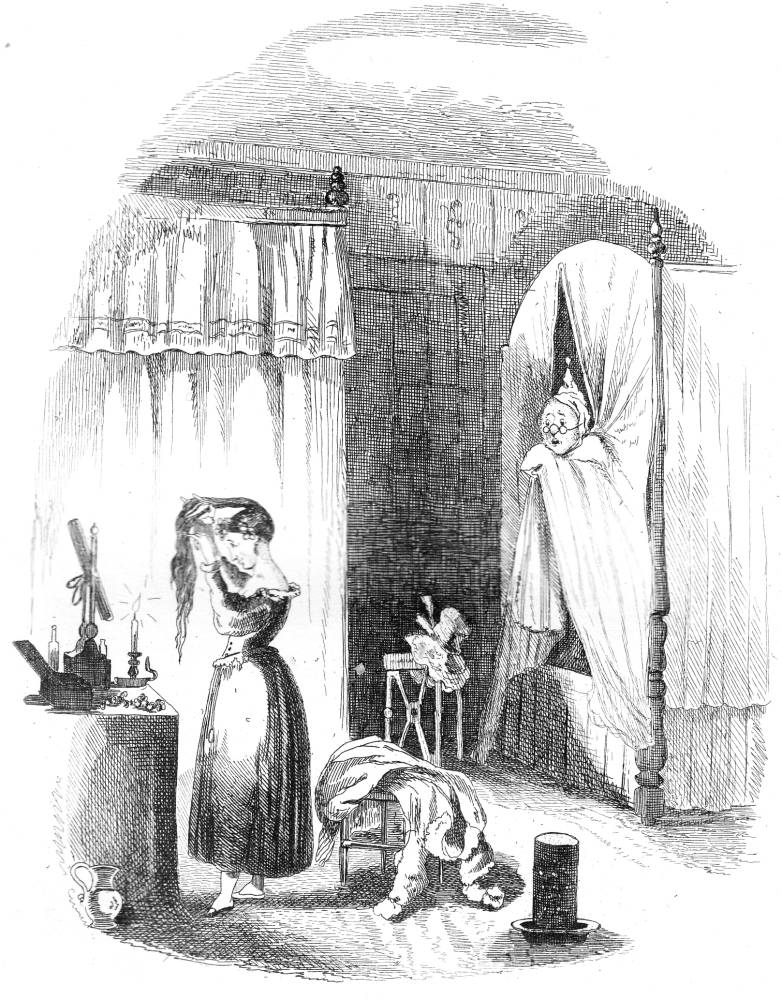 The Middle-Aged Lady in the Double-Bedded Room
Phiz (Hablot K. Browne)
November 1836
Steel Engraving
Dickens's Pickwick Papers
Scanned image and text by Philip V. Allingham.
[You may use this image without prior permission for any scholarly or educational purpose as long as you (1) credit the person who scanned the image and (2) link your document to this URL in a web document or cite the Victorian Web in a print one.]
The passage illustrated suggests that Dickens as a young writer was not adverse to borrowing from French farce:
The only way in which Mr. Pickwick could catch a glimpse of his mysterious visitor with the least danger of being seen himself, was by creeping on to the bed, and peeping out from between the curtains on the opposite side. To this manoeuvre he accordingly resorted. Keeping the curtains carefully closed with his hand, so that nothing more of him could be seen than his face and nightcap, and putting on his spectacles, he mustered up courage and looked out.
Mr. Pickwick almost fainted with horror and dismay. Standing before the dressing–glass was a middle-aged lady, in yellow curl-papers, busily engaged in brushing what ladies call their "back'hair." However the unconscious middle-aged lady came into that room, it was quite clear that she contemplated remaining there for the night; for she had brought a rushlight and shade with her, which, with praiseworthy precaution against fire, she had stationed in a basin on the floor, where it was glimmering away, like a gigantic lighthouse in a particularly small piece of water.
"Bless my soul!" thought Mr. Pickwick, "what a dreadful thing!"
"Hem! said the lady; and in went Mr. Pickwick's head with automaton-like rapidity.
"I never met with anything so awful as this, thought poor Mr. Pickwick, the cold perspiration starting in drops upon his nightcap. "Never. This is fearful.
It was quite impossible to resist the urgent desire to see what was going forward. So out went Mr. Pickwick's head again. The prospect was worse than before. The middle-aged lady had finished arranging her hair; had carefully enveloped it in a muslin nightcap with a small plaited border; and was gazing pensively on the fire.
"This matter is growing alarming," reasoned Mr. Pickwick with himself. "I can't allow things to go on in this way. By the self-possession of that lady, it is clear to me that I must have come into the wrong room. If I call out she'll alarm the house; but if I remain here the consequences will be still more frightful." Mr. Pickwick, it is quite unnecessary to say, was one of the most modest and delicate-minded of mortals. The very idea of exhibiting his nightcap to a lady overpowered him, but he had tied those confounded strings in a knot, and, do what he would, he couldn't get it off. The disclosure must be made. There was only one other way of doing it. He shrunk behind the curtains, and called out very loudly —
"Ha — hum!"
That the lady started at this unexpected sound was evident, by her falling up against the rushlight shade; that she persuaded herself it must have been the effect of imagination was equally clear, for when Mr. Pickwick, under the impression that she had fainted away stone-dead with fright, ventured to peep out again, she was gazing pensively on the fire as before.
"Most extraordinary female this," thought Mr. Pickwick, popping in again. "Ha — hum!" [chapter 22]
References
Cohen, Jane Rabb. Charles Dickens and His Original Illustrators. Columbus: Ohio State U. P., 1980.
Hammerton, J. A. The Dickens Picture-Book. London: Educational Book Co., 1910.
Steig, Michael. Dickens and Phiz. Bloomington & London: Indiana U.P., 1978. Pp. 51-85.
Dickens, Charles. "Pickwick Papers (1836-37). London: Chapman & Hall.
---

Victorian
Web

Pickwick
Papers

Illus-
tration

Phiz

Next
Last modified 6 December 2011