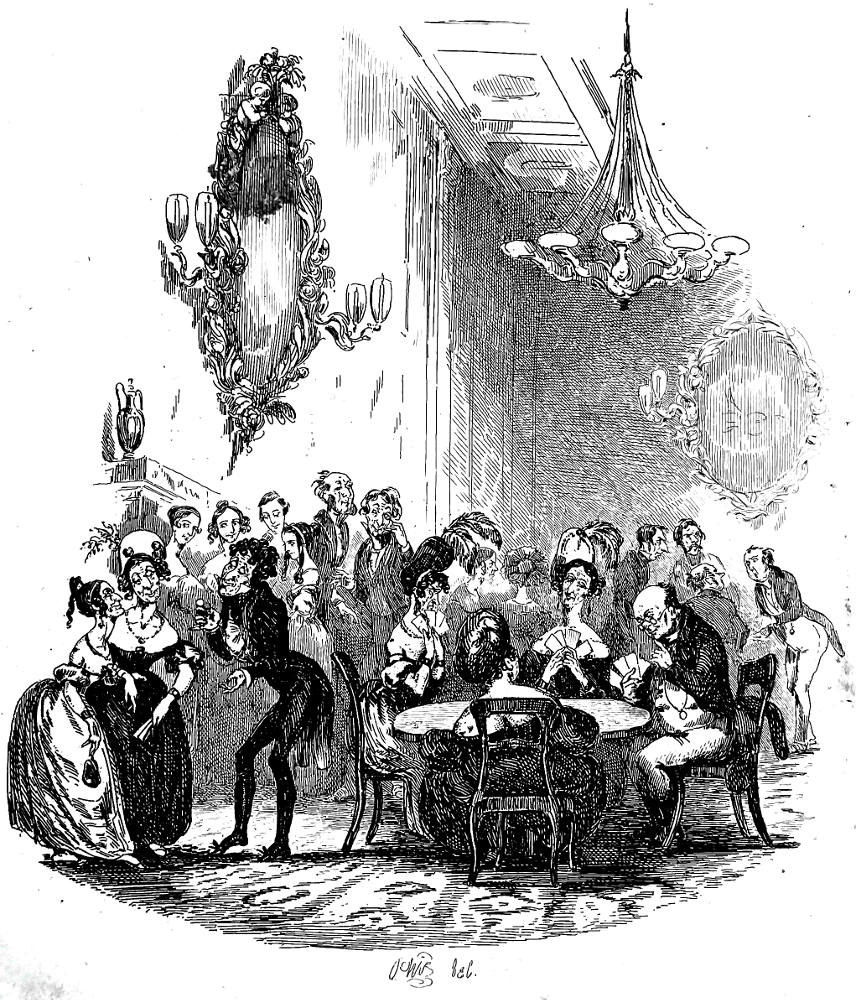 The Card-room at Bath
Phiz (Hablot K. Browne)
April 1837
Steel Engraving
Dickens's Pickwick Papers
[Click on image to enlarge it.]
Details
Scanned image and text by Philip V. Allingham.
[You may use this image without prior permission for any scholarly or educational purpose as long as you (1) credit the person who scanned the image and (2) link your document to this URL in a web document or cite the Victorian Web in a print one.]
The setting of the novel's twenty-ninth illustration, which first appeared in its twelfth monthly part 12 (March 1837), significant in that Dickens took the name of his protagonist, according to Paul Davis, from that of the Somerset city's chief coach operator and proprietor of the White Hart coaching inn, Moses Pickwick. Bath in Somerset, which had become fashionable when wars with France had kept the British aristocracy from European watering-places, had already declined when Dickens visited Walter Savage Landor there a few years after including it in The Pickwick Papers. Its eighteenth-century population boom had been directly attributable to the publicising efforts of Richard 'Beau' Nash (1674-1762) who as Master of Ceremonies made the Pump Room (1706, rebuilt in 1795) a tourist destination. The present setting, the Assembly Rooms, designed by neoclassical architect John Wood the Younger, date from 1771. Dickens's Angelo Cyrus Bantam undoubtedly owes something to the great promoter of Bath, Beau Nash.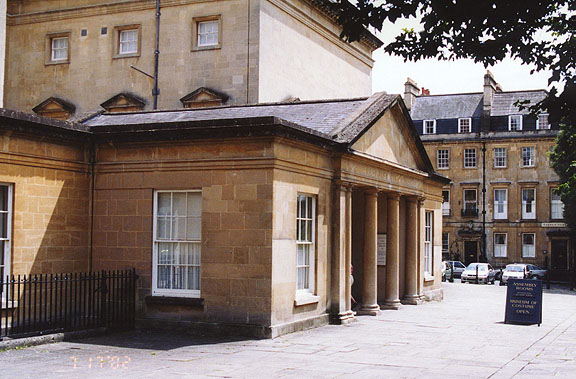 Left to right: (a) The Pump Room Entrance. (b) Taking the Waters at the Pump Room, Bath (c) The Assembly Rooms. [Click on this image for larger pictures.]
Having lost his court case, Pickwick resolves the raise his spirits by having a holiday at Bath ("Ba-ath," as Angelo Cyrus Bantam, M. C., of the Assembly Rooms is accustomed to say). At the whist-table Mr. Pickwick plays with the elderly spinster Miss Bolo and the Dowager Lady Snuphanuph, both of whom are regulars at the Assembly Rooms. The younger woman, with her back towards the viewer in Phiz's first illustration for Part 13, is Mrs. Colonel Wugsby. Immediately to the left of the card table, the Master of Ceremonies, quizzing glass in hand, converses with the two Misses Matinter, Bath spinsters trying hard to look younger by dressing in the current fashion. Despite the excellent background details such as the gassolier and gigantic mirrors in rococo frames, Phiz's principal figure, Pickwick himself, does not seem accurately depicted in that he is not particularly nervous as he chooses which card to play:
Poor Mr. Pickwick! he had never played with three thorough- paced female card-players before. They were so desperately sharp, that they quite frightened him. If he played a wrong card, Miss Bolo looked a small armoury of daggers; if he stopped to consider which was the right one, Lady Snuphanuph would throw herself back in her chair, and smile with a mingled glance of impatience and pity to Mrs. Colonel Wugsby, at which Mrs. Colonel Wugsby would shrug up her shoulders, and cough, as much as to say she wondered whether he ever would begin. Then, at the end of every hand, Miss Bolo would inquire with a dismal countenance and reproachful sigh, why Mr. Pickwick had not returned that diamond, or led the club, or roughed the spade, or finessed the heart, or led through the honour, or brought out the ace, or played up to the king, or some such thing; and in reply to all these grave charges, Mr. Pickwick would be wholly unable to plead any justification whatever, having by this time forgotten all about the game. People came and looked on, too, which made Mr. Pickwick nervous. Besides all this, there was a great deal of distracting conversation near the table, between Angelo Bantam and the two Misses Matinter, who, being single and singular, paid great court to the Master of the Ceremonies, in the hope of getting a stray partner now and then. All these things, combined with the noises and interruptions of constant comings in and goings out, made Mr. Pickwick play rather badly; the cards were against him, also. . . . [chapter 35]
References
Cohen, Jane Rabb. Charles Dickens and His Original Illustrators. Columbus: Ohio State U. P., 1980.
Davis, Paul. Charles Dickens A to Z. New York: Facts On File, 1998.
Hammerton, J. A. The Dickens Picture-Book. London: Educational Book Co.,1910.
Steig, Michael. Dickens and Phiz. Bloomington & London: Indiana U.P., 1978. Pp. 51-85.
Dickens, Charles. The Posthumous Papers of the Pickwick Club (1836-37). Il. Hablot Knight Browne ("Phiz"). Boston: Ticknor & Fields, 1867.
---

Victorian
Web

Pickwick
Papers

Illus-
tration

Phiz

Next
Last modified 11 December 2011