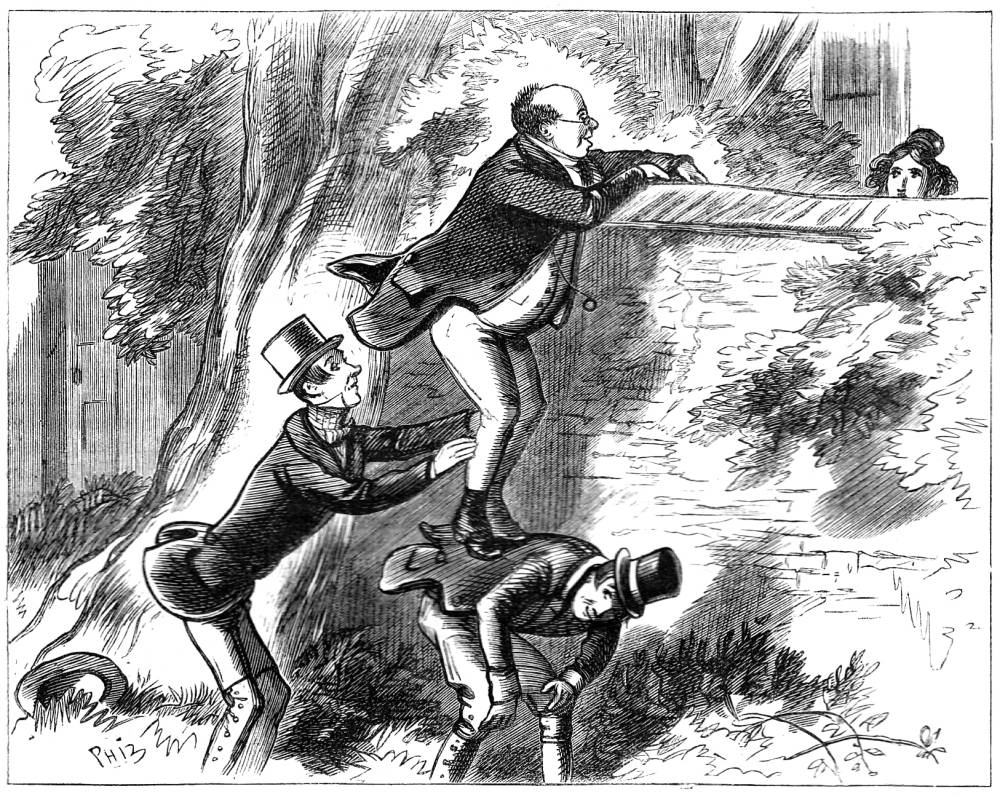 "My dear," said Mr. Pickwick, looking over the wall, and catching sight of Arabella on the other side. "Don't be frightened, my dear, 'tis only me." by Phiz (Hablot K. Browne). Household Edition (1874) of Dickens's Pickwick Papers, p. 289. [Click on image to enlarge it.]
Having been sent by Pickwick on the seemingly impossible quest for Arabella Allen's aunt's house on the outskirts of Bristol, investigating likely villas in the suburbs Sam Weller runs into Mary, formerly Mr. Nupkins's maid at Ipswich, who by coincidence knows where Arabella Allen is staying — immediately next door. A pleasant interlude involves Sam and the pretty house-maid exchanging a few kisses, a minor moment in the narrative strikingly captured by Thomas Nast in his illustration of the epiusode:
"Lord do adun, Mr. Weller!" by Thomas Nast. Click on image to enlarge it.
Incorporating salient background details, Nast has included one of the carpets that Mary had come outside to shake, the garden door into the laneway, and a large villa beyond the garden wall:
Mr. Weller was a gentleman of great gallantry in his own way, and he no sooner remarked this circumstance than he hastily rose from the large stone, and advanced towards her.
"My dear," said Sam, sliding up with an air of great respect, "you'll spile that wery pretty figure out o' all perportion if you shake them carpets by yourself. Let me help you."
The young lady, who had been coyly affecting not to know that a gentleman was so near, turned round as Sam spoke — no doubt (indeed she said so, afterwards) to decline this offer from a perfect stranger — when instead of speaking, she started back, and uttered a half-suppressed scream. Sam was scarcely less staggered, for in the countenance of the well-shaped female servant, he beheld the very features of his valentine, the pretty housemaid from Mr. Nupkins's.
"Wy, Mary, my dear!" said Sam.
"Lauk, Mr. Weller," said Mary, "how you do frighten one!"
Sam made no verbal answer to this complaint, nor can we precisely say what reply he did make. We merely know that after a short pause Mary said, "Lor, do adun, Mr. Weller!" and that his hat had fallen off a few moments before — from both of which tokens we should be disposed to infer that one kiss, or more, had passed between the parties. [Harper & Bros., p. 233]
Subsequently, clambering up the wall by means of the overhanging boughs of a great pear-tree (more like an oak in Phiz's illustration), Sam makes contact with Arabella, and arranges that she will be out in the garden again the following evening, after sunset. When Sam returns to The Bush at Bristol with this intelligence, Pickwick determines to accompany Winkle and Sam to serve as a sort of chaperon. This, then, is the situation that both Nast and Phiz describe in their illustrations for chapter 39's "garden assignation," although neither includes Pickwick's dark lantern, which affords considerable comic business:
"Is Miss Allen in the garden yet, Mary?" inquired Mr. Winkle, much agitated.
"I don't know, sir,' replied the pretty housemaid. 'The best thing to be done, sir, will be for Mr. Weller to give you a hoist up into the tree, and perhaps Mr. Pickwick will have the goodness to see that nobody comes up the lane, while I watch at the other end of the garden. Goodness gracious, what's that?"
"That 'ere blessed lantern 'ull be the death on us all," exclaimed Sam peevishly. "Take care wot you're a-doin' on, sir; you're a-sendin' a blaze o' light, right into the back parlour winder."
"Dear me!" said Mr. Pickwick, turning hastily aside, "I didn't mean to do that."
"Now, it's in the next house, sir," remonstrated Sam.
"Bless my heart!" exclaimed Mr. Pickwick, turning round again.
"Now, it's in the stable, and they'll think the place is afire," said Sam. "Shut it up, sir, can't you?"
"It's the most extraordinary lantern I ever met with, in all my life!" exclaimed Mr. Pickwick, greatly bewildered by the effects he had so unintentionally produced. "I never saw such a powerful reflector."
"It'll be vun too powerful for us, if you keep blazin' avay in that manner, sir," replied Sam, as Mr. Pickwick, after various unsuccessful efforts, managed to close the slide. 'There's the young lady's footsteps. Now, Mr. Winkle, sir, up vith you."
"Stop, stop!" said Mr. Pickwick, "I must speak to her first. Help me up, Sam."
"Gently, sir," said Sam, planting his head against the wall, and making a platform of his back. "Step atop o' that 'ere flower-pot, Sir. Now then, up vith you."
"I'm afraid I shall hurt you, Sam,' said Mr. Pickwick.
"Never mind me, sir," replied Sam. "Lend him a hand, Mr. Winkle. sir. Steady, sir, steady! That's the time o' day!'"
As Sam spoke, Mr. Pickwick, by exertions almost supernatural in a gentleman of his years and weight, contrived to get upon Sam's back; and Sam gently raising himself up, and Mr. Pickwick holding on fast by the top of the wall, while Mr. Winkle clasped him tight by the legs, they contrived by these means to bring his spectacles just above the level of the coping.
"My dear," said Mr. Pickwick, looking over the wall, and catching sight of Arabella, on the other side, "don't be frightened, my dear, it's only me."
"Oh, pray go away, Mr. Pickwick," said Arabella. "Tell them all to go away. I am so dreadfully frightened. Dear, dear Mr. Pickwick, don't stop there. You'll fall down and kill yourself, I know you will."
"Now, pray don't alarm yourself, my dear," said Mr. Pickwick soothingly. "There is not the least cause for fear, I assure you. Stand firm, Sam," said Mr. Pickwick, looking down.
"All right, sir," replied Mr. Weller. "Don't be longer than you can conweniently help, sir. You're rayther heavy."
"Only another moment, Sam,' replied Mr. Pickwick.
"I merely wished you to know, my dear, that I should not have allowed my young friend to see you in this clandestine way, if the situation in which you are placed had left him any alternative; and, lest the impropriety of this step should cause you any uneasiness, my love, it may be a satisfaction to you, to know that I am present. That's all, my dear."
"Indeed, Mr. Pickwick, I am very much obliged to you for your kindness and consideration," replied Arabella, drying her tears with her handkerchief. She would probably have said much more, had not Mr. Pickwick's head disappeared with great swiftness, in consequence of a false step on Sam's shoulder which brought him suddenly to the ground. He was up again in an instant, however, and bidding Mr. Winkle make haste and get the interview over, ran out into the lane to keep watch, with all the courage and ardour of youth. Mr. Winkle himself, inspired by the occasion, was on the wall in a moment, merely pausing to request Sam to be careful of his master. [The Household Edition, Chapter 39: Chapman & Hall, p. 277; Harper & Bros., p. 237]
The illustrations complement each other insofar as Phiz's represents the earlier moment, when Pickwick gets up on Sam's back, whereas in Nast's illustration Pickwick stands on Sam's shoulders to converse with Arabella. Whereas Nast's interpretation is more realistic in that all the figures are but dimly apprehended in the darkness, Phiz's more clearly reveals the postures, positions, and expressions of the three principals, avuncular Samuel Pickwick, the romantic Nathaniel Wardle, and the enabling Sam Weller. However, from the point of view of situation and character comedy, Phiz's treatment is vastly more entertaining because his figures are better modelled and individualised; in particular, Pickwick seems oblivious to Sam's exertions as he is caught up in his role as advisor to the young couple, while Sam Weller and Nathaniel Winkle are captured in awkward positions, supporting their chief. In order to show clearly the irregularities of the wall and the tree, as well as the particulars of the three men, Phiz has had to disregard the lack of available light. In contrast, Nast manages his material in a realistic manner, but without any humour — but at least his illustration occurs on the same page as the passage visualised, whereas the reader has to flip back a dozen pages to re-read the passage associated with the woodcut on page 289 of the Chapman and Hall Household Edition.
The farcical situation itself seems to be a reprise of the ladies' seminary escapade of chapter 16, which, as Collins and Guiliano note, reveals the influence of Elizabeth Simpson Inchbald's plot gambits upon Dickens, who had read her
Collection of Farces
(1807): "Dickens surely drew upon Mrs. Inchbald's plays and perhaps other works of popular theatre and literature for this scene" (
The Annotated Dickens
, I: 378).
Related Material
Scanned image and text by Philip V. Allingham. Formatting by George P. Landow. [You may use this image without prior permission for any scholarly or educational purpose as long as you (1) credit the person who scanned the image and (2) link your document to this URL in a web document or cite the Victorian Web in a print one.]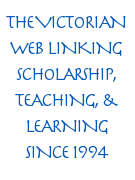 References
Dickens, Charles. Pickwick Papers. The Household Edition. London: Chapman and Hall, 1874; New York: Harpers, 1874.
---
Last modified 17 April 2012