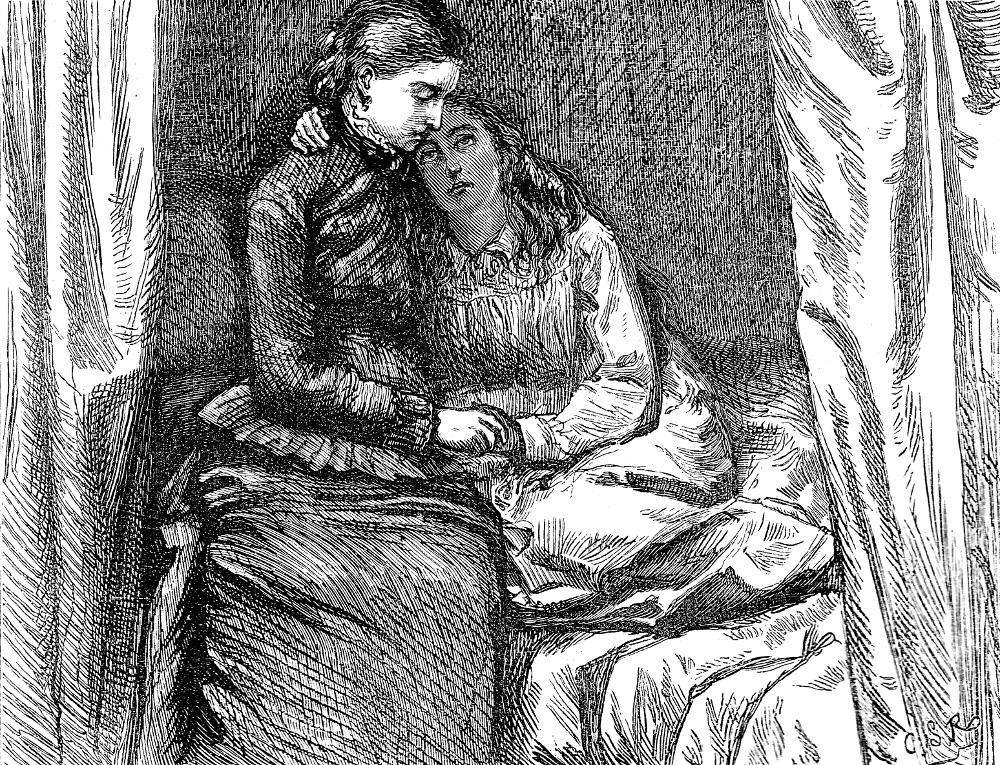 "Forgive Me, Pity Me, Help Me!" by Charles S. Reinhart. 1870. 13.3 cm wide by 10.2 cm high. This plate illustrates Book Three, "Garnering," Chapter One, "Another Thing Needful" in Charles Dickens's Hard Times (American Household Edition, 1876), 203. Running head: "Sissy and Louisa" (203).
Context of the Illustration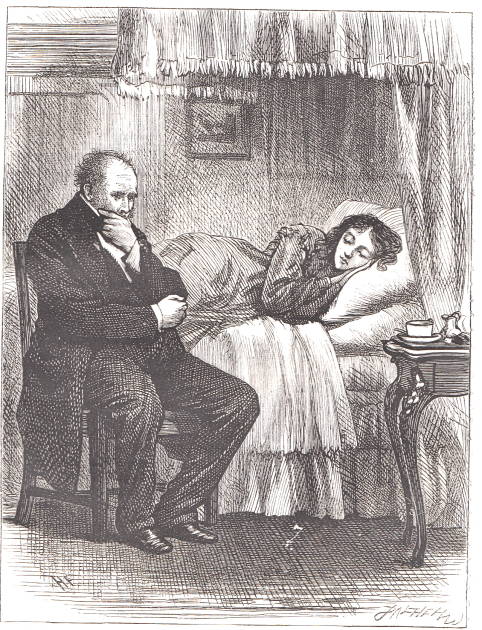 Right: Harry French's version of the action prior to Bounderby's charged interview with his father-in-law, showing that Louisa has not run away with her lover, but sought refuge from a bad marriage with her father: "I only entreat you to believe, my favourite child, that I have meant to do right" (1876).
"First, Sissy, do you know what I am? I am so proud and so hardened, so confused and troubled, so resentful and unjust to every one and to myself, that everything is stormy, dark, and wicked to me. Does not that repel you?"
"No!"
"I am so unhappy, and all that should have made me otherwise is so laid waste, that if I had been bereft of sense to this hour, and instead of being as learned as you think me, had to begin to acquire the simplest truths, I could not want a guide to peace, contentment, honour, all the good of which I am quite devoid, more abjectly than I do. Does not that repel you?"
"No!"
In the innocence of her brave affection, and the brimming up of her old devoted spirit, the once deserted girl shone like a beautiful light upon the darkness of the other.
Louisa raised the hand that it might clasp her neck and join its fellow there. She fell upon her knees, and clinging to this stroller's child looked up at her almost with veneration.
"Forgive me, pity me, help me! Have compassion on my great need, and let me lay this head of mine upon a loving heart!"
"Oh, lay it here!" cried Sissy. "Lay it here, my dear." [Book Three, "Garnering," Chapter One, "Another Thing Needful," 203]
Commentary
This illustration of perfect sympathy between the maternal poor girl, Sissy Jupe, who has grown to maturity in the Gradgrind Household, and Louisa, recently tempted to break her marriage vows, reminds one of Katherine Mansfield's remark in the short story "A Cup of Tea" that all women are sisters, and never more so than in adversity. This is Reinhart's sixth bedroom scene, the others being plates 3, 4, 5, 9, and 10, but it is very different from the last of the series, in which, in the dark, Louisa atrtempted to serve as Tom's confessor. The text which the twelfth plate accompanies casts black-garbed Sissy in the role of priestly confessor to Louisa's supplicant. The colour symbolism works in reverse, of course, since, although in white, Louisa confesses herself "quite devoid" of good, while Dickens almost canonizes "the stroller's child" as a compound of "brave affection," "devoted spirit," and moral beacon: "the once deserted girl shone like a beautiful light upon the darkness of the other" (203). The caption leaves the reader-viewer in constant anticipation until the very last line of the chapter, the moment Reinhart has chosen to realise. However, he has adjusted the juxtaposition of the two young women so that Louisa is not upon her knees, clinging desperately to Sissy as she cries out for "compassion" in almost biblical terms, as suiggested in such words and phrases as "a guide to peace," "innocence," and "veneration."
Turning from page 202 to 203 and regarding the simple trust that each girl shows the other, one is struck prior to completing the reading of the chapter at the subtlty of the plate in contrast to the high Victorian sentimentality of the letter-press. Perhaps it was Dickens's chief failing that he heightened the language in both dialogue and description to command the reader's tears to flow when the situation presented faithfully should have won that reader's sympathy without rhetorical manipulation.
Scanned image and text by Philip V. Allingham [You may use this image without prior permission for any scholarly or educational purpose as long as you (1) credit the person who scanned the image and (2) link your document to this URL in a web document or cite the Victorian Web in a print one.]
Bibliography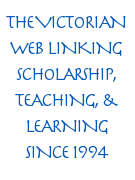 Dickens, Charles. Hard Times for These Times. Illustrated by C. S. Reinhart. The Household Edition. New York: Harper and Brothers, 1876.
_______. Hard Times for These Times. Illustrated by Harry French. The Household Edition. London: Chapman and Hall, 1877.
Houfe, Simon. The Dictionary of Nineteenth-Century British Book Illustrators and Caricaturists. Woodbridge, Suffolk: Antique Collectors' Club, 1978.
Pennell, Joseph. The Adventures of An Illustrator Mostly in Following His Authors in America and Europe. Boston: Little, Brown & Co., 1925.
---
Created 22 October 2002

Last modified 1 August 2020