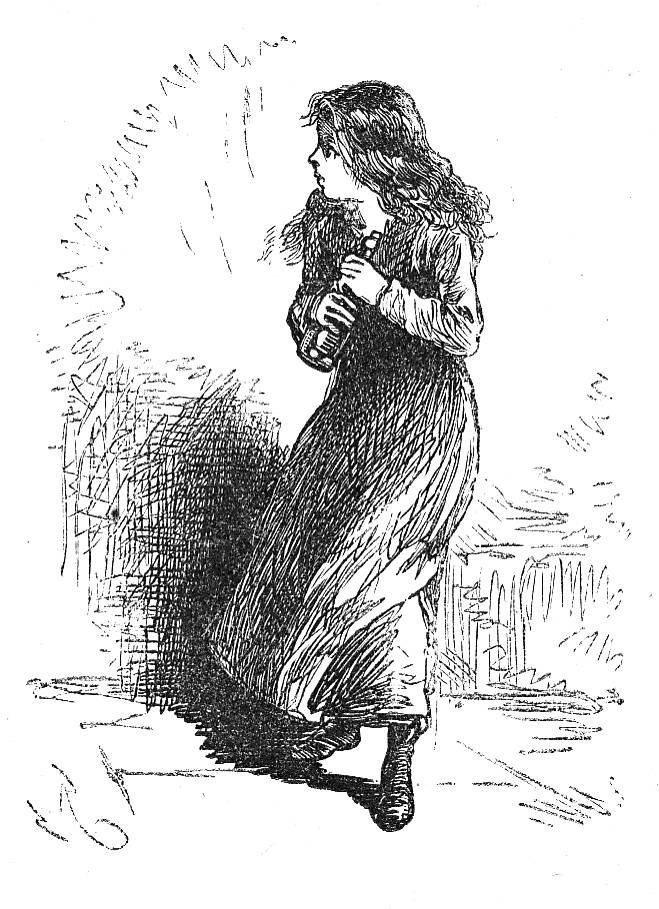 Title-page Vignette: Sissy Jupe as a girl, holding her father's bottle of nine oils.
Charles S. Reinhart
1876
Wood engraving
7 cm high by 5.5 cm wide
Scanned image and text by Philip V. Allingham
You may use this image without prior permission for any scholarly or educational purpose as long as you (1) credit the person who scanned the image and (2) link your document to this URL in a web document or cite the Victorian Web in a print one.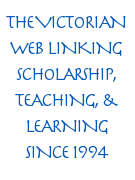 Context of the Illustration
"Now, girl," said Mr Gradgrind, "take this gentleman and me to your father's; we are going there. What have you got in that bottle you are carrying?"
"Gin," said Mr. Bounderby.
"Dear, no, sir! It's the nine oils."
"The what?" cried Mr Bounderby.
"The nine oils, sir. To rub father with." Then said Mr. Bounderby, with a loud short laugh, "What the devil do you rub your father with nine oils for?"
"It's what our people aways use, sir, when they get any hurts in the ring," replied the girl, looking over her shoulder, to assure herself that her pursuer was gone. "They bruise themselves very bad sometimes."
"Serve 'em right," said Mr. Bounderby, "for being idle." She glanced up at his face, with mingled astonishment and dread.
"By George!" said Mr. Bounderby, "when I was four or five years younger than you, I had worse bruises upon me than ten oils, twenty oils, forty oils, would have rubbed off. I didn't get 'em by posture-making, but by being banged about. There was no rope-dancing for me; I danced on the bare ground and was larruped with the rope." Mr. Gradgrind, though hard enough, was by no means so rough a man as Mr. Bounderby. His character was not unkind, all things considered; it might have been a very kind one indeed, if he had only made some round mistake in the arithmetic that balanced it, years ago. He said, in what he meant for a reassuring tone, as they turned down a narrow road, "And this is Pod's End; is it, Jupe?" [Book the First, Chapter 5, "The Key-Note," 131]
Commentary
Hard Times, which appeared with The Uncommercial Traveller and The Mystery of Edwin Drood in a single volume of the American Household Edition, 1876. Page 2.
title-page vignette by Charles S. Reinhart. 1844-1896. 5.5 cm wide by 7 cm high. This vignetted figure sets the keynote for Charles Dickens's
Among the cast of twenty-odd characters in Hard Times for These Times (1854), Sissy Jupe stands out, in part because we sympathise with her from the initial scene in the schoolroom, and partly because she represents a more human, caring perspective than Gradgrind's soulless Utilitarianism and Bounderby's unfettered capitalism. For Dickens she is the champion of "Fancy," the imaginative powers of the child and the artist. In placing her image ahead of any other in the Harper and Brothers Household Edition of the novel, Charles Stanley Reinhart is asserting her importance in the story, which readers enter with the "outsider" Sissy Jupe, daughter of a circus clown. Although Louisa Gradgrind is probably the story's focal character, Dickens expends considerable effort on developing Sissy's character and describing her predicament in the opening book, in which she may well be the protagonist; certainly she is the touchstone for all of the other characters whom we meet in those opening chapters. Although he provides no context for the title-page vignette of Sissy, Reinhart closely connects her with the bottle of nine oils for which her father sends her shortly after their arrival in Coketown. Her luxuriant hair tumbling behind her, she looks apprehensively to the left (presumably at Bitzer as he pursues her), and clutches the precious bottle close to her, as if it assured her that her father will still be in their rented rooms when she returns. The wind blowing her skirt suggests that Sissy is in the street, but otherwise Reinhart does not point us towards which of the three "Nine Oils" references he has in mind: chapter 5, 6, or 9.
In The Dickens Index, Bentley et al. note that the origin of the "Nine Oils" is William Scott's The Home Book (1826), a book of herbal remedies. And yet this traditional cure for rheumatism and muscle ache becomes associated with the theatrical and artistic world from which Sissy Jupe arrives at the beginning of the novel. After the opening schoolroom scene but later that same day, when Thomas Gradgrind, educational philanthropist, and his associate, the millionaire-industrialist Josiah Bounderby, encounter Sissy in the Coketown street, being pursued by Bitzer, she is carrying the medicinal bottle of the mysterious "Nine Oils" that serve as a palliative for her rheumatic father, the horse-riding clown Signor Jupe.
At the end of chapter six, when Sleary proposes that she leave the medicinal bottle with the circus troupe as she commences her new, "respectable" life with the Gradgrinds, Sissy insists upon keeping it, as if its possession ensures that she will see her father again:
"No, no!" she said, in another burst of tears. "Oh, no! Pray let me keep it for father till he comes back! He will want it when he comes back. He had never thought of going away, when he sent me for it. I must keep it for him, if you please!" [Book the First, Chapter 6, "Sleary's Horsemanship," p. 137]
Finally, after Signor Jupe has run off and Gradgrind has incorporated Sissy into his own family at Stone Lodge, questioned by Louisa, Sissy recalls how her father gave her the slip by sending her across town to fill the medicinal bottle:
Sissy resumed in a lower voice. "At last poor father said that he had given no satisfaction again, and never did give any satisfaction now, and that he was a shame and disgrace, and I should have done better without him all along. I said all the affectionate things to him that came into my heart, and presently he was quiet and I sat down by him, and told him all about the school and everything that had been said and done there. When I had no more left to tell, he put his arms round my neck, and kissed me a great many times. Then he asked me to fetch some of the stuff he used, for the little hurt he had had, and to get it at the best place, which was at the other end of town from there; and then, after kissing me again, he let me go. When I had gone downstairs, I turned back that I might be a little bit more company to him yet, and looked in at the door, and said, 'Father dear, shall I take Merrylegs?' Father shook his head and said, 'No, Sissy, no; take nothing that's known to be mine, my darling;' and I left him sitting by the fire. Then the thought must have come upon him, poor, poor father! of going away to try something for my sake; for when I came back, he was gone." [Book the First, Chapter 9, "Sissy's Progress," 144]
The bottle containing the mysterious nine oils seems to connect Sissy and the enchanted world of The Arabian Nights, particularly the story of Aladdin and the miraculous lamp. Whereas the middle-class denizens of Coketown would place their faith in physicians and modern medicine, the circus performers use such time-honoured, traditional remedies as the nine oils, unscientific as these remedies may be in a Utilitarian age.
Bibliography
Bentley, Nicolas, Michael Slater, and Nina Burgis. The Dickens Index. New York and Oxford: Oxford U. P., 1990.
Dickens, Charles. Hard Times for These Times. Illustrated by C. S. Reinhart. The Household Edition. New York: Harper and Brothers, 1876.
Houfe, Simon. The Dictionary of Nineteenth-Century British Book Illustrators and Caricaturists. Woodbridge, Suffolk: Antique Collectors' Club, 1978.
Pennell, Joseph. The Adventures of An Illustrator Mostly in Following His Authors in America and Europe. Boston: Little, Brown & Co., 1925.
Scenes and Characters from the Works of Charles Dickens; being eight hundred and sixty-six drawings, by Fred Barnard, Hablot Knight Browne (Phiz); J. Mahoney; Charles Green; A. B. Frost; Gordon Thomson; J. McL. Ralston; H. French; E. G. Dalziel; F. A. Fraser, and Sir Luke Fildes; printed from the original woodblocks engraved for "The Household Edition." New York: Chapman and Hall, 1908. Copy in the Robarts Library, University of Toronto.
---

Victorian
Web

Hard
Times

Illustration

C. S.
Reinhart

Next
Created 15 March 2013

Last modified 1 August 2020