This is the first book to deal with the Moxon Tennyson of 1857 in more than one hundred and twenty years. Written by Simon Cooke, it examines in detail every design in the book and reproduces all of them with pleasingly high quality images.
Unlike previous critics, Cooke analyses all eight artists enlisted by Moxon and gives equal weight not just to the much lauded Pre-Raphaelite contributors, Dante Gabriel Rossetti, John Everett Millais and William Holman Hunt. Forrest Reid writing in 1928 in his pioneering study of the illustrators of the 1860s termed the volume 'a hotch potch' and virtually dismissed the work of the other five who did not subscribe to the new ideas in art promulgated by the Pre-Raphaelites. More recently Lorraine Janzen Kooistra, also a leading expert on the subject, refers to it as 'a mishmash of visual messages' and also 'a blatant piece of book-cobbling'.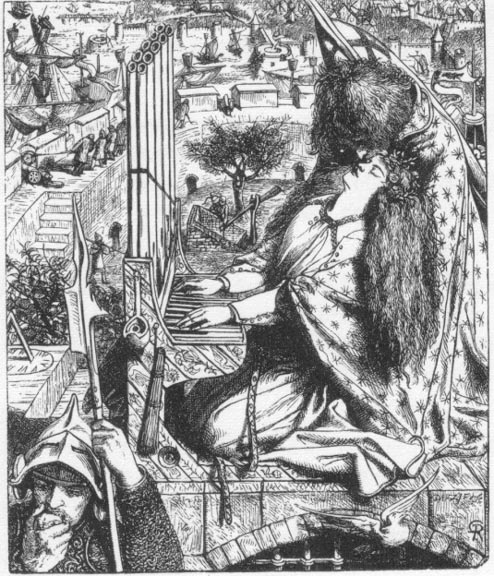 Three examples of the Pre-Raphaelites' illustrations. a) Millais's Edward Gray; b) Rossetti's St Cecily; and c) Holman Hunt's The Lady of Shalott.
Cooke, however, puts to rest once and for all such remarks and instead sees the volume in more rounded terms as a major work both of literature and fine art. He considers every aspect of the book and discusses the significance of the engravers, notably the Dalziel Brothers, the publisher, Edward Moxon, the binding designers of more than one edition, the technicians who produced the material object, and of course Tennyson himself. Indeed, Cooke reveals a profound knowledge and understanding of the poetry which is so crucial for a full critique of both word and image in this most complex and in many ways perplexing of illustrated books.
His first chapter 'The Making of the Book' examines visual culture, capitalism and business strategies, showing that Moxon aimed for a commercial blockbuster which he trusted would sell in considerable numbers. The reader learns that while Tennyson suggested Daniel Maclise and the Pre-Raphaelites it was Moxon himself who enlisted J. C. Horsley, William Mulready, Clarkson Stanfield and Thomas Creswick. The latter were largely establishment artists, some of whom were Royal Academicians whose contributions the publisher deemed would appeal to a wide book-buying public who were not in thrall to Pre-Raphaelite theories of design, but who would be the more conservative among the readership.
Three examples of the 'older school' of illustration. a) Horsley's first design for Circumstance; b) Creswick'sClaribel; and c) Mulready's But whither will my fancy go? Or, Will Waterproof's Lyrical Monologue.
The book was three years in the making and it seems likely that the worry of producing it led to Moxon's premature death only a year after its publication. The volume proved a comparative commercial failure and between 1858 and 1869, having allowed Routledge to take over publication, an additional 5000 copies a year were printed at a reduced price and with a new binding design by Albert Warren. The first edition was in an undistinguished livery by an unrecorded designer. Copies of the first edition in acceptable condition are scarce today even though the pages were sewn and not glued as was so common for illustrated books of the time.
The images in the book can be seen as essentially small paintings in black and white and it is significant to note that many of them derived almost directly from pictures by the artists.
Cooke talks extensively about aspects such as time, light and landscape and discusses what he terms 'the visualization of detail', which is fascinating and provocative. He remarks that, after Shakespeare, Tennyson is possibly the poet who has inspired more images than any other in English literature. Horsley, a little admired artist today, is praised in particular for his exploration of time and for his understanding of the 'moment' in each episode he illustrates. He then argues that the physical world is revealed as a symbol of the human spirit. This calls to mind the 'pathetic fallacy', a term coined by Ruskin, to denote such an idea and then he shows that Hunt, Mulready and Creswick especially use their images of landscape to suggest Tennyson's fascination with the 'languid'. Stanfield, who was essentially a marine artist, is seen to suggest the intense feeling of the protagonists in his atmospheric seascapes. By examining the contributions of such designers the author renders them as more significant than they have been considered by earlier critics.
Continuing, Cooke discusses the essential Englishness of the images and explores the connections between landscape and nationhood and the ideas expressed in them about aspects such as marriage and domesticity and the whole mid-Victorian way of reading contemporary life. He looks at the English idyll, social observation and even the comic aspects of the social mores of the time expressed notably in the designs by Mulready.
Millais in particular is shown as an up-to-date practitioner and with his interiors as producing designs containing what Cooke terms 'realistic catalogues of everyday objects'. Such aspects are explored in detail and this proves to be both fascinating and revealing.
Two illustrations showing the artists' experimentation with gender. Left: Millais's Cleopatra, and Right: The same artist's image of Eleanor sucking poison from King Edward's arm.
Other areas dealt with include dreaming, psychology, medievalism and even space as a symbol of the prime characters' mental malaise. Unconventionally, Millais shows Cleopatra as a black woman in 'A Dream of Fair Women', also showing her powerful eroticism as she opens her dress to reveal 'the aspick's bite'. As Cooke, explains, men and women are presented ambivalently with men sometimes depicted as ill and helpless, features traditionally associated with women. An example can be viewed in another image of 'A Dream of Fair Women' where Millais shows Queen Eleanor of Aquitaine saving King Edward's life by sucking the poison from his arm with her 'balmy breath'. Indeed, there are numerous examples of women being drawn as powerful, heroic and monumental.
How may we view the book today? Cooke has given us a penetrating study which shows that it is not merely a 'landmark in Victorian Illustration' but something far greater and indeed a central creation of English Literature and art that moves it far beyond its historical context.
Bibliography
Cooke, Simon. The Moxon Tennyson: A Landmark in Victorian Illustration. Athens, Ohio: University of Ohio Press, 2021. 236 pp. ISBN: 9780821424261. £64/$80.
---
Created 25 April 2021