ittle is known of Florence Rudland's life and circumstances, but a few basic details can be recovered. Rudland was born in April 1872 in King's Norton or Balsall Common, Birmingham, and died in the same city, aged only thirty, and of unknown causes, in 1903. Her personal life is a blank, although she seems to have come from a relatively humble background. Writing in her study of women's engagement with guilds offering Arts and Crafts, Sally Hoban claims that Rudland was of working-class origin with limited income and a high level of economic need: her father worked in a warehouse (179) and the family was made up of seven children. Rudland's entry into the Birmingham School of Art in the early nineties was therefore a considerable achievement. Her fees were in all probability paid by the award of a college bursary, and she was doubly unusual in being a woman in a period when most students were men; like her contemporaries Celia Levetus and Georgie Gaskin, she was able to make good use of the School's admission of female students and its 'progressive, egalitarian atmosphere' (Hoban 164). She distinguished herself in her studies and, like many of her peers, became a teacher when she had barely graduated.
Although Rudland studied the general curriculum, which embraced two and three dimensional art, she confined her professional efforts to graphics, producing a series of book plates and three volumes for which she designed the illustrations and the bindings. Two of these were for children: Mary E. Palgrave's edition of Mrs Sherwood's The Fairchild Family (1902), and George Payne Rainsford James's The Old Oak Chest [1900]. Rudland also published a series of illustrations for an adult text, La Motte Fouqué's Undine (1896), and other work featured in The Studio (1895), The Yellow Book (1896) and A Book of Pictured Carols (1893). Despite her short life, Rudland was a productive artist whose work bears comparison with other outstanding female illustrators of the School, notably Levetus, Mary Newill and Gaskin.
Criticism and Style
Criticism of her work is largely limited to generalizations. Alan Crawford (1984) praises her 'naïve charm' but finds her talent limited (94), and a contemporary of 1903 comments, in only faint praise, on the 'vitality' of her drawings for The Fairchild Family (Crawford 716). More damaging, perhaps, is the accusation that Rudland was unoriginal, producing an imitative art which lacks a distinctive 'voice'.
There is some credence in this view. Without doubt, Rudland was heavily influenced by contemporary styles: pressured by several trends, her art is positioned at the intersection of competing idioms and might be described as eclectic. Her earliest work, produced during her time at the Birmingham School of Art, is deeply informed by William Morris's teachings on the need for modern illustration to emulate the example of Gothic incunabula. Her illustration In Betheleem That Noble Place (1893) epitomizes this approach, reproducing the flat linearity and simplifications of late medieval prints; the impact of Pre-Raphaelitism, which so influenced the Birmingham School as a whole, is also evidenced by the treatment of the angel, which resembles the attenuated forms in Edward Burne-Jones's paintings of an ethereal otherworld. In her later work, on the other hand, she comes under the spell of the Regency revivalists of the 1880s and 90s. In these publications she quotes Kate Greenaway's imagery of sentimentalized juveniles dressed in the quaint costumes of the early part of the century; Hugh Thomson's airless world of slender women and top-hatted gentleman is another presence in her art.
However, Rudland is not limited to the purely ornamental. Although she foregrounds decorative elements in the manner of Greenaway – especially in her emphasis on floral motifs and conventional female accessories such as ribbons and rustic costumes – her style is characterized by two individual elements: one is her interest in dramatic storytelling, no matter how trivial a domestic scene might be; and the other is a fascination with graphic effects in which she moves away from doll's-house imagery and focuses on pattern-making built up of striking contrasts of absolute black and white.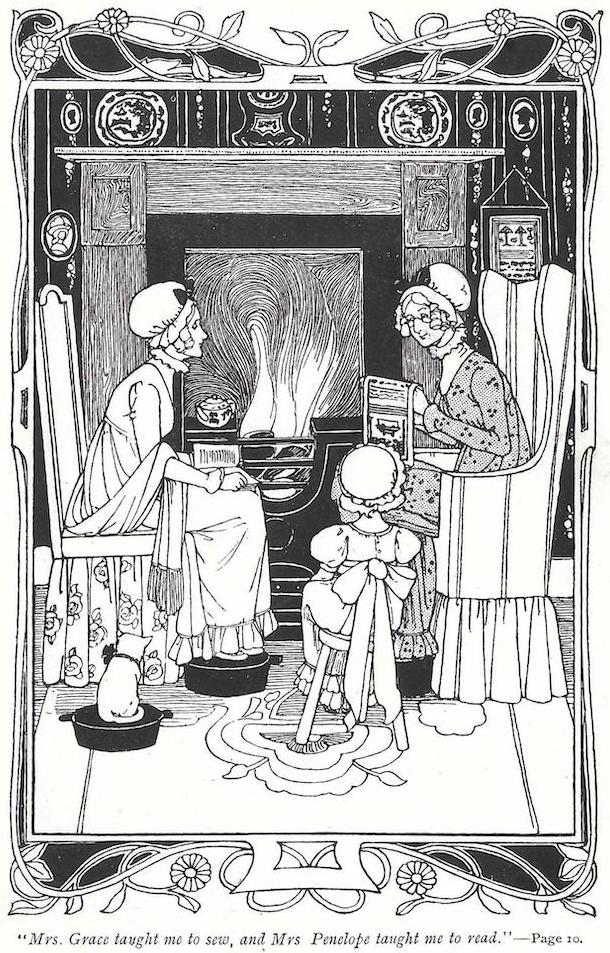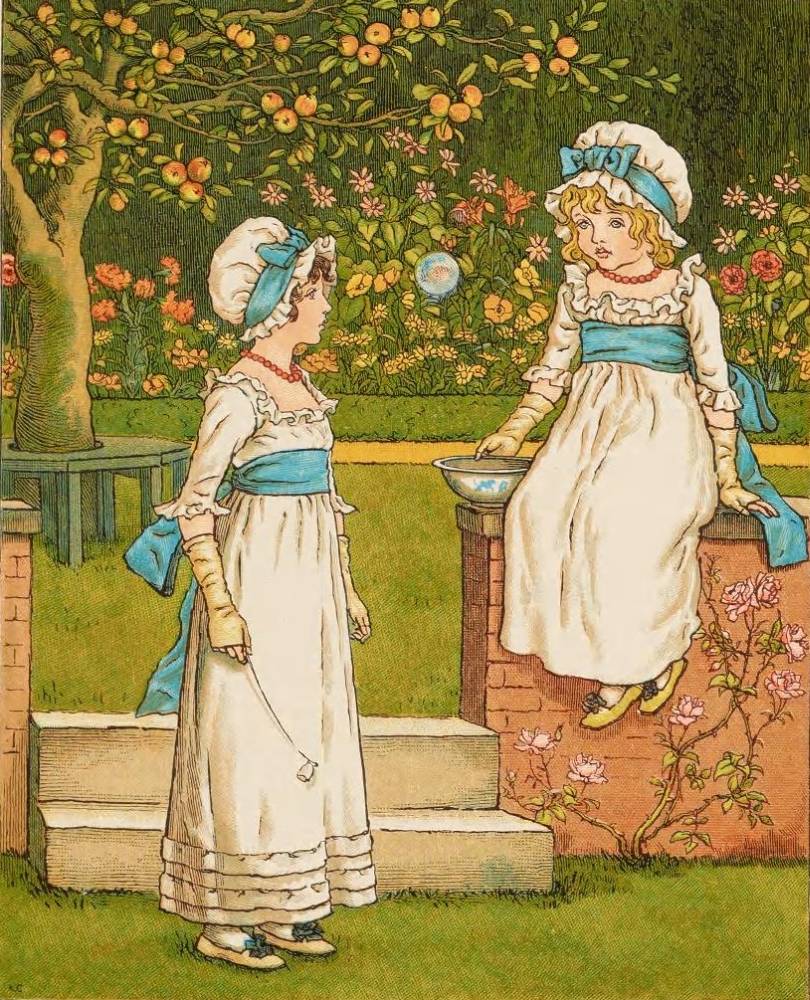 Left: An illustration for Palgrave's edition of The Fairchild Family by Rudland. Right: An example of work by Kate Greenaway.
Rudland's capacity to inject energy and emotional depth into an ordinary scene is epitomized by the illustration for the Story of the Apples in The Fairchild Family. The image depicts the moment when Henry steals some of the fruit: his sister Lucy tells him this is equivalent to Eve's temptation (Sherwood 26) and Rudland casts the event as if it were in the same register. The boy surreptitiously reaches up and pulls the branch down on tiptoe; his gaze suggests his purposefulness, but his sense of guilt and is implied by the animistic flowers, which seem to move towards him in reproach. His inner conflict is similarly suggested by the agitated lines surrounding him in the form of what is ostensibly a wall but is actually a piece of expressive abstraction.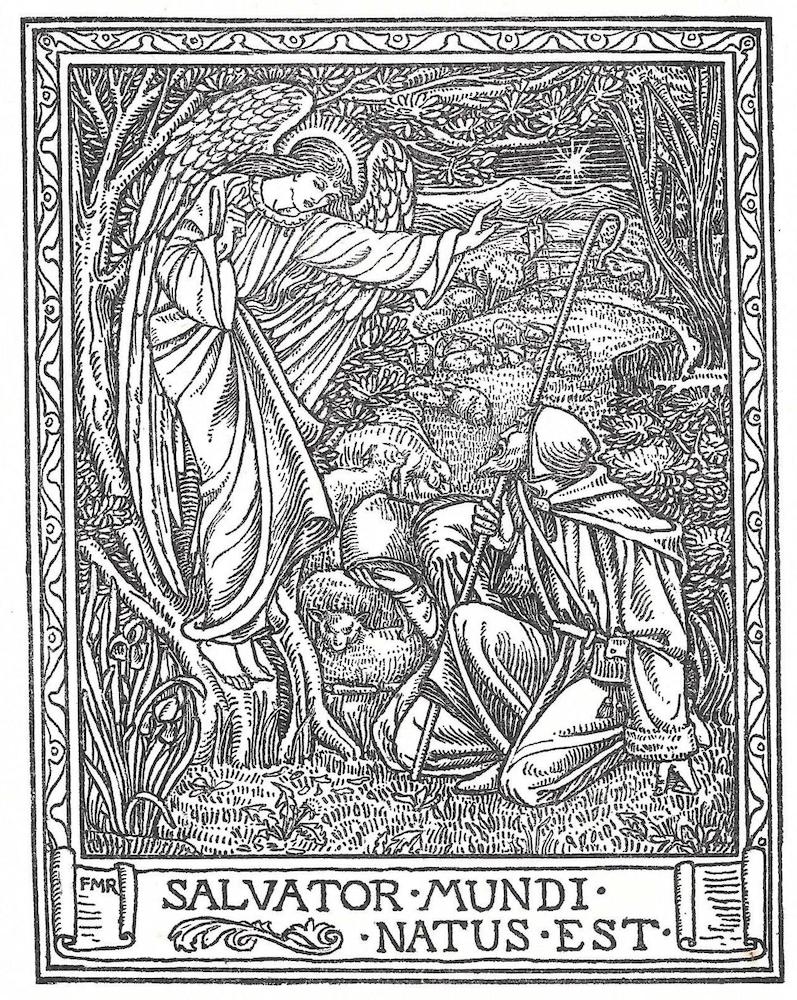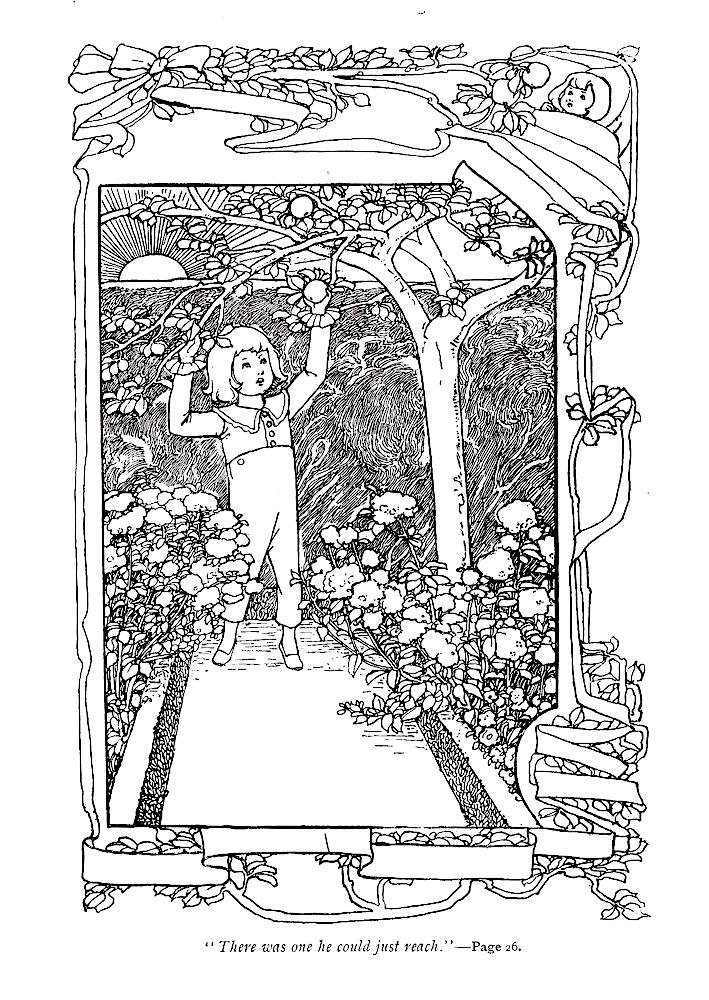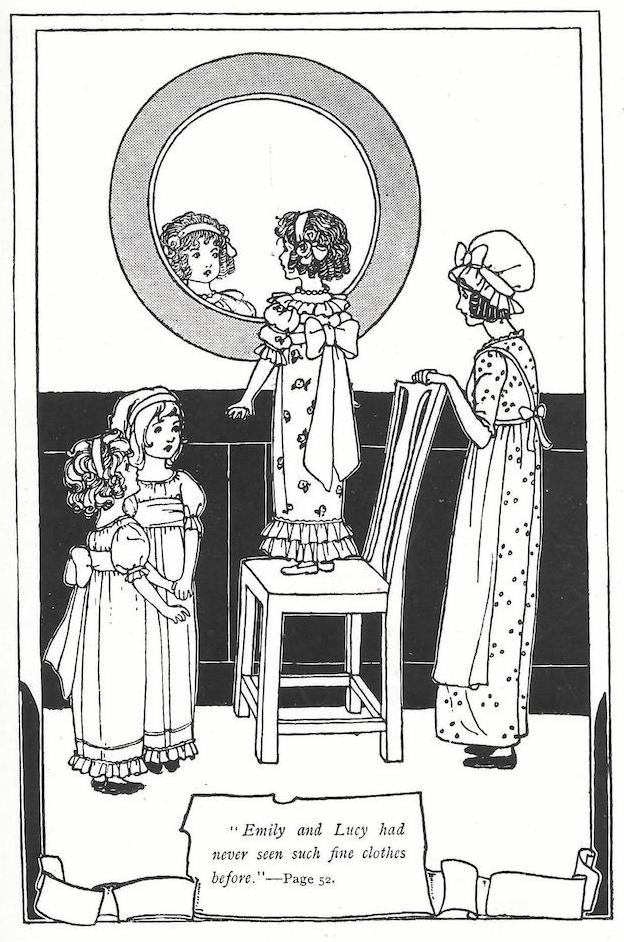 Three illustrations by Rudland: (a) In Bethleem, (b) Story of the Apples, and (c) Emily and Lucy.
Rudland's deployment of telling detail and suggestive line is taken to an absolute extreme in her treatment of Tennyson's Lady of Shalott in The Yellow Book (1896). The character's inner turmoil is conveyed by her troubled gaze and by the positioning of her hands, with one on her head and the other supporting her as she steps uncertainly forward. Most telling, however, is the agitated, sinuous movement of cloth from the loom, a device which revisits William Holman Hunt's treatment of the Lady's swirling hair in his famous illustration in the Moxon Tennyson (1857).
Two versions of Tennyson's 'Lady of Shalott': (a) by Florence Rudland, and (b) by William Holman Hunt
In this design Rudland breaks free of the style of Arts and Crafts and embraces the new aesthetic of Art Nouveau, presenting her own version of the 'whiplash line'. It also embodies her manipulation of expressive black and white, with the whiteness of the foreground measured against the undifferentiated form of the black circle in the background. This is a device she repeatedly uses, creating a graphic signature which though related to Art Nouveau is unmistakeably her own. Prime examples can be seen in her illustrations for The Fairchild Family; her illustrations for this book combine conventionally sentimental characterization with poster-like effects.
Rudland manages, in short, to open a small, idiosyncratic space within a series of overlapping styles. The overall effect of her art, as a mixture of the generic and the personal, is ably explained by Rose Sketchley (1903). The Birmingham School, she observes, is a 'code', generally 'too rigid for development', but, in the hands of artists such as Rudland, allows those artists to make room for 'individual expression' (12). Dying prematurely, and before she could develop her art further, Rudland produced nuanced illustrations that deserve to be better known.
Bibliography
Books illustrated or co-Illustrated by Rudland
Gaskin, Arthur. A Book of Pictured Carols. London: George Allen, 1893.
James, George Payne Rainsford. The Old Oak Chest. London: Wells Gardner [1900].
La Motte Fouqué, Friedrich.Undine.London: Lawrence & Bullen, 1897.
Sherwood, Mary Martha. The Fairchild Family. Ed. Mary E. Palgrave. London: Wells Gardner, 1902.
The Studio (1895).
The Yellow Book 9 (April, 1896).
Secondary Material
Crawford, Allan. By Hammer and Hand: The Arts and Crafts Movement in Birmingham. Birmingham: Birmingham Museums and Art Gallery, 1984.
Hoban, Sally. The Birmingham Municipal School of Art and Opportunities for Women's Paid Work in the Arts and Crafts Movement. Unpublished doctoral thesis, University of Birmingham, U.K., 2013.
Morris, William. The Woodcuts of Gothic Books, 1892; reproduced online https://www.marxists.org/archive/morris/works/1892/woodcuts.htm
Sketchley, R.E.D.English Book Illustration of Today. London: Kegan Paul, 1903.
---
Created 18 September 2020