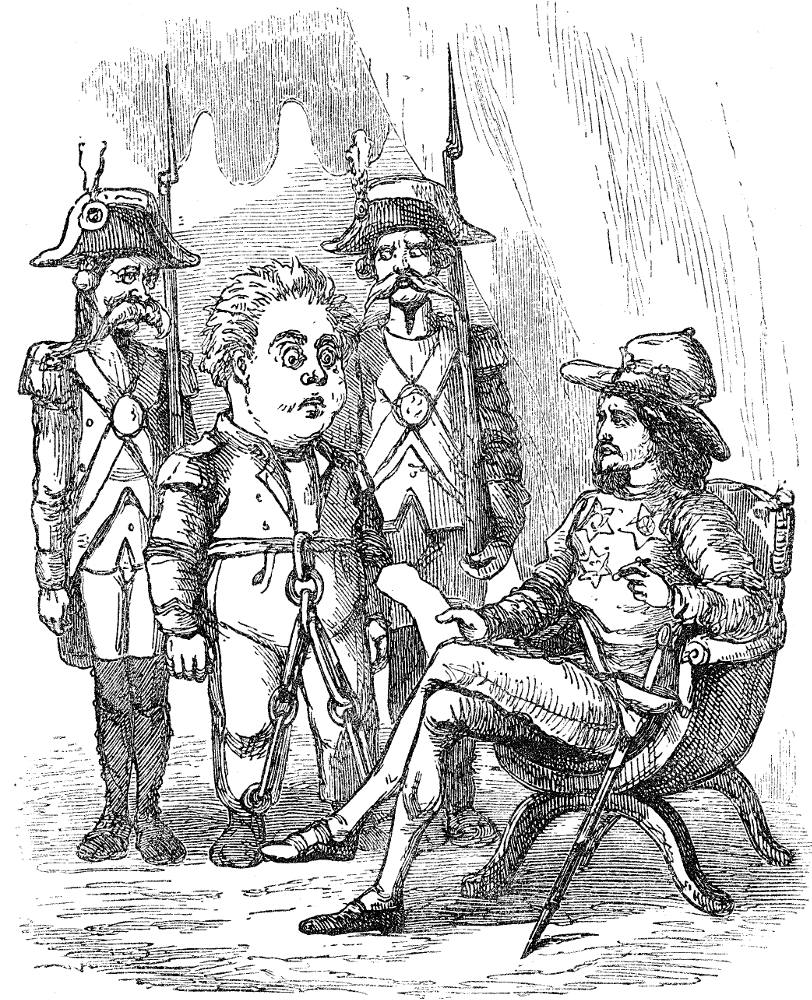 Poor Bulbo is Ordered for Execution
W. M. Thackeray
1855
Wood engraving, probably by William Linton
10.7 cm high by 8.8 cm wide (4 ¼ by 3 ¼ inches), vignetted
Forty-ninth illustration for The Rose and The Ring, p. 399.
Scanned image and text by Philip V. Allingham.
[You may use this image without prior permission for any scholarly or educational purpose as long as you (1) credit the person who scanned the image and (2) link your document to this URL in a web document or cite the Victorian Web in a print one.]
Passage Illustrated: Prince Giglio has Bulbo brought before him in Chains
'Go, some of you, and bring Prince Bulbo hither.'
Bulbo was brought in chains, looking very uncomfortable. Though a prisoner, he had been tolerably happy, perhaps because his mind was at rest, and all the fighting was over, and he was playing at marbles with his guards when the King sent for him.
'Oh, my poor Bulbo,' said His Majesty, with looks of infinite compassion, 'hast thou heard the news?' (for you see Giglio wanted to break the thing gently to the Prince), 'thy brutal father has condemned Rosalba — p-p-p-ut her to death, P-p-p-prince Bulbo!'
'What, killed Betsinda! Boo-hoo-hoo,' cried out Bulbo. 'Betsinda! pretty Betsinda! dear Betsinda! She was the dearest little girl in the world. I love her better twenty thousand times even than Angelica,' and he went on expressing his grief in so hearty and unaffected a manner that the King was quite touched by it, and said, shaking Bulbo's hand, that he wished he had known Bulbo sooner.
Bulbo, quite unconsciously, and meaning for the best, offered to come and sit with His Majesty, and smoke a cigar with him, and console him. The royal kindness supplied Bulbo with a cigar; he had not had one, he said, since he was taken prisoner.
And now think what must have been the feelings of the most merciful of monarchs, when he informed his prisoner that, in consequence of King Padella's cruel and dastardly behaviour to Rosalba, Prince Bulbo must instantly be executed! The noble Giglio could not restrain his tears, nor could the Grenadiers, nor the officers, nor could Bulbo himself, when the matter was explained to him, and he was brought to understand that His Majesty's promise, of course, was above every thing, and Bulbo must submit. So poor Bulbo was led out, Hedzoff trying to console him, by pointing out that if he had won the battle of Bombardaro, he might have hanged Prince Giglio. 'Yes! But that is no comfort to me now!' said poor Bulbo; nor indeed was it, poor fellow! [Chapter XVI, "How Hedzoff Rode Back Again to King Giglio," pp. 392-393]
Commentary
The Thackeray illustration is competent enough, but Richard Doyle in the Smith, Elder edition has inserted his own headpiece for Chapter XVI to complement the author's full-page scene, Poor Bulbo is Ordered for Execution. Thackeray cannot seem to settle upon any one era for his setting as his infantrymen appear in eighteenth-century uniforms and magnificent moustaches, but Bulbo himself is large-headed (as is appropriate to a pantomime character) and is dressed as a contemporary figure. Doyle has made his King Giglio in King Giglio in a Disturbed State of Mind perfectly consistent with Thackeray's in terms of his face and clothing. But Giglio's clothing here differs greatly from what we saw him wearing in his rooms at the university, or for that matter from the mediaeval plate armour he wears in addressing the troops in Chapter XIV. Thackeray, however, has maintained visual continuity in Giglio's facial features and hair.
The Other Six Full-Page Illustrations, Each Individually Captioned
Bibliography
Furniss, Harry. The Rose and The Ring; or, The History of Prince Giglio and the Prince Bulbo. William Makepeace Thackeray's Christmas Books. With illustrations by the author and Harry Furniss. The Harry Furniss Centenary Edition. London: Macmillan and Co., 1911. Pp. 287-428.
Titmarsh, M. A. [W. M. Thackeray].The Rose and The Ring. London: Smith, Elder, 1855.
Titmarsh, M. A. [W. M. Thackeray].The Rose and The Ring. The Christmas Books of Mr. M. A. Titmarsh, etc. With illustrations by the Author and Richard Doyle. London: Smith, Elder, 1898. Pp. 213-340.
---

Victorian
Web

Visual
Arts

Illus-
tration

William M.
Thackeray

Next
Created 11 August 2022