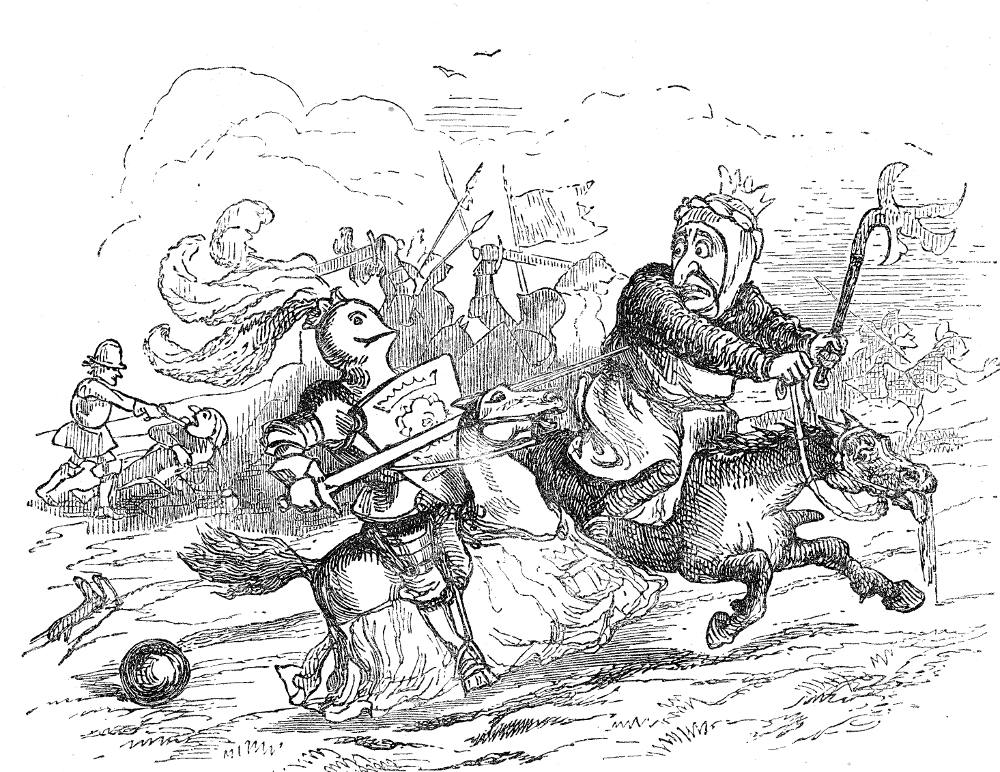 The Terrible Combat between King Giglio and King Padella, by M. A. Titmarsh [W. M. Thackeray], 1855. Wood-engraving, probably by William Linton. 9 cm high by 12.2 cm wide (3 ½ by 4 ¾ inches), vignetted, fifty-third illustration for The Rose and The Ring, p. 411. Descriptive headlines: "Trumpets Pealing, Chargers Prancing, / Stabbing, Slashing, Axing, Lancing" (pp. 411 and 413). [Click on the image to enlarge it; mouse over links.]
Passage Illustrated: The Cartoonish Padella flees from the Plate-armoured Giglio
As for that usurping monarch, having performed acts of velour much more considerable than could be expected of a royal ruffian and usurper, who had such a bad cause, and who was so cruel to women, — as for King Padella, I say, when his army ran away, the King ran away too, kicking his first general, Prince Punchikoff, from his saddle, and galloping away on the Prince's horse, having, indeed, had twenty-five or twenty-six of his own shot under him. Hedzoff coming up, and finding Punchikoff down, as you may imagine, very speedily disposed of HIM. Meanwhile King Padella was scampering off as hard as his horse could lay legs to ground. Fast as he scampered, I promise you somebody else galloped faster; and that individual, as no doubt you are aware, was the Royal Giglio, who kept bawling out, "Stay, traitor! Turn, miscreant, and defend thyself! Stand, tyrant, coward, ruffian, royal wretch, till I cut thy ugly head from thy usurping shoulders!" And, with his fairy sword, which elongated itself at will, His Majesty kept poking and prodding Padella in the back, until that wicked monarch roared with anguish. [Chapter XVII, "How a Tremendous Battle Took Place, and Who Won It," 410]
Commentary: The Battle after Bulbo's Transformation by Blackstick's Ring
In his enchanted plate armour given him by the Fairy Blackstick King Giglio proves invincible. In early mediaeval chain-mail, King Padella realizes that he is no match for his rival, and attempts to flee the battlefield as Giglio's forces cement their leader's triumph by besting Padella's forces in the background. Thackeray's "humble pen" communicates the leaders' exhorting their forces to victory, with Giglio's assertion that his is "the cause of right!" The contest in terms of the narrative seems unbalanced as Titmarsh terms Padella "that usurping monarch" and "royal ruffian," who is "scampering off as hard as his horse could lay legs to ground" (410).
The greatest transformation yet has just occurred, as the magic ring which Giglio has had Rosalba give Bulbo changes him from a plain booby into a "personable, agreeable young Prince . . . with a fine complexion" (408). In the midst of this romance and professed friendship among the royal trio a messenger arrives to announce the advance of the enemy. But Giglio is unperturbed for he has received a suit of armour (seen in the Thackeray illustration) that is "water-proof, gun-proof, and sword-proof" (409). Astride his fairy horse and armed with an extendable fairy sword, Giglio is supremely self-confident, whereas Padella in the illustration wears a terrified look. The outcome is the inevitable triumph of Blackstick's magic.
The Other Six Full-Page Illustrations, Each Individually Captioned
Image scan and text by Philip V. Allingham. [You may use this image without prior permission for any scholarly or educational purpose as long as you (1) credit the person who scanned the image and (2) link your document to this URL in a web document or cite the Victorian Web in a print one. ]
Bibliography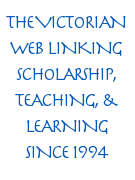 Furniss, Harry. The Rose and The Ring; or, The History of Prince Giglio and the Prince Bulbo. William Makepeace Thackeray's Christmas Books. With illustrations by the author and Harry Furniss. The Harry Furniss Centenary Edition. London: Macmillan and Co., 1911. Pp. 287-428.
Thackeray, W. M. The Christmas Books of M. A. Titmarsh. With illustrations by Richard Doyle and Thackeray. London: Smith. Elder, 1898.
Titmarsh, M. A. [W. M. Thackeray]. The Rose and The Ring London: Smith, Elder, 1855.
---
Created 13 August 2022