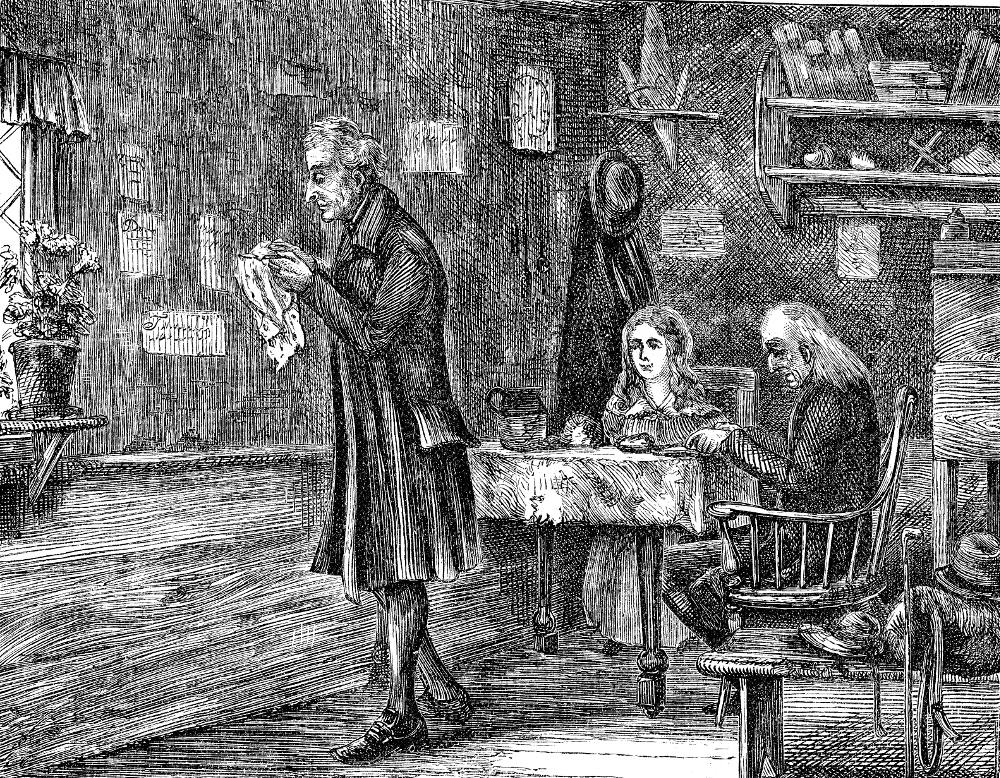 The school-master stopped, and took off his spectacles in Chapter XXIV of Dickens's Old Curiosity Shop by Thomas Worth in the first Household Edition volume published by Harper & Bros., New York (1872), 81: 4 ⅛ x 5 ¼ inches (10.6 x 13.5 cm) framed. [Click on the image to enlarge it.]
Context of the Illustration: Introducing the humble village schoolmaster
The child looked round the room as she took her seat. There were a couple of forms, notched and cut and inked all over; a small deal desk perched on four legs, at which no doubt the master sat; a few dog's-eared books upon a high shelf; and beside them a motley collection of peg-tops, balls, kites, fishing-lines, marbles, half-eaten apples, and other confiscated property of idle urchins. Displayed on hooks upon the wall in all their terrors, were the cane and ruler; and near them, on a small shelf of its own, the dunce's cap, made of old newspapers and decorated with glaring wafers of the largest size. But, the great ornaments of the walls were certain moral sentences fairly copied in good round text, and well-worked sums in simple addition and multiplication, evidently achieved by the same hand, which were plentifully pasted all round the room: for the double purpose, as it seemed, of bearing testimony to the excellence of the school, and kindling a worthy emulation in the bosoms of the scholars.
"Yes," said the old schoolmaster, observing that her attention was caught by these latter specimens. "That's beautiful writing, my dear."
"Very, Sir," replied the child modestly, "is it yours?"
"Mine!" he returned, taking out his spectacles and putting them on, to have a better view of the triumphs so dear to his heart. 'I couldn't write like that, now-a-days. No. They're all done by one hand; a little hand it is, not so old as yours, but a very clever one."
As the schoolmaster said this, he saw that a small blot of ink had been thrown on one of the copies, so he took a penknife from his pocket, and going up to the wall, carefully scraped it out. When he had finished, he walked slowly backward from the writing, admiring it as one might contemplate a beautiful picture, but with something of sadness in his voice and manner which quite touched the child, though she was unacquainted with its cause.
"A little hand indeed," said the poor schoolmaster. "Far beyond all his companions, in his learning and his sports too, how did he ever come to be so fond of me! That I should love him is no wonder, but that he should love me —" and there the schoolmaster stopped, and took off his spectacles to wipe them, as though they had grown dim.
"I hope there is nothing the matter, sir," said Nell anxiously. [Chapter XXIV, 81]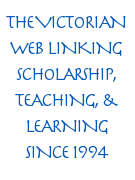 Related Material about
The Old Curiosity Shop
Scanned image and text by Philip V. Allingham. [You may use this image without prior permission for any scholarly or educational purpose as long as you (1) credit the person who scanned the image and (2) link your document to this URL in a web document or cite the Victorian Web in a print one.]
Bibliography
Dickens, Charles. The Old Curiosity Shop. Illustrated by Thomas Worth. The Household Edition. 16 vols. New York: Harper & Bros., 1872. I.
---
Created 24 August 2020

Last modified 26 November 2020