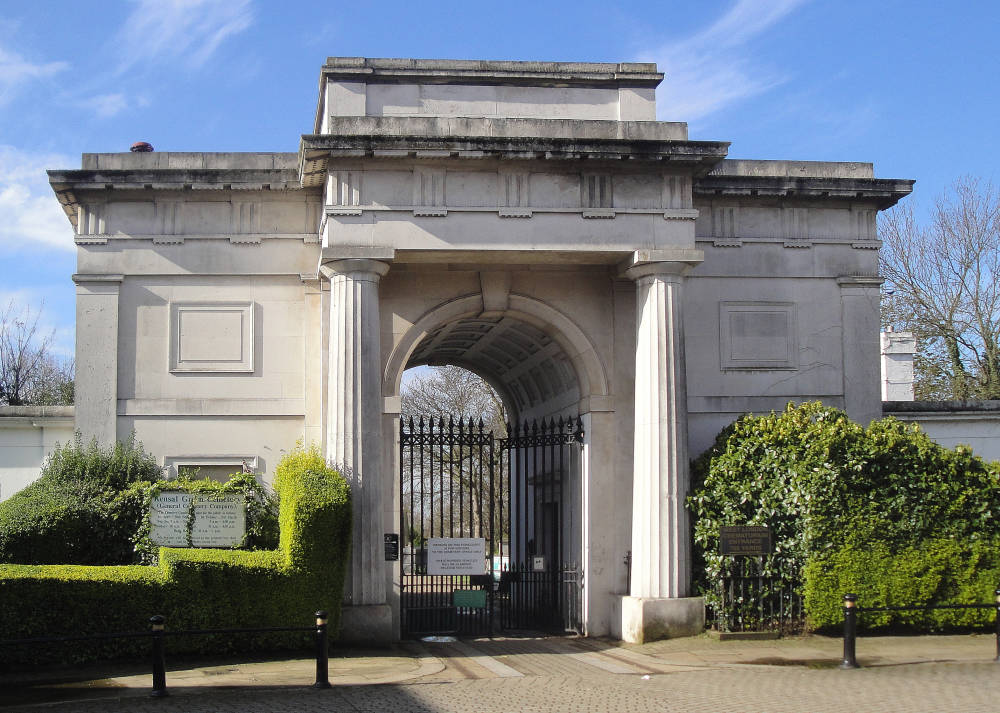 The General Cemetery of All Souls, Kensal Green, usually known as Kensal Green Cemetery, lies between the Harrow Road and the Grand Junction Canal in West London. It was the brainchild of the barrister George Frederick Carden (1798-1874), founder in 1830 of the General Cemetery Company. The architect, chosen after a competition, was John W. Griffith of Finsbury (1796-1888), although William Chadwick of Southwark, his builder, signed the detailed drawings. The layout was by Richard Forrest, head gardener to the Duke of Northumberland. Consecrated in 1833, it incorporates an Anglican Chapel, a Dissenters' Chapel, catacombs and a crematorium with gardens of remembrance, and now covers 77 acres (extended from the original 54 acres). This was the very first of the great garden cemeteries inspired in England by Paris's Père-Lachaise, predating Highgate Cemetery (which opened in 1839) as well as London's other big garden cemeteries, Abney Park, Brompton and Nunhead (all 1840).
After the burial here in 1843 of the Duke of Sussex, this cemetery became a fashionable "final resting-place," and, as such, it harbours the graves of many great Victorians from every field of endeavour, including the writers Wilkie Collins, Thomas Hood, William Makepeace Thackeray and Anthony Trollope, engineers and architects like Isambard Kingdom Brunel, Decimus Burton and Philip Hardwick, artists and illustrators like George Cruikshank and William Mulready, and entertainers of every kind, from the tightrope walker Charles Blondin and the circus-owner Andrew Ducrow to the actor Charles Kemble. Other Victorian celebrities, like the chef Alexis Soyer and Oscar Wilde's mother 'Speranza,' are also buried here. As a result, the cemetery is also a showplace for monuments of every style, from the touchingly plain Portland block headstone of the Brunel family to the grandiose and overblown neo-Gothic confection designed by William Burges for the wealthy Charles Spencer Ricketts (a naval commander who had married an heiress).
Although Kensal Green continues to be used for burials, it has suffered greatly from the combined effects of the London air-raids, vandalism and neglect. Indeed, a large part of the high cemetery wall curtaining the graves from what is now a busy residential area recently collapsed. The Dissenters' Chapel has been restored; the Anglican Chapel is next on the list. The catacombs beneath this chapel alone house nearly 3,000 coffins in various stages of decay. Among those whose remains were deposited here are Byron's half-sister Augusta Lee, and the artist William Frith.
Bibliography
Borrill, David. All Souls Kensal Green (unoffical) website at http://www.kensalgreen.net/
Coones, Paul. Kensal Green Cemetery: A Concise Introductory Guide & Select List of Notable Monuments, Together with a Plan. Friends of Kensal Green Cemetery, 1994.
Kensal Green Cemetery website, http://www.kensalgreen.co.uk/
Oxford Dictionary of National Biography (entry for George Frederick Carden)
Pearson, Lynn F. Discovering Famous Graves Princes Risborough, Bucks.: Shire, 1998.
Weinreb, Ben and Christopher Hibbert. The London Encyclopaedia. London: Macmillan, 1992.
---
Last modified 26 January 2009