One of the greatest difficulties besetting me has always been the choice of subject. My inclination being strongly towards the illustration of modern life, I had read the works of Dickens in the hope of finding material for the exercise of any talent I might possess; but at the time the ugliness of modern dress frightened me, and it was not till the publication of Barnaby Rudge was presented to us, that I felt my opportunity had come, with the cherry-coIoured mantle and the hat and pink ribbons. [Wallis, 56]
Biography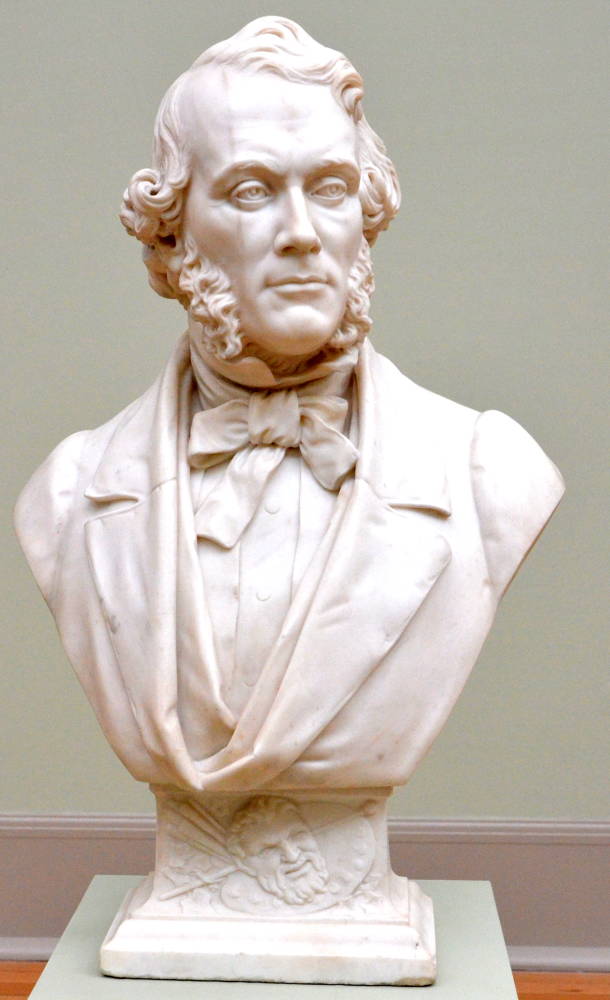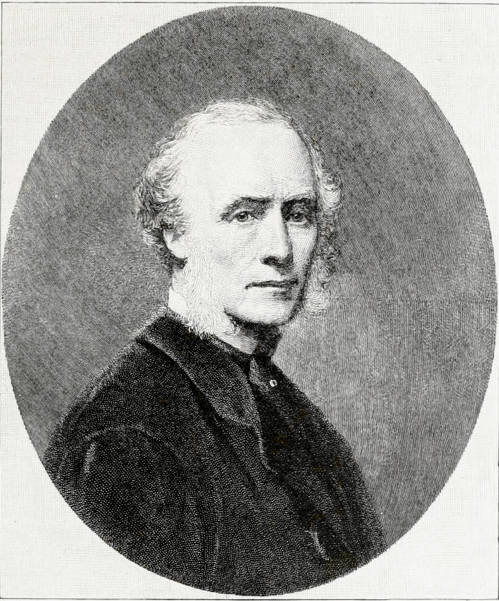 Frith was born in Yorkshire; he studied painting at Sass's Academy and at the Royal Academy Schools. In the 1840s he was a member of the group of young painters, known as The Clique, who shared a dissatisfaction with the current state of the arts and as such anticipated the Pre-Raphaelites. In 1851 Frith, perhaps influenced by the Pre-Raphaelites and the modern life subjects that they had by then exhibited, produced the first of a series of contemporary subjects: Ramsgate Sands. This was followed by Derby Day (1858) and The Railway Station (1862). Frith did continue to paint the historical and literary subjects that he had concentrated on in the 1840s, but much more interesting are his contemporary subjects, which are always rich with anecdotal and moralistic ingredients. Frith exhibited at the Royal Academy from 1840 until 1902 and may be regarded as the pre-eminently "victorian" artist. — Christopher Newall, 38-39,
Like John Ruskin and the Pre-Raphaelites, Frith rebelled against conservative, upper-class taste represented by Blackwood's that revered eighteenth-century British and European masters, such as Claude Lorrain. Unlike them he presents David Wilkie and genre painting as high art, and in this choice he both indicates how we should approach his major panoramic works, such as Derby Day and The Railway Station, and emphasizes the extent to which he directed his art at the rising middle class. — George P. Landow
Biographical Material
Works
Writings
Related Material
Bibliography
Bills, Mark, and Vivien Knight, eds. William Powell Frith: Painting the Victorian Age. New Haven & London: Yale Univ. Press, 2006. [Review.]
Frith, William Powell. My Autobiography and Reminiscences. 3 vols. London: Bentley & Son, 1887-88.
_____. A Victorian Canvas: The Memoirs of W. P. Frith, R. A.. Ed. Nevile Wallis. London: Geoffrey Bles, 1957.
Newall, Christopher. A Celebration of British and European Painting of the 19th and 20th Centuries. London: Peter Nahum, nd [1999?]. 38-39.
Noakes, Aubrey. William Frith Extraordinary Victorian Painter: A Biographical and Critical Essay. London: Jupiter, 1978.
Panton, Mrs. J. E. [née Frith]. Leaves from a Life. 1908.
Wood, Christopher. William Powell Frith: A Painter and his World. Stroud, Glos.: Sutton, 2006.
---
Last modified 27 November 2019